Fantasy Football Rankings: 5 Weak Preseason Performers to Draft at a Discount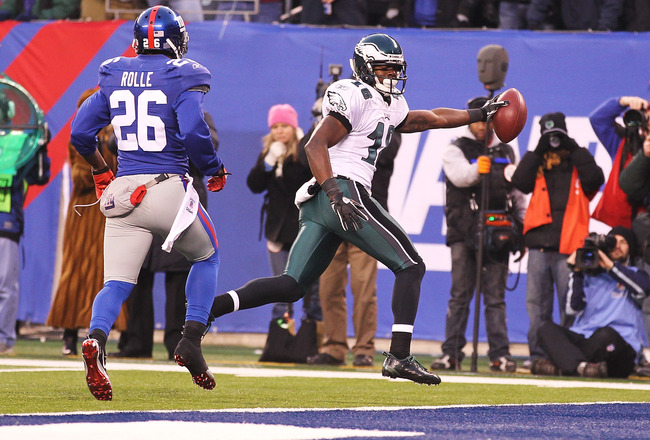 Jeremy Maclin is an underrated commodity
Al Bello/Getty Images
The mantra is as old as Larry King himself: don't pay attention to the NFL preseason. You'll hear every fantasy analyst say it ad nauseum, and then you'll hear every wannabe fantasy analyst in your league say it again.
But despite this, every year there are players who get downgraded in value because of a poor preseason. Fantasy analysts, it seems, have forgotten their own rule. Here are five players on a supposed slide that you should draft at a discount while you still have the chance.
1. Daniel Thomas, RB, Miami Dolphins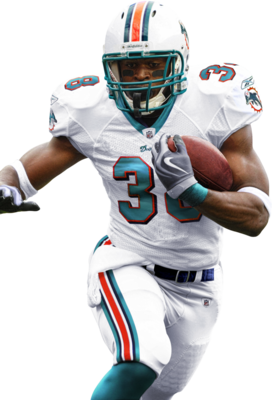 Rookie RB Daniel Thomas
If you believe the hype from sports media outlets all over the country, Thomas has been Bush-whacked as the starting RB in Miami.
Don't believe the hype.
You would have had to be living under a rock for the past three years to believe that Reggie Bush has the capability of being an every-down back. The second overall pick out of USC has made it very clear that he is effective as a hybrid RB/WR, mostly catching passes out of the backfield.
However, he's extremely limited as a go-to back. He averaged 3.7 YPC with the Saints, on a team where backfield mates Pierre Thomas (4.8 YPC) and the studly Aaron Stecker (3.9 YPC) were much more effective. When switched to his hybrid RB/WR role in, Bush became a much more effective back (5.6 YPC). Bush is built to be a pass-catching, hybrid back.
Thomas is built like a monster truck. At 6'1", 230 lbs, the second-round pick out of Kansas State has the physical size to handle the role of an every down back, and is especially suited for the goal-line role that is the gold mine of fantasy value. Then why has his value been crushed by fantasy analysts? Because of "a poor preseason." These same analysts who tell us not to pay any attention to the preseason would be best served to listen to their own advice. Preseason play isn't indicative of in-season performance (just ask Michael Vick last year).
But even if you believe somewhat in preseason results, the strangest part about this whole saga is that Thomas hasn't actually had a bad preseason. He rushed for 52 yards and a TD on 12 carries in his second preseason game, a solid performance from a rookie RB. In his third game—which earned him flack from both local and national media—he carried the rock seven times for 16 yards. Unspectacular? Yes. Horrible? No. Here's the best part: In the same game, Reggie Bush carried 5 times for -1 yards. Yet D-Thom gets the negative press.
Bottom line: Don't believe in Bush, and don't believe the analysts. Go against conventional wisdom and draft Thomas at a steep discount. Acquire Thomas at a low price and you could be laughing your way to the playoffs.
2. Frank Gore, RB, San Francisco 49ers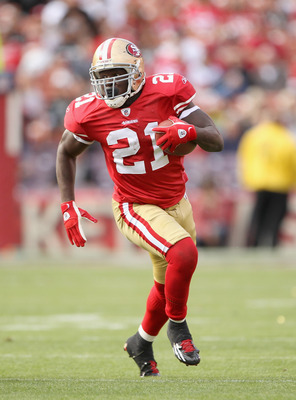 Niners RB Frank Gore
Ezra Shaw/Getty Images
The negative hype on Gore has more to do with the anemic preseason performances of 49ers QBs Alex Smith and Colin Kaepernick. And to be fair, the pair has been downright terrible so far this preseason. Despite this sub-par quarterback play, however, Gore will be an absolute beast this season. His ADP has been recently charted between 16-22, and at that price he will undoubtedly turn a big profit.
Yes, his quarterback (whoever it ends up being) will be bad. Yes, the team will probably be bad. But at the end of the day, none of that matters.
Before being hobbled by season-altering injuries in weeks 11 and 12, Gore was one of the top running backs in the NFL. On the back of fantastic receiving numbers, Frank the Tank averaged 132.5 yards from scrimmage from weeks 1 - 10 (Game Log here). And last year's Niners team wasn't exactly stellar.
He's a fantastic pass-catching back and he knows how to run in the Niners' system. Fully recovered from injury and without the contract concerns (he just signed a three-year, $21 million extension), Gore could easily finish as a Top 5 RB. Draft him with confidence.
3. Jeremy Maclin, WR, Philadelphia Eagles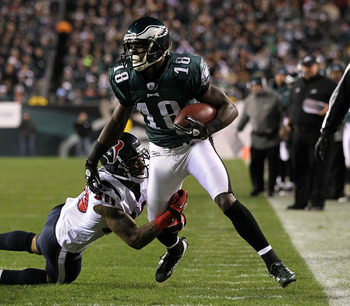 Eagles dynamo WR Jeremy Maclin
Al Bello/Getty Images
Earlier this year, there were admittedly serious worries about Maclin. Stricken with a mysterious illness that doctors suspected could be cancer, Maclin underwent extensive testing and monitoring. He even returned home to St. Louis to see a specialist there, which understandably put fantasy owners and Eagles fans on high alert. Just one month later, Maclin is unquestionably cancer-free and has been cleared to play Week 1 against the Rams.
Although the doctors are no longer worried about Maclin, fantasy owners and analysts apparently are (Yahoo! rank of 67). They'll pay for their hesitation. Maclin is one of the game's best young receivers, and his numbers in just two seasons put him in the ranks of some of the all-time receiving greats.
He is the leading receiver for one of the NFL's most dynamic offenses, and already developed great chemistry with QB Michael Vick last season to the tune of 10 TDs. He's poised to greatly exceed last year's totals, but even if he just comes close to matching them he will turn a nice profit for fantasy owners.
Take advantage of hype-obsessed owners in your league and draft Maclin. He has the ability to be a game-changer for your fantasy squad.
4. Ryan Mathews, RB, San Diego Chargers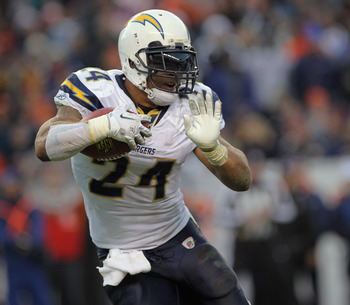 Chargers RB Ryan Mathews
Doug Pensinger/Getty Images
The 2011 preseason has not been kind to Ryan Mathews. Originally the presumed starter in San Diego, he failed a conditioning test shortly upon reporting to camp, admitted that he probably should have trained a little differently during the offseason, and was demoted into a platoon with the human bowling ball Mike Tolbert.
So what's to love? Two very simple factors: the value and the situation. Mathews is clearly too risky to warrant a second-round pick, which is where he was often drafted last season. And his disastrous preseason definitely warranted a big downgrade from that position. But like investors in a stock market panic, fantasy owners have turned on Mathews so dramatically that his stock is now insanely undervalued.
First The Situation: He's still in line to get the majority of the carries for San Diego, one of the league's best offenses. He still has an outstanding pedigree (9th overall pick one year ago) and an NFL-ready combination of size and speed. He's still only competing with Mike Tolbert, a love-able but very limited back. Put simply, there's a lot to love about the situation.
The Value: Hampered by various injuries all of last season, the hate for Mathews is understandable. But he has been discounted so heavily that he now presents a great value for fantasy owners. He's ranked at #70 in the Yahoo! game, behind players with limited upside like teammate Mike Tolbert and Cedric Benson and risky picks like Mark Ingram and The Law Firm (Benjarvus Green-Ellis).
Mathews' draft stock has plummeted too far. Like buying a stock at the bottom of the market, owners who draft Mathews will see skyrocketing returns.
5. Donnie Avery, WR, St. Louis Rams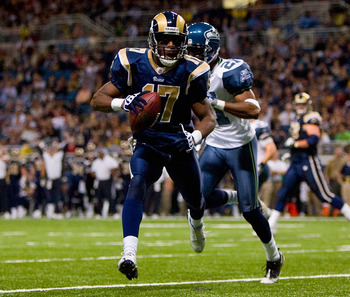 Rams WR Donnie Avery
Dilip Vishwanat/Getty Images
Not that I need to remind you, but the best fantasy receiver in the NFL last year wasn't Andre Johnson, Roddy White, or Calvin Johnson. It was a previously unreliable, oft-injured journeyman named Brandon Lloyd. Coming into last year, the Broncos had a cloudy receiving corps made up of journeymen (Lloyd), rookies (Demaryius Thomas) and up-and-comers (Eddie Royal). No one in his or her right mind was looking at Lloyd as a sleeper pick. Yet the veteran combined with QB Kyle Orton and Josh McDaniels to have one of the most improbable seasons by a WR in NFL history.
The parallels between that Broncos team and this year's Rams team are startling.
The Rams receiving corps—one of the most crowded in the NFL—is also made up of a post-hype sleeper (Avery), young and unproven receivers (Mardy Gilyard and Danario Alexander) and up and comers (Brandon Gibson and Mike Sims-Walker).
The comparisons don't end there; Bradford has the ability to sling the ball all over the field like Orton, not to mention the fact that he's better than Orton is. And he'll have the chance to hurl the ball all over the field like Orton did last year, because he'll be under the tutelage of Josh McDaniels, the architect of Lloyd's resurgence.
Will Avery come out of nowhere to be the best receiver in the league? Probably not. But it is highly likely that a Rams WR will come out of the woodwork to be a very productive asset this year. A strong case could be made that Mike Sims-Walker could be that guy, but for my money Avery is just as good a bet as any in that group.
Ignore the haters who have been burned by Avery in the past—this could be the year the speedster lives up to his sleeper potential.
Keep Reading

Philadelphia Eagles: Like this team?