SPA FRANCORCHAMPS, BELGIUM - AUGUST 27: Sebastian Vettel (C) of Germany and Red Bull Racing celebrates finishing first alongside second placed Lewis Hamilton (R) of Great Britain and McLaren and third placed Mark Webber (L) of Australia and Red Bull Racing during qualifying for the Belgian Formula One Grand Prix at the Circuit of Spa Francorchamps on August 27, 2011 in Spa Francorchamps, Belgium. (Photo by Mark Thompson/Getty Images)
August 27, 2011
Regular readers of my stuff will probably know that I haven't exactly sung the praises of Qualifying in 2011. However, I think you'd need to put me in a mental hospital if I tried to tell you anything other than the fact that Spa 2011 gave us one of the best qualifying shows I can remember in a long time!
Of course, Formula One and controversy go hand in hand, and after the despicable BBC/Sky news before the summer break, I wasn't surprised to be met with another controversial decision in Spa.
Renault decided to give Bruno Senna a run in Friday Practice back at the Hungarian Grand Prix. Of course, this started rumours rolling that Senna would be in a race seat before long as the Renault team are struggling with cash and the nephew of Ayrton Senna brings with him significant financial backing.
Sure enough, it was announced that Senna would be replacing Nick Heidfeld for at least two races. This made Heidfeld furious, and I must admit I felt the same way!
When Robert Kubica injured himself before the season began Renault tested both Senna and Heidfeld as part of a program to replace Kubica for the 2011 season. This was done way back in March, and Heidfeld was the clear favourite. Since Australia, Heidfeld has been consistent, but he has dropped off the boil slightly in recent races.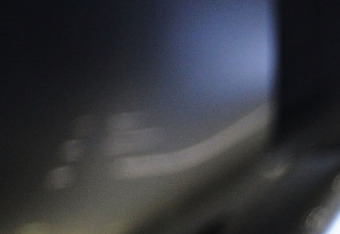 20 years of racing and his worst ever qualifying, should Micheal have come back? SPA FRANCORCHAMPS, BELGIUM - AUGUST 26: Michael Schumacher of Germany and Mercedes GP prepares to drive wearing a specially designed gold drivers helmet as he commemorates the 20th anniversary of his first F1 race during practice for the Belgian Formula One Grand Prix at the Circuit of Spa Francorchamps on August 26, 2011 in Spa Francorchamps, Belgium. (Photo by Lars Baron/Getty Images)
Nevertheless, the decision to replace Heidfeld with such a rookie driver seemed to be fueled purely by money (of course, who should be surprised these days that money talks in F1). Heidfeld is taking his team to court over their decision and we wait for the results, but in the meantime, I thought it would be a good idea to pay particular attention to Senna to try and see if money is the only factor.
Qualifying One
With rain threatening throughout the entire qualifying hour, it was great to see a huge queue of drivers line up at the start of each of the three qualifying sessions.
I think I knew we were in for a classic hour when just under two minutes into the session, the camera cut to a Mercedes in pieces!
Michael Schumacher suffered from an as yet unidentified rear wheel nut failure and was sent spinning into the barriers at turn 5. There was nothing Schumacher could have done and I expect he'll be very disappointed to have scored his career worst qualifying result on the 20th anniversary of his first appearance in F1….(Should we take this as a sign, Michael?)
Jamie Alguersuari eventually set the first time of 2:14:320.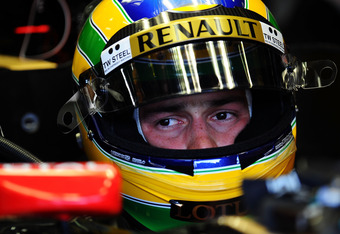 SPA FRANCORCHAMPS, BELGIUM - AUGUST 26: Bruno Senna of Brazil and Renault prepares to drive during practice for the Belgian Formula One Grand Prix at the Circuit of Spa Francorchamps on August 26, 2011 in Spa Francorchamps, Belgium. (Photo by Lars Baron/Getty Images)
It looked from the early lap times as though Red Bull and McLaren were the top teams, and that whilst Ferrari seemed to be floundering, Force India took over as arguably the third best team.
Ferrari found their mojo before too long and although the first and last six places were pretty much decided, with a few minutes left, the action in the midfield was intense!
I could write down all the position changes, but to be perfectly honest it would just read like a list of names!
The big fight was for survival and was between Heikki Kovalainen and Paul Di Resta. Both drivers pushed to the max, but in the end, it was Kovalainen who edged through into Q2 after a blistering lap.
What of Renault then?
Bruno Senna was as high as P3 and as low as P14 at times, but he finished the session higher than his team mate Vitaly Petrov, and I think he interestingly seemed to be the faster of the two drivers as well.
Q1 Top Three
Jenson Button
Mark Webber
Out
Paul Di Resta, Jarno Trulli, Timo Glock, Jerome D'Ambrosio, Vitantonio Liuzzi, Daniel Riccardo, Michael Schumacher
Qualifying Two
If you thought Q1 sounded good, wait until you hear about Q2!
Again rain threatened, again there was a queue, again Alguersuari set the first time (2:10:471).
From the start, there were position changes everywhere. The clear front runners were Red Bull and McLaren and the clear shock was Ferrari's relative lack of speed. Apparently, the Ferrari struggles to get heat into the intermediate tyres.
It wasn't long before we got our second crash of the afternoon when Adrian Sutil was a little over confident at the Eau Rouge corner. The Force India man lost control, hit the wall and caused a red flag.
The session was stopped with only seven minutes remaining and nobody safe in their positions. Rain was still a heavy possibility and if it came, the positions would have been sealed (which would have meant the exit of Fernando Alonso!). However, if the rain didn't come, the track would have longer to dry and then the positions could have been anybody's!
When the session re-started after a few minutes there had been no significant rain and what followed was simply excellent.
As the track dried, lap times tumbled and practicably every driver on the grid suffered a nail-biting final few laps. In the end, most of the expected drivers made it through, but there was a shock exit from Jenson Button, who found himself down in P13!
It sounds as if McLaren may have made a tactical error either by letting Lewis Hamilton pass Button (and ruining Jenson's lap) or by calling Button into the pits far too early. Whatever the reason, Button has a mountain to climb tomorrow.
The action even continued after the session had finished when an infuriated Pastor Maldonado seemed to deliberately drive into the side of Lewis Hamilton after the McLaren driver had overtaken the Williams man going into the final corner (preventing Maldonado from making one last final lap).
It was a silly decision from Maldonado, but I think there is some bad blood between him and Hamilton.
What of Senna? A very respectful P5, in front of Petrov again.
Q2 Top Three
Fernando Alonso
Lewis Hamilton
Mark Webber
Out
Sebastian Buemi, Kamui Kobayashi, Jenson Button, Rubens Barrichello, Adrian Sutil, Pastor Maldonado, Heikki Kovalainen
Qualifying Three
Sergio Perez was the first to set a time of 1:58:312, but he was quickly surpassed by the front runners.
As the track dried, positions were changing all over the place. I think particular mentions should go out to Perez and Jamie Alguersuari, who did excellent jobs just to make it into Q3, not to mention their stellar performances in the final session.
Ultimately, the race was among Vettel, Webber and Hamilton. I would say of those three drivers, the man who deserved it the most was Mark Webber, and ironically, the man who deserved it the least finished in pole!
Whilst Webber was caught in traffic when it really mattered, Hamilton put in a storming time that seemed to guarantee him pole position. However, out of nowhere, and yet again, Vettel did all he needed on the final lap and ensured that Red Bull remain undefeated in 2011 qualifying.
Fernando Alonso had a terrible session down in P8 and Bruno Senna did a great job to finish ahead in P7.
The Belgium Grand Prix never disappoints and I can't wait for tomorrow's race. I think we should watch Alonso and Button climb through the pack and a fascinating fight between Hamilton and the Red Bulls up front. Of course I'll also be keeping an eye on Senna, but I must say after his performance today, I have to wonder if money was really the only reason.
One thing is for sure, Spa 2011 will be awesome.
Provisional result
1 Sebastian Vettel Red Bull-Renault 1:48.298
2 Lewis Hamilton McLaren-Mercedes 1:48.730
3 Mark Webber Red Bull-Renault 1:49.376
4 Felipe Massa Ferrari 1:50.256
5 Nico Rosberg Mercedes GP 1:50.552
6 Jaime Alguersuari Toro Rosso-Ferrari 1:50.773
7 Bruno Senna Renault 1:51.121
8 Fernando Alonso Ferrari 1:51.251
9 Sergio Perez Sauber 1:51.374
10 Vitaly Petrov Renault 1:52.303
11 Sebastien Buemi Toro Rosso-Ferrari 2:04.692
12 Kamui Kobayashi Sauber 2:04.757
13 Jenson Button McLaren-Mercedes 2:05.150
14 Rubens Barrichello Williams-Cosworth 2:07.349
15 Adrian Sutil Force India-Mercedes 2:07.777
16 Pastor Maldonado Williams-Cosworth 2:08.106
17 Heikki Kovalainen Lotus-Renault 2:08.354
18 Paul Di Resta Force India-Mercedes 2:07.758
19 Jarno Trulli Lotus-Renault 2:08.773
20 Timo Glock Virgin-Cosworth 2:09.566
21 Jerome d'Ambrosio Virgin-Cosworth 2:11.601
22 Vitantonio Liuzzi Hispania-Cosworth 2:11.616
23 Daniel Ricciardo Hispania-Cosworth 2:13.077
24 Michael Schumacher Mercedes GP
Like the new article format? Send us feedback!