NBA Trades: Why a LeBron James, Dwight Howard Deal Makes Sense for NBA
July 8, 2011
Kevin C. Cox/Getty Images
Many NBA fans and analysts expect Dwight Howard to follow Shaquille O'Neal's footsteps and leave the Orlando Magic in order to join the Los Angeles Lakers.  However, what if Dwight decided to switch things up and skip the move to Tinsel town in order to play for the Miami Heat, which was the third stop on Shaquille O'Neal's tour of the NBA.
A LeBron James for Dwight Howard deal has at best a one percent chance of happening, and there are several reasons why.  That being said, I would much prefer to focus on the possible rather than dwell on the impossible, which is why I will discuss the reasons why I think this trade could/should happen and how it would affect the teams involved and the NBA as a whole.
Why this Trade could happen:
The Salary Cap:
It is as simple as that, the trade works financially for both teams.
Talent Trade off: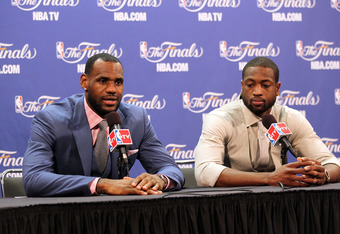 Mike Ehrmann/Getty Images
The Orlando Magic are going to do everything in their power to ensure they get the best return possible for Dwight Howard… and who would be a better return than arguably the best player in the NBA?
Why this trade should happen:
It's a win-win:
Both teams would benefit from this trade…  Orlando would get the best return possible for Dwight Howard, and the Miami Heat will fill their void at center and Dwayne Wade will once again be the undisputed star of his team.
NBA fans will benefit:
LeBron James, Dwayne Wade and Dwight Howard are three of the top five players in the NBA today.  That being said, I would argue that all three of them are capable of much bigger things but are currently being held back due to the make up of their current teams.
Dwight Howard would show improvement and add years to his career if he were to finally play alongside another star player and both Dwayne Wade and LeBron James are far more entertaining when they are the No. 1 option for their team.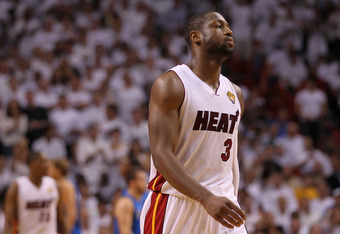 Mike Ehrmann/Getty Images
If this trade were to happen, Dwight Howard would finally play alongside a star player in Dwayne Wade (à la Shaq and Wade 2006), and LeBron James would once again be the undisputed star of his team and restore his legacy in the process.
How this trade benefits the Miami Heat:
The Miami Heat have arguably the best player in the game today in LeBron James so how exactly could they benefit from trading him away?  The simple answer is…they do not need him.
Ask yourself this, would you rather have two similar players in LeBron James and Dwayne Wade with a weak frontcourt led by Chris Bosh OR would you prefer to have one of the best scorers in the league in Dwayne Wade and arguably the most dominant and freakishly athletic big men in the league in Dwight Howard?
…it should not take you very long to decide…the first option gives you two great players, and the second gives you two great players who compliment each other.
Shaquille O'Neal + Kobe Bryant = three NBA Championships
Shaquille O'Neal + Dwayne Wade = NBA Championship
Dwight Howard is the closest thing to the second coming of Shaquille O'Neal that the NBA has to offer, and Dwayne Wade has not skipped a bit since his NBA championship days of 2006. 
The Miami Heat should go to the well for a second time. LeBron may be the best player in the NBA, but Dwight Howard is a far better fit for the Miami Heat.
Yes, a LeBron James and Dwight Howard duo would also be very impressive, but the bottom line is that would send absolute shockwaves throughout the NBA.  If anyone is going to leave Miami it will be LeBron, not Dwayne Wade.  Wade won a title for the Heat in 2006 as well as the respect and admiration of the Heat fans so he will not be going anywhere, anytime soon. 
How this trade benefits the Orlando Magic:
For the Orlando Magic the reasoning for this trade is far simpler.  LeBron James could actually be considered an improvement over Dwight Howard as far as all-around ability. 
This trade would not make them instant title contenders, and they would still be left with the terrible contract of Gilbert Arenas not to mention a gaping hole at center. 
Nevertheless, they would be in a much better position than if they were to settle for Andrew Bynum or Pau Gasol in a desperation trade to prevent them from losing Dwight Howard for nothing. 
Final Thoughts:
As I mentioned in the beginning, this article is more so wishful thinking than a realist article based on rumors and hard facts…unfortunately this is what I am forced to resort to now that the NBA lockout has rolled around. 
Hopefully, you enjoyed this, and this article and regardless of whether you agree or disagree I hope this gives you all something interesting to read since the excitement of NBA free agency has been put on hold indefinitely.