UFC 129: Power Ranking the Event's Canadian Fighters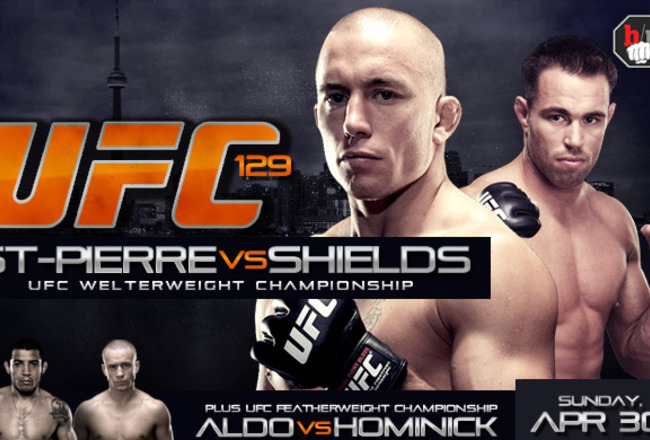 On Saturday, April 30th, UFC 129—the largest UFC and most important event in the relatively short history of Canadian MMA—will occur.
The UFC, as they always do when they travel abroad, have made sure that the fight card is stacked with nationals of the locale that they are visiting. UFC 129 is no different; Canadian fighters make up a significant portion of the event.
There are 12 fights on the UFC 129 fight card. Of those 12, only two fights (Randy Couture vs. Lyoto Machida and Vladimir Matyushenko vs. Jason Brilz) do not have a Canadian fighter in them.
To put it into more mathematical terms, over 80% of the fights contain a Canadian fighter!
Some of these Canadians, such as current UFC welterweight champion Georges St-Pierre, are well known figures in the sport while others are lesser known and are fighting solely for recognition.
Regardless of their status, all of these fighters have a ranking relative to one another. Who are these fighters and what ranking does each fighter have? Read and find out.
10. Yves Jabouin
Yves "The Tiger" Jabouin is a featherweight Haitian-Canadian fighter who was brought into the UFC by their merger with the WEC.
After only going 1-2 in his stint in the WEC, Jabouin is making his debut at UFC 129 against Pablo "The Scarecrow" Garza.
Jabouin is a heavy hitter and a tough opponent for any fighter. However, he has usually underperformed when fighting against higher competition. In fact, he is only 1-4 against opponents that have also fought in either the WEC or the UFC.
This seeming inability to beat a higher level of competition in addition with his age of 31 years do not paint a future as bright as the other fighters on the list but this is not to say that Jabouin isn't skilled or a good fighter. He is most certainly a threat to beat Garza on April 30th.
9. Jason MacDonald
Jason "The Athlete" Macdonald was once a mainstay in the UFC middleweight division. He even earned the nickname "The TUF-Killer" (meaning the "Ultimate Fighter killer") for beating several fighters who were once on the show—most notably Ed Herman and Chris Leben.
After these victories, the future seemed bright for Macdonald. Unfortunately, he lost his highest profile fight against former UFC middleweight champion Rich Franklin and never rebounded; He went 3-4 after losing to Franklin and was handed his walking papers.
He then lost his next two fights outside of the UFC but managed to pull things together and win three straight. He was invited back to the big leagues at UFC 113 where he lost via freak leg break.
His UFC 129 against Ryan Jensen will be the first time he has fought since the loss.
Due to his age and his considerable ring rust (UFC 113 was on May 8th, 2010) Macdonald only comes in at number nine on the list.
8. Ivan Menjivar
UFC bantamweight Ivan Menjivar has the honor of being the first man defeated by UFC welterweight champion Georges St-Pierre. They fought in 2002 and St-Pierre won by TKO.
Perhaps this fight was indicative of Menjivar's inconsistency against upper echelon competition. While Menjivar is the owner of a 21-8 record, those eight losses all came to fighters who would eventually fight in either the UFC or Strikeforce. His biggest win was over Joe Lauzon in 2005.
Nevertheless, Menjivar is 28 and still has time to turn things around despite the fact that he is coming off of a loss. Perhaps we will see him develop into a force in the bantamweight division after his fight with Charlie Valencia at UFC 129.
7. John Makdessi
John Makdessi is a Canadian fighter with a bright future. He is only 25 years of age and already sports an 8-0 record.
However, it is because of these traits that Makdessi is difficult to rank properly. While he did demonstrate an exciting arsenal of kicks in his last bout—a unanimous decision victory over Pat Audinwood—he is still something of an unknown quantity.
Therefore, other fighters who have more of a solid record in regard to competition are ranked higher.
6. Sean Pierson
Sean Pierson was not particularly well known until his unanimous decision win over wrestling standout Matt Riddle, a fight which Dana White called "the real fight of the night."
Pierson brings a strong blend of striking and grappling into his attack and swift becoming a force to be reckoned with.
The only problem is, like other fighters below him on the list, he has not been able to step up against top competition. In his 11-4 record, the four losses have come to fighters who were UFC caliber.
Still, Pierson has shown that he is a motivated and dangerous competitor that should never be counted out. His fight with Jake Ellenberger at UFC 129 promises to be an exciting one.
5. Claude Patrick
Claude Patrick is an impressive welterweight that sports a 13-1 record. Two of those wins have come in the UFC.
While Patrick is a prospect to look out for, his age may be of some concern as he is already 30 years old. Another issue is that, although he has defeated two opponents in the UFC, those opponents were not of the highest caliber—one of them isn't even in the UFC anymore!
The rest of Patrick's victories were over no-name fighters.
It will be interesting to see if Patrick can prove the validity of his record by defeating Daniel Roberts at UFC 129.
4. Mark Bocek
Mark Bocek is, sadly, an unheralded figure in the UFC despite his solid 9-3 record. Even though he has only had 12 fights, eight of those were in the UFC. Because of this, Bocek is much more experienced than his record shows.
He is the winner of two "Submission of the Night" awards, the most recent of which against submission ace Dustin Hazelett—a submission that sent Hazelett out of the UFC!
Bocek is a tough, skilled competitor who has been in the Octagon with the best of them; He is one of the most underrated Canadians on the roster because people fail to recognize this.
3. Mark Hominick
Putting Mark Hominick—the man who will attempt to take the featherweight title away from Josè Aldo at UFC 129—is likely to upset some people.
While Hominick is highly skilled, it is just unlikely that he will be the one to defeat Aldo. Even worse, Hominick is four years the elder of Aldo; It is not as if Hominick is a young up-and-comer who can wait for the champ to age and then take the belt.
Because of this, Hominick pales in comparison to the fighter ranked at the number two spot.
2. Rory Macdonald
Rory Macdonald is the prospect in the UFC welterweight division. He was putting a beating on skilled welterweight Carlos Condit before a questionable stoppage only seven seconds away from the final bell.
There is more than just his raw skill that is to fear, but who he trains with. Macdonald trains at Tristar Gym, where Georges St-Pierre trains when he isn't at Greg Jackson's gym in Albuquerque.
Another factor that puts Macdonald at number two is his age, he is only 21 years old! Macdonald will have plenty of time to get his skills up and develop as a fighter—all the while being guided by possible the pound-for-pound best fighter in the world.
His UFC 129 bout against Nate Diaz will be a perfect test of the young fighter's mettle. If he wins, mark my words, he will be a future champion.
1. Georges St-Pierre
No surprises here. There is no doubt that current UFC welterweight champion Georges St-Pierre is the highest ranked Canadian on the card.
St-Pierre is on an eight fight winning streak and will be defending his title for the sixth time when he faces Jake Shields at UFC 129.
At only 29 years of age, St-Pierre's dominance will likely last a while longer.
And so the fighters representing Canada at UFC 129 have been ranked. Did you disagree with any of the rankings? Make your case in the comments below.
Keep Reading