NBA Rumors: Considering The New York Knicks' Three Trade Opportunities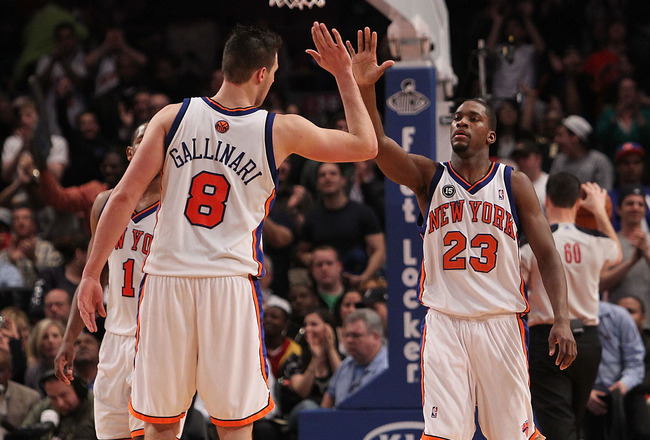 Nick Laham/Getty Images
The New York Knicks are at a crossroads.
After the signings of Landry Fields and Patrick Ewing Jr., their 2010-11 roster is pretty much set, and with a new and improved squad, the Knicks look like they are finally ready to compete for a playoff spot for the first time since the 2003-04 season.
However, there are still a number of moves which the team would like to make in order to propel them into championship contention—namely trades for Carmelo Anthony, Rudy Fernandez and a star caliber point guard.
But Donnie Walsh and the rest of the Knicks' front office must be careful in attempting to make any such moves, for all Knicks fans know what a bad trade can do to a franchise (i.e. trades for Antonio McDyess, Stephon Marbury and Eddy Curry).
Therefore, here are the three trade opportunities which the Knicks ought to consider in order to stay competitive now and in the future.
The Carmelo Anthony Situation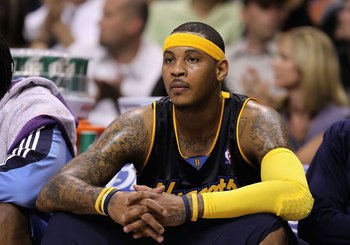 Christian Petersen/Getty Images
Lately, the Carmelo Anthony rumor mill has been spilling like crazy.
First, he chose not to sign his three-year, $65 million contract extension. Then there were reports that he had told friends that wanted to join the New York Knicks. And then we heard that he was open to joining the Houston Rockets and New Jersey Nets.
Next, the Denver Nuggets, fearing the loss of Melo for nothing—a la LeBron and Cleveland—announced that he would only be moved in exchange for young players and draft picks. This caused them to single out young teams like the Minnesota Timberwolves, the Nets and the LA Clippers.
Most recently, the Nuggets new VP of basketball operations Masai Ujiri has reportedly told other teams that Denver is not currently seeking to trade Anthony, still holding out hope that he will re-sign with the team.
Although all of the Melo news started out sounding promising for the Knicks, it has soured of late.
However, New York does have one major thing going for them: Carmelo Anthony is the one with all of the leverage in this situation, since ultimately he is going to be able to go wherever he wants.
It doesn't look like he wants to stay in Denver, as evidenced by his reluctance to sign that massive contract. So if they decide they want to keep him, he would play out his current contract and become a free agent.
Furthermore, it seems that he certainly wouldn't want to go to the Clippers or T-Wolves, teams which, even with the addition of Melo, would likely still be worse than his current Nuggets squad. Therefore, it is doubtful that these teams would want to seek to trade for him, since they would be forced to trade away valuable pieces and Anthony would probably refuse to re-sign with them, instead becoming a free agent.
The Nets also seem to be an unlikely destination for Anthony, as they have always played the second fiddle—albeit, an occasionally more talented second fiddle—to the Knicks.
That leaves the Knicks and Rockets as the top potential destinations for Melo, and with his New York roots and celebrity wife, I'd like to think (or maybe just hope) that the Knicks are his favorite.
So, with regard to the Carmelo Anthony situation, the Knicks should sit back, relax and wait it out. In his situation, if he really does want to make the move to New York, he eventually will do so.
The Rudy Fernandez Trade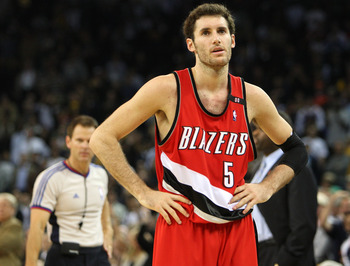 Jed Jacobsohn/Getty Images
On September 3, 2010, the New York Daily News reported that the Knicks turned down a trade which would have seen them acquire Rudy Fernandez, while they would have sent Anthony Randolph to the Indiana Pacers, and the Pacers would have shipped a first-round draft pick to the Portland Trail Blazers.
I say bravo for to Donnie Walsh for doing the right thing on this one.
Randolph is a raw, young talent. In inconsistent playing time with the Golden State Warriors, he showed flashes of brilliance, although he also made many bonehead plays. However, that is to be expected from a 21-year-old.
Nevertheless, with his mind-bending length and athleticism, Randolph has the potential to, one day, be a star in the NBA. Therefore, it's fairly easy to state that his ceiling is higher than that of the 25-year-old Fernandez, the Spanish shooting guard with a deadly stroke and nice handle.
Earlier in the offseason, the Knicks had offered up Wilson Chandler, but were shot down. The Blazers made it clear that they would only be interested in receiving a first-round pick in exchange for Fernandez, who was fined earlier this summer for publicly declaring his desire for a trade.
Chandler, 23, is also a solid young player, who has nice all-around game at forward. At this point, Fernandez isn't that much better than Chandler, however, with the glut of forwards already filling up the Knicks roster, it is understandable that they are seeking a starting-caliber two-guard, something that Fernandez would offer.
So the Knicks' brass ought to stand their ground and keep seeking a third team which could offer a first-round pick to Portland, so therefore, New York could continue to offer Chandler in return for Fernandez.
Who Will Be the Point Guard?
Chris Graythen/Getty Images
This summer, the Knicks signed free agent point guard Raymond Felton, the fifth overall pick in 2005, to a two-year, $15.8 million contract.
Although he was widely regarded as the top free agent point, many Knicks fans feel that he is simply another stop-gap at the point—just as Chris Duhon was. However, Felton is a much better option than Duhon, who is realistically a career backup.
Over the past few seasons, Felton's stats have likely been held back by his sharing time at the point with fellow Charlotte Bobcat DJ Augustin and by running the Bobcats' offense, the third-lowest scoring in the league in 2009-10.
But with his blistering speed and quickness, coupled with his passing ability, Felton is primed to put up some huge numbers in head coach Mike D'Antoni's fast-paced offense.
Nevertheless though, the Knicks have been rumored to be interested in a number of other point guards, namely Chris Paul, Tony Parker and Ricky Rubio.
Chris Paul
Paul, by far the best of this group, has been the name which has been most often mentioned in trade rumors.
This is possibly due to his toast at Carmelo Anthony's wedding, in which he proposed that he, Melo and Amar'e Stoudemire combine to create a rival Big Three to the one now playing in Miami on the Heat.
However, CP3 still has two years left on his current contract, giving him little power to force the New Orleans Hornets to trade him.
Compounding this matter even further is the fact that the Hornets' new coach, Monty Williams, recently stated that Paul never even asked to be traded, but instead, only made a plea for the NO front office to make some more competitive moves.
As a result of these factors, it seems that CP3 isn't likely to be joining the Knicks anytime soon.
Tony Parker
Another big name point mentioned in Knicks rumors has been the former Finals MVP of the San Antonio Spurs, Tony Parker.
Recently, Paker's wife, actress Eva Longoria, was quoted as saying that he would like to come to New York.
Additionally, Parker has only one year left on his contract, and with the play of backup guard George Hill, the Spurs have been considering whether or not to re-sign or trade the Frenchman.
However, during the 2009-10 season, he played in a career-low 56 games, with his points, assists and his turnover averages worse than they have been during the past few years.
He did perform better during the playoffs, but at 28 years of age, the question is whether or not Parker's level of play is currently in decline.
And regardless of whether or not it is, Parker will definitely be seeking big money in his next contract, making him a big-time risk for the Knicks.
Ricky Rubio
Ever since his name was entered in the 2009 draft, Rubio has been connected to the Knicks in numerous trade rumors.
Lately, due to his appearance and starting role (after the injury to Jose Calderon) for the Spanish team at the 2010 FIBA World Championships, Rubio has been in the news once again.
Furthermore, his strong showing in the friendly match against the US and his 11 assist performance against New Zealand.
However, as a whole, the Spanish team has underperformed to this point, losing to both France and Lithuania—both games in which Rubio played poorly.
In the Lithuania game he even fell victim to an embarrassing inbounds pass off of his back for a basket.
All in all, he has underwhelmed, averaging a meager five points, 3.6 rebounds, 6.2 assists, and 1.8 steals per game, on 28.6 percent shooting.
And, although he has reportedly upped his game in Liga ACB, the highest level league in Spain, the 19-year-old is still likely a project at this point.
Moreover, the Minnesota Timberwolves would seek to be handsomely rewarded in any trade for Rubio.
Therefore, the Knicks should probably wait on Rubio for, maybe seeking to pursue the youngster when he is a little more proven.
Verdict
Since Tony Parker and Ricky Rubio would both be risky acquisitions, although both could potentially put the Knicks over the hump, I would advise against trades for either individual, unless NY could do so for cheap.
Therefore, to put it plainly, the Knicks should be content with Raymond Felton for now. He can aptly man the point while they wait to see what will happen with their ideal point guard target, Chris Paul.
And who knows, maybe Deron Williams could even become available as well, since his and Paul's contracts expire at the same time.
Keep Reading

New York Knicks: Like this team?