Pete Carroll Brings Real Change to the Seattle Seahawks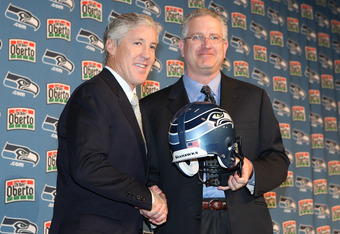 Otto Greule Jr/Getty Images
There is always going to be a transition period when changing coaching regimes.
The past two seasons Seattle has undergone this change twice. The approach is drastically different. Will the results be as well?
After Mike Holmgren announced he was going to be done in Seattle after the 2008 season, the Seahawks went about finding a successor. With Holmgren giving the team warning, the Seahawks tried to go with a successor-style plan.
In that way, while there was going to be a change of the guard as far as coaches, it would be with someone the roster was already familiar with as the head man.
So Jim Mora spent the 2008 season coaching the Seahawks secondary and preparing to take over the squad. The year was tough in terms of injuries and also made for an awkward situation where the next coach is already in the locker room.
Going into 2009, the team was finally Mora's. He brought with him some staff he had in Atlanta and tried to change the culture of the club a bit.
The problem is that in a transition like this, players are expecting a coach to be a certain way. They've had a prior relationship with the man. So Mora was stuck in a spot where he had to try to continue the run Holmgren had started, while making his own mark.
His style was drastically different from Holmgren's, but having been on the staff before, did the players react as well to the change in style as they might have had the new head coach not come from within the organization?
The results were bad. Perhaps terrible is a better word. The Seahawks played with no offensive punch, continued to start the less productive running back, and were atrocious on defense.
Mora's days were numbered by the time he was halfway through the regular season. The team played with little fire, and there was absolutely no optimism around the club. Granted, an aging roster didn't help, but no one looked like he even cared to play hard for Mora.
Mora could have used another year to see if he could turn it around, but the Seahawks brass saw more than enough. It was time for a real change, and not just patching to continue the most successful era in Seahawks history.
As much as we all enjoyed that run, it is over and time to begin a new era. Who better to bring with a sense of optimism and hope than perhaps the most optimistic man on the planet, Pete Carroll?
There are a lot of questions surrounding Carroll's ability as an NFL coach—his career record is nearly identical to the coach we just got rid of—but there were also huge doubts when Southern California hired him. That turned out pretty well.
Not to say that success in college is going to correlate to the NFL, but Carroll is a competitor, and having been mediocre the last time he was an NFL coach, he has all the motivation in the world in Seattle.
Carroll is making his mark right away too. While Mora may have felt some pressure to keep the team nucleus together, as maybe 2008 was just a fluke, Carroll has free reign to make this team his own.
The draft went about as well as anyone could have expected: a stud left tackle, playmaker in the secondary, and another solid wide receiver option.
Then you take into account the other moves made: With bringing in Leon Washington and LenDale White to revamp the running game, plus giving Mike and Reggie Williams a shot at making the team, the look of this team for the opening snap of 2010 is going to be drastically different than 2009.
Carroll is wasting no time making this his Seattle Seahawks team. Fail or succeed, Carroll is going to do it his way.
Who knows if the program Carroll putting together is going to be more successful?
The draft was great, but the other moves have a lot of risk with them. Both Williams receivers were out of the league last year, Washington suffered a brutal injury, and White has had questions about his work ethic.
The thing is all of those guys were worth the risk. Every one of them has the potential to be an upgrade at his position over the previous season. All of those guys have the talent to play at this level.
This is Carroll's second chance at the NFL. After a dominating run in College, Carroll feels he has learned from his past and will take Seattle to the next level.
There is no denying the buzz he and the team have created by their recent moves. Seahawk fans are starting to come out of the underground again. We have a retooled line, new stable of running backs, and a coach that pushes his players to the limit. Carroll has wasted no time in remolding the team to fit his vision.

Carroll talked about improving the running game, so what does he do? He brings in two new running backs and drafts an offensive tackle with the sixth pick. Carroll is proving to be a man of action, if nothing else, so far.
Carroll has one more shot to prove he is a winner at the highest level. It is fitting he will be starting that task giving a handful of players a chance at a fresh start as well.
This article is
What is the duplicate article?
Why is this article offensive?
Where is this article plagiarized from?
Why is this article poorly edited?

Seattle Seahawks: Like this team?