Extremely Premature 2010 49er Predictions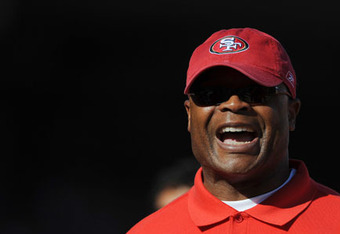 The 2010 NFL schedule has been released and for the first time in a while, the first games on the 49ers' schedule are not a few huge softball toss-ups.
Alex Smith and the 49ers will not be able to start off with an optimistic 3-1 or 2-1 record because the first teams on our list are not the Rams and Lions. We do play the Seahawks in Week One, but it's a road game—and a season opener on the road is never a sure thing, even when facing an inferior team.
At this point I'm not entirely sure I can even call the Seahawks "inferior". Since we play them week one, I'm assuming Hasselbeck will be fresh, healthy and ready to go. And considering he and the Seahawks beat us the last time we went to Seattle, this game will put Alex Smith to the test right away.
In fact, the first three out of four games we have are on the road—the only home game we have is a Monday nighter against the Super Bowl champion New Orleans Saints.
Not to mention that right before our bye week, we have a "home" game against the Broncos in London.
But this difficulty is a good thing. (In all actuality, our schedule is one of the easiest in the league, considering we play the two weakest divisions in football: AFC West and NFC West)
Alex Smith claims that he has more confidence under a second year with Jimmy Raye, so the beginning of the year will certainly put these comments to the test.
Smith will not have the luxury of a cream puff stretch of games to start out the season- he's going to be thrown into the lion's den right from the get-go, and it's going to be up to him to perform.
Luckily, the schedule after the bye gets easier—we see the Rams and the Cardinals for the first time, and we also get to play the lowly Buccaneers. But we also play the Packers and Chargers. Too bad we play the Charges at the end of the year; in December they're usually on a 10-game winning streak.
Unfortunately, going solely off of what I saw of the 49ers last year, there are not too many teams I can go, "oh, yeah—let me go ahead and mark this one down as a 'W'". The Rams and the Bucs. That's about it.
What? The Chiefs and the Raiders? While I do think we should win those games, I do think that those teams are more than capable of beating us—especially since we play one of those games on the road. I'm not trying to say that the Raiders and Chiefs are not bad teams—they are. No question. But the 49ers are not a team that is good enough to blow off teams like the Chiefs or Raiders.
Now on to some predictions:
Since we have a bye week smack dab in the middle of the season, if we can go into week nine with a 4-4 record, we'll be in good shape. In my mind, that means we won the games we were supposed to (Raiders, Chiefs, Seahawks), maybe we lost one we let get away (Broncos or Panthers), and we won at least one game against a good team (Saints, Falcons, Eagles).
That means we head into a stretch of games starting week 10 against the Rams, Bucs and a Matt Leinart led Cardinals team. The thing we need to avoid is that disabling 3-4 game losing streak in the first half of the schedule.
So, here is my bold prediction for 2010, considering we have a decent go in the draft.
If Alex Smith plays at or around the same level he did last year, we'll go 7-9 or 8-8 again.
If Alex Smith actually takes hold and plays like a starter, I think we can go 9-7 or 10-6.
If we go anything above 11-5, it means that Smith has completely turned his game around and the 49ers are an entirely new team. I don't see Smith taking this amazing leap, but I do think his performance will improve.
In my opinion it's easier to go from 5-11 to 8-8 than it is from 8-8 to 10-6, and this leap is usually linked to better QB play.
This article is
What is the duplicate article?
Why is this article offensive?
Where is this article plagiarized from?
Why is this article poorly edited?

San Francisco 49ers: Like this team?