Why the New York Jets New Recipe Is Only Meant for Disaster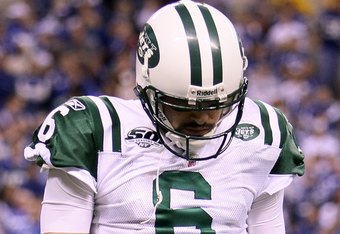 Andy Lyons/Getty Images
The Statue of Liberty stands in New York to symbolize many things. Within those meanings are messages, some of which are written on the statue itself.
One of the messages is a poem written by Emma Lazarus over 120 years ago, reading:
"Give me your tired, your poor
Your huddled masses yearning to breathe free,
The wretched refuse of your teeming shore,
Send these, the homeless, tempest-toast to me,
I lift my lamp beside the golden door!"
The Jets may have taken to their New York roots a little too firmly over the past few weeks, as they have apparently sent out a memo to the rest of the league that may read something like this:
Give me your troubled, your disgruntled,
The ones who have refused to comply with organizational policies,
Send these, the suspended, and wretched,
For we lift our Gang Green flag high as we throw away any dignity we once possessed!
Within the past few weeks, the New York Jets have publicly made it clear that they will attempt to win at all costs—no matter the future ramifications.
Sure Jets fans will celebrate in the moment, and rightfully so. New York has solidified the most talented duo of cornerbacks in the league with the addition of Antonio Cromartie, and bolstered its receiving core to aid in Mark Sanchez's development with last night's trade of Santonio Holmes.
But what does it mean after the smoke has cleared?
Clearly the Jets have made it their business to accept any and all baggage brought by these new additions, and have endorsed a free behavior by checking players' characters at the door.
Cromartie has constantly been asked to appear in court. He has multiple paternity suits, and was past due on a $25,000 child-support payment back in February.
The newly acquired cornerback has seven children with six different women, and while much has been made about the $500,000 advance in salary provided by the Jets, Cromartie claims he never asked for the kind gesture.
In addition to his offspring problems, Cromartie has multiple traffic tickets he has never settled or appeared in court for, and was involved in an incident where he allegedly threw a champagne bottle at a man's head.
While the Pro Bowl corner has had his fair share of controversy off the field, his on the field antics have rattled former San Diego teammates and coaches this past season.
In the AFC playoff game against the Jets last season, Cromartie whiffed on a tackle that lead to a touchdown, furthering people's belief that their star corner chooses his spots to play with a purpose.
But the Jets acceptance of past crimes does not end with Cromartie, as last night's trade opened everyone's eyes to their win-at-all-cost policy.
Santonio Holmes, the MVP from Super Bowl XLIII, was traded to the New York Jets for a fifth-round pick; highway robbery for some, but not according to the team who made the deal.
The Pittsburgh Steelers, the now former home of Holmes, stated that if they could not get a fifth-round pick from the Jets, they would have CUT him.
Imagine that.
A Super Bowl MVP from only two season ago, who is coming off the best season of his career, and was seventh in the league in receiving yards gained, was going to be released for no compensation—that's how thin his antics wore in Pittsburgh.
Holmes is no stranger to the law either, and will miss four games this season due to violating the league's substance abuse policy.
But the lack of moral character is not owned by the players alone, as the blame must be shared by the organization as well—most notably Jets owner Woody Johnson, and head coach Rex Ryan.
Johnson, has publicly criticized NFL Commissioner Roger Goodell after the Jets lost the now infamous "coin toss," thus questioning the integrity of the man in charge.
Ryan, who is seamlessly fitting in to the Jets organization, publicly attacked the Giants by stating that they were now the "biggest show in town," after a 9-7 season—one game better than the New York Giants.
With what seems to be a constant crave for attention, a roster that is building a reputation worthy of HBO's Hard Knocks program, and a very likely scenario that this whole franchise can crumble at the sign of trouble, this season is sure to be very interesting to say the least.
This article is
What is the duplicate article?
Why is this article offensive?
Where is this article plagiarized from?
Why is this article poorly edited?

New York Jets: Like this team?