2010 NFL Mock Draft Fans' Picks Round Two: Pittsburgh Pick No.52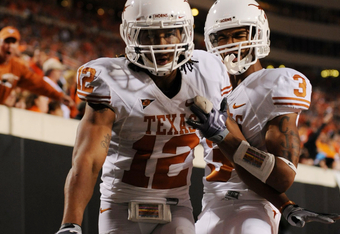 Ronald Martinez/Getty Images
Alright B/R fans, you asked for it so here it is, round two of our fans' draft. Round one was a success and we'll expect nothing less this time around.
Hopefully this will give fans a chance to get an idea of what the second round could look like, and also pretty much just help pass the time until the real thing happens in April.
The same rules apply, and we'll leave the list of first-round selections so you can see who's already off the board. Here we go!
Round One
1. Rams take QB Jimmy Clausen
2. Lions take DT Ndamukong Suh
3. Buccaneers take DT Gerald McCoy
4. Redskins take OT Russell Okung
5. Chiefs take S Eric Berry
6. Seahawks take OT Bruce Campbell
7. Browns take CB Joe Haden
8. Raiders take OT Anthony Davis
9. Bills take OT Bryan Bulaga
10. Jaguars take QB Tim Tebow
11. Broncos take ILB Rolando McClain
12. Dolphins take WR Dez Bryant
13. 49er's take RB CJ Spiller
14. Seahawks take OG Mike Iupati
15. Giants take DT Brian Price
16. Titans take DE Derrick Morgan
17. 49er's take S Taylor Mays
18. Steelers take S Earl Thomas
19. Falcons take DE Jason Pierre-Paul
20. Texans take WR Golden Tate
21. Bengals take TE Jermaine Gresham
22. Patriots take OLB Sergio Kindle
23. Packers take OLB Jerry Hughes
24. Eagles take OLB Sean Weatherspoon
25. Ravens take WR Arrelious Benn
26. Cardinals take OT Trent Williams
27. Cowboys take ILB Brandon Spikes
28. Chargers take DT Dan Williams
29. Jets take DT Jared Odrick
30. Vikings take QB Sam Bradford
31. Colts take CB Devin McCourty
32. Saints take DE Brandon Graham
Round Two
33. Rams take CB Kyle Wilson
34. Lions take C Maurkice Pouncey
35. Buccaneers take WR Demaryius Thomas
36. Chiefs take DT Terrence Cody
37. Redskins take OT Charles Brown
38. Browns take QB Colt McCoy
39. Raiders take DT Cam Thomas
40. Chargers take RB Ryan Matthews
41. Bills take DE Everson Griffen
42. Buccaneers take DE Carlos Dunlap
43. Dolphins take ILB Daryl Washington
44. Patriots take CB Kareem Jackson
45. Broncos take OT Vladimir Ducasse
46. Giants take ILB Sean Lee
47. Patriots take RB Jahvid Best
48. Panthers take DT Tyson Alualu
49. 49er's take OT Roger Saffold
50. Chiefs take OLB Koa Misi
51. Texans take RB Toby Gerhart
Pittsburgh landed one of the best safeties in the draft to play alongside Troy Palamalu by selecting Earl Thomas with their first pick.
Chances are they'll be looking to shore up their offensive line now. The biggest decision they'll have to make here could come down to whether they want a versatile guy, a pure tackle, or someone who is better suited to play guard.
But we'll let you play expert here. Tell us who you think they should pick! Polls will close in 24 hours.
The Rules
Each day, for the next 32 days, we'll post a continuation of this article at 6 p.m. EST where the fans can comment, discuss, and decide who their team will pick.
At 5 p.m EST the following day, we'll look at the best comments and opinions and announce the selection your team has made, along with the next team who will pick at 6 p.m.
A list of previous selections will be included, and fans will not be allowed to vote for players who are already off the board.
Note: You do not have to use the player's full name in voting for your vote to count. If there is a tie at the 5 p.m. cut-off, whichever player is ranked as the higher pick on CBS Sports' "overall player ranking" will be the selection.
(Example: If the Bills have six votes for Ndamukong Suh and six votes for Gerald McCoy, Suh, who is ranked No. 1 overall, would be the selection over McCoy, who is ranked No. 3.
This article is
What is the duplicate article?
Why is this article offensive?
Where is this article plagiarized from?
Why is this article poorly edited?

Pittsburgh Steelers: Like this team?