Wild Card Weekend Wrap Up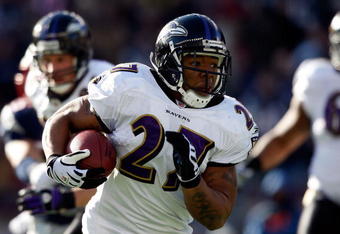 Elsa/Getty Images
Wild Card weekend was wild indeed as the opening round of the NFL playoffs took place this past Saturday and Sunday. Two division champions were eliminated, one team was obliterated and another advanced in an offensive showcase. Here are my thoughts on the weekend that flew right by us:
TOP 5 PLAYS

1-

On the first play of the game, Baltimore running back Ray Rice, took the wind out of New England's sails with an 83-yard touchdown run. Against the Patriots in the regular season, Rice rushed for 103 yards, including a 50-yarder, which until yesterday, was the longest run New England allowed all season.

2-

After winning the coin-toss in overtime, Aaron Rodgers and the Green Bay Packers, found themselves on their own 24-yard line needing only five yards for a first down. As Rodgers attempted a pass, Arizona defender Michael Adams stripped the ball out of his hand and as the ball was falling to the ground, Rodgers inadvertently kicked it into the hands of Karlos Dansby who took it in for the game winning score. It was the first time in NFL history that a playoff game ended with a fumble return for a touchdown.

3-

In a wild-west desert shootout, Green Bay quarterback Aaron Rodgers engineered a comeback for the ages, but unfortunately fell short in the end. Facing a 3rd and goal situation midway through the third quarter, Rodgers found Greg Jennings in the end zone to cut the deficit to 31-16. Jennings made a leaping, one handed grab for the score.

4-

Already leading 27-7 in the third quarter, Dallas Cowboys running back Felix Jones, took the handoff from Tony Romo and raced 73 yards down field for a touchdown. It was the longest touchdown run in the Cowboys' post-season history.

5-

Trailing 7-0 in the second quarter, rookie Shonn Greene of the New York Jets ripped off a 29-yard touchdown run, putting the Jets on the board and a PAT away tying the game. Greene took a toss from rookie quarterback Mark Sanchez, broke a tackle, and ran untouched into the end zone. Greene rushed for 135 yards in his playoff debut.

Honorable mention...

The Packers recovered an onside kick they attempted in the third quarter and it couldn't have been executed more perfectly. Arizona didn't even come close to recovering it...Michael Vick's 76-yard touchdown pass to Jeremy Maclin. He's back folks. Wonder where he'll end up next year.

What the heck happened to....

Shayne Graham?

Missing field goals in the regular season can always be a heartbreaker, but in the playoffs, leaving those points on the table can kill your team outright. Shayne Graham, the Bengal place kicker, missed two second half field goal attempts of 35 and 28 yards. The second miss came with 3:54 remaining in the game and would have brought the Bengals within one score of the Jets.

the New England Patriots?

Most who sat down to watch this game were expecting a close, physical contest between two tough football teams. Many figured the game would be decided by fewer than seven points. The Ravens jumped out to a 24-0 lead in the first quarter and the Patriots could not recover from Tom Brady's three interceptions. This was the Pats first home playoff loss since 1978.

Game Balls

Offense-

Kurt Warner, Arizona Cardinals. Warner threw for 379 yards and five touchdowns in what may be his last season in the NFL.

Defense-

Karlos Dansby, Arizona Cardinals. Dansby ended a defensively challenged game with a big defensive play. After Aaron Rodgers fumbled the ball, Dansby scooped it up and rumbled 17 yards for the game winning touchdown.

Parting gifts

A mulligan

for Marvin Lewis. He didn't use up both his challenges in the first quarter now did he?

A humble pie

for Bill Belichick. Watching Belichick speak during post-game press conferences after a loss is must-see TV.

A bigger football

for Braylon Edwards. Edwards dropped a sure touchdown pass which Mark Sanchez threw perfectly. It was right at the numbers and it went right through his hands.

An A.J. Burnett pie

for Shonn Greene. The Jets rookie rushed for 135 yards and a touchdown in his playoff debut. Give one to Mark Sanchez too. Sanchez completed 12 of 15 pass attempts and threw for 182 yards and a touchdown.
This article is
What is the duplicate article?
Why is this article offensive?
Where is this article plagiarized from?
Why is this article poorly edited?