Oakland Raiders: It's Time for a Bold Move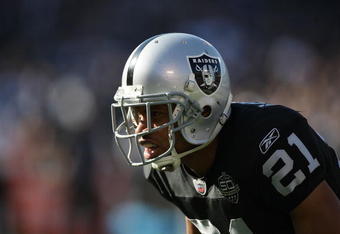 Jed Jacobsohn/Getty Images
It's playoff time in the NFL , which means that the conversation about the Raiders moves on to the next year. 
Will the head coach be fired or retained, which prized free agent will the team pursue in search of a quick fix, what will be the latest Al Davis draft mistake, etc., etc., etc.

The fact of the matter is that another year has passed, and the organization remains in the same position—irrelevant, down, and out.
The players and several card-carrying members of the Raider Nation have spoken of consistency in regard to Tom Cable remaining the head coach.

So-called inside sources/sources close to the team/unnamed sources/people who feel like they know have stated that Cable went rogue in benching JaMarcus Russell.
Has it come down to Al choosing between Tom Cable and JaMarcus Russell? Does that make any sense?

Oakland needs stability in the front office with a coach who can teach the game of football, recognize weaknesses to exploit, devise solid game plans, motivate, and lead the team to victory.
Regardless of what you or I think, those questions and that issue will be decided by Al Davis in a meeting on Jan. 10.

However, the reaction of the players and especially the fanbase should provide a stubborn owner more signs that Raider fans have had it. I think that Al Davis needs to break out the overhead projector and fire himself as the team's general manager.
Drastic times call for drastic measures and, for this team, now is the time.

Beyond the obvious of someone else handling the draft for the team, Al Davis needs to make a bold move, such as offering a package deal to the Rams for the No. 1 pick in the draft.

He should offer RB Darren McFadden , QB JaMarcus Russell, and SS Michael Huff in an attempt to land DT Ndamukong Suh.
He should also be on the alert just in case the Rams decide to use that pick on QB Sam Bradford, who will more than likely be the highest-rated QB in the draft if he checks out medically and proves to be healthy.

If the Rams aren't buying it he could then offer a similar package to the Lions , minus Russell, as they are in search of offensive help.
Here is some of the reasoning behind such a bold move:
These are overpriced non-productive players who have either exceeded their three to five year window to make an impact or have missed games due to injury but still have trade value.
Al Davis can't be in any way ready to scratch a series of checks to these players in excess of $28 million for 2010.
The team hasn't gotten any significant return on investment with either player considering where each player was drafted.
Freeing up the team from the investment in each player to allow the team to restock more productive talent.
The Raiders need to develop their own drafted players, but the guys mentioned were guys the team missed on, and a change in scenery could still be beneficial for both parties.
The Raiders need to make their money spent work for them on a more tangible level and produce some kind of value.
The goal would be to secure the first-overall pick in the draft or the second, as well as retain the original first choice so the team possesses two first-round picks.
If successful, the team could land DT Ndamukong Suh and MLB Rolando McClain. The bold moves would fill two huge needs on this team, replacing 10-year veteran Gerard Warren and Kirk Morrison, who is currently a free agent.

The move would vastly improve the defense at two key positions, providing the Raiders with two solid young impact players who understand that losing is unacceptable, are instinctive, familiar with stopping the run, and getting after a quarterback.
We are all aware that the economy is bad, but, for those who aren't seeing the entire picture, the value of money is decreasing.

This statement is relevant on several levels. The Raiders have literally thrown away way too much money on guys who should have been drafted later than selected.

Consider that Oakland in the last 23 seasons has had single-digit wins in 18 of them, has lost 11 games a year for the last seven years, had top-10 first-round draft picks for seven years and missed on all of them, had two first round picks in 2002 and 2003, and only have Nnamdi Asomugha to show for those four picks, have thrown too much money at several veteran free agents, and the team has also hired and fired several coaches without giving them the latitude to do their job without influence.

I hate to say it, but something has to be done at this high level of perpetual suckitude! The league is currently re-working the Collective Bargaining Agreement, and I want to propose a few changes myself.
The Raiders are one of several franchises in the league that have been horrible for a while and are in need of an overhaul. It has resulted in several blowouts, non-competitive games, and several local blackouts. These teams are causing the league to lose money.

Isn't it time that a clause is written into the CBA that states a team has five years to make the necessary moves to become competitive or the league office will take over to put that franchise on the right track?
That's a total of 85 games, more than enough time to make progressive moves.

Call it punishment or legislation for not being competitive. If the players can be fined, suspended, or released for not performing, is it right that there is no way to show a team owner that this is unacceptable? Some may have to be forced into a position to be competitive.

The goal has to be a competitive brand of football by all 32 teams. The way it is constructed every team earns revenue, but with more competitive teams, the league would make more money and us fans would be able to watch a better product on the field.
This article is
What is the duplicate article?
Why is this article offensive?
Where is this article plagiarized from?
Why is this article poorly edited?

Oakland Raiders: Like this team?