Argentina are back. After no less than 24 years out of the World Cup semi-finals, the Albiceleste took down Belgium 1-0 in Brasilia to book their place amongst the top four. However, Angel Di Maria's thigh muscle tear will greatly impact his side going forward.
Argentina defeated Belgium with a style and control that marked a vast improvement over what we had seen earlier from one of the tournament's favourites, but coach Alejandro Sabella knows his team will need to show even more to continue their steady progression in Brazil, regardless of the "very big loss" of Di Maria.
"I think that, in terms of the balance we showed and the football we played, it was our best match so far. Our performance was excellent tactically, strategically and in how a team should behave, with team-mates putting themselves on the line for each other," Sabella told reporters in the post-match press conference, per FIFA.com.
He added, "We've achieved our minimum objective, which was to reach the last four, but we want more. That's what we've come for."
For all their wonderful attacking talent, the Albiceleste have shown little during their steady run to the semis. Captain Lionel Messi has been the focal point of almost everything the nation have done right in the World Cup, with sporadic contributions from his support men around him.
Di Maria a huge loss for #ARG. Messi aside, he's the only one who provides any sort of penetration.

— Rupert Fryer (@Rupert_Fryer) July 5, 2014
The display against Belgium, moreover, was a mixed blessing. The appearance of the Gonzalo Higuain who relishes in hitting the back of the net for Napoli, rather than the lost sheep seen in the opening games of the competition, is a big boost. But a big question mark appeared over the side when Di Maria pulled up 30 minutes into the match.
Prior to his injury, the Real Madrid star had been one of the bright points of an impressive start for the South Americans. Sabella chose to once more play him on the opposite flank, coming in from the right while Ezequiel Lavezzi mirrored his movements in his more habitual position.
Di Maria's movement off the wing unbalanced Belgium, and it was his intelligent pass deflected into Higuain's path that allowed Pipita to score what proved to be the decisive goal. But the panorama darkened when he overworked his abductor trying to spiral a shot past the attentions of Vincent Kompany.
Fox Sports Argentina reporting Argentina midfielder Angel Di Maria's #WorldCup is over due to a thigh injury pic.twitter.com/Ed0MF1FuZw

— FOX SPORTS News (@FOXSportsNews) July 5, 2014
Initial reports suggest that the winger's World Cup has come to a premature end, although Argentina will most likely wait until official tests are carried out Sunday before confirming his exit. But whether he misses just the semi-final or the rest of the competition, the news is a bitter blow for his nation.
Di Maria, along with Messi, is one of the two players in the team who have shown they can unlock defences on a whim. A major tactical rethink will be needed if Argentina are to recover from the setback and continue their path to the final.
Sergio Aguero's own recovery from injury will have to be stepped up, although it would be a fantastic risk throwing the Manchester City man back into action so soon after he limped off against Nigeria. In terms of direct replacements, Inter's Ricky Alvarez has some of the ability on the ball and unorthodox style possessed by Di Maria, while Maxi Rodriguez's experience and temperament makes him another logical choice.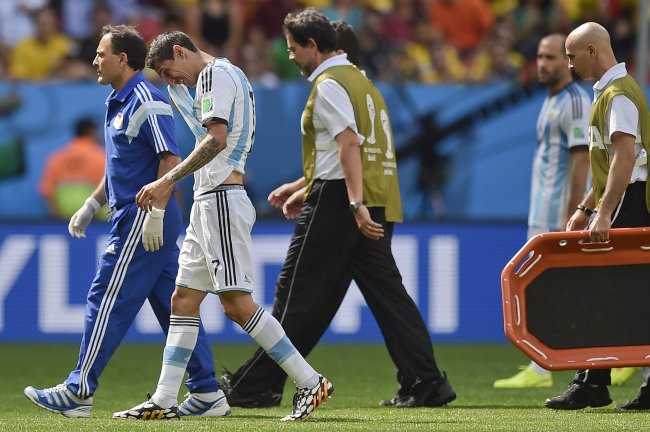 Martin Meissner/Associated Press
Messi, meanwhile, would most likely see his own game shift closer to the centre-circle than the penalty area. The Barcelona man needs to fill the creative void left by his adversary at club level, and although it would negatively impact his ability to break down defences, it is a valid option for the team.
It is not exactly checkmate for a side full of attacking ability. But should Di Maria be ruled out for the remainder of the tournament, it would certainly hurt Argentina as they prepare for an all-out assault on the World Cup. Celebrations will continue for now after taking their place in the semi-final, but much greater challenges still lie ahead.