Carmelo Anthony may never know what it feels like to be an MVP, but he's certainly getting a taste of what it's like to be a VIP.
He can thank free agency for that.
The highly sought-after free-agent forward met with four teams this week, as well as a contingent from his New York Knicks in Los Angeles on Thursday night. The Knicks have had plenty of time to convince Anthony to remain in New York, but the other suitors had to make substantial impressions in relatively short periods of time.
Anthony first travelled to Chicago on Tuesday before visiting the Houston Rockets and Dallas Mavericks on Wednesday. He then flew to Los Angeles to meet with the Lakers on Thursday.
Here's how each team made its sales pitch.
Chicago was the first stop for Anthony. Whereas the star forward later split his time Wednesday between the Houston Rockets and Dallas Mavericks, the Bulls had his full attention on Tuesday. Basketball Insiders' Alex Kennedy had all the details from the day's events:
According to sources close to the situation, the Bulls started their meeting with Anthony by giving him a tour of the United Center and then moved over to their new practice facility.

Later, the Bulls' brass made a pitch centered around the fact that a core of Anthony, Joakim Noah, Derrick Rose and Taj Gibson – with Tom Thibodeau coaching – would be able to contend right away in the depleted Eastern Conference.

While Rose had went on the record saying that he wasn't going recruit Anthony to Chicago, he was very involved in the team's courtship of the superstar free agent, according to sources close to the situation. While at the United Center, sources say that Rose went through a private workout to show Anthony that he's healthy and ready to compete at a high level next season.

After meeting and discussing the team's pitch, the group went to dinner at the Peninsula Hotel in downtown Chicago. Anthony, Noah, Gibson, Thibodeau, Jerry Reinsdorf, Gar Forman and Scottie Pippen were all in attendance at the dinner, according to sources.
The big question for Chicago will be whether it can offer Anthony the kind of money he wants. While the organization would like to keep power forward Taj Gibson around in order to maintain its status as a contender, that could complicate the bid for Anthony.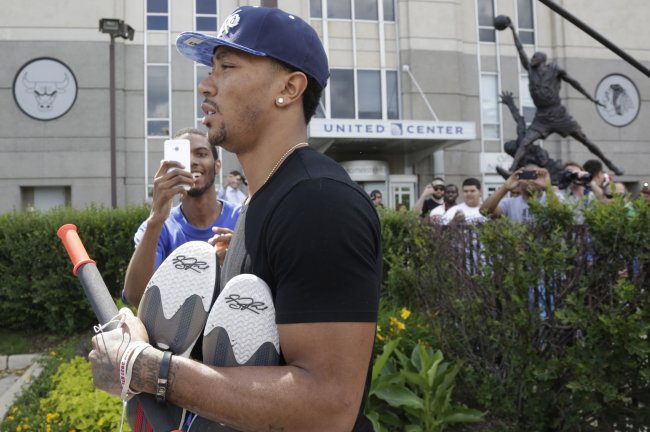 M. Spencer Green/Associated Press
The Chicago Sun-Times' Joe Cowley explains:
If the Bulls can't get the Knicks to do a sign-and trade for Anthony, Gibson's presence would mean that Anthony only can be offered $14 million to $15 million for the first year of the deal instead of $19 million to $20 million.
The former figure may not be to Anthony's liking, especially with the opportunity to make an additional year's worth of max salary with the New York Knicks. He can sign for up to five years with New York but just four years with another team.
Given that the Bulls play in the East, they arguably represent Anthony's easiest path to the NBA Finals. They'd also give him an elite point guard with whom to play and 2013-14 Defensive Player of the Year Joakim Noah holding down the paint.
There's a lot to like about that arrangement on paper. And there's plenty to like about Chicago's recruiting performance, too.
Houston Rockets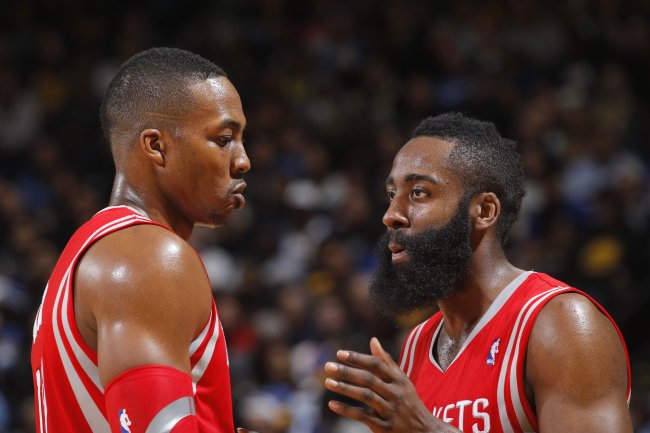 Rocky Widner/Getty Images
The Rockets were clearly looking to make an impression on Anthony. Yahoo Sports' Marc J. Spears offers some of the details.
Rockets meeting with Carmelo Anthony concluded about an hour following lunch at a restaurant and a tour/meeting at the arena, source said.

— Marc J. Spears (@SpearsNBAYahoo) July 2, 2014
Rockets center Dwight Howard and James Harden had a good rapport with Carmelo & they all spent about 10 minutes talking alone,a source said.

— Marc J. Spears (@SpearsNBAYahoo) July 2, 2014
While Carmelo Anthony gave off the impression if would not be easy to leave NY, he also said in Rockets meeting his 1st priority is to win.

— Marc J. Spears (@SpearsNBAYahoo) July 2, 2014
Fox26's Mark Berman had additional information.
Among those taking part in Rockets meeting with Carmelo: Leslie Alexander, Tad Brown, Clyde Drexler, Kevin McHale, James Harden (more)

— Mark Berman (@MarkBermanFox26) July 2, 2014
Also taking part in Rockets meeting w/Carmelo: Daryl Morey, Dwight Howard, Keith Jones, Gersson Rosas and Greg Buckner according to sources

— Mark Berman (@MarkBermanFox26) July 2, 2014
Houston would certainly create an opportunity to win, even in the crowded Western Conference. Between Harden and Anthony, the team would boast two of the very best scorers in the game. The Rockets' already-electric offense would reach new levels.
In addition to Harden and Howard showing up for the meeting, Rockets (and Portland Trail Blazers) great Clyde Drexler also made an appearance.
Clyde Drexler took part in Rockets meeting w/ Carmelo: "It was just a really good meeting. Carmelo is probably 1 of the best scorers(more)

— Mark Berman (@MarkBermanFox26) July 2, 2014
More Clyde Drexler on Carmelo:"N the history of the NBA. Anytime u have a chance 2get a guy of that magnitude U got 2pull out all the stops"

— Mark Berman (@MarkBermanFox26) July 2, 2014
Howard also offered some thoughts after Anthony left.
Dwight after meeting w/Carmelo: "At the end of the day we all want 2win a championship.That's why I came here.He would B a big part of that"

— Mark Berman (@MarkBermanFox26) July 2, 2014
Dwight on Carmelo: "This his time. This is his moment to make the best decision for Carmelo. Not for me. Not for anybody else but Carmelo."

— Mark Berman (@MarkBermanFox26) July 2, 2014
The Rockets made something of a faux pas by creating a graphic in which Anthony was shown wearing a Rockets jersey with Jeremy Lin's No. 7 on it.
The Rockets will host Carmelo Anthony and have pictures of Carmelo in Rockets uniforms on Toyota Center marquis pic.twitter.com/2VfycvqlkN

— Mark Berman (@MarkBermanFox26) July 2, 2014
Though it created a minor stir and ultimately caught Lin's attention, it's unclear whether Anthony will care in the slightest. At the moment, that's all that matters to the Rockets. They went all out on this one.
Dallas Mavericks
The Dallas Mavericks dared to be different. While the Chicago Bulls, Houston Rockets and Los Angeles Lakers pulled out all the stops, Mark Cuban took a bottom-line approach with Anthony, emphasizing the team's ability to win.
#Mavs are the only team Melo visited that didn't put on the glitz and glamour for him. Just stuck to basketball and facts. #hiphiphooray

— Dwain Price (@DwainPrice) July 3, 2014
Mavericks' message to Melo at Cuban's house: Winning organization, coach and owner with the ability to attract more players, source said.

— Marc J. Spears (@SpearsNBAYahoo) July 3, 2014
Cuban himself outlined the strategy.
"No tours. No banners. All basketball and business.'' -- #Mavs owner Mark Cuban via Cyberdust on Wednesday's meeting with Carmelo Anthony

— Dwain Price (@DwainPrice) July 3, 2014
Will the no-frills approach resonate with Anthony? It should certainly stand out, speaking volumes as to what the organization is about. Similarly, Dallas' decision to ink Dirk Nowitzki to a three-year deal also sent a message about how this team does business.
The message the #Mavs sent by coming to terms with Dirk is that they want to take care and respect their own star FA before moving on.

— Dwain Price (@DwainPrice) July 3, 2014
In a spectacle defined by style, the Mavericks seem to be offering some substance. So, it's no surprise that Cuban and Co. emphasized the team's record of recent success.
The #Mavs talked to Melo about beating Miami's Big 3 in the 2011 Finals -- with Tyson. And how they stretched the SAS to 7 games this yr.

— Dwain Price (@DwainPrice) July 3, 2014
If Anthony wants to win, it's hard to ignore what the Mavs have been able to accomplish under head coach Rick Carlisle.
One final note on Anthony's trip to Dallas: It was quick and to the point.
Getting word now that the Mavericks' meeting with Carmelo Anthony in Dallas has ended after two-plus hours ... after six hours in Houston

— Marc Stein (@ESPNSteinLine) July 3, 2014
Buy or sell whatever the Mavs had to offer Anthony, but you have to appreciate the efficiency of it all. If Anthony's really about winning rather than stardom and self-aggrandizement, Dallas' tactics might just catch on.
Los Angeles Lakers
Among the teams Carmelo has spoken with, the New York Knicks have the last word. But even after meeting with a Knicks contingent in Los Angeles, it will be Kobe Bryant who actually gets the last say with Anthony.
Kobe Bryant intends to meet with Carmelo Anthony personally following Melo's meeting w/ NYK in LA later today, according to a league source

— Dave McMenamin (@mcten) July 3, 2014
Knicks were hoping for commitment from Melo tonight. Now he's meeting Kobe after them. They can't love that.

— Yannis Koutroupis (@YannisNBA) July 3, 2014
It's also worth noting—per Yahoo Sports' Adrian Wojnarowski—that "Bryant and Anthony have been in consistent contact this summer."
According to ESPN.com's Ramona Shelburne, "Bryant flew in late Wednesday night from a European vacation so he could play a key part in the team's pitch."
Per Shelburne, "Bryant has a long history and friendship with Anthony and has been courting him for some time, but he felt it was important to be there when the Lakers made their pitch."
Though the Lakers' meeting with Anthony didn't last as long as Chicago's or Houston's, it made the most of what the city has to offer—that, of course, being Hollywood.
Movie producer Joel Silver was a part of the LAL presentation to Melo, making a short film about him and speaking to him about the industry

— Dave McMenamin (@mcten) July 3, 2014
Lakers went Hollywood for part of their presentation to Carmelo. Biz team presented a short video done by "The Matrix" producer Joel Silver.

— Mike Bresnahan (@Mike_Bresnahan) July 3, 2014
According to the Los Angeles Times' Mike Bresnahan, the meeting also included Time Warner executives and the team's "business/marketing guru" Tim Harris. Some speculation is required, but it certainly appears as though the organization was emphasizing its ability to increase Anthony's star power.
The franchise also emphasized its legacy, bringing one of the club's all-time greats to the table.
Hearing that James Worthy will be a part of the Lakers' pitch to Carmelo Anthony today.

— Dave McMenamin (@mcten) July 3, 2014
For the record, Magic Johnson is vacationing in Italy at the moment.
So how did the meeting go? Only time will offer a final verdict, but the interim information seems promising enough.
Carmelo meeting over. Lakers GM Mitch Kupchak walking out with him and his agent. 2.5 hours total.

— Mike Bresnahan (@Mike_Bresnahan) July 3, 2014
One person in the Lakers' meeting room said Carmelo was "truly engaged in the conversation." Lakers can't predict if he'll sign, though.

— Mike Bresnahan (@Mike_Bresnahan) July 3, 2014
The big question for the Lakers is how Anthony would fit alongside Bryant. Both are scorers that prefer to dominate the ball to some degree. Both are accustomed to being their respective teams' primary focus. It's hard to say whether they'd mesh.
Otherwise, Los Angeles seems to offer the intangibles Anthony desires. It's a franchise that's committed to winning year in and year out. It's a glamorous destination, replete with ready-made opportunities for Anthony to enhance his fame to levels that are—for him, anyway—somewhat unprecedented.
Anthony is used to the bright lights and pressures associated with playing under a media microscope. If he could handle New York, chances are he could handle L.A.
Who Wins?
How about: None of the above.
A consensus view appears to be emerging that—after all this—Anthony will wind up re-signing with the New York Knicks. They've had the opportunity to more subtly court him for some time now, starting with the organization's decision to hire the legendary Phil Jackson as president of basketball operations.
Jackson has quickly asserted his authority, hiring Derek Fisher to be the next head coach and trading away Tyson Chandler in order to upgrade the point guard position with Jose Calderon.
Forbes' Mark Heisler cites "an official of another NBA team" who said, "He's not going to leave $35 million on the table. He's going to take the money in New York for the same reason Kyrie Irving took it in Cleveland [signing a $90 million extension.] It's a lot of money."
Whoever comes out the big winner, the decision should come shortly.
Around Carmelo Anthony, there's a belief that he plans to take the weekend in Los Angeles to make a decision on his free agency choice.

— Adrian Wojnarowski (@WojYahooNBA) July 3, 2014
Hearing Carmelo will almost certainly have his decision made before the weekend is finished, according to a person familiar with the matter

— Chris Herring (@HerringWSJ) July 3, 2014
And once it does, expect the rest of the free-agent puzzle to come together. With many teams waiting to make secondary moves until Anthony signs, moves involving guys like Luol Deng and Pau Gasol have largely been on pause.
Come next week, that will almost certainly change.