The Charlotte Bobcats are finally winning games, and it's time to take notice.
The 43-win Bobcats are coming off their second-best regular season in franchise history. Their reward for accomplishing such a feat? A date with the two-time defending champion Miami Heat in the first round of the NBA playoffs.
Four games over .500 may sound mundane for some franchises, but let's remember where this team was just two years ago. That's when the Bobcats set the record for worst single-season winning percentage in NBA history, finishing the year with a 7-59 record in the 66-game, lockout-shortened season.
But don't just look at the logo and think, "Eh, it's the Bobcats. I'm going Heat in four." Because this doesn't seem like a team that's gone through five coaches in four years. With a little closer examination, it becomes obvious these aren't the Bobcats we're used to seeing.
No, these are Steve Clifford's 'Cats, a team that plays as hard as any other in the league. One that finished sixth in points allowed per possession during the regular season.
That's right. The Bobcats play defense, and it's not because they're "gritty" or because they "play hard" or because they "hustle" or because of any other cliches in the book. The reason is quite apparent: The Bobcats have success on D because they're actually good.
Mid-Range Living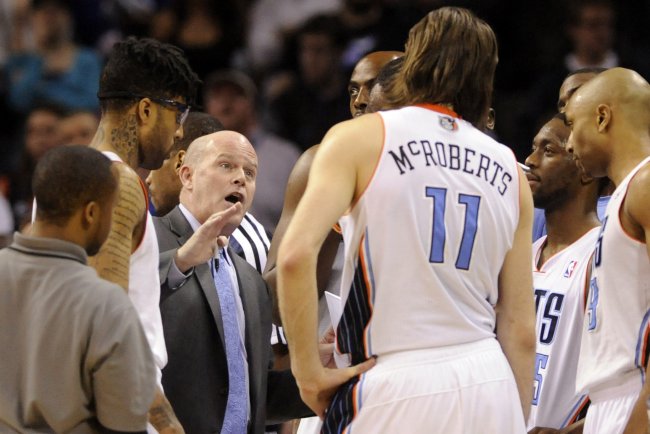 USA TODAY Sports
Charlotte has a pretty simple strategy when it comes to taking points off the board: Don't let the opposition take efficient shots. And the defense has executed that plan wonderfully.
The Bobcats allowed the ninth-fewest shots in the restricted area this year. Opponents made just 57.8 percent of those attempts, the fifth-stingiest percentage in the league. And in plenty of ways, defense is more about forcing teams into bad shots than it is about preventing points.
It's almost like basketball has more to do with shot selection than actual made baskets. Mend a defense that creates bad shots and, usually, they're not going to fall. And that's exactly what the Bobcats do: They cause looks that scorers don't want to attempt, mainly in mid-range.
Offense in today's NBA is mostly predicated on the pick-and-roll, and you'd think—from looking at the big men on the roster—that Charlotte doesn't defend the screen-and-roll all that well. But you'd think wrong.
The Bobcats aren't particularly aggressive in defending the pick-and-roll. Al Jefferson tends to sag back in the paint and wait for someone else to make a play on the ball.
That's why so many teams pop against Charlotte. In a way, the Bobcats just give them those shots.
It makes sense. We always talk about it. The mid-range shot is the worst in the NBA, and Clifford seems to agree.
Downing the Pick-and-Roll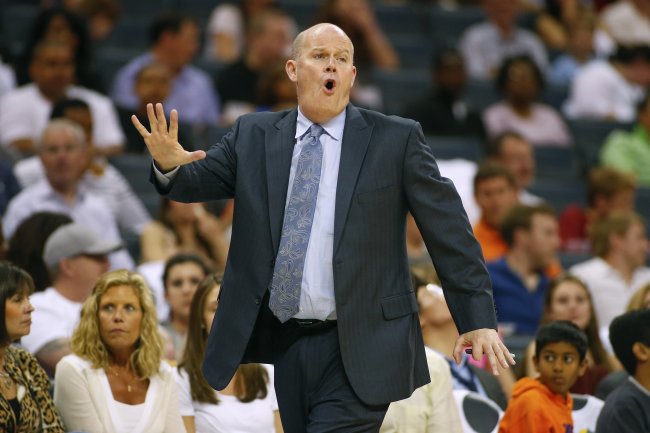 CHRIS KEANE
It's not that Charlotte forces teams into mid-range jumpers. It's more that they encourage them. They goad the opposition into taking those shots like a trainer waving a carrot in front of a horse's nose.
The rest is best said by Bobcats forward Chris Douglas-Roberts: "You want to play to the numbers. The high-percentage shot is towards the basket, closest to the basket. So you want to protect the paint. And other high-percentage shots are drive-and-kick threes, so those are the two things you really want to protect. If you lose a game from a 5-man popping and making mid-range jumpers, you can live with that."
And the way Charlotte defends the pick-and-roll is consistent with CDR's logic. The Bobcats push ball-handlers to the baseline. It's a way of using the sideline as a third defender.
Chuck Burton
What's that do? It keeps the ball away from the middle of the floor, taking away both of the types of shots CDR mentioned: attempts at the rim and catch-and-shoot threes.
The Bobcats call this "downing" the pick-and-roll. That term has a million complicated synonyms: ICE, blue, whatever else you may have heard. But whenever you hear a Bobcats big man scream "DOWN!" right as an opposing player comes to set a ball screen, that's when you know Charlotte is forcing the ball to the side of the court.
It's a relatively simple strategy in some ways. The oldest of basketball principles say you want to keep the ball away from the middle of the court, and the Bobcats do a nice job of that.
Sometimes, though, they can get hurt against the pick-and-pop. And that's mainly because Jefferson will almost never go past the foul line when he's defending a ball screen.
The Jefferson Dynamic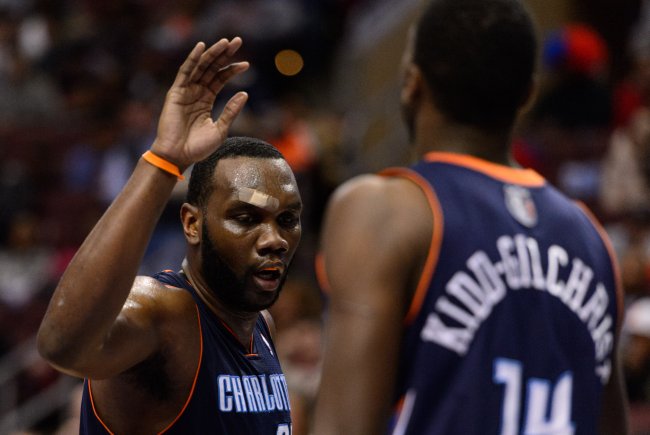 USA TODAY Sports
Big Al is so wonderful at so many aspects of basketball. He's contending to make an All-NBA team this year. Any reasonable person could make an argument that the first-year Bobcat is perfectly deserving of the final center spot behind Joakim Noah and Dwight Howard.
But Al isn't a defender. He never has been. And even though he's vastly improved since leaving the Utah Jazz for a Coach of the Year candidate in Clifford, he still isn't even at average levels when he defends the pick-and-roll.
That may be why Clifford has Jefferson consistently stay back so far on those plays. You're not going to be able to switch Big Al onto another defender, and he doesn't have the defensive agility to recover quickly after hedging out far.
Look at how much Jefferson sags as his man, Elton Brand, sets a ball screen.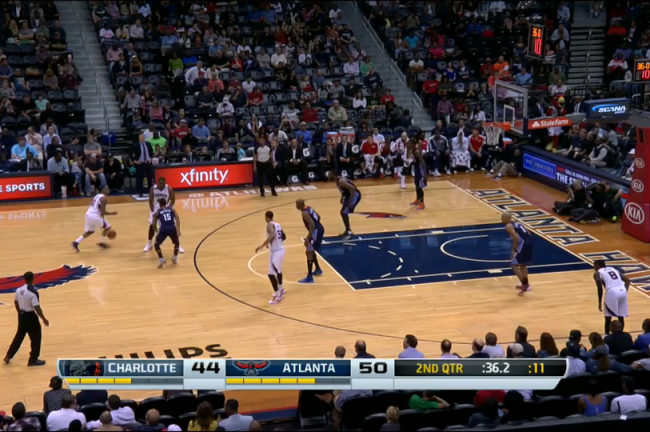 NBA.com
Jefferson is nowhere near Brand, and that means he isn't even able to contest the shot at the end of the play.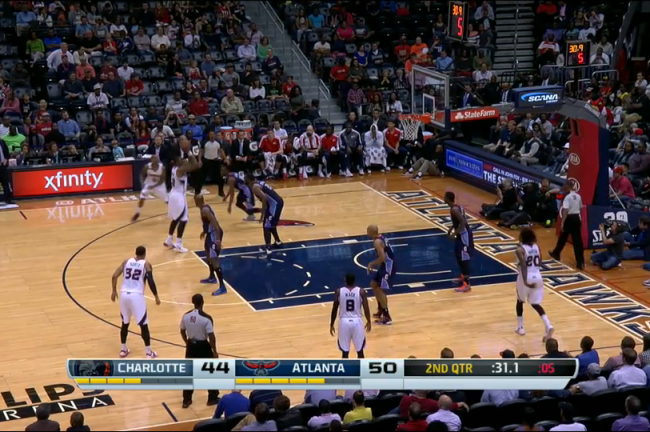 NBA.com
That's a normal play for the Bobcats' defense. But really, that's fine. Remember, it's all about coaxing the offense into taking a shot it shouldn't be taking, and the numbers say the mid-range attempt isn't an efficient one for an offense. But can that strategy work in the postseason against the Heat?
Even the best mid-range jump shooters can become inefficient if they take too many long twos. But what about someone like Chris Bosh?
Winging It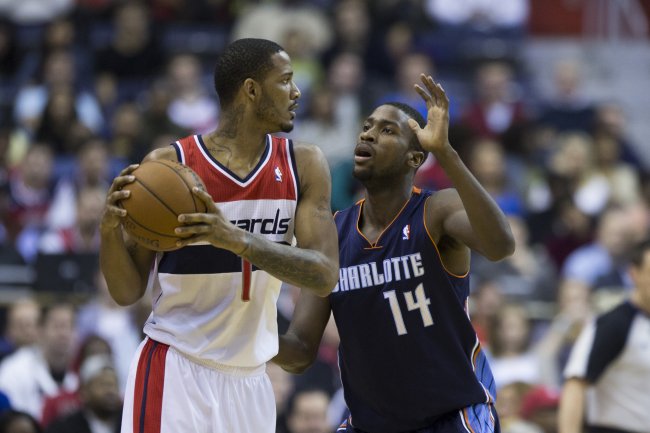 Evan Vucci
Miami likes to go small, starting Bosh at center. He may be a natural power forward, someone we all think of as a 4, but over the past two seasons, he's been little other than a center.
So if Bosh matches up with Jefferson, what are the Bobcats to do? Jefferson will still sag back and all of a sudden, even more of the defensive burden falls on the wings and the guards.
What is your prediction for the Heat-Bobcats series?
"That's probably the most difficult play to defend if an opponent has a 5-man who can pop and make those shots," explains Douglas-Roberts. "But those guys, [the Heat], their greatness is at the rim or when they're in the paint creating for each other."
That's why you have to credit those pesky Bobcats wings. Sure, Jefferson isn't playing every minute, and guys like Josh McRoberts and Cody Zeller are usually pretty quick to recover after hedging farther than Big Al would ever venture, but this defense is predicated on the strength of its wings.
And when you're talking about Bobcats wings, you have to start with Michael Kidd-Gilchrist.
Everyone seems to think of MKG as a bust just because he hasn't learned how to shoot. It's part of this strange phenomenon we all seem to perpetuate throughout the basketball world: If you were a high draft pick, and you're not a star, you must be a bust.
It's so black and white. But that's not how life works, and it's certainly not how the NBA does.
In actuality, Kidd-Gilchrist is one of the feistiest defenders in the league, and his defensive versatility is part of what makes the Bobcats D so stifling.
Clifford uses MKG as his Swiss army knife.
Need a long defender to stop a point guard? He's on it.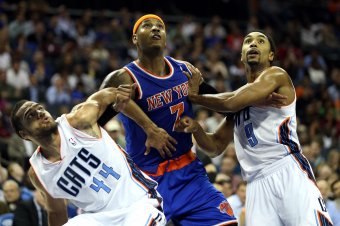 Streeter Lecka/Getty Images
Looking for a wing to guard a long, ball-handling facilitator? Kidd-Gilchrist and his 7' wingspan can do a pretty decent job.
He's always there. Some players have this uncanny ability to be around the ball at all times. They're somehow always in the right spot. MKG is one of those types.
"He kind of sets the tone for us," says Bobcats forward Josh McRoberts. "He's really kind of a gritty, energy, hustle guy right now. Those guys come in there and set the tone for everyone else."
CDR echoes those same sentiments.
"He just has that motor that no one else has," says Douglas-Roberts on Kidd-Gilchrist, one hyphen to another. "He's so young, man. He's still growing up.
"He's kind of understanding that it's a tough transition from being a big star in college to being the guy that people were wondering about, but I think he's doing great. With his age, he's starting on a playoff team his second year. He's doing great."
Playing with Intensity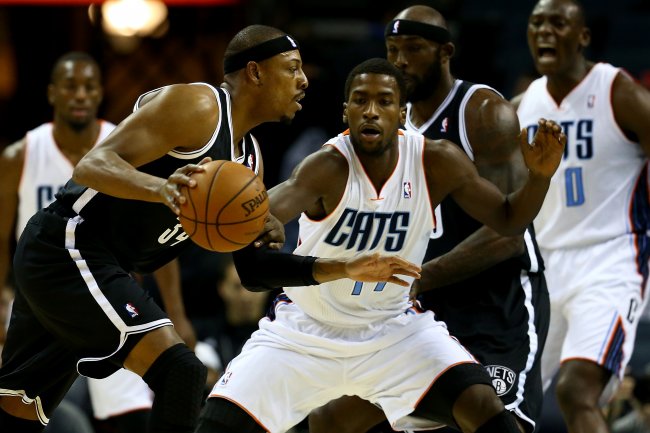 Streeter Lecka/Getty Images
In some ways, whether it's with Kidd-Gilchrist or anyone else, it does always come down to energy, doesn't it?
On Bill Simmons' podcast last week, Haralabos Voulgaris made the point that the Indiana Pacers haven't set a good screen in weeks, perfectly coinciding with their late-season slump. Those sorts of things go hand in hand. And sometimes screen setting, recovering on pick-and-rolls and beating opponents to spots have more to do with energy than anything else.
It's so easy to say, but this team has fight. Remember when they gave up 61 points to LeBron James back on March 3? Well, the Bobcats have gone 16-6 since that date.
They could've been discouraged, dropping to 27-33 on the season after getting everywhere from manhandled to gently fondled by the best player in the universe. Instead, they went in the opposite direction. That says something about a squad.
But They're Not Perfect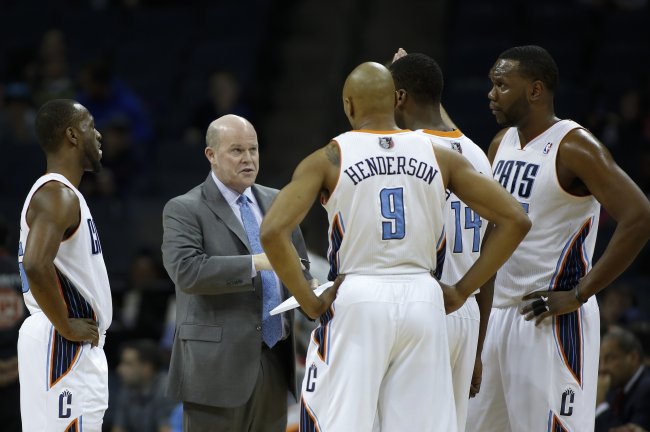 NELL REDMOND
Of course, Charlotte has its flaws defensively.
The Bobcats can be prone to allowing guys to go off from mid-range, and they don't have a world-class rim protector, even though they have found general success defending the paint.
(Side note: Clifford's biggest accomplishment may have been turning Jefferson into someone who can actually contest shots at the rim. This season, he successfully pulled off the Roy Hibbert verticality move more than he ever has before, and the numbers back it up.
Opponents are shooting just 52.7 percent on shots Jefferson contests at the rim. That's not an elite percentage, but it does make Big Al statistically comparable—in both quality and volume—to Andre Drummond, a shot-blocking, paint-protecting monster of a man.
Now getting back to the bad...)
Charlotte also isn't particularly effective defending the right corner, from which shooters are knocking down 42.1 percent of their attempts. It adds a strange dynamic, considering Bobcats opponents are shooting just 34.6 percent from the left corner.
It's weird that a team would be tremendous defending the left corner and below average in the right, though the left-corner three can be easier to deny at times since dominant, right-handed post players tend to hang around the left block, which can clutter that side of the floor.
Bobcats Year-by-Year Defensive Efficiency

| | | |
| --- | --- | --- |
| Year | Defensive Eff. | League Finish |
| 2013-14 | 101.2 | 6th |
| 2012-13 | 108.9 | 30th |
| 2011-12 | 107.8 | 30th |
NBA.com
But still, a difference of almost eight percentage points? That's the fifth-largest disparity of any team in the league. And you know what? Not everyone can figure out exactly why that's happening.
"I think sometimes, that's just kind of the breaks. That's kind of the way it goes," theorizes McRoberts. "I'm sure it's because of the help side rotation out of the pick-and-roll. Teams are probably running it more on one side and that's the weak side."
So to simplify, when the Bobcats have a defensive breakdown, they're more prone to leaving the right side open than the left.
Somewhere, at this very moment, Shane Battier is salivating more than Pavlov's dog, just waiting to chow down on that right corner. But every defense has a flaw, and being somewhat vulnerable in one particular corner is hardly the biggest of them all.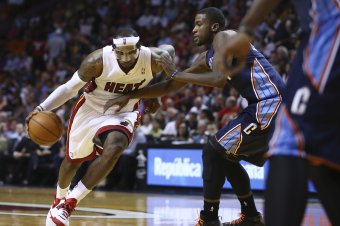 J Pat Carter
Ultimately, the Bobcats have formed one of the best defensive schemes in the NBA. Imagine if they had big men who could actually block and alter shots or if Bismack Biyombo could play more than his 13.9 allotted minutes a night.
Yet, we're still talking about a defense that ranks No. 6 in the league, up all the way from last in the NBA a year ago. And up from last in the NBA two seasons ago, also.
They move so well on the defensive end. You don't see role players like Douglas-Roberts and Gerald Henderson rotating to spots late. Each unit is so cohesive, so communicative.
That's on Clifford. It's also on this group of players, which has only three holdovers from that dreadful 7-59 roster two seasons back. And even though the Heat head into this first-round series as the obvious favorites, maybe we're not giving the Bobcats enough credit.
The Miami offense matches up well with this defense. The places on the court where Charlotte attempts to force the ball, that's where the Heat tend to excel. But we're still talking about the 'Cats driving Miami into taking inefficient shots, and if the Heat jump shooters go just a little cold, Charlotte has a chance to tire its opponent in a gritty playoff series.
Just imagine being able to say that two years ago.
Fred Katz averaged almost one point per game in fifth grade, but he maintains his per-36-minute numbers were astonishing. Find more of his work at RotoWire.com or on ESPN's TrueHoop Network at ClipperBlog.com. Follow him on Twitter at @FredKatz.
All statistics current as of April 18 and from Basketball-Reference.com and NBA.com, unless otherwise noted. All quotes obtained firsthand.