Projecting Pro Comparisons for Top International 2014 NBA Draft Prospects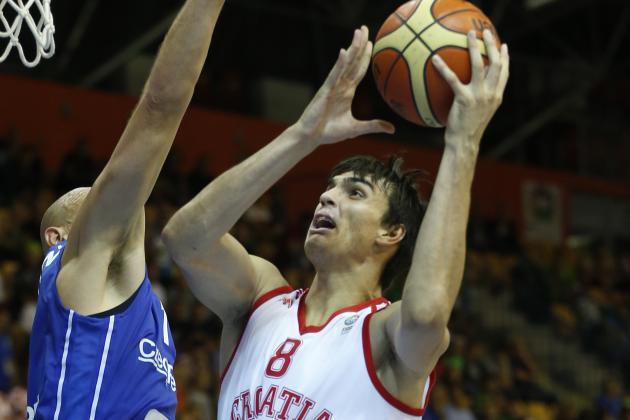 Petr David Josek/Associated Press

While America feasts its eyes daily on NCAA talent destined for the 2014 NBA draft, a strong crop of international prospects prepares to make the jump to the Association.
Southeastern Europe is particularly well represented this year, with players from Serbia, Croatia and Bosnia poised to be selected early. However, the first non-collegiate foreign player off the board won't be from Europe.
That honor belongs to an Australian enigma who reminds us of a couple star NBAers.
Which NBA competitors do these international standouts compare to? Find out as we break down the globe's top ballers of 2014.
*Rankings include non-NCAA international prospects with first-round potential.
Begin Slideshow

»
NBA Comparison: Shorter, less athletic Timofey Mozgov
Ceiling: Even though he's a couple inches shorter and more than a couple pounds heavier, Bosnian center Jusuf Nurkic is quite comparable to Denver Nuggets center Timofey Mozgov. Both guys can operate deep in the post, spin and score with either hand and rebound well.
Nurkic has the sheer size to move people around in the paint, and his usage of that size will dictate how potent his NBA impact will be.
A strong back-to-the-basket game will give him a chance to put up points in isolation, and his massive frame will carve out space during rebounding situations. We're talking 10-plus points and six-plus rebounds as the fourth scoring option on a playoff team.
Floor: There are both physical and cerebral shortcomings that could prevent Nurkic from reaching his potential.
In fact, his vertical ineptness may be a big problem. It will be difficult for him to finish over athletic post players, so he must be that much more skilled and crafty. If he doesn't adjust, and he doesn't play a smart brand of basketball, he's toast.
In this era of speedy, small-ball lineups, he may not stick in the league if he lands in the wrong situation.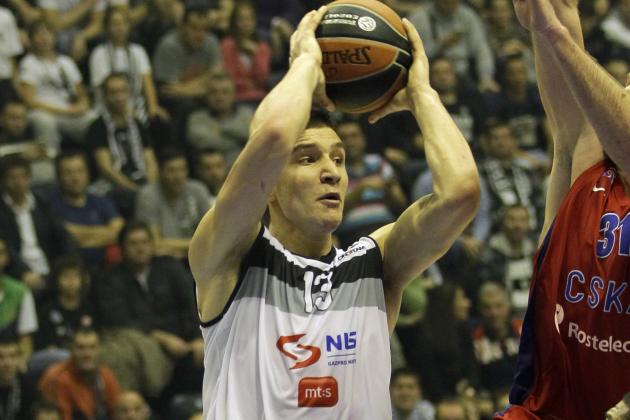 Darko Vojinovic/Associated Press

NBA Comparison: A poor man's Marco Belinelli
Ceiling: Even though 21-year-old Serbian shooting guard Bogdan Bogdanovic is the oldest prospect on this international list, he has a distinct advantage over the rest: He's the best shooter.
A sweet three-point shooting touch and 6'6" frame should translate into a solid career, but if he channels the mid-range talent and slashing skills of Marco Belinelli, he could be more than just "solid." He could serve as a supplementary starter or a critical reserve shooter.
Bogdanovic doesn't blow people away, but he's creative and crafty enough to work with the ball or without it. All it takes is a little room for him to get going.
Floor: He's been trying to cultivate a mid-range game of late, but if he can't execute it in the NBA, he'll be merely one-dimensional for the NBA team he lands on.
Simply put, Bogdanovic would be a dependable shooter and passer who only sees 10-15 minutes per game.
NBA Comparison: Taller, slimmer Kenneth Faried
Ceiling: Guys who have 7'3.5" wingspans, explosive athleticism and great instincts around the rim tend to do well in the NBA. That is especially true if they stay engaged, play within the flow of the game and make good decisions.
That's what's in store for Swiss forward Clint Capela if he capitalizes on his opportunities.
When it comes to end-to-end mobility, instant elevation and rebounding prowess, he reminds us a lot of the "Manimal," Kenneth Faried. Capela has a longer wingspan, however, and his upside may be higher because he's just 19 years old (Faried was 21 when he was drafted).
A focused effort on defense and a commitment to efficiency would lead to stardom, as he could be the third scoring option on a playoff-caliber team.
Floor: Capela is still a young buck, so there is plenty of room for error. He could end up being an extremely athletic peripheral piece who never completely grasps how to be an NBA power forward.
He doesn't have anything more than a basic repertoire when it comes to ball-handling and post moves, so if he doesn't develop, he will undoubtedly be a poor man's Faried. Sitting on the bench.
Rock bottom would only become a reality if he didn't mature and didn't put forth his utmost effort.
NBA Comparison: Rudy Fernandez
Ceiling: Croatian prodigy Mario Hezonja is only 18 years old; with some maturing, he could become a high-scoring, rich man's version of Spanish star Rudy Fernandez.
In addition to being an open-floor airplane, Hezonja has the shooting stroke and the shot-creation skills to be a valuable perimeter scorer. He's not a particularly advanced ball-handler, but he has the wherewithal to improve in that area, and he also shows promise as a passer.
The more open he is to improvement, the more massive his impact will be a couple years into the NBA. By the time he's 22, we could see 15-20 points per game.
Floor: The only way Hezonja approaches his basement is if he fails to understand how to mesh with teammates and play a cohesive, alert style.
Denver Nuggets international scout Rafal Juc noted that Hezonja's main shortcomings include defense and irresponsible shot selection. If he doesn't grow out of those bad habits, he won't earn the luxury of playing time or featured plays in the offense.

Even in a worst-case scenario, he seems talented enough to remain in the picture, if only as a streaky-scoring reserve.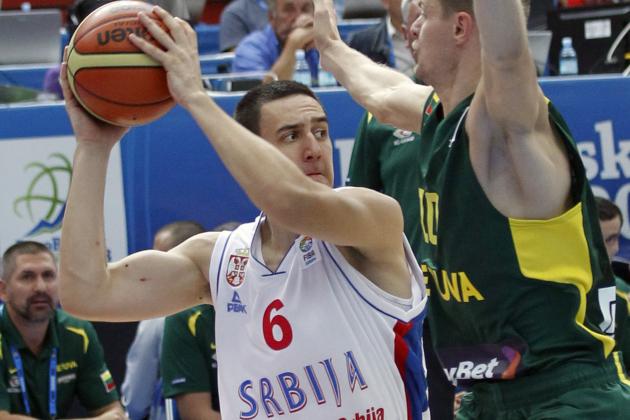 Darko Vojinovic/Associated Press

NBA Comparison: Jose Calderon
Ceiling: Dallas Mavericks point guard Jose Calderon has a textbook approach to the point guard position and makes up for below-average athleticism with crafty footwork and terrific timing in the pick-and-roll. That's the kind of player Vasilije Micic could be in a best-case scenario.
The Serbian floor general has solid scoring instincts but also demonstrates patience as a ball-handler and passer. Given the right surroundings, he could rack up the assists while feeding cutters and lobbing to big men who slip screens.
Micic's size, shooting and passing could turn him into a starter and even make him one of the most effective passers in the Association. In his prime, he may score double digits and dish out six or seven assists.
Floor: Micic will struggle to hold a significant spot in the league if he can't find ways to deal with the NBA's athleticism.
More distressing than his possible defensive ineptitude is his lack of offensive explosion. An inability to create separation for scoring attempts would result in less effective passing and diminish his all-around value.
In that case, he would be nothing more than a part-time backup.
Petr David Josek/Associated Press

NBA Comparison: Boris Diaw
Ceiling: Croatian forward Dario Saric has a chance to be one of the most unique, versatile assets in the NBA. ESPN draft analyst Chad Ford (subscription required) once compared Saric to Boris Diaw, and if Saric reaches his upside, he could be a rich man's version of the French utility player.
With or without the ball, he demonstrates a tremendous feel for space and angles. He slides into perfect position to receive passes and score, and he's a superb passer off the dribble or from the top of the key.
Greater command and consistency as a shooter would make him a prolific offensive weapon, notching 15-20 points while dishing out three to five assists per night. Improved defense would allow him to stay on the court long enough to reach these robust totals.
Floor: In the event that he doesn't become a true scoring threat or a competent defender, Daric could fail to carve out a substantial role.
NBA coaches can justify keeping a poor defender on the floor if he's an elite offensive weapon. But if Saric doesn't shoot efficiently or is a complete liability defensively, he could lose a bunch of playing time.
Someone as sharp as Saric would find a way to stay in the league, but his role would be tiny.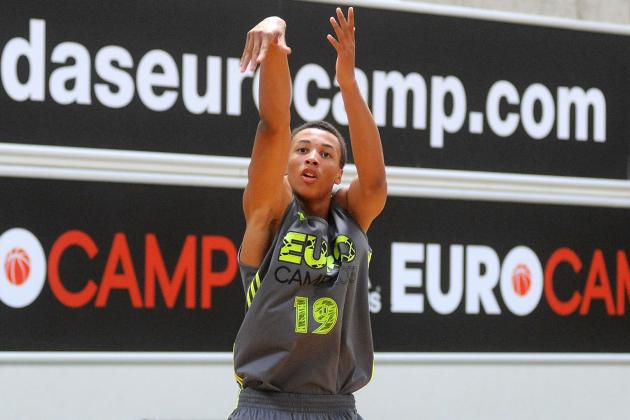 Roberto Serra/Iguana Press/Getty Images

NBA Comparison: Penny Hardaway/Michael Carter-Williams hybrid
Ceiling: If Dante Exum's NBA team can get the most out his skill set, he'll be a devastating combo guard in the mold of Penny Hardaway.
The Australian star is the kind of player who's an imposing scoring threat due to his size and athleticism but equally dangerous because he can keep his teammates involved. His 6'9" wingspan and deceiving foot speed make him a difficult matchup for anyone on both sides of the ball.
Making jumpers and improving his point guard polish will enable him to reach his absolute ceiling—and that ceiling is incredibly lofty. Exum could be a franchise-leading playmaker who earns multiple All-Star appearances and is routinely one of the top five point guards in the league.
Floor: Picking Exum doesn't come without risk. It's hard to foresee a scenario where he becomes a complete bust, but mediocrity is certainly possible.
Failing to develop a reliable jump shot would severely hinder his offensive production and would make him much less versatile. He would be a starter but a fourth option scoring-wise.
Dan O'Brien covers the NBA draft for Bleacher Report.
Follow him on Twitter: @DanielO_BR