Adrien Broner vs. Marcos Maidana: Preview and Prediction for Title Fight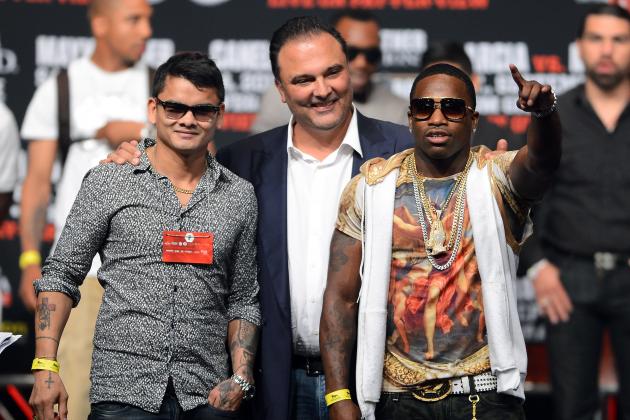 Ethan Miller/Getty Images

On Saturday night at the Alamodome in San Antonio, Texas, WBA welterweight champion Adrien Broner defends his belt against the hard-punching Marcos Maidana. This will be the last major boxing card of the year, as Golden Boy looks to present Broner as boxing's Baby New Year.
Broner has been presented by his promoters as the future of the sport for the past couple of years, so this really is good placement by Showtime and Golden Boy.
Marcos Maidana won't be showing up just to serve as a stepping stone. He will get in Broner's face and force an exciting fight.
This match will tell us a lot about what the boxing calendar could look like in 2014.
Begin Slideshow

»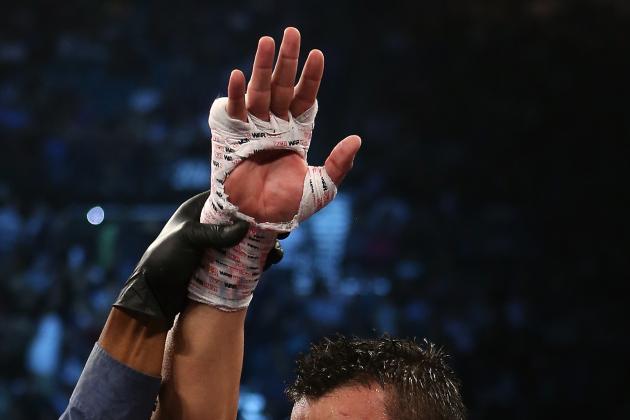 Josh Hedges/Getty Images

| | | |
| --- | --- | --- |
| Per BoxRec | Adrien Broner | Marcos Maidana |
| Record: | 27-0, 22 KOs | 34-3, 31 KOs |
| Height: | 5'6.5" | 5'7" |
| Reach: | 69.5" | 69" |
| Weight: | 147 pounds | 147 pounds |
| Age: | 24 | 30 |
| Stance: | Orthodox | Orthodox |
| Hometown: | Cincinnati, Ohio | Margarita, Argentina |
| Rounds: | 108 | 157 |
Broner is listed at under 5'7" on BoxRec, but I've seen his height given as 5'7" on broadcasts, and when I interviewed him once, he told me he thought he was about 5'8". Regardless, Broner and Maidana look to be pretty equal in terms of height and reach.
Broner is a native of Cincinnati, a great boxing city that also produced stars like Aaron Pryor and Ezzard Charles. Maidana has been at the forefront of boxing's Argentinian Invasion of recent years, along with stars like Lucas Matthysse and Sergio Martinez.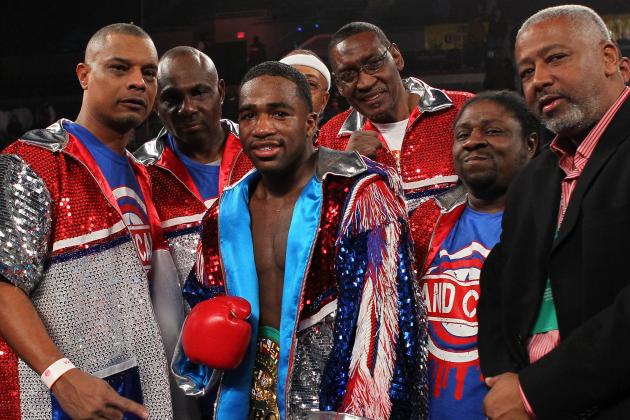 Ed Mulholland-USA TODAY Sports

This fight could be viewed as put-up-or-shut-up time for Adrien Broner. Or, depending upon how you look at it, it could be viewed as Broner's chance to shut up all the haters.
Either way, Marcos Maidana is exactly the kind of hard-nosed, heavy-handed welterweight so many fans wanted to see Adrien Broner fight next, after his split-decision victory over Paulie Malignaggi last summer.
Some fans hate Broner and want to see him fight a guy like Maidana who will get in his face and expose him as over-hyped and short on heart. Some fans think Broner is for real and want him to fight a guy like Maidana who will allow him to showcase his physical gifts and boxing skills.
Maidana is an all-action gunslinger with a fanbase. If he can knock off Broner, he suddenly puts himself in the welterweight division's most relevant conversations.
Showtime and Golden Boy originally wanted to present this as a pay-per-view. I'm glad they changed their minds. Neither Broner nor Maidana has achieved the level of respect and acclaim that would motivate a lot of fans to pay an extra $60 to watch them fight.
At the same time, this is an extremely important fight that most fans don't want to miss. Putting it on the regular premium network was a smart business decision in terms of building both of these guys.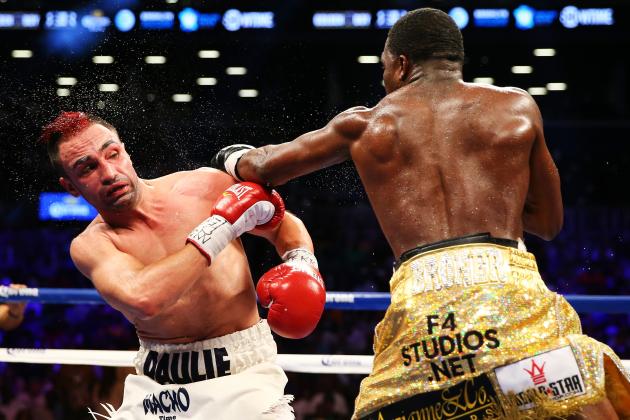 Al Bello/Getty Images

Adrien Broner is a boxing prodigy. He was competing as a high-level amateur as a young kid, hanging around with legends of the sport. He's put in the time and developed the skills.
Beyond that, he is an exceptionally gifted athlete with great speed. He has shown explosive power at lightweight and super featherweight. At welterweight against Paulie Malignaggi, his punches were far less discouraging.
But Malignaggi is tough to hit and has a solid chin, so I wouldn't assume Broner can't knockout 147-pounders.
Marcos Maidana is a relentless pressure fighter with concussive power. He has a terrific chin and thrives in a war of attrition.
Maidana has spent time training at the Robert Garcia Boxing Academy in recent years, and the refinement of his boxing craft has made his brawling all the more dangerous.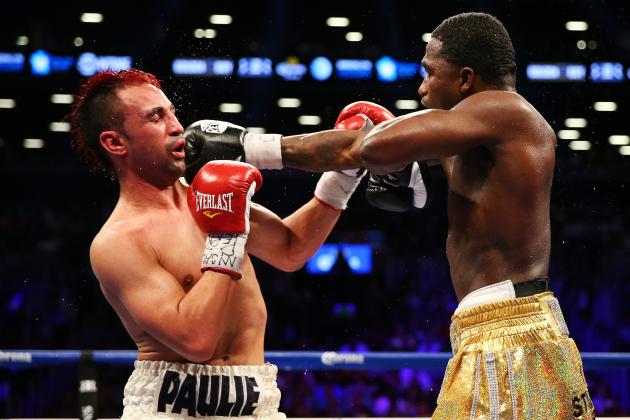 Al Bello/Getty Images

Adrien Broner has been impressive blowing out opponents at 130 and 135 as a young phenom, but those are weight classes he has outgrown.
A relatively light-hitting opponent like Paulie Malignaggi was an ideal first opponent for him at welterweight, but it remains to be seen how Broner will deal will another man who can impose upon him physically. He has the boxing skill to finesse Maidana and beat him up, but it will be much more physically challenging than anything he's had to do so far.
Marcos Maidana comes forward relentlessly, and that means he is almost always in range to be hit. He's got a solid chin, but against very good boxers, like Devon Alexander, he has struggled.
For a fighter like Maidana, a counterpuncher can be the toughest style matchup of all. Broner has excellent counterpunching ability.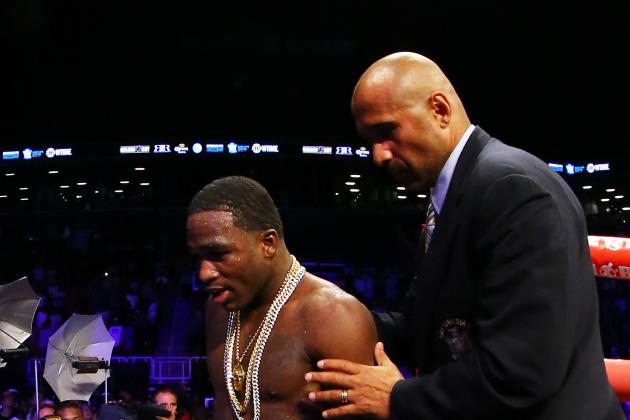 Al Bello/Getty Images

If Adrien Broner can withstand the assault from a hard-punching welterweight like Marcos Maidana, he will win this fight. He's going to have to avoid Maidana's offense while staying in close enough range to counter back aggressively.
Broner is not going to be able to keep Maidana at bay with simple stick-and-move tactics. He's going to need to punish Maidana's aggression with brisk combinations in order to truly slow the Argentinian down.
Maidana was able to turn his fight with Amir Khan in 2011 into a highly competitive war, a result of Khan reacting poorly when Maidana managed to finally reach his chin. I think Maidana is going to touch Broner at some point, and it will be power that Broner has not felt before in a fight.
If Broner has the ability to react well to getting hit by a welterweight, he should be able to use his boxing skills to take control of this fight and win.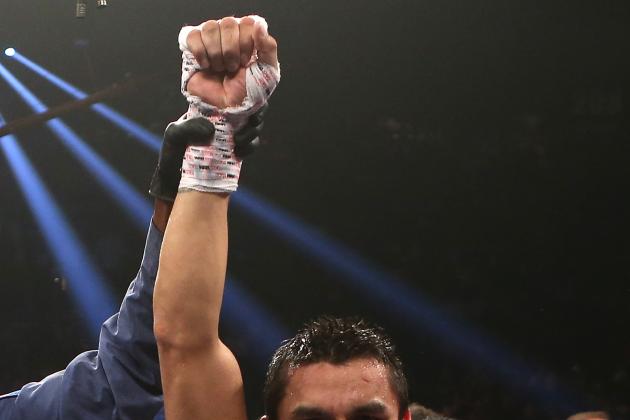 Josh Hedges/Getty Images

Marcos Maidana is going to need to use his jab effectively in order to win this fight. Against a fighter who can counter with the speed and ferocity of Adrien Broner, he can't just wade forward aggressively.
He needs to move into range behind his jab. He should double up with it and then look to throw a heavy shot to the body or chin.
Maidana should be unpredictable with attacks. He needs to be looking for the punch that comes out of nowhere and turns the entire fight around.
Broner has never been made seriously uncomfortable in a professional fight. Maidana needs to give him the experience as quickly as possible on Saturday night.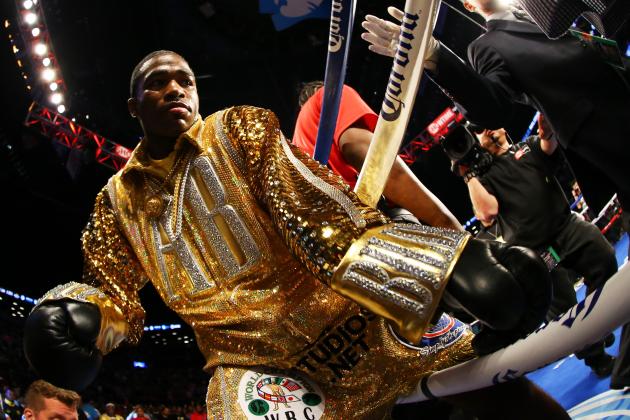 Al Bello/Getty Images

I've gone back and forth over who to pick here since this fight was announced and was originally leaning toward Marcos Maidana. Maidana is going to present Adrien Broner with physical challenges he's never had to face before.
But Broner is a very good defensive fighter and counterpuncher. So to ultimately think Marcos Maidana can beat Adrien Broner means thinking he can simply overwhelm Broner physically.
And I've never been convinced that was entirely likely.
Two fights this past weekend ended up influencing my final decision on who to pick: Paulie Malignaggi's win over Zab Judah and Shawn Porter's defeat of Devon Alexander.
Devon Alexander completely schooled Marcos Maidana in February 2012. And yet, Alexander's performance against Porter demonstrated that he is hardly a flawless fighter.
And Malignaggi's defeat of Judah made me question if Broner has really been getting enough credit for his win over Malignaggi. I thought he definitely did win the fight, and as Malignaggi showed against Judah, he's no easy man to beat in a boxing match.
So with some reservations, I am picking Adrien Broner by unanimous decision. I think the fight might not end up being terribly close, with scores of around 116-112 or 117-111.