If You Are Playing the Blame Game You Better Look Beyond Manning and Coughlin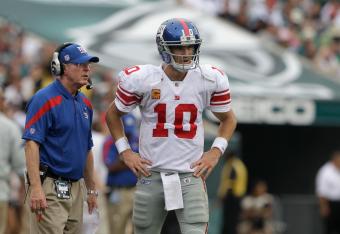 Rob Carr/Getty Images
If you're looking to blame someone for the Giants 0-6 start, you better start looking beyond Eli Manning and Tom Coughlin.
New York sports fans can be both great and terrible at the same time. If a team is playing well, they will treat them like the Gods of New York. But if a team happens to lose a few games, they will immediately send them into the doghouse.
Loyalty is not a word that is typically synonymous with New York sports fans.
Having said that, one would think that out of a team of 53 players, Manning, who has lead the team to two Super Bowl titles in the past six years and is almost certainly the greatest Giants quarterback of all time, and Coughlin, who has coached the Giants to two Super Bowl titles in six years and is arguably one of the top two coaches in Giants history, would have by this point earned enough respect from Giants fans to be completely off the table when taking part in any form of a blame game in New York.
These two men have already proven what they are capable of when the right pieces are in place.
Manning and Coughlin are not losing football games on their own; the Giants are bad at everything right now.
The Giants' defense is giving up an average of 34.8 points per game, which ranks worst in the entire NFL.
The Giants total defensive stats rank 25th in the league out of 32 teams.

Giants' Defense = Atrocious
The Giants are averaging just 67.8 rushing yards per game, which ranks 30th in the NFL. There are nine NFL running backs in the league right now that have more rushing yards this season than the entire Giants team.
David Wilson has been a bust so far and considering all of the players the Giants have tried out in the backfield this year, they are probably one step away from holding open running back tryouts at local New Jersey high schools.

Giants' Running Game = Atrocious
The Giants rank 15th in the league in kickoff return yards and 23rd in the league in average punt return yards.
On the defensive side of special teams, the Giants rank 25th in the league in average yards allowed per kickoff and have given up two punt return touchdowns already this season which leads the league.
Giants' Special Teams = Not Quite Atrocious, But Pretty Bad
Not a single aspect of the Giants team is running on all cylinders right now and that certainly includes Manning, who leads the league with 15 interceptions in six games.
That being said, it is extremely difficult for a quarterback to excel when there is absolutely no running threat whatsoever on the field and an offensive line that has allowed 16 sacks in just six games.
Defensive coordinators around the league should be paid half-price when taking on the Giants because they literally need to implement only half of a defensive game plan.
But despite the 15 interceptions, Manning ranks sixth in the league in total passing yards, has thrown for nine touchdowns and is averaging 286.8 yards in the air per game.
One must also consider that if the Giants' defense ranked even middle of the road in points allowed per game, the Giants would have had an excellent chance to be 4-2 right now and everyone would be praising Manning and Coughlin for a decent start to the season while taking on teams of thoroughbreds with nothing more than a barn full of ponies.
Some of the blame for the Giants 0-6 start to the season can certainly fall on Manning and Coughlin.
But calling for Coughlin's head and talking about possibly benching Manning?
Once again, loyalty is not a word that is typically synonymous with New York sports fans, but this is ridiculous.
The Giants simply don't have the horses this year. The running game is terrible, the offensive line play has been poor, the defense is terrible, the special teams are poor, etc.
Would you normally blame the jockey if he wasn't able to win the Kentucky Derby while riding a pony?
The Giants are playing poor football on all sides of the ball this season, so if you are looking to point the blame somewhere, you better look beyond Manning and Coughlin. These guys can win, have won and will win again with the right mix of players.
Manning and Coughlin have done more than enough to earn the respect of football fans around the country…even if they have still yet to earn the respect of their own hometown fans despite two Super Bowl titles in the past six years, which is more than any other team in the league.
Unless otherwise stated, all statistics for this article came from NFL.com or ESPN.com.
This article is
What is the duplicate article?
Why is this article offensive?
Where is this article plagiarized from?
Why is this article poorly edited?

New York Giants: Like this team?