Well, Week 6 was disappointing for Indianapolis, who lost to San Diego 19-9 on Monday night.
The Colts' philosophy of running the ball and stopping the run simply didn't work this time around, as the Colts allowed 147 yards on the ground and their offense failed to find a rhythm all night.
Indianapolis is still the favorite to win the AFC South, but their standing as one of the AFC's top two teams took a big hit with the loss and New England's dramatic victory over New Orleans.
However, the Colts' goal for this four-game stretch was always to go 2-2. They're 1-1 with two games to go. Now, of course, the highest-profile game of the season looms with Peyton Manning and the Denver Broncos coming to town.
There are plenty of topics to address as Manning returns, both on and off the field. The Colts have areas to fix following of the San Diego debacle and new challenges to deal with in the Denver offense.
This game is going to be emotionally charged, to say the least. For many Colts fans, Peyton Manning and football were synonymous for years. For many, the NFL didn't cross their minds until Manning came to town. Young fans can't remember a time when Peyton Manning wasn't playing football. That's not a connection that goes away quickly, even with Andrew Luck's quick rise.
So, it's going to be an intense week.
Division Standings
AFC South Standings

| | | | |
| --- | --- | --- | --- |
| Team | Wins | Losses | Point Differential |
| Indianapolis | 4 | 2 | +50 |
| Tennessee | 3 | 3 | +13 |
| Houston | 2 | 4 | -71 |
| Jacksonville | 0 | 6 | -128 |
ESPN.com
The Colts had a chance to take a two-game lead in the division this week, but failed to do so with the loss to San Diego. Still, with losses by the rest of the division, the team still holds a one-game lead.
Tennessee visited Seattle and put up a good fight; they were tied 10-10 going into the fourth quarter. But Seattle put up 10 points in the fourth quarter and kept Tennessee out of the end zone. Tennessee is going to have struggles scoring points with Jake Locker hurt, but their defense is still strong enough to keep them in games. As long as they don't implode while Locker recovers, they should be a legitimate threat in the race for the playoffs.
Meanwhile, Houston laid an egg against St. Louis, losing 38-13 against the visiting Rams, despite outgaining the Rams 420-216. Houston lost the turnover battle 0-4, however, and was incredibly inefficient in the red zone. Starting QB Matt Schaub was injured partway through the game, and backup T.J. Yates finished the game. (Short aside: Fans who cheer an injury, especially one to a player on their own team, are despicable). Schaub's status for next week is unclear at this point.
The Denver-Jacksonville matchup turned out to be surprisingly competitive, as the Jaguars scored 19 points, the second-most points they've scored all season. But Denver pulled out the win and the Jaguars moved to 0-6, staying right in the thick of the race for Teddy Bridgewater.
Injury Report
Week 7 Injury Report

| | | | |
| --- | --- | --- | --- |
| Player | Position | Injury | Status |
| LaRon Landry | S | Ankle | Questionable |
| Bjoern Werner | OLB | Foot | Out |
| Jerrell Freeman | ILB | Concussion | Questionable |
Colts.com and Chuck Pagano
The Colts got a few players back from injury this week, but LaRon Landry and Bjoern Werner missed the game against San Diego.
Werner likely will still be out with a torn plantar fascia, but the Colts are hoping that LaRon Landry, who has missed the last four games, will return at safety. Delano Howell has played well in his stead but has had some key breakdowns, such as this touchdown surrendered this past week.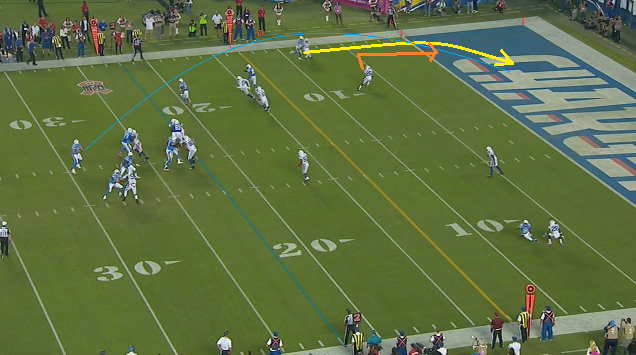 The only big injury from the game, according to Chuck Pagano, was the concussion to Jerrell Freeman, who did not finish the game. Freeman will have to pass concussion tests this week in order to play against Denver and would be a big loss for Indianapolis.
Mario Harvey and Kelvin Sheppard both struggled on Monday, and Harvey (Freeman's replacement on Monday) is especially bad in pass coverage. Manning will salivate if he sees Harvey lined up across from him.
What Needs to Improve
There is plenty that could be talked in this space.
The coaching in Indianapolis has come under fire after the San Diego debacle, but I'll leave that one to others for now.
Greg Cowan of Colts Authority and Ty Schalter of Bleacher Report have already covered those issues fairly well (if you haven't read them, both pieces are well worth your time).
But there were plenty of execution problems for the Colts on Sunday as well.
We could talk about the defense's inability stop San Diego, allowing the Chargers to take up over 28 minutes of the clock on just four drives. But the defense only allowed 19 points to a San Diego offense that has been very explosive over the first quarter of the season. They, like they have all season, tightened up on their own side of the field and forced field goals to keep the score low.
No, this loss is on the offense, who only scored nine points against one of the worst defenses in the NFL.
What was the biggest reason the Colts couldn't score? Third-down execution, which was always going to be the key in this one.
Early in the game last week, the Colts saw several third-down drops kill first-quarter drives. This week, it was more of the same, except throughout the whole game.
Drops killed the Colts' chances on two third downs, like these two plays.
On this one, T.Y. Hilton would have needed to make a move to get the first down, but that's not unheard of with his after-the-catch skills.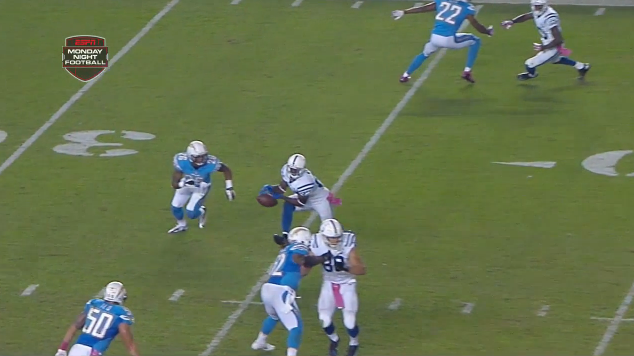 Here, Reggie Wayne simply misses an accurate pass from Luck for the first down. It's the second game in a row that Wayne has missed open first downs that have stalled Colts' drives. It's odd to see from the veteran, who has been so consistent for most of his career.
There were plenty of other examples of poor execution on third down, and blame can be found throughout the offense.
Third-Down Failures

| | | | | |
| --- | --- | --- | --- | --- |
| Quarter | Time | Distance | Player | Problem |
| 1 | 11:36 | 4 | Andrew Luck | Poor throw |
| 1 | 9:00 | 6 | Coby Fleener | Route too short |
| 1 | 3:31 | 1 | Samson Satele | Blown block |
| 2 | 9:54 | 8 | T.Y. Hilton | Drop |
| 2 | 0:08 | 4 | Andrew Luck | Poor throw |
| 3 | 4:08 | 3 | Reggie Wayne | Drop |
| 3 | 8:07 | 19 | N/A | Play Design |
| 4 | 3:54 | 6 | Coby Fleener | Route too short |
NFL Game Rewind
The Colts had been converting third downs at a 50 percent rate for the year prior to the game against San Diego, but they converted just two on 10 attempts on Monday. They'll have to be able to sustain drives against Denver in order to keep up with Peyton Manning.