How the Kansas City Chiefs Can Continue Terrorizing Opposing QBs
September 25, 2013

Elsa/Getty Images
The Kansas City Chiefs are 3-0 for the first time in years and now look like a good bet to make the playoffs in a weak AFC. The offense has been average, but it has yet to turn the ball over, and that has allowed the defense to be more aggressive.
The result through three weeks has been overwhelming positive for the defense, and the Chiefs have been arguably the toughest team in the league on opposing quarterbacks. They terrorized Blaine Gabbert, Tony Romo and Michael Vick and lead the league in sacks (15) and sack percentage (11.7 percent) through three weeks.
If the Chiefs can continue to harass opposing quarterbacks, they should continue to pile up wins. If they don't, we'll simply chalk their torrid start up to inferior offenses. The Chiefs still have to face Peyton Manning twice, and everyone knows that getting pressure on a Manning is both difficult and vital.  
How the Chiefs have gotten pressure and how they can continue to do it are two different questions, but with very similar answers. To know what the Chiefs have done can be a blueprint for future performance, but they will need to replicate it against tougher opponents. 
The Chiefs are vulnerable if their defense doesn't continue to perform because their offense isn't equipped to come from behind. Kansas City doesn't have a quick-strike offense that can get big chunks of yards when the opposing defense knows what's coming. 
Pressure in the NFL is important for a team hoping to have success. Six of the top 10 teams in sack percentage (sacks per pass play) made the playoffs in 2012. Of the 12 playoff teams last year, nine had at least one player with double-digit sacks. 
A good pass rush might be secondary only to quarterback play as far as impact on the team. A good pass rush can hide an average secondary and even an average run defense if the offense can also put a decent amount of points on the board.
Turnover Impact on the Defense
The Chiefs were tied for last in turnover margin last season, but they have nine takeaways and zero giveaways so far in 2013. At least through three games, the Chiefs have gone from worst to first in the turnover margin statistic. 
We've known for a long time that each turnover is worth roughly four points on average without factoring in any return yardage. The Chiefs' plus-nine turnover margin has therefore been worth about 12 points per game in their favor in 2013, and their minus-24 last year was worth approximately six points per game against them. 
Giveaways and a stagnate offense also have an impact on the average start of a drive, which can also have an impact on the defense. Every yard closer to the goal line an offense gets increases its chances of coming away with points on the drive.
According to Pro-Football-Reference.com, the Chiefs allowed their opponents to start drives on their own 28.2-yard line last year. Despite their offensive struggles and turnovers, that was pretty close to average, but the Chiefs allowed a terrible 2.1 points per drive. 
In 2013, the Chiefs' opponents average drive start is just the 20-yard line, which is the best in the league by 1.7 yards. The Chiefs have allowed just 0.8 yards per drive through three games, which is a full point per drive lower than last year even if we adjust for the difference in the opponents average drive start.

Rich Schultz/Getty Images
Turnovers and field position were a big reason the Chiefs fell behind, but they don't adequately explain the performance gap. One of the major differences has been the ability of the Chiefs to play with a lead in 2013 rather than playing from behind.
On average, the Chiefs played 40 snaps per game on defense when trailing last year and just eight per game when leading (only led in five games). So far in 2013, the Chiefs have played 11 snaps per game on defense while trailing and 53 snaps per game leading.
The Chiefs have been able to play more aggressively because they've been playing with a lead, and defensive coordinator Bob Sutton hasn't been afraid to call blitzes and attack the opposing offense. If the Chiefs can continue to play with a lead, their pass rush is going to continue to terrorize opposing quarterbacks.
Interior Pressure
There are some people who believe that interior pressure is actually more disruptive than edge pressure. For pocket passers, this seems to make sense. Get in the face of the quarterback and force him to move in the pocket or take the hit if he wants to get the ball out.
The Chiefs have successfully pressured opposing quarterbacks on the interior thanks to the play of their defensive line, particularly Dontari Poe, Tyson Jackson and Mike DeVito. Even when a quarterback is able to escape the pressure or complete a pass, it's rarely a big play for the opposing offense and it can force bad throws. 
Poe's play through three games is particularly notable, and opposing teams are starting to take notice. The Philadelphia Eagles in Week 3 frequently double-teamed Poe so he couldn't disrupt the passing game.

Fortunately, a double-team has created opportunities for Jackson, DeVito and for the linebackers. Here's an example of Poe getting double-teamed and taken out of the play, but DeVito beating his man to get in Michael Vick's face before the pass.
Vick did complete the pass, but only for five yards. As coaches like to say, pressure is cumulative. When quarterbacks are getting hit a lot, they tend to rush throws and running quarterbacks tend to bail out of the pocket earlier even when they get good protection. 
Here's another example of Poe getting double-teamed, but this time Jackson was the one who got in the face of Vick. You may notice here that the Chiefs also had a robber underneath who was reading Vick's eyes and was ready to break on any short throws.

If the Chiefs get pressure and Vick panics, they have the opportunity to create a turnover. They didn't get a turnover on this play, but they did force five turnovers against the Eagles. 
Even though Poe was double-teamed, he still managed to get some pressure on Vick. On this play—which was actually a nice completion by the Eagles—Poe beat the double-team up the middle and Justin Houston got around his man coming off left end and forced Vick to roll to his left.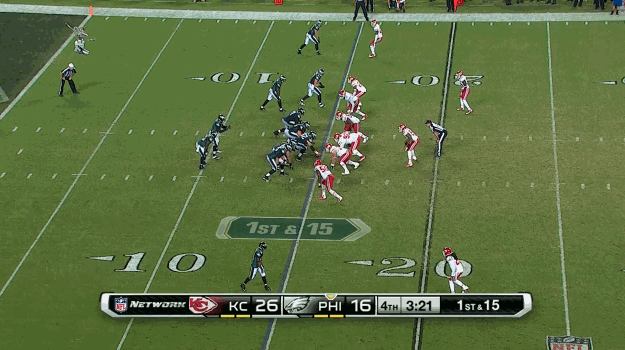 This interior rush makes it extremely hard on opposing quarterbacks, and the only reason this was a completion instead of a sack was because of Vick's mobility. Interior pressure also disrupted Romo, and that's part of the reason Dallas managed to score just 16 points on the Chiefs. 
Edge Rush
While Houston got the accolades in Week 3—and deservedly so—it was Tamba Hali who caught my eye against the Eagles. The Chiefs' highest-paid player isn't likely to be with the team next year under the terms of his current contract, so he's playing like it's a contract year for him.
So far, Hali's production is a big reason why the Chiefs' pass rush has been so good. While Houston was beating up rookie right tackle Lane Johnson in Week 3, Hali was abusing Jason Peters—a high-quality left tackle at the NFL level. 
There were numerous examples of Hali beating Peters, but his effort only resulted in one sack. Hali's performance was much more disruptive than the traditional stats would indicate, and you could make a case he was just as good as Houston against the Eagles.
Pro Football Focus (subscription required) gave Houston the better pass-rush grade, but Hali had a better total performance as far as impacting the quarterback. Hali had a sack, a hit and eight hurries for a total of 10 compared to Houston's three sacks, one hit and three hurries for a total of seven. On two of Houston's sacks, he simple had to touch Vick down. 
With Houston and Hali coming from opposite ends and the pressure the Chiefs have been getting up the middle, they have a legitimate shot to be the best pass-rushing team in the league if they can continue playing with a lead. 
Blitz Packages
The other thing the Chiefs have been doing to get extra pressure is bringing timely blitzes. Strong safety Eric Berry was heavily involved in blitzing, but it's not just defensive backs getting involved.
Linebacker Derrick Johnson has also been involved a lot in blitz packages. The Chiefs sent him three times against the Eagles, and he got one sack and one shot on Vick. 
Johnson timed his blitz almost perfectly as the Eagles didn't have him accounted for in their protection scheme. Instead, the Eagles had a double-team on one of the defensive linemen, and that gave Johnson an unblocked run right up the middle at Vick. 
In total, the Chiefs have blitzed defensive backs 38 times compared to just 76 times all of last season, according to Pro Football Focus. In theory, inside linebackers would have to drop into coverage more, but the Chiefs are blitzing them just as much as last year.
The Chiefs like to bring an extra safety or their inside linebackers, but that could be a problem against quarterbacks who can beat the single-high safety coverage shells like Cover 1 and Cover 3. The blitz can be a double-edged sword against good quarterbacks, but the Chiefs have so much talent on defense that they have been extremely successful with it.
Conclusion
As long as key players stay healthy and the Chiefs offense puts points on the board early and protects the ball, the Chiefs should continue to terrorize opposing quarterbacks. The talent is there, and Kansas City's defense is only getting more and more confident in Sutton's scheme.
There will likely be some regression against better offensive lines and smarter quarterbacks, but this Chiefs pass rush isn't a fluke. The Chiefs defense is good, and that hides some of the offense's glaring weaknesses.