Power Ranking Cristiano Ronaldo's 5 Career Backheel Goals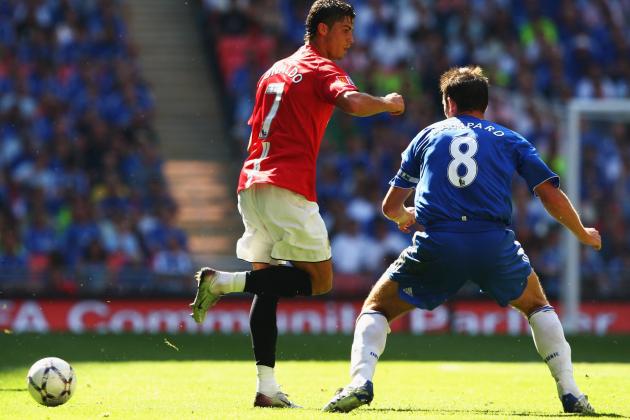 Clive Brunskill/Getty Images

Cristiano Ronaldo loves a backheeled goal.
In the weekend against Getafe he notched his fifth, with a remarkable spinning effort that moved him up the all-time Real Madrid scorers list.
But what fun is simply savouring Ronaldo's ability to find the net with the back of his boot when we can rank them and establish which was the best of these five highly outrageous strikes?
Begin Slideshow

»
The ball breaks to Ronaldo in the box after a corner, and he nonchalantly backheels it goalwards, beating everyone.
What makes it unique: Notice, it nutmegs a Villa defender on its route to goal.
What counts against it: It's not exactly in the corner of the net (if we're splitting hairs).
High in the air and at an awkward angle, Ronaldo finds a way to turn the cross goalwards where others might have let the ball slip past them.
What makes it unique: Aerial.
What counts against it: That dance afterwards. Yikes.
If one goal is going to settle a match (Real won 1-0), it might as well be a backheeled goal as you're running away from goal.
What makes it unique: Power. It was well-struck given how far away from goal Ronaldo was and how it had to find the corner.
What counts against it: Could any of the Vallecano players have blocked it?
Played through during a preseason friendly match against Guangzhou Evergrande, Ronaldo ran out of room but still managed to flick the ball past the goalkeeper.
What makes it unique: The angle, with an onrushing keeper, is tight even for a conventional finish.
What counts against it: It was a preseason friendly.
It's the awareness of where the goal is that makes this finish from Ronaldo so memorable—the striker adjusts to a deflected cross with nonchalance.
What makes it unique: Anticipation, placement—and the spin is pretty good, too.
What counts against it: It came in a routine 4-1 win, as if that makes it any less brilliant...
Because sometimes you just want to watch five backheeled goals in one go, here's a stunning compilation of all five on this list.