Heading into Week 3 of the 2013 NFL season, things were dire for the Indianapolis Colts.
Throughout the past few weeks, the bad news had kept piling up for the Colts. Vick Ballard tore his ACL in practice without even being touched. Donald Thomas tore a tendon in his quad and was put on injured reserve. Dwayne Allen had a hip injury that ended his year.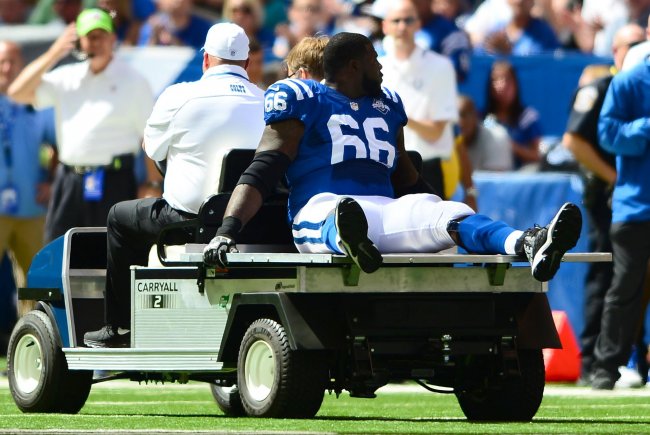 Andrew Weber-USA TODAY Sports
To make matters worse, starers Samson Satele, Pat Angerer and LaRon Landry were all out for Sunday's game, and it looked like it could be a one-sided affair.
Things got even more complicated this week when the Colts decided to bring in Trent Richardson in a trade with the Cleveland Browns, sending away their first-round pick in 2014. While a lot of fans were excited, others were worried about the mentality of the team.
Why focus on winning now when things are looking so desperate?
Heading into this game, the Colts defense was a major concern, and it couldn't stop the run for anything. They had already experienced fits trying to defend a dual-threat quarterback in Terrelle Pryor and nearly fell to the Oakland Raiders (yes, the Raiders) to start the season.
Just when everything was looking so bleak for a team that had an unbelievable 2012 season, they came up with the win in San Francisco.
Make no mistake about it, this wasn't a "flashy" win. Andrew Luck didn't throw for 400 yards and three scores. He finished going 18-of-27 with 164 yards and a touchdown on the ground. The defense didn't come up with game-changing turnovers; it came up with two late in the game, with one of those being a deflected pass for an interception at the very end.
What this was, however, was a statement win that will define this team for the 2013 season.
Head coach Chuck Pagano and offensive coordinator Pep Hamilton were criticized for their mentality of "run the ball, stop the run." The strategy seemed (and still does seem) inappropriate based on the team's personnel, which includes a weak offensive line and a suspect defense.
The Colts tuned all of that out and came away with a convincing 27-7 win. The running game produced 179 yards plus three touchdowns and averaged 4.6 yards per carry, with Ahmad Bradshaw leading the way with 95 yards and a touchdown. Richardson had 35 yards and a touchdown, but he will be involved more as he gets more familiar with the playbook.
Colts Run Game vs. San Francisco Week 3

| | | | | |
| --- | --- | --- | --- | --- |
| Player | Att | Yds | Avg | TD |
| A. Bradshaw | 19 | 95 | 5.0 | 1 |
| T. Richardson | 13 | 35 | 2.7 | 1 |
| D. Brown | 3 | 25 | 8.3 | 0 |
| A. Luck | 4 | 24 | 6.0 | 1 |
| Total | 39 | 179 | 4.6 | 3 |
ESPN.com
The defense stepped up big. This was far and away the biggest takeaway from the game. It held the 49ers to just seven points and 254 total yards, after averaging 385 yards and 20.5 points per game through the first two games. The threat of a running quarterback was negated, as Colin Kaepernick ran for just 20 yards on seven carries.
The 49ers may have had their injuries heading into this game, but there is no denying how big the win is for the Colts. After a disappointing loss against the Miami Dolphins in Week 2, the Colts looked like they might start the season off with a 1-2 start. Now, they're 2-1 after taking down the defending NFC champions and are heading into another likely win next week when they take on the Jacksonville Jaguars.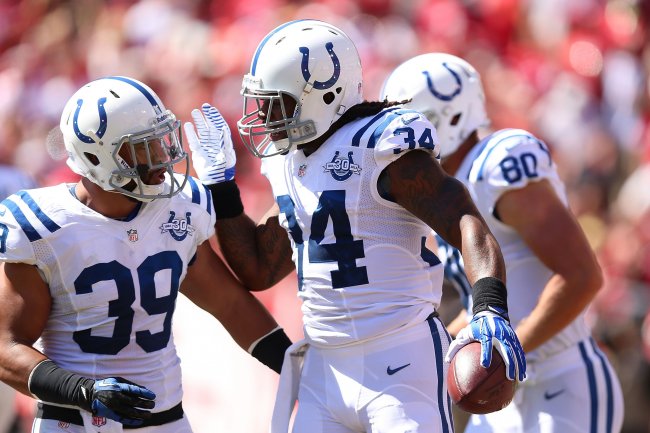 Jed Jacobsohn/Getty Images
The Colts had their statement win in 2012 after beating the Green Bay Packers. After all of the emotion surrounding the city with the news of Coach Pagano and his fight with leukemia, the fans weren't feeling too hot heading into a game against the powerful Packers and their offense.
Instead, they came away with an incredible comeback win, with Reggie Wayne scoring the game-winning touchdown with just 35 seconds remaining and cementing the incredible Chuckstrong story that Colts fans will remember forever.
This year, the 49ers game will be remembered as the one that identified this team. Sure, the Colts were plagued with injuries and fans along with the media were beginning to doubt them, but they showed up as a tough, physical team that came away with the huge win.
They say "any given Sunday," and the Colts made that saying even more credible with the win.