Matt Kenseth made it two wins in a row to kick off the Chase, as he held off teammate Kyle Busch to take Sunday's Sylvania 300 in Loudon, N.H. The No. 20 car has been amazing in the early going of NASCAR's postseason. Kenseth is beginning to build a commanding lead in the Chase, as this was his seventh win of the season.
Per NASCAR on ESPN, Kenseth joins great company with this latest win:
Matt Kenseth wins New Hampshire; he joins Greg Biffle (2008) and Tony Stewart (2011) as drivers to win the first two Chase races. #NASCAR

— NASCAR on ESPN (@ESPNNASCAR) September 22, 2013
Joe Gibbs Racing occupied the first two spots in the final standings for the second straight race. Busch was the runner-up at the Geico 400 in Chicago as well. He acknowledged Kenseth's superior vehicle after the finish:
Kyle: "I fought hard and tried everything, but the 20 (Kenseth) just had more than us all weekend. Sometimes you get those magical cars."

— NASCAR on ESPN (@ESPNNASCAR) September 22, 2013
Here's a look at the final race results and the updated Sprint Cup standings via NASCAR.com. Click here for the complete race results.
#NASCAR Sprint Cup championship points update following @NHMS: 1.Kenseth 2.Ky Busch -14 3.Johnson -18 4.Edwards -36 5.Biffle -38

— NASCAR Stats (@NASCARStats) September 22, 2013
Sylvania 300 Results

| | | |
| --- | --- | --- |
| POS | Car # | Driver |
| 1 | 20 | Matt Kenseth |
| 2 | 18 | Kyle Busch |
| 3 | 16 | Greg Biffle |
| 4 | 48 | Jimmie Johnson |
| 5 | 1 | Jamie McMurray |
| 6 | 88 | Dale Earnhardt Jr |
| 7 | 55 | Brian Vickers |
| 8 | 31 | Jeff Burton |
| 9 | 99 | Carl Edwards |
| 10 | 56 | Martin Truex Jr |
NASCAR.com
Where Kenseth Took Control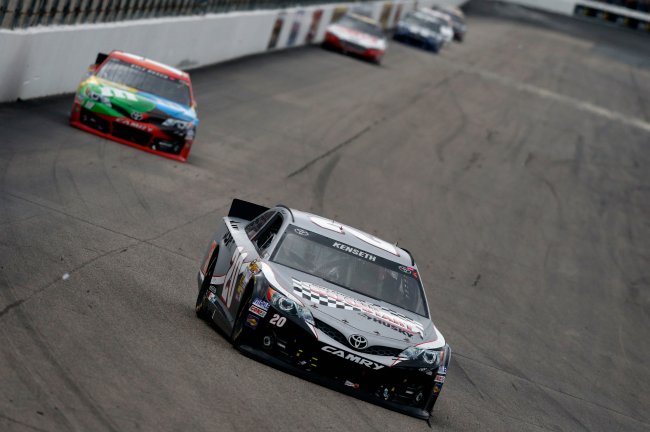 Jeff Zelevansky/Getty Images
Kenseth briefly held the lead after 110 laps, but the race featured 17 lead changes and several drivers had their time as the front-runner. With just over 90 laps remaining, Kenseth took control for good. He waded through cautions caused by a few minor wrecks to push on for the victory.
Strategy was key and Kenseth's team managed pit stops as well as anyone on the day. A few drivers such as Dale Earnhardt Jr. and Danica Patrick attempted to push the limits of their pit window.
Kenseth played it close to the vest and allowed his car and crew to do a bulk of the work. Afterword, he was overcome with joy and gratification:
Kenseth: "I don't really know what to say other than praise the Lord, what an unbelievable opportunity."

— NASCAR on ESPN (@ESPNNASCAR) September 22, 2013
Kyle Busch Just Misses...Again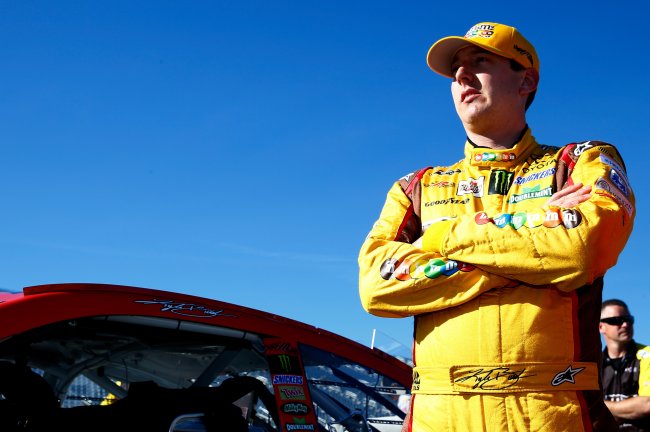 Jared Wickerham/Getty Images
He hung around and stayed in position throughout the race, but at the end, Busch didn't have the juice under the hood to overtake his teammate. Running second in consecutive weeks has to be frustrating. However, the Chase has only just begun; two second-place finishes still has him in great position overall.
Kenseth and Busch are separating themselves from the pack, and writer Richard Allen is spot on in his assessment of the two stars of Joe Gibbs Racing:
Matt Kenseth and Kyle Busch are making the Chase their personal playground. #NASCAR

— Richard Allen (@RacingWithRich) September 22, 2013
Wrecks and Effects
Bobby Labonte
The No. 47 car looked good early on, but a blown tire led to a wreck that removed him from serious contention. NASCAR's official Twitter account captured Labonte's wreck.
WATCH: A blown tire for @Bobby_Labonte causes chaos on the track - http://t.co/ubwTz8guKH

— NASCAR (@NASCAR) September 22, 2013
He had to settle for a 40th-place finish.
Kevin Swindell
After colliding with Jamie McMurray early in the race, Swindell's vehicle took some nasty damage. Remarkably, he still finished 38th. NASCAR has the video of his wreck as well:
WATCH: Ouch! @KevinSwindell suffers heavy damage after making contact with @jamiemcmurray. - http://t.co/jJwx7iELYx

— NASCAR (@NASCAR) September 22, 2013
Kasey Kahne
The most disappointing wipeout had to be Kahne's. He had a legitimate chance to be a factor in the last 10 laps of the race, but he hit the wall with just 48 laps to go, finishing 37th:
WATCH: Bad news for @kaseykahne who slams into the wall while running P8. @ESPNNASCAR has the final laps - http://t.co/9rrczGFfrb

— NASCAR (@NASCAR) September 22, 2013
Next Race: AAA 400 on Sept. 29
The drivers and crews will head to Dover, Del., next Sunday to continue the Chase. Tony Stewart won the FedEx 400 there in June, but injuries have Smoke on the shelf, per Nate Ryan of USA Today. Could Kenseth make it three in a row? Find out on Sunday.
Follow me for musings on sports and sports video games.