The second half of the 2012 season was a Cinderella story for the Washington Redskins. A 3-6 Redskins team won their last seven games, and they were propelled into the playoffs by the stellar rookie season of quarterback Robert Griffin.
Now, after two lopsided defeats, the 0-2 Redskins appear to have turned back into a pumpkin.
In the nation's capital, playing the blame game is as big a pastime as football itself. Washington fans are playing it plenty, in the gaps between screaming, cursing and throwing stuff.
Granted, at least some of that panic attack appears to be justified. In the first half of their losses to the Philadelphia Eagles and Green Bay Packers, the Redskins have been outscored by a combined score of 50-7.
As Bill Barnwell of Grantland points out, that's the worst first-half performance by an NFL team through two games in nearly 25 years.
The problem is, many fans seem to have settled on the wrong scapegoat for the team's issues.
I think the Redskins should bench RG3 until after their BYE week. He's not comfortable & Kirk Cousins can get it done. #ESPN

— TySheldin Johnson (@Uncle_Tyyy) September 17, 2013
Whoa now, let's just settle down.
It's not just fans calling for a switch under center, according to Jon Machota of The Dallas Morning News.
Tony Dungy on Robert Griffin III: "He's got to start playing better; otherwise they've got to go to Kirk Cousins."

— Jon Machota (@jonmachota) September 16, 2013
Yes, it's obvious that Robert Griffin isn't exactly Robert Griffin right now. His performance in games hasn't been nearly as effective as the stats indicate, mostly because his numbers are inflated by a lot of garbage time passes.
Robert Griffin 2013 Stats

| | | | | | | |
| --- | --- | --- | --- | --- | --- | --- |
| Comp. | Att. | Yards | Comp. % | TD | INT | Rating |
| 56 | 89 | 649 | 62.9 | 5 | 3 | 89.6 |
Stats courtesy of ESPN
However, benching Griffin isn't going to solve the problem.
The issue with Griffin doesn't appear to be related to his torn ACL. He's moved around decently in the pocket. On the few occasions where he's scrambled he appears to be running fairly well. Maybe not warp speed, but fairly well.
Griffin's issues are with making reads, timing throws and sailing passes. That has less to do with a gimpy knee and more to do with the fact that he was limited through much of camp and didn't play a down of preseason football.
Simply put, he's rusty, and that rust isn't coming off any faster if the Redskins panic and bench him.
Besides, unless Griffin's playing both ways in 2013, his shaky start isn't Washington's biggest problem anyway.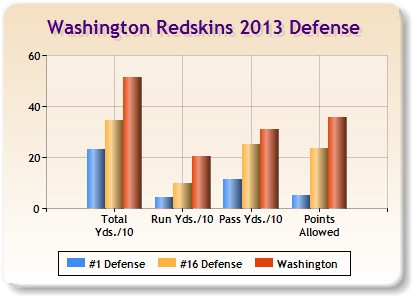 For lack of a better word, the Redskins defense has been horrible in 2013. Actually, horrible doesn't really do them justice.
Through two games, the Redskins are allowing a staggering 511.5 yards and 35.5 points per game. They've done everything in their power to make the 2012 New Orleans Saints, who allowed the most yardage in the history of the NFL, look good.
You name it, it's gone wrong. Linebacker London Fletcher has looked every bit of 38 years old. A Redskins secondary that ranked 30th in the NFL in pass defense last year may actually be worse this season.
The defense's inability to stop anyone has affected Griffin and the offense as much as his knee has. Alfred Morris can't get going because the Redskins have been forced to abandon the run by halftime.
Head coach Mike Shanahan admitted to John Keim of ESPN that early deficits have forced the Redskins to abandon the read-option looks that were so successful for them in 2012:
We have the ability to do everything we've done a year ago. In the second half of our first two games we've gone to two minutes very quickly. The score was very obvious why we did. We'll let the season go on, and hopefully you guys will see some of the execution that you did last season.
The schedule hasn't done the Redskins any favors in the early-going either.
Washington Redskins 2013 Schedule

| | | |
| --- | --- | --- |
| Week | Opponent | Offense Rank |
| 1 | Philadelphia Eagles | 2nd |
| 2 | at Green Bay Packers | 1st |
| 3 | Detroit Lions | 8th |
| 4 | at Oakland Raiders | 17th |
| 6 | at Dallas Cowboys | 24th |
| 7 | Chicago Bears | 14th |
| 8 | at Denver Broncos | 3rd |
Week 5 Bye
The Redskins first two games have come against the No. 1 and No. 2-ranked offenses in the NFL. Sure, some of that ranking is thanks to the Redskins matador defense (the ball-carrier gets close, and "ole!"), but the Packers and Eagles are dynamic offensive football teams.
Unfortunately, it doesn't get a whole lot easier this week. The Redskins face another top-10 offense this Sunday in the Detroit Lions, before traveling west to face the Oakland Raiders in Week 4.
Who is more to blame for the Redskins 0-2 start?
With matchups after that with the Dallas Cowboys, Chicago Bears and Denver Broncos, the Redskins' odds of a repeat as division champs aren't looking especially good at the moment.
Here's the thing though. Last year's magical run was just that. Seven-game winning streaks and only turning the ball over 14 times in an entire season aren't the kinds of events that are repeated with regularity in the NFL.
Some regression was to be expected, especially since the draft picks lost in the Griffin trade and the salary cap penalties levied against the team by the NFL last year left Washington's hands tied when it came to filling holes in the offseason.
All is not lost though. There isn't a dominant team in the NFC East this year. The Eagles are as bad on defense as they are good on offense. The New York Giants are a hot mess right now. The Cowboys still need to survive their annual late-season faceplant.
There's still plenty of time for the Redskins to get back into things, but they badly need a win this week against Detroit.
The key to that win isn't Kirk Cousins.
It's the Washington defense getting their act together and stopping someone.
Because so far in 2013, the only thing the Redskins' defense is stopping is Washington's chances of a repeat as division champs.