Vikings vs. Bears: Full Roster Report Card Grades for Chicago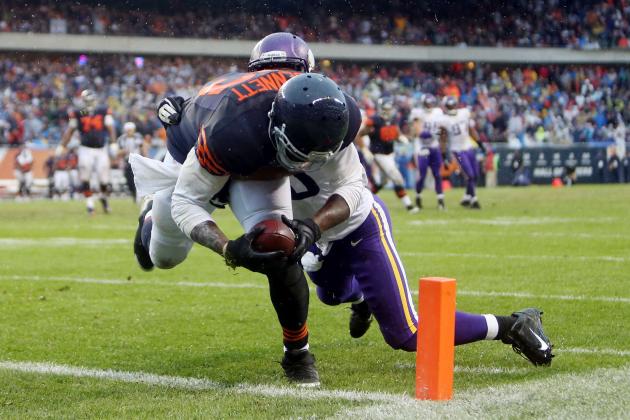 Jerry Lai-USA TODAY Sports

It wasn't easy, but thanks to some last-second heroics, the Chicago Bears came away with a 31-30 win over the Minnesota Vikings to start the season 2-0.
Weather might have played a small role in the sloppy affair, but really, the Bears have a long way to go before they can be considered a good team.
The Bears turned the ball over four times. Once they put points directly on the board for the Vikings with a fumble that was returned for a touchdown. Another time, they almost certainly took points off the board with an interception at the 1-yard line.
On the other side, they also forced three turnovers of their own. However, when playing Christian Ponder, a team should get three turnovers.
Overall, the Bears showed flashes of greatness, mixed with flashes of awfulness. Who are they? We don't know yet, and we won't know for a while.
Ultimately, the end result is all that matters. This week that was a win, and here is how each position graded out in what was a win that will be remembered for a long time.
Begin Slideshow

»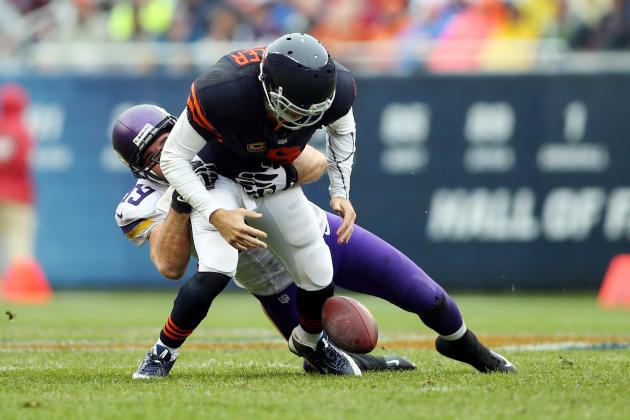 Jerry Lai-USA TODAY Sports

Jay Cutler was terrible at times, and he was amazing at times.
He threw one bad interception, another was largely due to bad luck but still could've been prevented. Although, Brandon Marshall doesn't think either interception was Cutler's fault, there's no excuse for the fumble, which was the biggest mistake.
Then, there was the brilliance.
Despite those struggles, Cutler completed 72 percent of his passes for 290 yards and three touchdowns. Most importantly, he delivered the game-winning touchdown pass for the second week in a row.
He could've had the game-winner a play before with a beautiful pass down the sideline to Alshon Jeffery, but it was just barely tipped. The next play he threw to Martellus Bennett's back shoulder, and the tight end hauled it in to give the Bears the win.
So, what do we make of Cutler's performance? There's something to be said about a quarterback who has the ability to deliver in the clutch, and Cutler has just that.
His mistakes make it impossible for him to have the highest grade, but he came through when they needed him the most. There are a lot of quarterbacks—including the guy in Green Bay—who aren't able to deliver late in games.
Cutler's a guy the Bears can count on when they need to—that's reassuring and underrated.
Grade: A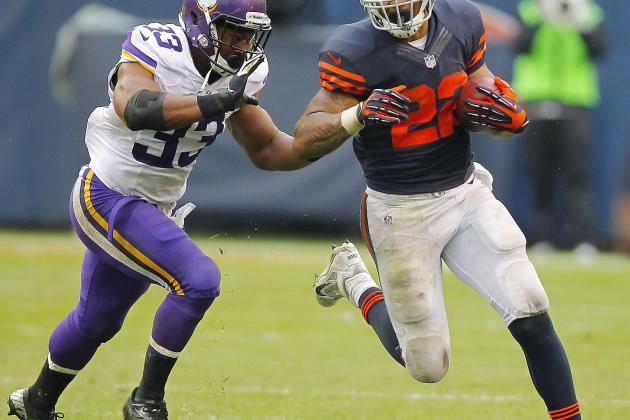 Dennis Wierzbicki-USA TODAY Spor

Matt Forte, Michael Bush, Tony Fiammetta
Matt Forte's otherwise great game took a hit with a fumble in the fourth quarter. The Bears defense bailed him out, but that fumble could've easily been the mistake that lost the game for the Bears.
Other than that, however, he was great. He ran for 90 yards on 19 carries (4.7 average) and caught 11 passes for 71 more yards.
For the second straight week, Michael Bush wasn't really much of a factor in Chicago's game plan. He's shown to be a talented player in the past. He's a powerful runner and underrated receiver. The Bears have to start being cautious about Forte's touches so he doesn't break down.
Tony Fiammetta might have been the Bears' most underrated player in the game. He did a very nice job opening holes as, 670 The Score's Dan Durkin pointed out via Twitter.
In the last slide I wrote about Cutler being great when they needed him to be, but Forte's fumble was unforgivable given the circumstances. Still, he made a lot of plays for the team while Fiammetta had his best game as a Bear.
Grade: B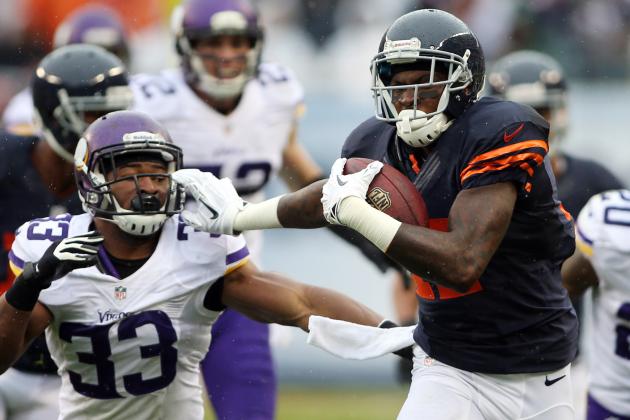 Jerry Lai-USA TODAY Sports

Brandon Marshall, Alshon Jeffery, Earl Bennett, Joe Anderson
The Bears didn't open the offense up a lot, which means limited participation from their receivers, but they were productive.
Brandon Marshall was his usual self, catching seven passes for 113 yards and a 34-yard touchdown. On the team's game-winning drive, he caught two passes for 22 yards, both coming on third downs.
Jeffery's only catch was also a big one on the team's game-winning drive. He made a great catch for 11 yards on 2nd-and-12 to put them in a manageable third down. Earlier in the game, he showed more burst than many thought he had with a 38-yard run on an end around.
After catching his only target in Week 1, Earl Bennett caught both of his passes for 19 yards in this game and Anderson saw a few snaps as a receiver.
Overall, the Bears wide receivers were good, but not great. Outside of Marshall and the late catch by Jeffery, they essentially just did what was expected of them.
As the Bears go forward they need their receivers to start making more big plays on their own. That should come once they get fully comfortable in the offense.
Grade: B-
Jerry Lai-USA TODAY Sports

Martellus Bennett, Steve Maneri, Dante Rosario
What more can be said about Martellus Bennett? The Bears signed him to make big plays and take advantage of defenses paying too much attention to Marshall and Forte. He was excellent against the Vikings.
While the game-winner will get the most replays, he had several very good plays. He ran a great route to get open on his touchdown on their first drive. On the game-winning drive, he got wide open and caught a 23-yard pass on a 1st-and-20 play. Three play later, he made a great adjustment on a back-shoulder throw for what proved to be the game-winning touchdown.
Steve Maneri held up as a blocker, and Dante Rosario was basically a nonfactor. This game was about Bennett, and this grade reflects his performance more than anything.
Grade: A+
David Banks/Getty Images

Jermon Bushrod, Matt Slauson, Roberto Garza, Kyle Long, Jordan Mills
They wanted to be introduced as a group before the game, so I'm going to put them together in here.
Although they weren't perfect, it was another solid week for the Bears offensive line. ESPN credited the Vikings defense with just one sack and three quarterback hits. The Bears also averaged five yards per carry in the ground game.
They gave Cutler all day on his touchdown pass to Marshall and a 23-yard gain to Bennett on their game-winning drive. They also gave Cutler a good pocket and just enough time on the final touchdown pass to Bennett.
The biggest negatives came from newly signed Jermon Bushrod. He was called for holding twice (one was declined). He was also beaten by Jared Allen on the only sack, which turned into a touchdown for the Vikings after Cutler fumbled the ball.
Against a very good defensive line like Minnesota's, the Bears offensive line held their own for the most part. Or, at least, did better than most would have expected.
Grade: B-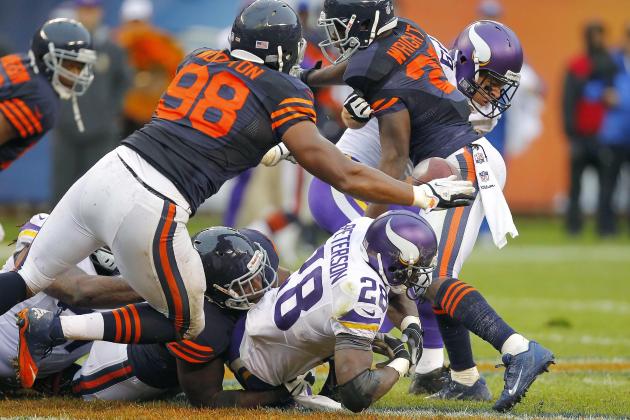 Dennis Wierzbicki-USA TODAY Spor

Julius Peppers, Henry Melton, Stephen Paea, Shea McClellin, Corey Wootton, Nate Collins
Before I say anything else, it should be noted that this group has gone against two excellent offensive lines. However, the Bears need more from them if their defense is going to reach its potential.
They were better than they were in Week 1, pressuring Vikings quarterback Christian Ponder a handful of times, but they weren't good enough.
According to ESPN, Corey Wootton was the only Bear to hit Ponder. For the Bears' Cover 2 to be at its best, they have to get a lot of pressure on the passer. The line has to be the strength of the defense.
To the unit's credit, it's been great against the run. The line held Adrian Peterson and Co. to under four yards per carry, and Nate Collins forced a fumble.
It isn't as if the Bears defensive line hasn't made an impact, it's that its impact isn't anywhere close to what it's going to be. With that, I'm going to give the group a harsh grade.
Grade: D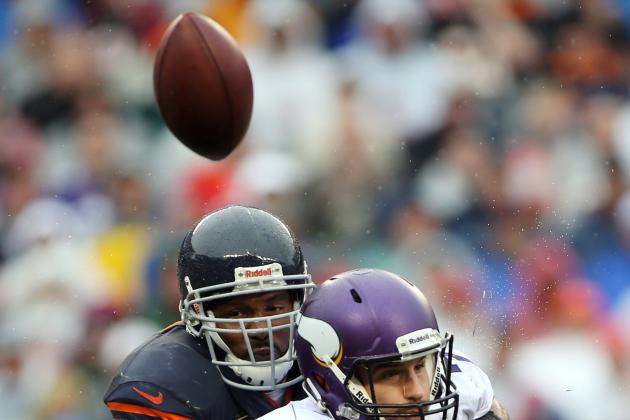 Jerry Lai-USA TODAY Sports

Lance Briggs, D.J. Williams, James Anderson
Lance Briggs and James Anderson were both credited with eight solo tackles and were solid in coverage as Briggs was credited with three passes defense and Anderson deflected another.
More film review is needed to get a full evaluation of D.J. Williams. He didn't stand out one way or the other. He had three tackles, two of which were solo.
Chicago's linebackers certainly played a big part in keeping Peterson under four yards per carry. Outside of a 36-yard run on a draw play, he had 25 carries for just 64 yards. A team with bad linebacker play doesn't limit the best running back in the NFL to that kind of performance.
Unlike last year, the linebackers appear to be the strength of the Bears defense. While they haven't necessarily registered the type of game-changing plays yet, those should come with time.
For now, I'll give them a solid grade, but there's certainly still room for improvement.
Grade: B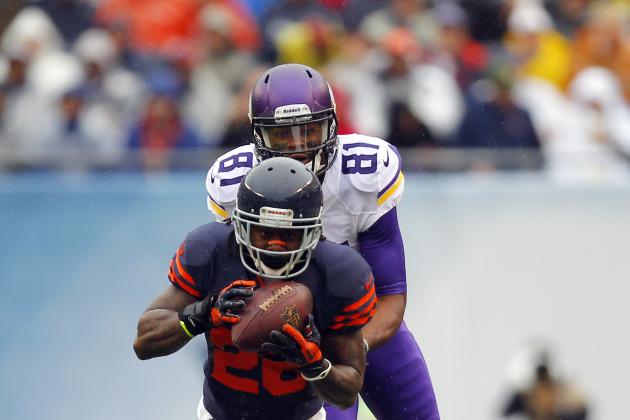 Dennis Wierzbicki-USA TODAY Sports

Charles Tillman, Tim Jennings, Isaiah Frey, Chris Conte, Major Wright, Craig Steltz
It's hard to judge a secondary when it's not getting a lot of pass rush.
While the group didn't give up any passing plays of over 40 yards, it did give up a 37-yard completion to Jerome Simpson and four more passes of over 20 yards or more.
The struggles of getting consistent pressure on the quarterback have certainly played a role in that, but the Bears secondary could do its part better as well.
Minnesota receivers managed just 10 catches in the game, half of which were by Greg Jennings. There were a few times when the Bears seemed to have good coverage but Ponder was surprisingly able to put the ball in the perfect spot.
It did get a big play from Tim Jennings as he jumped in front of Simpson for an interception that he returned for a touchdown.
The Bears secondary is supposed to be one of the best in the league. When matched up with a weak group of receivers—such as Minnesota's—you expect them to dominate the matchup. It really didn't, but the group also didn't play poorly.
Grade: B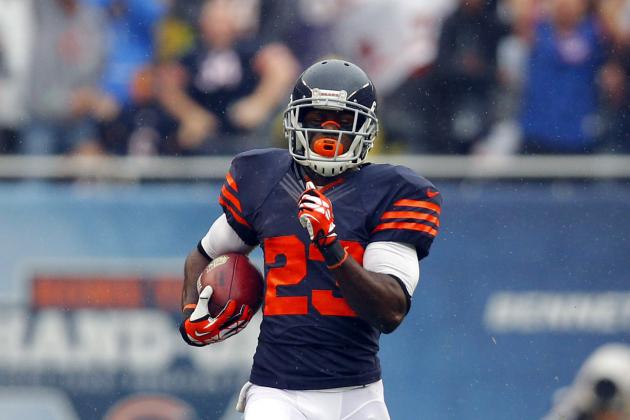 Dennis Wierzbicki-USA TODAY Sports

Robbie Gould, Adam Podlesh, Patrick Mannelly, Devin Hester
Robbie Gould really wasn't tested with just a 20-yard field goal and four extra points. Adam Podlesh had one awful punt but was solid other than that. As usual, Patrick Mannelly was perfect.
The story, here, clearly is Devin Hester. He just might be back to being the most dangerous return man in the league.
After Minnesota's Cordarrelle Patterson returned the opening kick 105 yards for a touchdown, Hester returned his first attempt 76 yards. Later in the game, he had an 80-yard return. He averaged 49.8 yards on five kick returns as he set a franchise record with 249 kick return yards.
By the end of the game it was very clear to the Vikings and everyone else in the league that Hester is still a very scary dude. That's great news for the Bears.
Without Podlesh's 26-yard punt and some terrible coverage on the opening kick, this unit would be perfect. You can't allow 105-yard returns, and you can't have punts that don't reach 30 yards.
The grade for this game might not be perfect, but Bears fans should be very excited with what Hester showed them.
Grade: B+