Dolphins vs. Colts: Takeaways from Indianapolis' Loss to Miami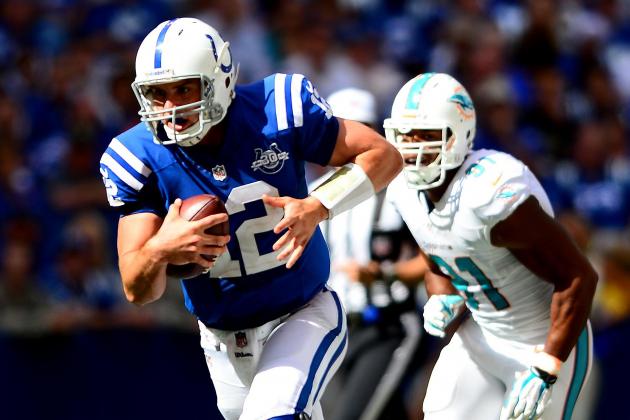 Andrew Weber-USA TODAY Sports

The Indianapolis Colts lost to the Miami Dolphins today after a final comeback attempt fell flat.
The 20-24 score tells you a lot about the two teams, namely that they're very close in terms of talent, but also that the Colts offense isn't scoring nearly as many points as it was predicted to.
For the second week in a row, play-calling concerns are looming over Naptown, and this time there's no comfort in a "W".
An inconsistent, lackluster performance from both units led to this loss, but what were the biggest things that we learned?
Begin Slideshow

»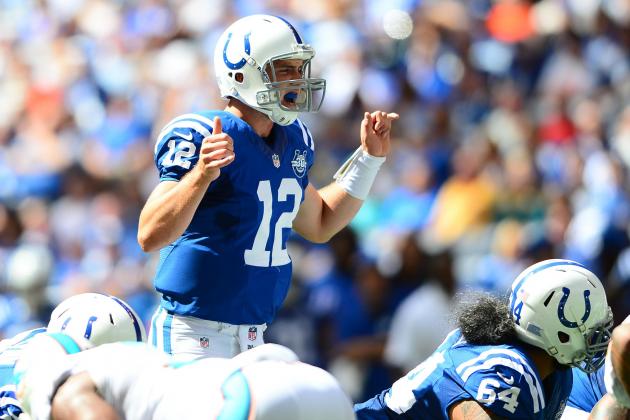 Andrew Weber-USA TODAY Sports

For a large part of the game, Andrew Luck didn't look nearly as impressive as he did last week.
Is Luck hurt?

— Jason Owens (@CrizzleColts) September 15, 2013
But he put together stretches, throwing to T.Y. Hilton and Coby Fleener, that reminded fans why he's arguably the most valuable player in the league to his team.
But even Luck couldn't save the Colts today. He finished with a completion percentage of just 58 percent and a quarterback rating of 79.7. The Colts tried to rely on him to save the day like they did in 2012, but that's not always going to work. Today, Luck was good, but not great. When he's not great the Colts will have a hard time winning ballgames.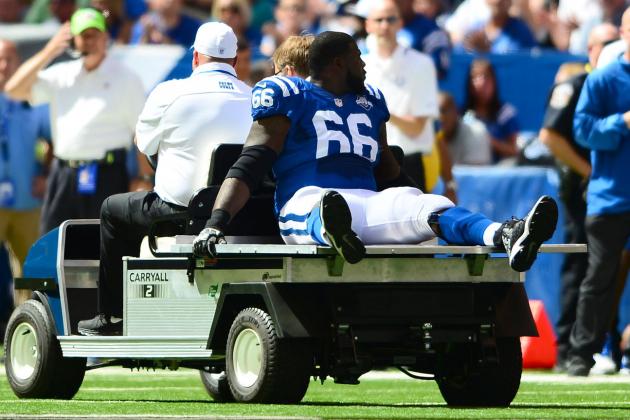 Andrew Weber-USA TODAY Sports

The Colts offensive line overachieved for most of game, but fell apart in the second half.
Losing Donald Thomas was a big reason why, as the Colts were forced to play rookie Hugh Thornton at right guard. Thornton has potential, but doesn't have the experience that Thomas has.
But while the offensive line was very good in the first half (even after Thomas left), they were abysmal in the second half when the Colts desperately needed to give Andrew Luck time to work, giving up three sacks and countless pressures.
Running back Donald Brown was the one responsible for what was essentially the game-ending QB hit, but the offensive line crumbled on the three plays prior, resulting in the Colts' final fourth down stand.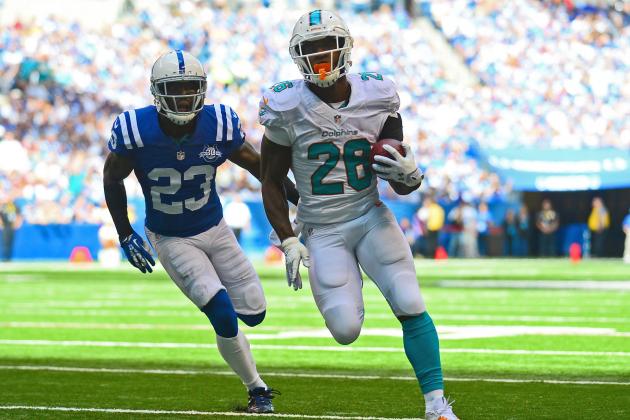 Andrew Weber-USA TODAY Sports

If you thought the offensive line was inconsistent (it was), the defense was even more maddening.
After allowing two straight touchdown drives to begin the game, the Colts stiffened and forced three straight punts. The Colts were active on the back end, and the pass rush was able to make Ryan Tannehill uncomfortable.
After allowing an end-of-half field goal, the defense forced a fumble by Tannehill and another punt, with Jerrell Freeman making his presence known in both pass rush and coverage. But they allowed a long touchdown drive at the end of the fourth and then allowed Miami to grind too much clock on their final drives, limiting the Colts' chances to come back.
Miami's offense isn't particularly good, and if the defense can't stay consistent against them, they're going to suffer against San Francisco next week.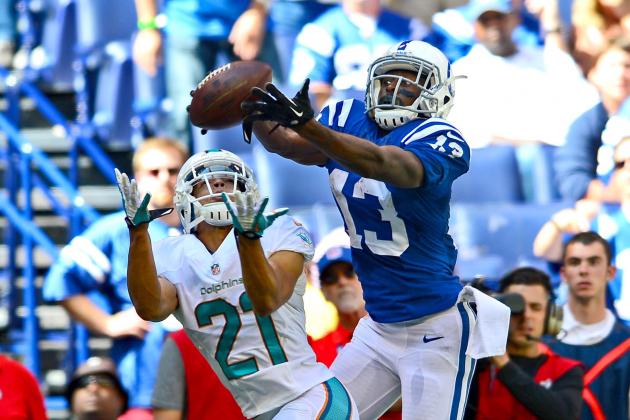 Andrew Weber-USA TODAY Sports

After not getting into the game enough last week, Hilton was a key part of the Colts' first-half offensive surge in this one, proving once again that he's a key part of their ability to put points on the board.
Hilton finished with six receptions for 124 yards, all of which came in the first half.
Unfortunately for Indianapolis, Miami was able to key in on Hilton in the second half (partly because the Colts went to power-run sets and limited his use for a big chunk of the half).
After being targeted nine times in the first half, Hilton was targeted just three times in the second half, with zero catches.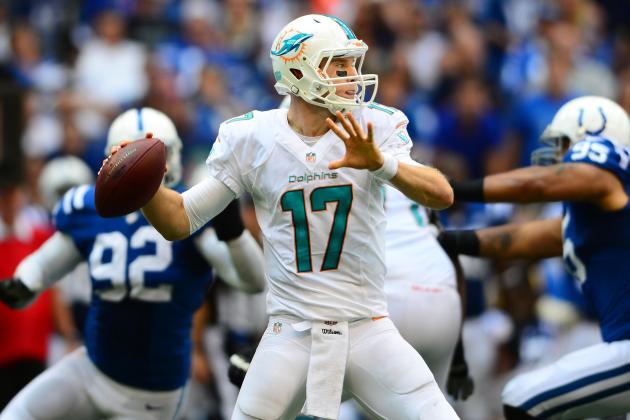 Andrew Weber-USA TODAY Sports

The pass rush was much improved in this game, although still not quite where Indianapolis needs it to be.
The Colts finished with five sacks, which any team will take, but it did take too many blitzes to get those sacks. Inside linebackers Jerrell Freeman and Pat Angerer combined for two-and-a-half of the team's five sacks, and the Colts struggled to consistently collapse the pocket with just four rushers.
Tannehill's ability to succeed against the blitz has been documented, so it was no surprise that he was able to throw for 319 yards and a passer rating of 107.4.
The Colts' cornerbacks struggled for much of the day. Greg Toler had two pass breakups, but also gave up a few big plays.
So far, it seems Greg Toler only makes 1 play for ever 3-4 he blows. Doesn't feel like a net gain so far for Indy.

— Collin McCollough (@cmccollo) September 15, 2013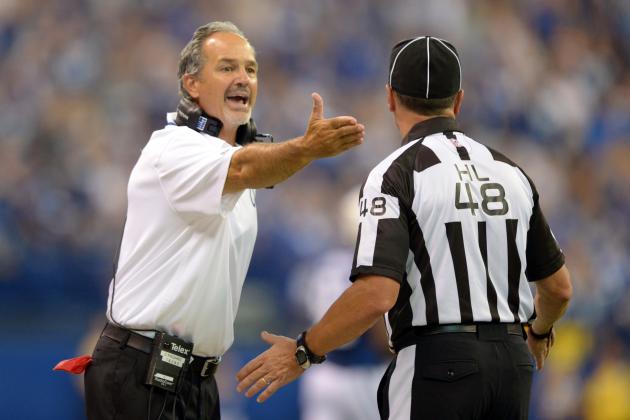 Kirby Lee-USA TODAY Sports

Once again, the Colts' inability to build on a lead and pull away from a team came back to haunt them. Only this time, Luck wasn't able to save the sinking ship.
The Colts put up 17 points in the first half, generally looking much more explosive than they did against Oakland. But the team scored just three points in the second half and were unable to sustain any kind of rhythm.
The worst (best) example of this was Indianapolis' second drive of the second half.
The Colts scored a touchdown on their final drive of the first half and drove down the field to get a field goal to start the second half. Then Chuck Pagano and Pep Hamilton decided that it was time to milk the clock with their three-point lead, trying to power-run on consecutive plays. The Colts went three-and-out, and the offense looked out of rhythm for the rest of the game.
Andrew Weber-USA TODAY Sports

As bad as Coby Fleener was in the preseason, and as little action as he got last week, he rebounded well in this one.
Aside from a diving attempt at a reception gone wrong, Fleener was solid, catching four passes for 69 yards and a touchdown and generally looking like the Coby Fleener from the first half of 2012.
The Colts desperately need Dwayne Allen to get healthy, both for his dependable blocking and sure hands, but if Fleener can be a dynamic receiving threat, the Colts will be able to make plays down the field.
That is, if play-calling dictates it.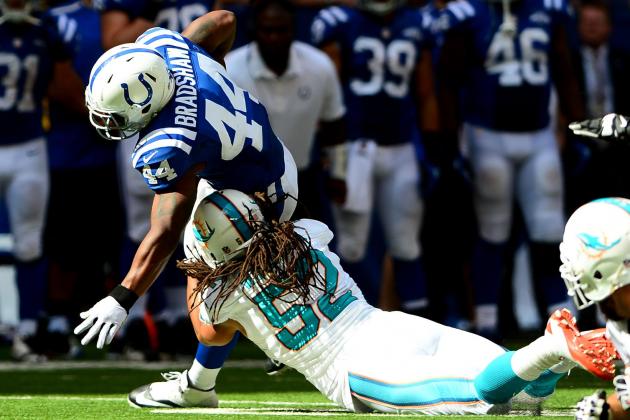 Andrew Weber-USA TODAY Sports

Once again, the Colts had a lead in the third quarter and failed to pull away, allowing Miami to come back and take the lead. Making Luck pull the rabbit from the hat in the fourth quarter isn't going to work in every game, as this one clearly showed.
The Colts offense struggled to maintain consistency in the second half, and the defense allowed a long touchdown drive to Miami along with a couple of clock-killing possessions.
Both the offensive and defensive units failed on their final chances to make plays, with Luck being sacked on fourth down and the defense allowing a 10-yard conversion on the ground on Miami's final play, icing the game.
Being able to pull away from opponents is a must for any Super Bowl contender. The Colts aren't there, but even if they want to be a playoff team they'll need to be able to hold a lead. For two straight weeks, they've been unable to do just that.