Mayweather vs. Alvarez: Canelo's Increased Notoriety Makes Him a Winner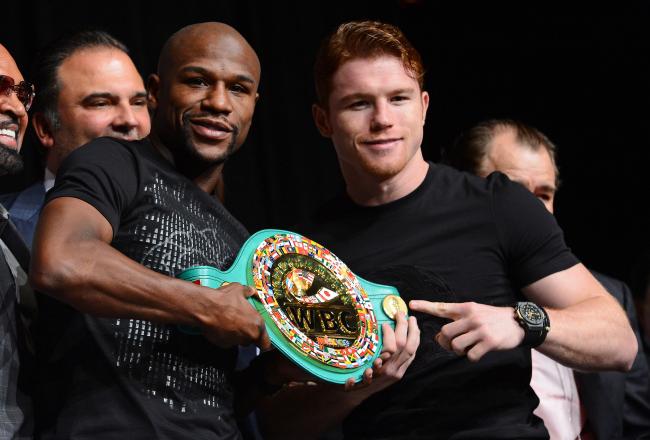 Ethan Miller/Getty Images
Saul "Canelo" Alvarez thinks he can do the unthinkable Saturday night—defeat Floyd Mayweather.
He's not alone.
While Mayweather will walk into the MGM Grand in Las Vegas as the overwhelming favorite once again, there are plenty of people who believe Alvarez has a better chance than most folks give credit. Plenty of boxing experts and celebrities have stepped up to give their selection in anticipation of the year's most anticipated fight; some think it's time for a new era.
Among those is perhaps the second-most dominant fighter in the world, UFC heavyweight champion Cain Velazquez. The man whose sport saw the unthinkable happen in July—Anderson Silva's upset loss to Chris Weidman—apparently thinks 2013 is the year of the upset. In an interview with EsNews, Velazquez stepped out on a limb and picked Alvarez, calling him the "hungrier" fighter.
We could go all night extolling the virtues of those picking Alvarez. Or snicker at those using their platforms just to pick the upset just because it's the edgy thing to do. Or just start cackling at the fact that anyone still doubts Mayweather after 44 perfect bouts.
Let's just go with the "none of the above" option. Instead, let's just state the obvious: Canelo Alvarez has already "won" before even stepping into the MGM Grand.
It doesn't matter if he actually wins. Or if he gets beaten. The pre-fight hype for this fight has been so brilliantly done by Mayweather's camp, Golden Boy Promotions and Showtime that by sheer proxy of his involvement Saturday night, he's made tens of millions of dollars more than he ever could have dreamed.
Don't buy in?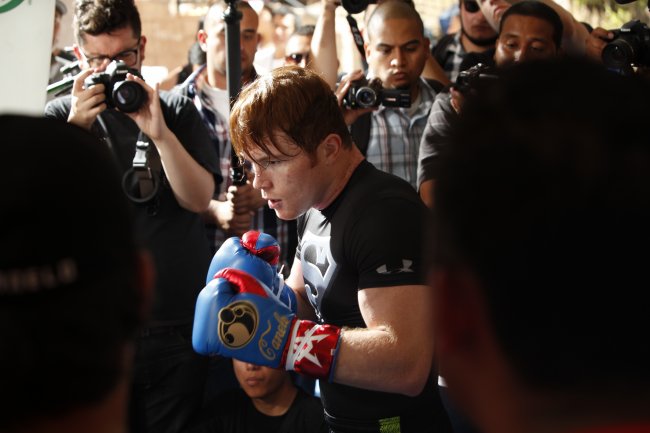 Alexis Cuarezma/Getty Images
Compare the Alvarez hype to the one surrounding Mayweather's last fight against Robert Guerrero. There was the occasional wise-guy pick you see every time one of these prize fights happens. But the prevailing (and ultimately correct) opinion was that Mayweather was looking to go straight to the bank, simply fighting a second-tier opponent for a check. Mayweather's historic struggles against southpaws were the only thing that made anyone with a modicum of boxing knowledge question the result.
Alvarez-Mayweather has been billed as a Clash of the Titans. It's Mayweather who is coming up in weight class to fight Canelo; don't let the 152-pound catchweight fool you.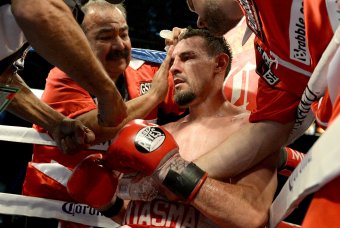 Jayne Kamin-Oncea-USA TODAY Spor
Alvarez will make $10 million guaranteed for this bout, more than three times what Guerrero did*. Floyd eviscerated his own guaranteed purse record, pulling in no less than $41.5 million. These aren't prices usually paid for an all-time great facing someone whose best career win was probably over a decaying Shane Mosley.
Credit Golden Boy Promotions. They leveraged the less-than-stellar numbers of Mayweather-Guerrero into drumming up support for their fighter, pushing Canelo as the only tenable non-Manny Pacquiao solution.
Showtime isn't a not-for-profit organization. Its sweetheart deal with Mayweather was bound to have marquee fights, and Golden Boy somehow convinced the world that this had to happen.
At age 23, Alvarez will already be fighting his 44th professional bout Saturday. That's one fewer than Mayweather has in his entire career heading toward his 37th birthday. Their career trajectories were obviously different—Alvarez has been fighting as a professional since before he could even have a driver's license in most states while Mayweather was an Olympian.
But Alvarez is about to hit a whole new world, win or lose. The days of his eight-fight years (2006, 2008) or seven-fight years (2007, 2009), Alvarez walks out of the MGM Grand one of the most famous boxers in the world. This is a kid who was fighting Alfonso Gomez in September and then Kermit Cintron in November two years ago.
Alvarez has gone from boxing's soup kitchen to its penthouse in 24 months. And you don't think he's a winner already?
From a superficial standpoint, this fight will draw innumerable comparisons to Mayweather's Victor Ortiz bout. Like Alvarez, Ortiz was one of the youngest and hottest fighters on the block when he took on Money May in 2011. He had been named ESPN's Prospect of the Year in 2008 and parlayed that honor into some of the best and most controversial fights over the next three years.
At the time, Mayweather had been out of the ring 16 months. He was entering his mid-30s, the point where a fighter's quickness and coordination usually start to slip.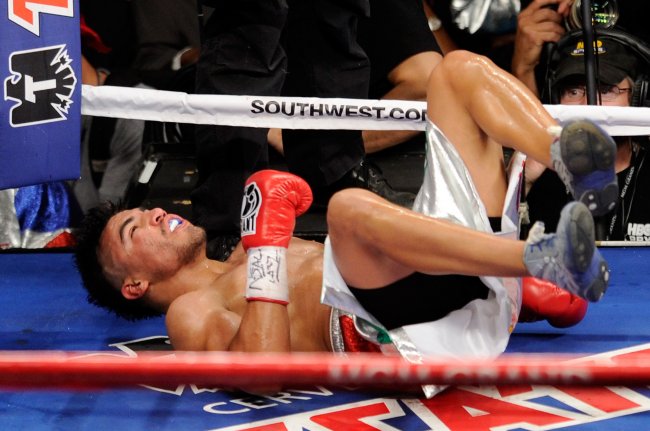 Ethan Miller/Getty Images
But those close to the situation knew what Ortiz was walking into. An aggressive fighter with the typical Mexican flair for the astounding, Ortiz is the type of fighter Mayweather has picked apart his entire career. Those who charge Money like a bull get peppered with a series of jabs to the face, and that's exactly what happened to Ortiz.
There is always the possibility that Alvarez comes in and pulls an Ortiz: That Alvarez winds up getting spun around the ring like a dreidel the way Ortiz was against Mayweather, loses to someone like Josesito Lopez a year later and ends up fighting to revive his career within two years of meeting Money.
That just doesn't seem likely. Mayweather would have to utterly embarrass Canelo to unspool the narrative so tightly spun by Golden Boy and Showtime's excellent promotion.
And Alvarez's style doesn't lend itself to embarrassment. He's almost the polar opposite of a typical fighter of Mexican descent, choosing a more tactical approach to fights. For fans looking to see a knockdown, drag-out thrill ride, you may be disappointed. Mayweather-Alvarez should be fun for those who like the tactical aspects, not so much for those who want fireworks.
In all likelihood, Mayweather will win on the judges' scorecards. He'll defeat Alvarez handily, and the narrative coming out of the fight will be that the youngster wasn't quite at Mayweather's caliber yet. He'll be given a future seat at the big boy's table in boxing no matter what.
This is all as Alvarez is nearly four months to the day younger than the person writing about him now and nearly a decade-and-a-half younger than the man he's facing.
Win on Saturday? Alvarez is already immortal. He could go mid-career Rocky Balboa on us all and fight cupcakes for the rest of his career. He's still the dude who took down Floyd Mayweather.
If not, he pockets at least a cool $10 million, becomes a brand name in boxing and does more for gingers than anyone since the whole Conan O'Brien-Jay Leno feud.
With all that going for him, any positive result inside the ring is pure gravy.
(*Canelo will technically make $5 million on fight night, but his pay-per-view contract is a sweetheart one that guarantees at least $10 million, per ESPN's Dan Rafael. Guerrero raked in a percentage of the pay-per-view profit; his deal just wasn't given the sweetheart clause in the same fashion.)
Follow Tyler Conway on Twitter:
This article is
What is the duplicate article?
Why is this article offensive?
Where is this article plagiarized from?
Why is this article poorly edited?