UFC 164: Reliving Frank Mir's Nastiest Submission Wins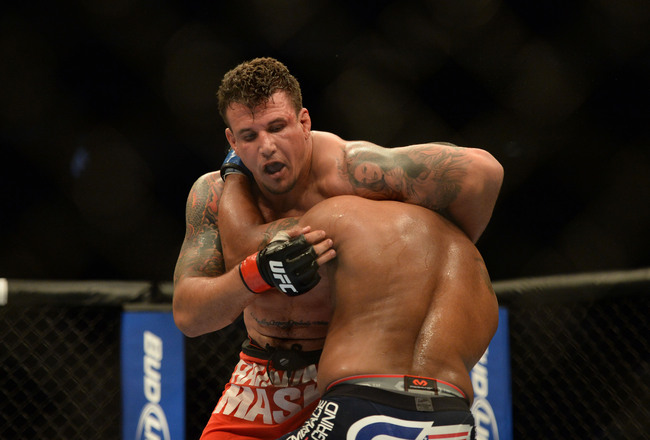 Kyle Terada-USA TODAY Sports
One of the most exciting matchups in UFC 164—Henderson vs. Pettis—is a battle between two ground specialists in Frank Mir and Josh Barnett. Both fighters have held the UFC's heavyweight strap in the past and are making their way to the top in the stacked heavyweight division.
The question is: who has the edge on the ground?
Both fighters have several wins coming via submission. Barnett has the edge in numbers with 19, but it is interesting to note that majority of Mir's submission wins happened in the UFC, while the former is most successful in organizations outside of the UFC.
Mir's submissions are mainstay in every UFC highlight video and never fail to give audience a feeling that an arm or leg will be broken when he fights.
Shall we see a Mir submission win tomorrow?
Let's relive Mir's nastiest submission wins in his UFC career.
Mir Submits Kongo Via Guillotine Choke
After his TKO win against the very tough Antônio Rodrigo Nogueira, many are talking about Mir's improving striking game. In his matchup against Cheick Kongo, it was interesting to wonder whether he would utilize his stand-up skills or maximize his advantage in the ground against this very crafty kickboxer.
Mir made use of both his striking and submission skills in defeating the French fighter. After timing Kongo with an overhand left, Mir followed him on the ground and locked one of the nastiest guillotine chokes in the UFC.
Kongo's face in the video says it all. Mir's submission is deadly.
The win marked Mir's return after being defeated by Brock Lesnar in a heavyweight championship bout, and it gave him a shot for the interim championship belt against Shane Carwin.
Mir Submits Abbott Via Toe Hold
Tank Abbott generated a lot of hype when he returned in the UFC after almost five years of inactivity inside the organization. He was known for terrorizing opponents with powerful strikes resulting in broken jaws.
In his matchup against Mir, die-hard UFC fans were hoping to see another knockout highlight from the legendary striker.
But there was a feeling that a submission win from Mir was inevitable.
Mir proved that his submission wizardry toppled all expectations of an Abbott knockout. He was able to ground his opponent and lock a crazy submission dubbed as the toe-hold.
See video above and watch how a man as scary as Abbott would tap quickly on a very technical submission technique.
Mir Submits Lesnar Kneebar
Brock Lesnar's arrival in the UFC was one of the most legendary events in the history of the organization. Lesnar is known for his wrestling career—he has only a single win in his mixed martial arts career before being called into the UFC.
Frank Mir welcomed the famed wrestler with a very important lesson: you can't just expect to rack up wins inside the organization without enough experience in fighting.
Mir finished Lesnar with a submission victory via the kneebar. The two met again in a rematch years later with Lesnar winning in the second meeting, but we are all sure, he trained a lot of submission escapes prior to that second fight.
Mir Submits Sylvia Via Armbar
Frank Mir won the UFC heavyweight title in 2004 in one of the scariest ways possible, by braking his opponent's arm.
Tim Sylvia seemed to be unconvinced after the stoppage, but looking at the video in the replay, he surely would have thanked referee Herb Dean for saving his arm from further damages and giving him a few more years in his career.
Check out the video and imagine what would have ensued if the fight was stopped any later.
Mir Submits Nogueira Via Kimura
There was a lot of hype coming in for this rematch between Frank Mir and Antônio Rodrigo Nogueira, being considered a vindication match for the Brazilian after he was defeated by Mir via TKO in their previous meeting.
But instead of avenging his loss against Mir, "Big Nog" had fallen again to his opponent's deadly traps. This time, the win came via a Kimura submission.
In the video above, it can be seen that Nogueira tried his best to escape the lock but Mir's submission prowess proved to be one of the best in the heavyweight division.
Mir broke Nogueira's arms and sent a very important message to other fighters in the heavyweight division: you can't mess with Mir on the ground even if you have a black belt in grappling.
Keep Reading