Finland Olympic Hockey Team 2014: Projecting 25-Man Roster for Sochi Games
Harry How/Getty Images

Finland doesn't have the same star power as some of the more popular hockey nations, but the Scandinavian country consistently finds ways to win games and reach the medal stand at the Olympics.
Since NHL players were first permitted to participate in Olympic competition at the Nagano Games in 1998, no country has won more medals than Finland (three). However, one accomplishment that has eluded the Finnish team in that span has been the gold medal.
In fact, despite all of the star players Finland has produced in its history, the team has never won a gold medal in men's ice hockey.
Will 2014 be the year that Finland finally breaks the drought and earns the top Olympic prize?
Let's look at how Finland should construct its roster for the Sochi Games and make a prediction for its Olympic campaign.
Begin Slideshow

»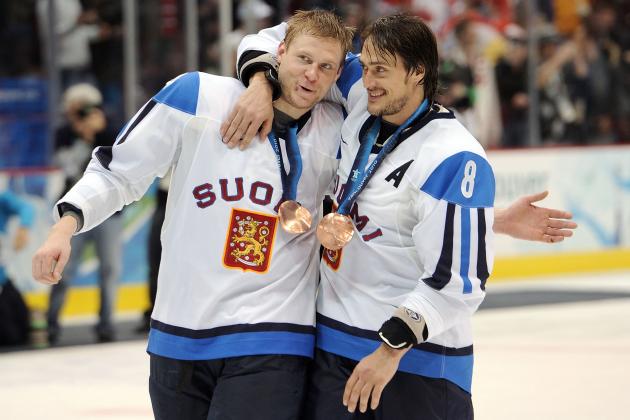 Harry How/Getty Images

Here is Finland's Olympic camp roster:
Goaltenders: Tuukka Rask, Pekka Rinne, Antti Niemi, Niklas Backstrom, Kari Lehtonen, Karri Ramo, Petri Vehanen, Antti Raanta
Defensemen: Sami Salo, Kimmo Timonen, Toni Lydman, Joni Pitkanen, Juuso Hietanen, Topi Jaakola, Joonas Jarvinen, Lasse Kukkonen, Teemu Laakso, Sami Lepisto, Jere Karalahti, Janne Niskala, Sami Vatanen, Ossi Vaananen, Tuukka Mantyla, Petteri Nummelin
Forwards: Mikko Koivu, Saku Koivu, Olli Jokinen, Teemu Selanne, Ville Leino, Valtteri Filppula, Aleksander Barkov, Sean Bergenheim, Niklas Hagman, Teemu Hartikainen, Juha-Pekka Hytonen, Mikael Granlund, Jarkko Immonen, Jesse Joensuu, Leo Komarov, Petri Kontiola, Lauri Korpikoski, Jarno Koskiranta, Jori Lehtera, Antti Miettinen, Janne Pesonen, Antti Pihlstrom, Jarkko Ruutu, Tuomo Ruutu, Sakari Salminen, Veli-Matti Savinainen, Juhamatti Aaltonen, Niko Kapanen, Jussi Jokinen, Lennart Petrell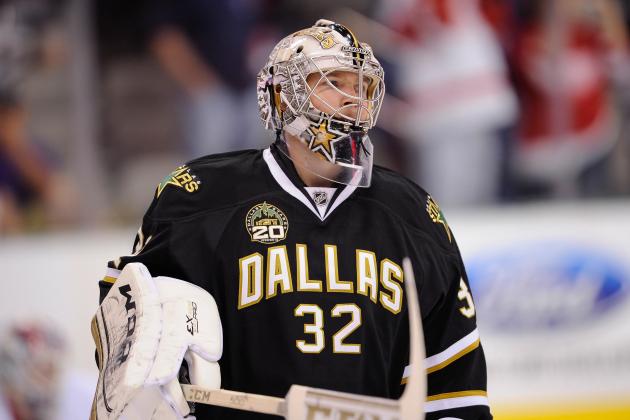 USA TODAY Sports

Finland is going to have a challenging decision to make on which goaltenders to bring to Sochi. There are five quality NHL netminders invited to the Olympic camp, and all of them would be worthy starters at the Olympics. But it's a good problem to have because there are many other gold-medal contenders, including Canada and Russia, with unproven or unreliable goaltenders to choose from.
Let's look at three players who barely missed my final 25-man Olympic roster for Finland.
Kari Lehtonen, Goaltender
Lehtonen is the starting goaltender for the Dallas Stars and one of the most underrated players in the NHL. He's won over 30 games in each of the past two non-lockout seasons, and his save percentage hasn't dipped below .914 in three years, which is impressive considering he's played in front of a mediocre defensive corps his entire career.
Despite his impressive performance for Dallas, Lehtonen lacks the NHL playoff and Olympic experience needed to be a starter or a backup for Finland in Sochi. He only has two NHL playoff games on his resume, and his most recent international experience was in 2007 as part of Finland's silver medal-winning team at the World Championships.
Niklas Backstrom, Goaltender
Backstrom tied for the league lead in wins last season and was a major part of the Minnesota Wild's success. He was solid at the 2008 World Championships, posting a 6-2 record for the Finnish team. But the 35-year-old doesn't instill the same level of confidence in his teammates that Rask, Niemi and Rinne do.
He's not a Stanley Cup champion like Niemi, he's never been a finalist for the Vezina Trophy like Rinne and he isn't going to shut down elite offensive teams like Rask.
Finland doesn't have as much elite offensive and defensive talent as Canada, Russia, Sweden and the United States. This team needs a top goaltender to overcome that and Backstrom isn't the guy for the job.
Jarkko Immonen, Center
Immonen is an all-around offensive player with impressive playmaking skills and the ability to score 10 to 15 goals per season in the KHL. He would add valuable depth to the bottom two lines, but he's a center, which is a position that Finland already has plenty of quality players to choose from.
The problem for Immonen is that he's not versatile enough to play out of position on the wing like some of the other centers who made my final 25-man roster.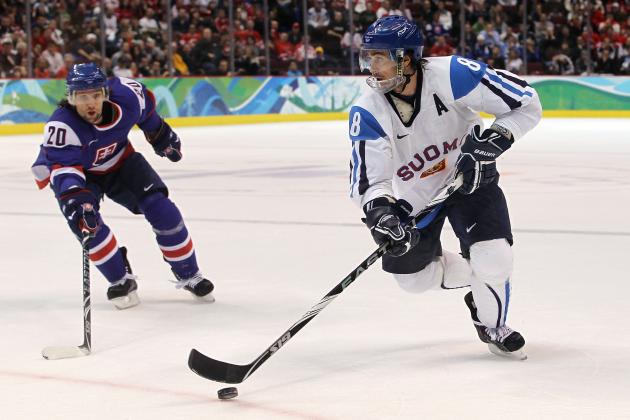 Bruce Bennett/Getty Images

Here is my projected 25-man roster for Finland at the Sochi Olympics:
Goaltenders: Tuukka Rask, Pekka Rinne, Antti Niemi
Defensemen: Sami Salo, Kimmo Timonen, Toni Lydman, Joni Pitkanen, Janne Niskala, Sami Vatanen, Ossi Vaananen, Sami Lepisto
Forwards: Mikko Koivu, Saku Koivu, Olli Jokinen, Teemu Selanne, Ville Leino, Valtteri Filppula, Aleksander Barkov, Teemu Hartikainen, Mikael Granlund, Leo Komarov, Lauri Korpikoski, Antti Miettinen, Tuomo Ruutu, Jussi Jokinen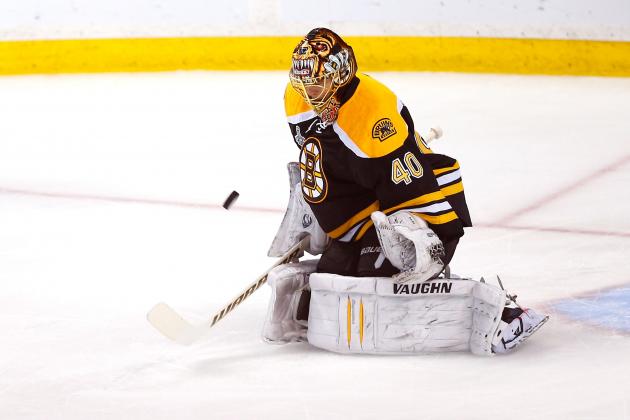 Jim Rogash/Getty Images
Tuukka Rask
Projected Starter: Antti Niemi (San Jose Sharks)
The decision for the starting goalie was between Niemi and Rask, but because the Sharks goaltender has won a Stanley Cup and is currently playing at the highest level of his career, he was the best option for this role.
Niemi tied for the NHL lead in wins last season with 24, while also posting a .924 save percentage and a 2.16 GAA. He was even better in the playoffs with a .930 save percentage and a 1.87 GAA.
Not only does Niemi have a history of great performances during playoff competition, he also has the composure, mental toughness and confidence needed to thrive on the Olympic stage. Unless he has a terrible start to the 2013-14 NHL season, expect him to start in net for Finland in Sochi.
Projected Backups: Pekka Rinne (Nashville Predators), Tuukka Rask (Boston Bruins)
Rask is the likely backup because he has a better NHL playoff resume (21-14, .930 SV%, 2.14 GAA) than Rinne. The Bruins star also has the highest save percentage of any goaltender who's played in 100 or more games since the 2005-06 season.
With that said, Rinne will definitely be the best third-string goalie in Sochi. He's a two-time Vezina Trophy finalist and someone capable of winning 40-plus games in a season. But his lack of conference finals, Stanley Cup Final and Olympic experience (zero games played) makes starting him over Rask and Niemi a risk not worth taking for Finland.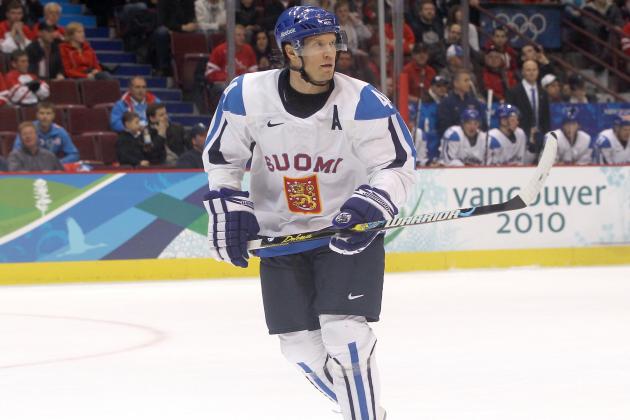 Bruce Bennett/Getty Images

Projected Defensive Pairings
| | | |
| --- | --- | --- |
| Pairing | Player | Player |
| 1 | Sami Salo | Kimmo Timonen |
| 2 | Joni Pitkanen | Toni Lydman |
| 3 | Ossi Vaananen | Sami Vatanen |
The Finnish defense is lucky to have three elite goaltenders on the roster because this blue line lacks top-tier talent.
But even though there's not a No. 1, shutdown defenseman in this group, there is plenty of experience and leadership with Salo, Timonen, Lydman and Pitkanen likely to return from Finland's bronze-medal-winning team in Vancouver.
Despite a lack of physicality and spectacular defensive skill, this blue line will provide valuable scoring because players such s Salo, Timonen, Pitkanen and Vatanen are all quality offensive players with powerful shots from the point, good vision and impressive puck-handling skills.
He wasn't on the Olympic camp list, but don't be surprised if top Pittsburgh Penguins prospect Olli Maatta receives strong consideration for the final roster. His excellent skating, playmaking and puck-moving skills would be a great fit on the Olympic-sized ice sheet that will be used in Sochi.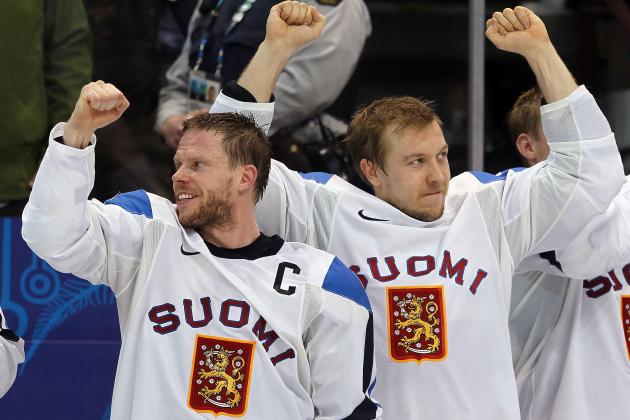 Bruce Bennett/Getty Images

Projected Forward Lines
| | | | |
| --- | --- | --- | --- |
| Line | LW | C | RW |
| 1 | Jussi Jokinen | Mikko Koivu | Teemu Selanne |
| 2 | Teemu Hartikainen | Valtteri Filpulla | Tuomo Ruutu |
| 3 | Mikael Granlund | Olli Jokinen | Teemu Pulkkinen |
| 4 | Leo Komarov | Aleksander Barkov | Lauri Korpikoski |
The most interesting player on this list is Selanne, who is arguably the best Finnish forward of all time. If the 43-year-old winger plays in Sochi, it will be the sixth Olympics of his career. Despite his age, the Anaheim Ducks forward is still a quality player and worthy of a top-six role on this team.
Even though there aren't any elite goal scorers in this lineup, there's an abundance of speed and quickness that will make the Finland forwards difficult to play against, most notably from Pulkkinen, Granlund and Hartikainen.
The Fins should also have a great checking line with a strong two-way center in Barkov, the hard-hitting play of Komarov and the defensive awareness that Korpikoski brings to the ice.
Fortunately for Finland, its lack of star power at forward shouldn't be a massive problem because it probably won't need to score many goals due to the strength of the team's goaltending.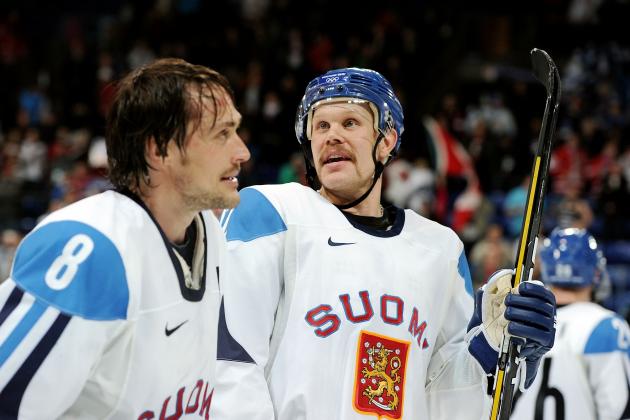 Harry How/Getty Images

Antti Niemi, Goaltender
Niemi's performance will be of the utmost importance because Finland does not have the offensive firepower to compete in high-scoring games against deeper and more talented opponents, such as Canada, Russia, Sweden and the United States.
With that said, there is no reason for Finland to be concerned about its ability to keep games to a low score. Niemi rarely makes mistakes because of his quick reflexes, responsible positioning, great lateral movement and strong puck-handling skills.
He's a reliable goalie with Stanley Cup-wining experience who understands what it takes to win important games.
Teemu Selanne, Right Wing
Selanne is a legend in Finland and his leadership role will be an important part of the team's success in Sochi. There will be a lot of young forwards on the roster, most notably Granlund and Pulkkinen, who will look up to the veteran forward as a mentor and leader.
The Ducks star should also make a strong impact on Finland's power play, a role that he's mastered throughout his NHL career (251 career power-play goals). His playmaking skills and impressive goal-scoring ability will make him a difficult player to defend when Finland has the man advantage.
Kimmo Timonen, Defenseman
As the veteran leader and only legitimate No. 1 defenseman on the blue line, Timonen's performance will have a massive impact on Finland's success in Sochi.
He's going to play in all types of situations, including the power play and penalty kill. The 38-year-old is also the only blueliner on the roster capable of excelling defensively against the opposing teams' best forwards for 20-plus minutes each game.
Harry How/Getty Images

Strengths
Veteran Experience
There's probably going to be fewer than 10 players in Sochi who have won two Olympic medals in their careers, and there's a good chance that almost all of them could be on Finland. Koivu, Olli Jokinen, Lydman, Timonen, Selanne, Salo and Backstrom (if he makes the team) could all win their third Olympic medals in Sochi.
The experience and leadership that these players provide will be valuable components to the team's success in Sochi. Finland has a tremendous combination of veteran leaders with medal-winning experience and young players eager to prove themselves on the international stage.
Exceptional Goaltending Depth
Finland has more goaltending talent and depth than any other nation that qualified for Sochi. The Scandinavian country has three No. 1 goaltenders with Niemi, Rask and Rinne all capable of leading the team to the medal stand.
In fact, there's a strong chance that the Fins' third-string goalie, regardless of who plays that role, will be better than nearly every other No. 1 goalie in the tournament.
Quality goaltending is one common denominator among all gold-medal-winning teams, and it's why Finland has a good chance to take home the top prize at the 2014 Olympics despite having less offensive firepower and defensive talent than the other gold-medal contenders.
Weaknesses
Lack of Elite Talent on Blue Line
Finland doesn't have the same depth and talent on the blue line that it did when the team won silver in 2006 and bronze in 2010. Even though the goaltending is as good as it's ever been for the Finnish team, it would be unfair to think that Niemi, Rask or Rinne can lead the team to the gold medal if they have to make too many world-class saves at this tournament.
Finland will need a great tournament from veterans such as Timonen and Salo to accomplish its goal, which is a lot to ask of players who are nearing the end of their professional careers.
Scoring Depth
Finland will be forced to win a lot of close games in Sochi because it doesn't have the scoring depth to win high-scoring matchups. No one on the Fins' Olympic camp roster tallied more than 40 points or 15 goals in the NHL during the 2013 season.
This situation is going to put the goaltenders under a lot of pressure to be mistake-free, which is not an ideal situation because Rask, Rinne or Niemi will already have to deal with the pressure of being a No. 1 goalie on the Olympic stage for the first time.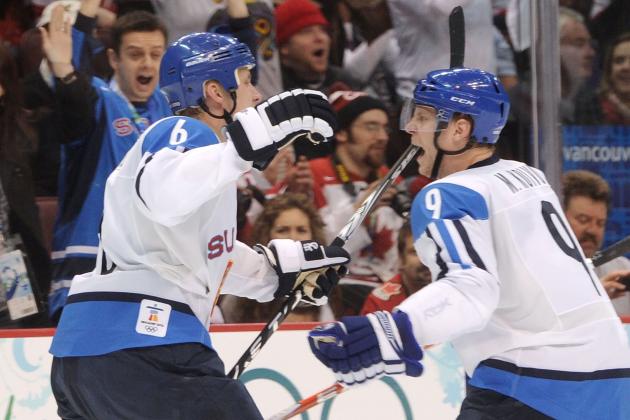 Harry How/Getty Images

Finland is aiming to become the first nation to win four medals since NHL players were allowed to participate in Olympic competition starting in 1998.
But the nation's chances of getting back to the medal stand are not very strong at the moment despite its impressive group of goaltenders. Bovada currently gives Finland the sixth-best chance to take home the gold medal with 20-1 odds, which is appropriate given the team's lack of scoring depth and quality on the back end.
Finland will be competitive in Sochi, but it's difficult to pick them over more talented opponents that have an abundance of depth at every position, including the United States, Sweden and Canada.
With that said, it would be foolish to completely discount Finland's chances of an upset. These players thrive in the underdog role and have plenty of Olympic experience.
Olympic Prediction: 4-2 record, 5th place