Indianapolis Colts' Biggest Preseason Disappointments so Far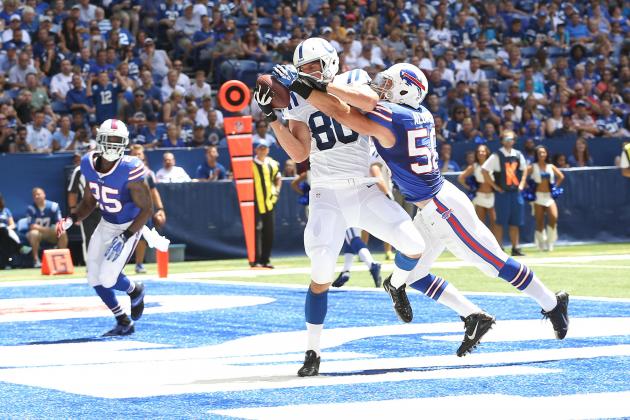 Brian Spurlock-USA TODAY Sports

For the Indianapolis Colts, the first two preseason games showed that this team has a few bright spots, but there are other parts that still need work. Some players have stood out, but others have been big disappointments up to this point.
Things looked much better for the Colts against the New York Giants than the week prior against the Buffalo Bills. The first team seemed to be more in sync and the offense was able to advance the ball while the defense was able to stop the Giants at key moments.
Still, there were some concerns in that game, just as there were in the game against Buffalo. These players are considered disappointing because they've either failed to meet expectations or have yet to make an impression on the team.
The regular season is fast approaching, and here are the players that don't look quite ready for the Week 1 opener against the Oakland Raiders through two preseason games.
Begin Slideshow

»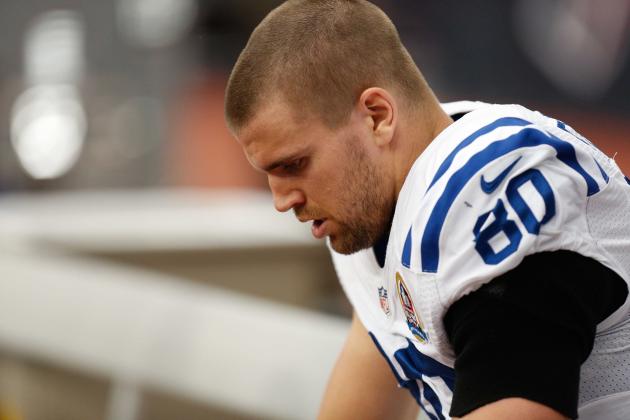 Thomas Campbell-USA TODAY Sports

There hasn't been a more disappointing player to watch on the Colts this preseason than Coby Fleener, and it isn't really close.
The expectations were incredibly high for Fleener heading into training camp. He was going to enter camp healthy and thrive in the offensive scheme under his former offensive coordinator at Stanford, Pep Hamilton. Fans were expecting big things from the 6'6'' tight end during his second season in the NFL.
Instead, it feels like the exact opposite has happened. Fleener has already had a concussion and sprained his knee through the first two games. He's also struggled on the field, dropping a pass in the end zone against the Bills while also fumbling the ball earlier in the game.
In the game against the Giants, Fleener dropped a beautiful pass from Andrew Luck that could have been a huge play, but Fleener couldn't keep a hold of it. On a pass from Matt Hasselbeck later on, Fleener just seemed to be lost out on the field, not even turning his head as an attempted pass went by him.
Colts fans are still pulling for Fleener, but he needs to turn it around in time so that he can be ready to make big plays once the regular season begins.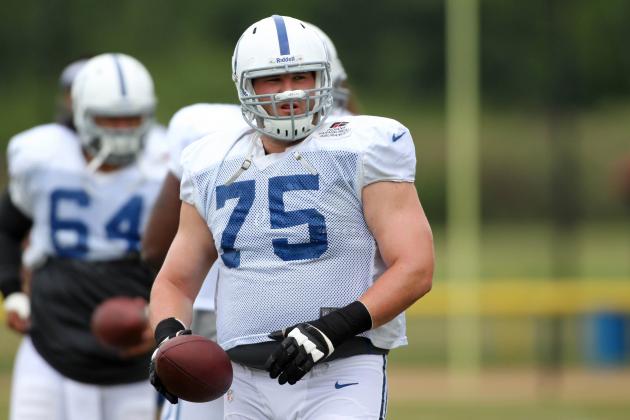 Brian Spurlock-USA TODAY Sports

Perhaps the biggest disappointment for fans is that Mike McGlynn is still somehow in the starting lineup.
It was a very tough year in 2012 for McGlynn, who struggled mightily to block in either the passing or running game. According to Pro Football Focus, McGlynn had a grade of -25.1, one of the worst grades in the league.
By drafting Hugh Thornton, many felt that McGlynn would be sitting while the rookie from Illinois would start with Donald Thomas on the line at offensive guard. Thornton has been sitting due to an injury, however, and has given McGlynn the job for now.
In the first two games, McGlynn has continued to struggle. The power running game has yet to take off, and Andrew Luck is still working to avoid pressure, especially from the inside.
Things will probably be different once Thornton comes back, but the Colts will have to work with what they have until the time comes, and that plan includes using McGlynn as the starting offensive guard.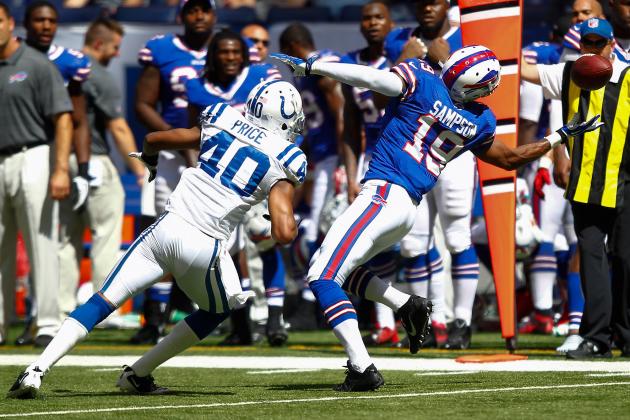 Michael Hickey/Getty Images

Even though he was just an undrafted free agent heading into camp, Sheldon Price had a golden opportunity to earn a final spot on the roster in the secondary. Price has yet to take advantage of that opportunity.
If you are just looking at Price from a physical standpoint, it's hard not to be impressed. He has an ideal body of a defensive back, with a 6'2'' frame and some very long limbs. However, when you look at the body of work he's put in through two games, it's not been pretty.
Price has looked lost out there, and has struggled in coverage. He got beat easily on a pretty typical slant route against the Bills, letting the receiver walk in for a touchdown. He has great size and speed, he just struggles covering receivers at this level.
I really thought that this was going to be someone with a real shot to make the roster behind guys like Cassius Vaughn and Darius Butler, but Price has yet to impress anyone, and he could be getting cut sometime soon.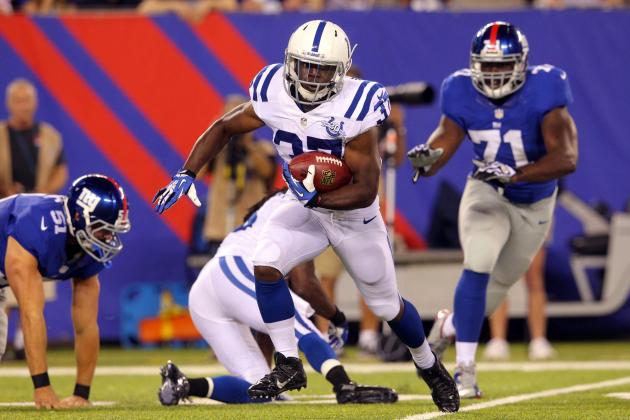 Brad Penner-USA TODAY Sports

When the Colts drafted Kerwynn Williams, it looked like the team might have finally found a potential weapon in the kick return game.
That hasn't exactly been the case so far.
Things didn't go well for Williams in his first game against Buffalo. He got a chance to return five kicks, but he only averaged 17.8 yards per return, not a mark you want to see from a guy with so much speed.
Size is certainly an issue for Williams, since he's only 5'7''. He made up for his small frame with some incredible speed during college, but he just hasn't seemed as explosive so far through the preseason.
It may seem unfair to say a guy drafted in the seventh round has been a disappointment so far, but when the Colts have failed to have a consistent deep threat returning kicks for so long, it's disappointing that Williams has yet to look like he could become just that.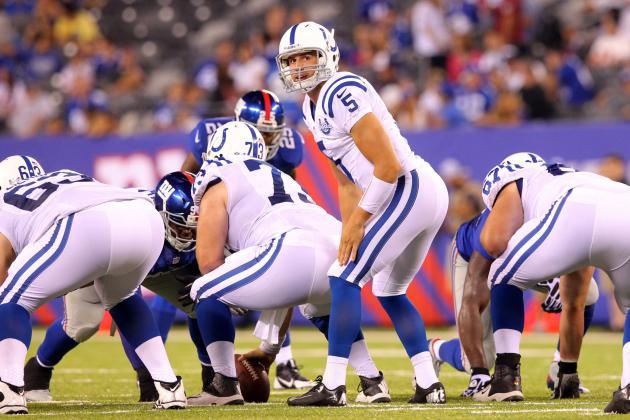 Brad Penner-USA TODAY Sports

He may only be a third-string quarterback, but it's been pretty frustrating watching Harnish play under center so far.
Harnish has struggled in the pocket so far, making some bad throws and looking uncomfortable in the new offense. He has gone a combined 16-for-38 passing so far, giving him a completion percentage of just 42.1 percent. His passer rating in each of the first two games were 38.6 and 47.9, hardly numbers you want to see from a quarterback.
To add insult to injury, Harnish has taken over the Internet for this strange picture along with drilling Pam Oliver in the face with a football.
Everyone likes to root for the Mr. Irrelevant guys, and Harnish is no exception. He will have to continue learning under Luck and Hasselbeck in order to feel more comfortable in the offense and continue to develop as a passer.