The PGA Championship 2013: Ranking the Biggest Surprises at Oak Hill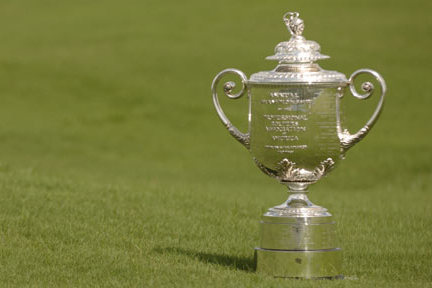 With any major championship comes drama, and Sunday's final round of the PGA at Oak Hill was no different.
The experts are everywhere—on the TV broadcasts, in the print magazines and on the Internet.
To ask them, the events of any major golf tournament can be forecast well enough in advance that by the time Sunday arrives, it's simply a matter of adhering to a well-written script.
But the real truth is, the final 18 holes can make fools of a lot of geniuses.
That was once again the case on Sunday at Oak Hill, where just enough surprises crept in during the homestretch to make for a few last-minute rewrites in the 2013 PGA Championship.
Click through to see what surprised us most about Sunday's finale.
Begin Slideshow

»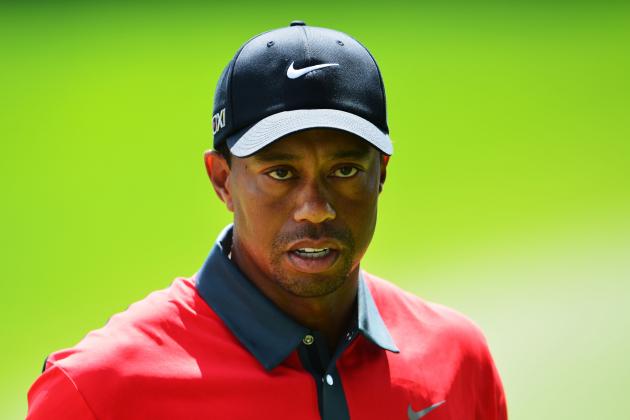 Stuart Franklin/Getty Images
Tiger Woods had momentum coming into Oak Hill but again left without a trophy
Given that five years have elapsed since his last major victory, the 2008 U.S. Open, it's becoming less and less surprising when the 14-time winner is not a factor come Sunday afternoon.
Still, with his momentum heading into Rochester this week—which came via a seven-shot win at the Bridgestone Invitational—more than a few learned people thought the drought would come to an end, including the signature voice of the CBS Sports broadcast team.
"We come on the air (Sunday) with Tiger at the 18th," said Jim Nantz at the outset of Sunday's telecast. "When we started the week, we thought we might be wrapping up with him at the 18th."
Instead, Woods plodded through 36 holes at one over par and moved away on moving day with a three-over 73 that left him 13 shots off the pace of leader Jim Furyk. He trudged home Sunday in similarly unspectacular fashion, carding an even-par 70 to push the non-win streak to 18 in a row at majors.
A 75 in the final round made an already ugly weekend even uglier for the 37-year-old South African, but he nonetheless got a nice surprise on the 220-yard 11th hole.
Using a 3-hybrid off the tee, Clark saw his shot bounce once in the green-side fringe and once on the putting surface itself before its third bounce landed him square in the bottom of the cup, giving him the first ace of the tournament on the seventh pairing of the final day.
It was the first ace in a PGA Championship since Tom Lehman did it on the 17th at Whistling Straits in 2010. It matched the feat performed by Robert Allenby at the 11th when the PGA was last at Oak Hill in 2003.
Allan Henry-USA TODAY Sports
An early-afternoon charge brought Jason Day into focus near the top of the leaderboard, but he ultimately fell back.
It ultimately was for naught, but Australian Jason Day did provide some significant surprise juice as Sunday afternoon began, roaring from nine shots back at the start of the round to get a fleeting stint on the first page of the leaderboard.
He played the front nine in three under and birdied three of his first four holes on the back nine to get within three shots of the lead, before an ugly tee shot on the 14th—a 323-yard par four—ultimately wound up in the trees about 60 yards off the right side of the fairway.
His second shot found a green-side bunker and he was able to save par with a nice up-and-down from the sand. But the surge never reignited and he wound up playing the final four holes three over par to finish three under overall.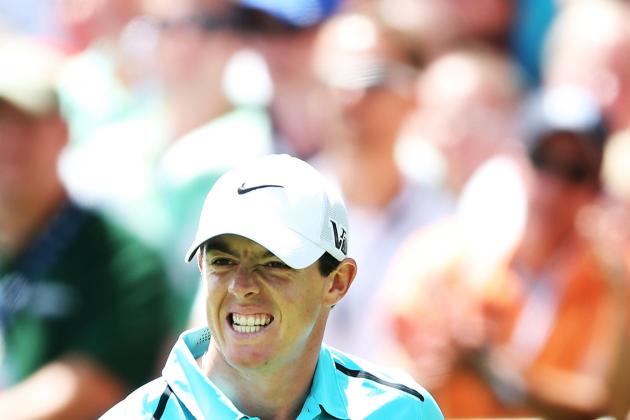 Andrew Redington/Getty Images
Defending PGA champion Rory McIlroy was making a charge, but he had it quickly snuffed out with a triple-bogey on the fifth hole.
The two-time major champion from Northern Ireland was the source of significant "watch out for him" chatter heading into the final round, thanks to a birdie-birdie finish on Saturday.
He climbed to four under with a Sunday birdie on the 214-yard No. 3 hole, but just as quickly he went from dark horse to also-ran with a surprisingly unsightly triple-bogey on the par-four fifth.
His approach to the green landed on the putting surface before rolling left into a rock cluster. A subsequent chip left him in the rough on the opposite side of the flag, and it took two more shots to get him home—suddenly eight shots off the pace and no longer a serious factor.
Outside of a second-place finish in Texas in April, the tour's top player from a year ago has failed to place better than seventh in any event, including a tie for 25th at the Masters, a tie for 41st at the U.S. Open and a missed cut at the British Open.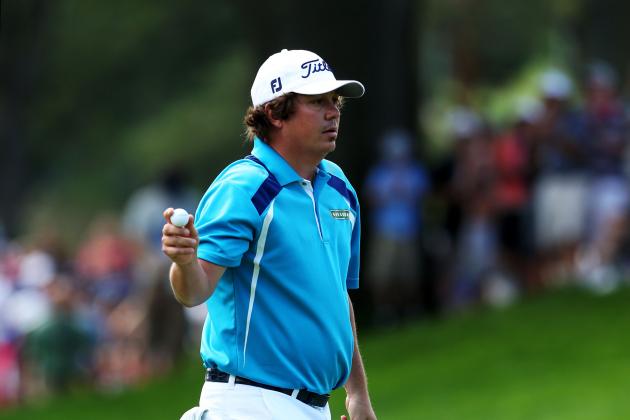 Andrew Redington/Getty Images
Second-round leader Jason Dufner faltered at the par-four fifth on Saturday but bounced back with a birdie on Sunday.
Among the most repeated clips from Saturday's third round was an errant tee shot by the 36-hole leader that strayed well right and wound up in a creek off the fairway on the par-four fifth.
Dufner scrambled for double-bogey and instantly saw a three-shot lead pared to one, which returned Jim Furyk to striking distance and ultimately allowed Furyk to exit the round with a one-shot lead.
The sequence prompted the CBS announce team to periodically question his mettle for the rest of Saturday's round—a theme it returned to as he returned to the scene of the foible on Sunday.
But surprise, surprise...he successfully stared down past adversity and went driver-iron to reach the green in two before draining a birdie putt that pushed him back into a first-place tie at 10 under par.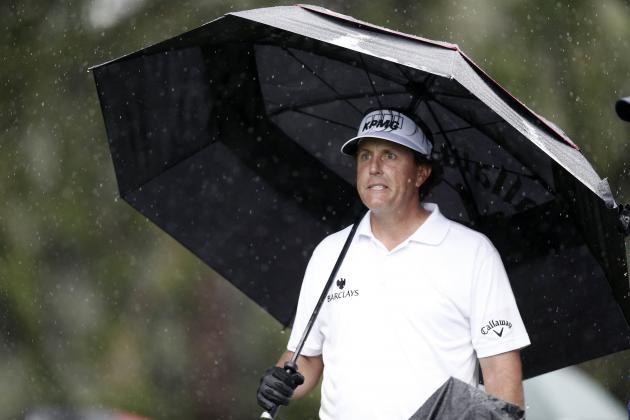 Winslow Townson-USA TODAY Sports
Reigning major champs Phil Mickelson, Justin Rose and Adam Scott were unable to repeat their magic this weekend in Rochester.
Think it's been a long time since Tiger Woods won a major?
As surprising as it may seem, it's been only slightly less of a stretch—five years, to be exact—since one player was able to win a pair of majors within the same season.
Woods himself did it four times between 2000 and 2006, but when Ireland's Padraig Harrington captured the British Open and the PGA Championship to close out 2008, he was setting a standard no one else has recently matched.
Reigning Masters champion Adam Scott shot an opening-round 65 this week and remained in the hunt with follow-up rounds of 68 and 72, but the final day charge that many expected from him never truly materialized. He finished fifth at five under.
As for the other two major winners in 2013: U.S. Open champ Justin Rose tumbled from contention to irrelevance with weekend rounds of 77 and 72, while British Open winner Phil Mickelson never reached par and wound up tied for 72nd place at 12 over.
No less an expert than Nick Faldo, a six-time major champion, suggested at Sunday's start that Swedish interloper Henrik Stenson would overcome a four-shot deficit to capture his own first major.
While the 37-year-old did create some noise with an eagle on the par-five fourth and a birdie on the par-four eighth, his maddening inconsistency—in the form of surge-interrupting bogeys on Nos. 1 and 7—surprisingly snuffed out any chance at a real rally.
A short approach shot on the par-four 14th was the final momentum killer. Stenson wound up just a few yards short of the green with his drive, but the ball came to rest in a divot. His second shot popped straight up and landed in the bunker just a few steps away. It took three shots from there to reach the cup, resulting in a surprisingly ill-timed bogey-five.
He ultimately played the final four holes in one over par and wound up third at seven under.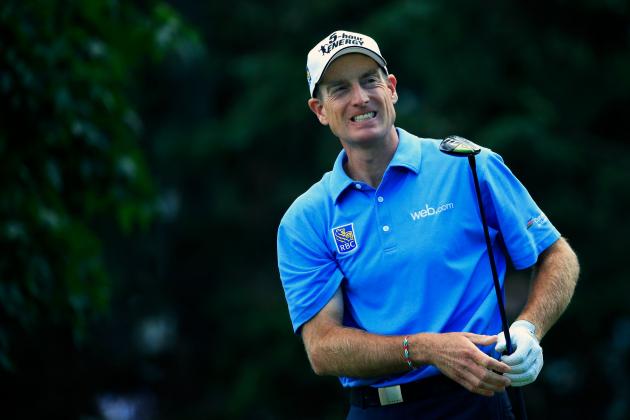 Sam Greenwood/Getty Images
Veteran Jim Furyk didn't play badly enough to blow the PGA Championship Sunday, but neither did he play well enough to seize it.
Given his pedigree as a 16-time tour winner and former U.S. Open champion, it certainly seemed as if the 43-year-old veteran was the right man to close the deal on Sunday—especially when paired with a guy whose previous brush with major greatness ended in disaster.
And truth told, it's not as if the Philadelphia-area native did anything specific to keep himself from winning, having finished Sunday at the very same nine-under position where he'd begun.
Still, rather than going out to win the Wanamaker Trophy, he seemed surprisingly content to grind the final 18 simply determined not to lose—an approach that opened the door enough for a roundish Clevelander to squeeze through with a 68 that turned a one-shot deficit into a two-shot margin.
Surprise, surprise…it seems taking a lead into the final day of a major isn't all it's cracked up to be.
In fact, Sunday marked the fourth time in 2013's four marquee events that the player who went to bed Saturday night within 18 holes of a championship went to bed on Sunday with distinct dissatisfaction.
Following the path established by Angel Cabrera at Augusta, Phil Mickelson at Merion and Lee Westwood at Muirfield, Jim Furyk saw a Saturday lead evaporate over the final 18 at Oak Hill as Jason Dufner strolled past to win his first major by two shots.
Rory McIlroy was the last 54-hole leader to seal the deal, capturing the 2012 PGA after he expanded a three-shot lead to win by eight.
He entered the round a shot behind one former major champion, three shots ahead of the reigning Masters champion, and five strokes ahead of a surging and defending PGA champ.
Still, in spite of his own dubious pedigree that included not winning the PGA in 2011 after carrying a five-shot lead to the 15th tee—not to mention a recurring tendency to miss short putts—Jason Dufner was determined to face his Sunday afternoon task with faith.
"I decided I was gonna be confident and put my best foot forward and try to win the thing," the 36-year-old said to CBS' Bill MacAtee, moments after finishing off a final-round 68 for the Wanamaker Trophy.
In doing so, Dufner was one of the few players on the course to play the majority of his round at par or better on every hole, not faltering until going bogey-bogey on the 17th and 18th and walking away at 10 under and a four-round total of 270 that established a new watermark for major events at Oak Hill.
"I wish I could have closed it out with no bogeys, but I'm happy I got the job done," he said.