8 Things We Learned from Chicago Bears Training Camp So Far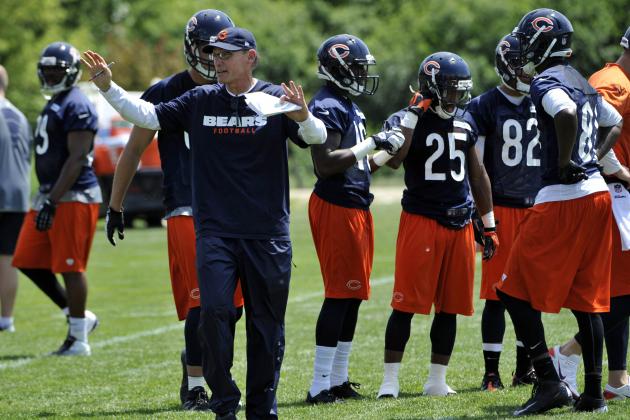 David Banks-USA TODAY Sports

The Chicago Bears are starting to hit their stride in training camp, and everybody can now get a feel for the 2013 team after a couple weeks of analysis begins to take form and opinions begin to set in.
What are the takeaways from camp so far? Are there any players standing out, and how are the Bears dealing without Lovie Smith and Brian Urlacher?
Here are eight things we have learned so far before the first preseason game.
Begin Slideshow

»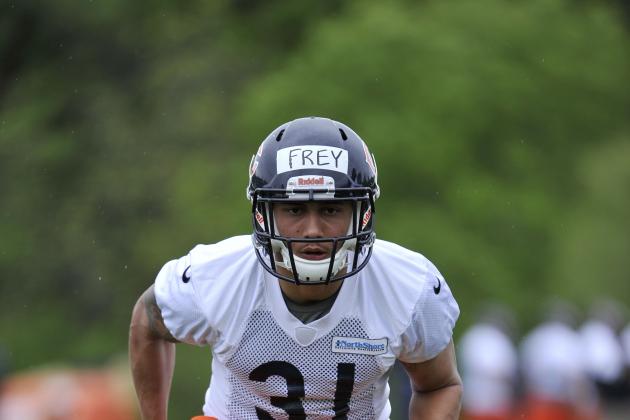 Brian Kersey/Getty Images

Last year's sixth-round pick, Isaiah Frey, failed to get on the football field. This year, he is having an outstanding camp, according to Kevin Seifert of ESPN.com, and is poised to make a big impact this upcoming season.
Currently, veteran Kelvin Hayden has been nursing a hamstring injury. He was slotted in to be the team's nickelback, but Frey has stepped up in his absence and has had a great camp.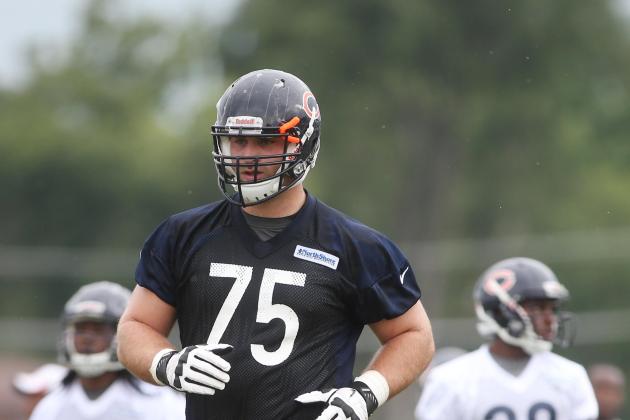 Jerry Lai-USA TODAY Sports

First-round pick Kyle Long was not able to participate in many of the team's offseason programs due to a NCAA rule concerning his school being on quarters rather than semesters.
He came to camp behind but made up that ground in a heartbeat. The fiery rookie has impressed with his ability to catch on quickly and his nonstop motor, per Dan Pompei of the Chicago Tribune.
The team's first depth chart was released recently, and Long is already listed as a co-starter at right guard, per Larry Mayer of ChicagoBears.com. If he continues his fast rise, he will sit alone at the top of the depth chart come the start of the season.
Jerry Lai-USA TODAY Sports

It's only been a couple of weeks, but already the Bears have seen the injuries pile up. Jermon Bushrod, Kelvin Hayden, Earl Bennett and Chris Conte are just a few of the players bitten by the injury bug.
In addition to them, Cornelius Washington, Alshon Jeffery, Jamaal Anderson, Corey Wootton and D.J. Williams have all missed time due to injuries.
Bennett suffered a concussion, while the rest of the players do not seem to have serious injuries. It just goes to show injuries cannot be avoided even when guys are just practicing in shorts.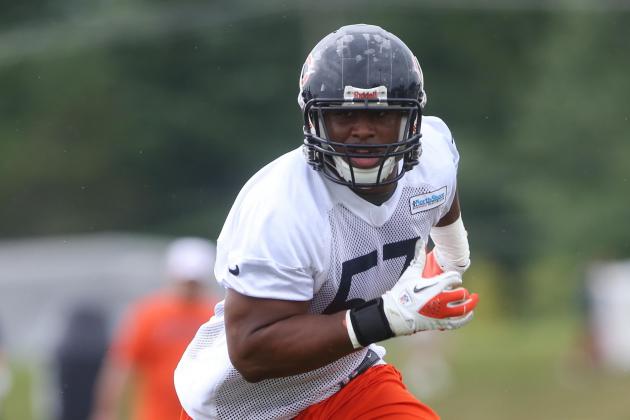 Jerry Lai-USA TODAY Sports

A calf injury to middle linebacker D.J. Williams pushed second-round pick Jon Bostic into time with the first-team defense sooner than anybody thought.
Bostic did well when he was allowed to shout out the signals, according to Larry Mayer of chicagobears.com.
Bostic was the signal-caller at Florida, so it is a big adjustment for him not to call plays. Still, the rookie should receive positive remarks for the job he has done so far.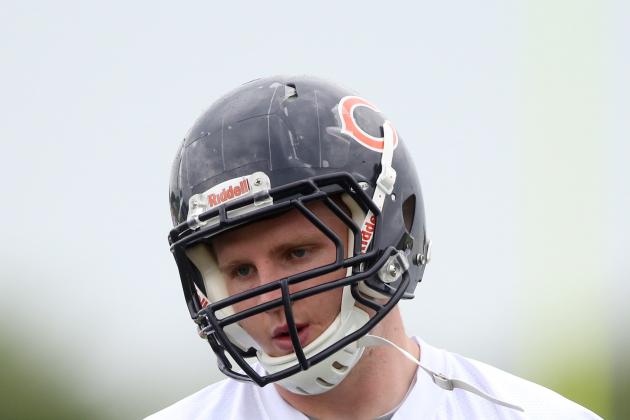 Jerry Lai-USA TODAY Sports

One of the more interesting battles during camp is between defensive ends Shea McClellin and Corey Wootton. Both are similar players who are vying to be the starter opposite Julius Peppers.
Wootton had been slowed by a hip injury, and yet he is still listed as the co-starter. McClellin came to camp leaner and has put himself in a real position to be the starting end.
The most likely outcome will be a rotation between both players, but one will still step up and be the primary guy. Which one will it be? It's still too early to tell.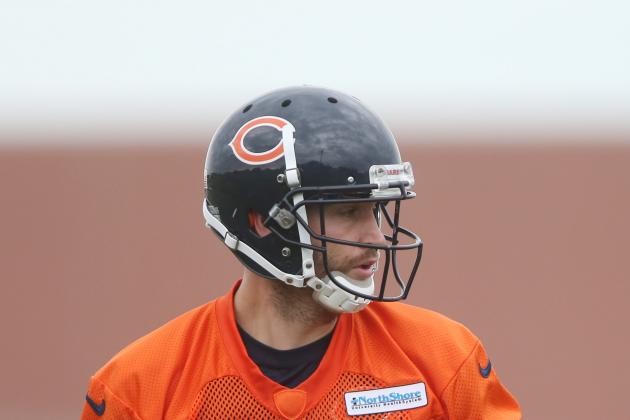 Jerry Lai-USA TODAY Sports

When head coach Marc Trestman dropped hints about Jay Cutler running some read-option, he let everybody know a couple things. First, his offense will be a wide array of tricks, and nothing is off-limits. Second, he believes in Cutler's ability to do virtually anything.
It's still to be said how much, if any, of the read-option Cutler will actually run. Pay more attention to what Trestman is doing early on. He's letting teams know they have no clue what they will see from the Bears offensively, and he is instilling a lot of confidence in Cutler.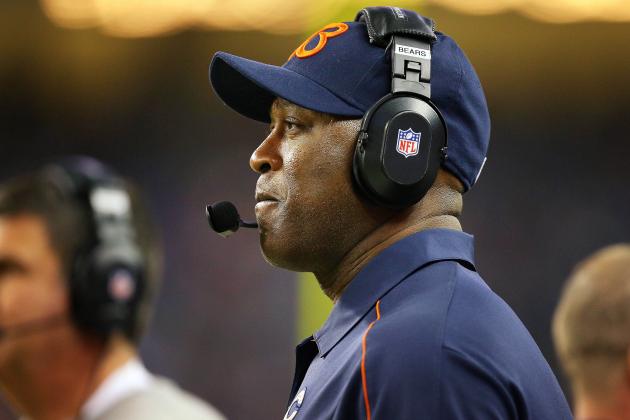 Mike Carter-USA TODAY Sports

Lovie Smith and Brian Urlacher were both staples on the Bears for a long time. It's no wonder camp has a different feel without both of them there.
Both were the unquestioned leaders, and the Bears are now establishing new figures to take their place. Even with the emergence of a more vocal Jay Cutler and Lance Briggs, there is no question the veterans miss both figures.
Jerry Lai-USA TODAY Sports

By now you know Marc Trestman is in his first NFL head coaching job. He still has a ton of experience as a head coach in the CFL and assistant in the NFL.
Trestman has taken command of this camp and team with no problems. Players are now buying into his system and coaching style (Steve Rosenbloom of the Chicago Tribune mentions how Jay Cutler is all-in), and he's allowing the transition from Lovie Smith to go very smoothly.
Everything from giving veterans their proper time off to talking to the media, Trestman looks like he's been doing this for a long time. His demeanor is important in a big city like Chicago while coaching for a storied franchise like the Bears.