NASCAR Sprint Cup Series at Pocono: Live Results, Updates and Reaction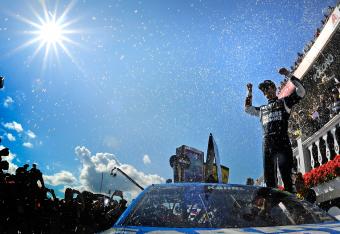 Jared C. Tilton/Getty Images
Pocono started out as a Jimmie Johnson favored track, and ended with Kasey Kahne in victory lane.
After leading for most of the early race, Johnson seemed to be set to win again at the tricky triangle.Instead of making it into victory lane though, Johnson would blow a tire and hit the wall. He remained on the lead lap, but was never able to make it to the front again.
Johnson wasn't the only driver to run into bad luck.
Denny Hamlin continues to struggle as his day ended early when he blew a tire and hit the wall.
Will Hamlin be able to recover in time and get into the Chase on wins? Or will he continue to struggle on tracks where he usually runs well?
Matt Kenseth also struggled, as he was caught in an early wreck and was never able to recover. While he is a lock for the Chase, has Kenseth cooled down and lost the hot streak he had earlier in the year?
Hendrick dominated the later part of the race, with Kasey Kahne, Jeff Gordon, and Dale Jr racing in the top three spots.
Eventually though, it would come down to a battle between Kasey Kahne and Jeff Gordon, with Kahne getting the better of the veteran driver.
With his second victory of the season, Kahne has made a huge push toward the postseason.
Winner: Kasey Kahne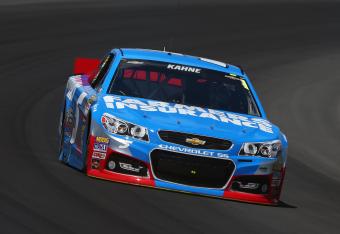 Thanks for joining us here on the Bleacher Report for the live coverage of the Pocono race! Make sure to join us back here next weekend as NASCAR heads to Watkins Glen!
Winner: Kasey Kahne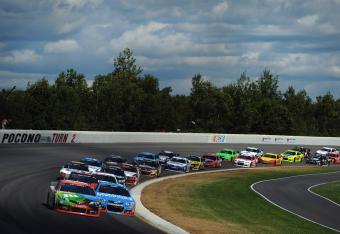 Final top 10: Kasey Kahne, Jeff Gordon, Kurt Busch, Ryan Newman, Dale Jr, Brad Keselowski, Joey Logano, Kyle Busch, Tony Stewart, Greg Biffle
Tough break for Jeff Gordon, but a good day for Hendrick Motorsports.
Kasey Kahne wins at Pocono!
Two laps to go. Gordon gets out in front but Kahne battles back.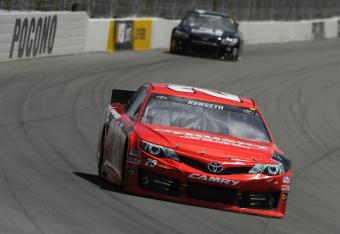 Kenseth spins off of turn two, and another caution is out.
Five laps to go. Gordon is still out in front.
Jeff Gordon gets out in front. Can he hold the lead?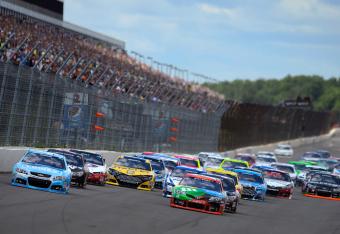 This should be one crazy restart. Any of these top 10 drivers could make a big move to the front.
Hendrick cards running first, second and third.
And one of them isn't Jimmie Johnson.
Top 10: Kahne, Ragan, Yeley, Gordon, Dale Jr, Newman, Kurt Busch, Keselowski, Stewart, Kyle Busch
Kasey Kahne is back out in front. If no other cautions come out, Kahne could easily win this race.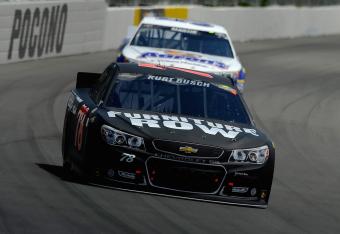 Kurt Busch can drive the wheels off a car, but when his pit crew can't keep up, he's going to need a little luck to win.
The last green-flag pit stops are starting. Bowyer was one of the first to head in.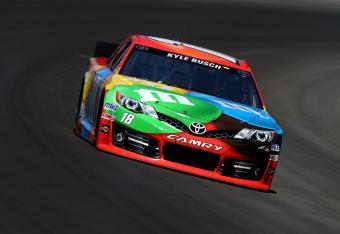 Kyle Busch desperately needs this next pit stop, he continues to slip back.
Kasey Kahne is running away with the lead.
Top 10: Kahne, Kyle Busch, Kurt Busch, Dale Jr, Gordon, Newman, Stewart, Biffle, Ambrose, Bowyer
Back to green flag racing.
Still under caution as NASCAR cleans up the debris.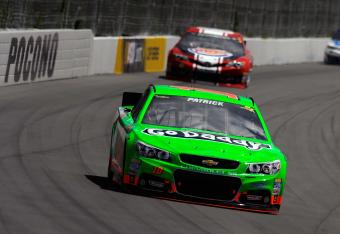 Menard and Patrick are in the garage, Burton is being towed.
Caution out as Danica, Burton, Menard, Kvapil, all involved in an accident.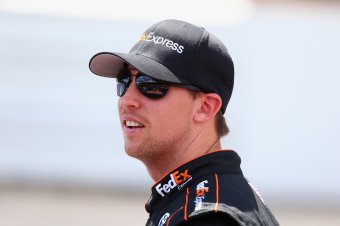 Andy Lyons/Getty Images
Denny Hamlin is still upset with Kyle Petty. Read it here.
Kahne got out in front, but the Busch brothers are battling right behind him.
This article is
What is the duplicate article?
Why is this article offensive?
Where is this article plagiarized from?
Why is this article poorly edited?