The 5 Biggest Storylines Heading into Indianapolis Colts Training Camp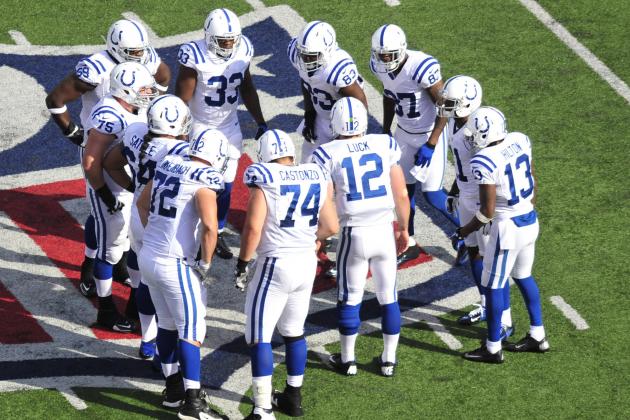 Joe Camporeale-USA TODAY Sports

After plenty of waiting, the Indianapolis Colts will begin training camp on July 28, and there are a number of big storylines entering camp.
The Colts will hold their annual training camp once again at Anderson University, just about one hour to the northeast of Indianapolis. Camp will officially end on August 16, and there will be plenty of practices open to the public. You can find when camp is open here, courtesy of ESPN's Paul Kuharsky.
Whether or not you're planning on attending camp, there are plenty of things that fans will be looking for out of this team that put up an improbable 11-5 record in the 2012 season against all odds. There are plenty of new faces, not to mention a new offensive coordinator.
Well, with training camp just a couple of weeks away, here are some of the biggest stories for the Colts.
Begin Slideshow

»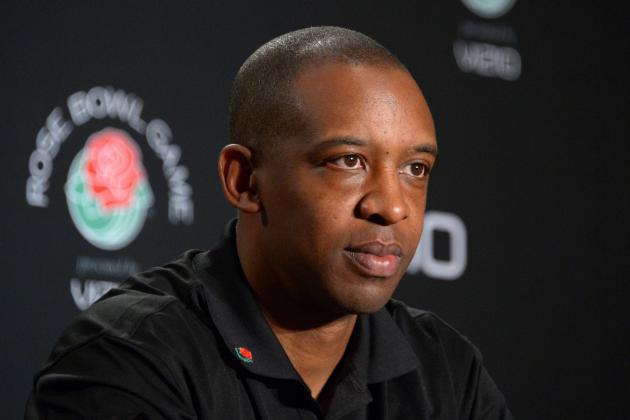 USA TODAY Sports

The arrival of Pep Hamilton meant that there were bound to be some changes on the offensive side of the ball.
The vertical passing game under Bruce Arians will be replaced by Hamilton's own offensive scheme, which has now been called the No Coast Offense.
The problem with the offense is that no one (outside of the team) has a clue about what it's going to look like.
The only tangible thing we can get a grasp of is essentially what Matt Hasselbeck had to say about it. In a piece by Kuharsky, he provided a quote of Hasselbeck saying:
So, ironically, you can feel the footprint of Peyton Manning and that offense still in this playbook, stuff that they've done. Stuff that was good with Reggie Wayne. Stuff that was just good for the guys here, that's worked with Clyde Christensen, the quarterbacks coach. Then there is a good element of the stuff that Bruce Arians had success with last year that worked with Andrew (Luck). Then there is the stuff that Pep did at Stanford with Jim Harbaugh and kind of what the 49ers are doing.
Although there may be some growing pains for some trying to learn the new offense, several former Stanford players already have a connection with Hamilton.
Andrew Luck, Coby Fleener and even Griff Whalen all played under Hamilton during college. According to Tom James of the Tribune Star, Hamilton has praised these three for helping teach the offense.
Training camp should start to reveal some pieces of the offense, but don't expect them to open up the entire playbook during public practices and during preseason games.
Although we won't see all of it, we may finally be getting a feel for this offense in the coming weeks.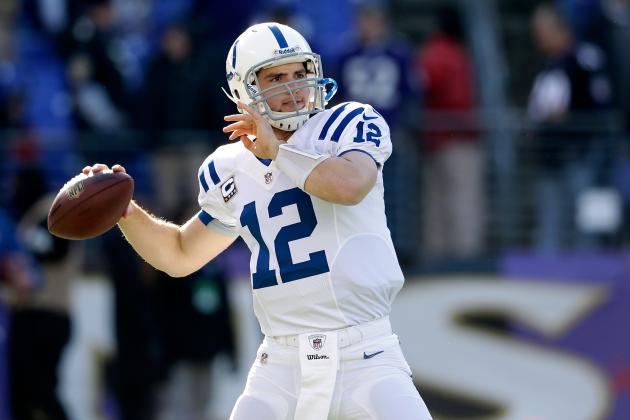 Rob Carr/Getty Images

The Sophomore Slump is a concept that frightens franchises every year with quarterbacks returning after solid rookie seasons. While those fears usually go away after a few weeks, there have been players that have failed to continue their previous success.
Based off of what the Colts have done this offseason, there's little chance that Luck takes a step back in 2013.
After having one of the worst offensive lines in 2012, the front office brought in a number of new offensive linemen. They added Gosder Cherilus and Donald Thomas in free agency while also bringing in Khaled Holmes and Hugh Thornton through the NFL draft.
Bringing in Ahmad Bradshaw will also help protect Luck. According to Pro Football Focus, Bradshaw has allowed only three quarterback sacks since 2008.
The weapons are also there for Luck. Reggie Wayne is still one of the best in the league, despite being 34 years old. T.Y. Hilton showed that he has the potential to make plenty of big plays, especially as a slot receiver. The arrival of Darrius Heyward-Bey provides Luck with another speedy receiver, barring he can keep drops to a minimum. Even a healthy Coby Fleener will be a reliable option in the passing game.
Giving Luck time to throw to all of these weapons in Hamilton's new offense means less hits for Luck and, probably, more production.
All you will need to do is see Luck throw a few times in training camp to know that a Sophomore Slump isn't likely in Luck's future.
Kyle Rodriguez also did an excellent piece explaining what the Colts can do to make sure Luck avoids a slump here.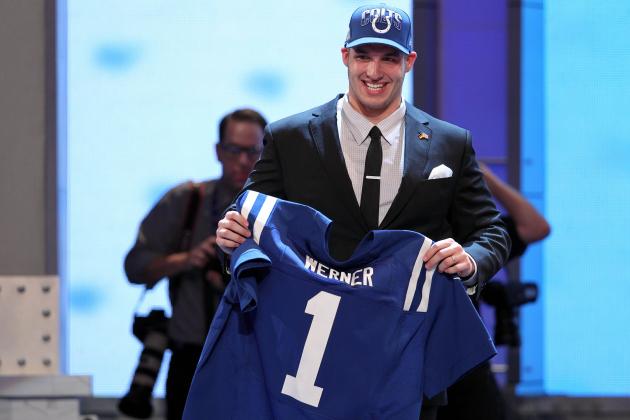 Brad Penner-USA TODAY Sports

The Colts ranked only 23rd in the NFL in sacks last season, getting to the quarterback only 32 times.
While Dwight Freeney may be gone, Bjoern Werner will be looking to make sure that number goes up a bit in 2013.
Werner was a stud on a Florida State defense that was littered with NFL prospects. He was noted for his impressive quickness off of the snap and ability to get to the passer. He was the ACC Defensive Player of the Year in 2012 after leading to conference with 13 sacks.
Although Werner was the team's first-round draft choice, he may not be the starter for the team. The Colts seemed to be determined to start Erik Walden opposite of Robert Mathis at outside linebacker.
This certainly doesn't mean we won't be seeing Werner in 2013. He will get plenty of snaps, whether it means giving Walden and Mathis time to rest or coming in on obvious passing situations opposite of Mathis to help get pressure and collapse the pocket.
At the end of the day, however, Werner is just a rookie. He still will need time to develop before he can possibly be a guy that goes there and get 10 or more sacks a season, but he shows plenty of upside and could one day be a guy that effectively replaces Freeney in the pass rush.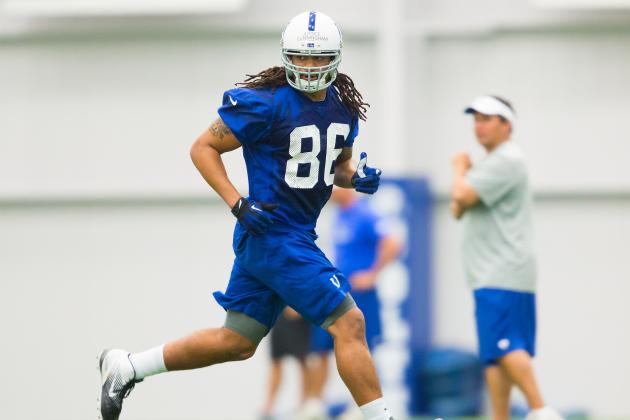 Michael Hickey/Getty Images

When it comes down to it, training camp is a time for the guys at the bottom of the depth chart to fight like hell for spots on the final roster.
This year, there are a number of intriguing candidates.
One of the early favorites at this point to make the final roster is Griff Whalen. He may not count as a rookie, but he was a UDFA last year, impressing a lot of people before getting hurt. He's continued to impress during workouts and could be a guy that the coaching staff has to take a long look at.
Another player who has impressed so far has been Justice Cunningham, the Mr. Irrelevant pick out of South Carolina. Back in college, he was described as a third offensive tackle, a guy that could block very well but didn't have the best hands. He appeared to change that perception quickly at rookie minicamp, and he's been receiving positive reviews ever since.
Former Bleacher Report AFC South Lead Writer Nate Dunlevy and I were able to have cornerback Teddy Williams on our weekly podcast recently, and he seems to have the confidence you look for in an undrafted guy. Williams was a former track star who was recently with the Dallas Cowboys, and his speed will turn a lot of heads at camp.
Other guys who have a shot at making the team include fullback Dan Moore, corners Daxton Swanson and Sheldon Price, outside linebacker Caesar Rayford and offensive tackle Emmett Cleary, just to name a few.
This will be their time to shine, because they will be sent home if they don't impress the coaching staff.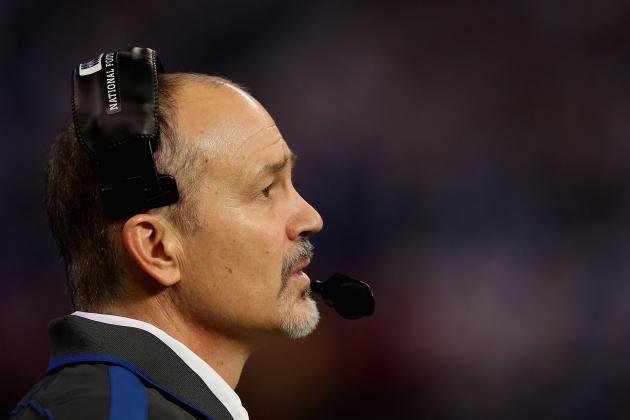 Jonathan Daniel/Getty Images

The 2012 season was one that fans will never forget. With Chuck Pagano battling leukemia and the team pulling together to go 11-5 and make their first playoff appearance under a new regime was truly surreal.
Now, the expectations are as high as ever. Fans now expect a team that came together to play for Chuck to not only make the playoffs this season, but make a deep run.
There's plenty of reason to believe this is the case. Luck is getting his old offensive coordinator back, the team brought in a number of new faces that could potentially become starters and the AFC South is now arguably one of the weaker divisions in the NFL.
On the other hand, plenty of critics will argue that the Colts got lucky in a lot of their games, and that's completely fair. Bill Barnwell from Grantland explained how the Colts' point differential from 2012 was a sign that the team would likely take a step back and lose a couple more games this season. There were plenty of games the Colts could have (and some they even should have) lost, but the late-game heroics of Luck and company helped the team pull out win after win.
The CHUCKSTRONG movement was one of the most unbelievable stories in all of sports last season, but now the Colts have become COLTSTRONG and are coming into the season with high expectations.
How high? As Pat McAfee put it in a recent interview I was able to do with him, "Lombardi".