Most Unintentionally Hilarious Paintings/Drawings of Athletes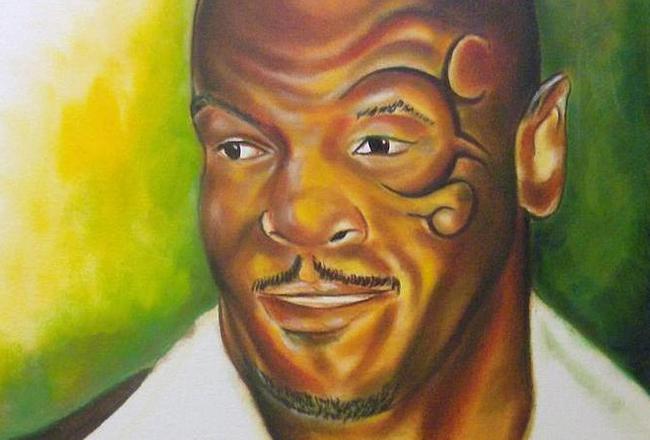 Source: fineartamerica.com

A portrait of a hero can be an august and inspiring thing. Think Washington Crossing the Delaware, think Turquoise Marilyn, think Joan of Arc at Prayer.
Sports fans sometimes think to immortalize their heroes in such regal fashion. Sadly not all artists with this inclination have the talent to make the tribute an object of glory. Others do have the talent, but they set paint to canvas without a clear vision—they simply hope to capitalize on Linsanity or Tebowing or whatever the zeitgeist dictates.
The resulting works of those forsaken by the muses is well... amusing.
Click on to tour the gallery.
Michael Jordan Rides Again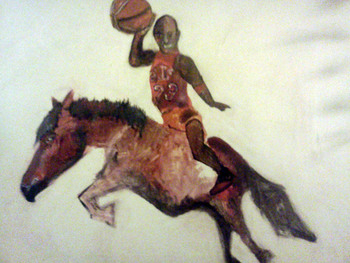 Source: http://mattstjohn.files.wordpress.com/
Still trying to work out the horse thing. He jumped so high that it was like he was riding a horse? That just seems too clumsy for a motif. Too weird.
And how about that backward-pointing finger. Is that like a taunt to the defenders down below: "Oh no you didn't! You didn't just try to set a pick on His Airness. Tsk! Tsk Tsk!"
Wayne Rooney Says "Shhhhhh!"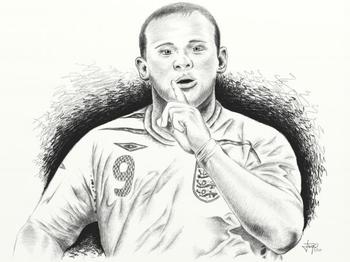 Source: fineartamerica.com
Other than infusing Rooney with some overly porcine features and making eyes that are too beady and too close together and slightly crossed, and adding back shading that looks like an immense carpet of wiry shoulder hair, the artist of this work has sketched a damn fine tribute to Wazza.
LeBron James Flees from Alien Attack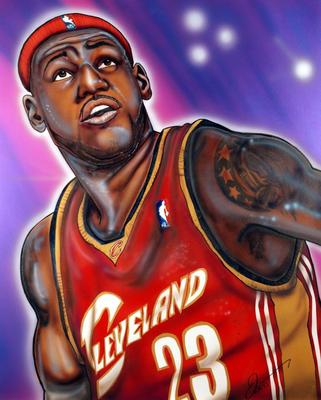 Source: randomtee.webs.com
Behind him, four Jovian attack pods careen down to Earth. Up ahead, the King sees the mothership break through the cloud cover and settle over Quicken Loans Arena.
Jeesh, no wonder the guy moved to Miami.
Michelle Wie or Winona Ryder?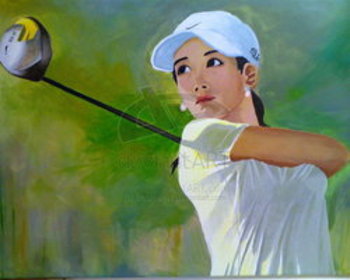 Source: www.deviantart.com
How many times have you heard, "Whatever happened to Winona Ryder?" Indeed the once A-list star seems all but erased from existence. Well, glad to say this artist has rediscovered her. She no longer acts, but she plays a heck of a golf game.
(Scroll down for a photo of Winona. Compare and marvel.)
Tiger Woods as the Lone Ranger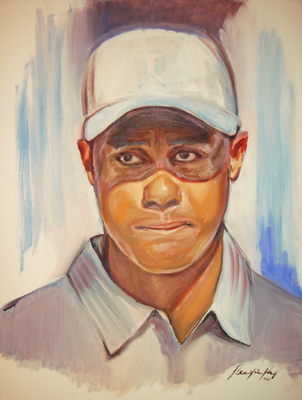 Source: miamiartblog.com
Before the role was recast with Armie Hammer, Tiger Woods masked up to play the legend of justice. Rumor has it that the Tonto role went to Johnny Depp only after Bubba Watson passed on it.
Derek Jeter All Bruised Up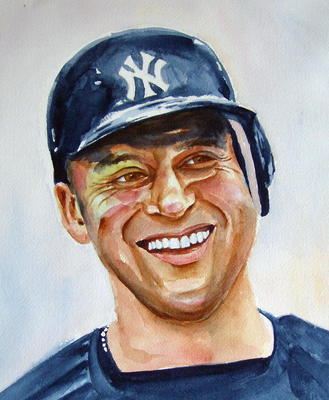 Source: fineartamerica.com
Yeah, I get it; artists paint people the way they see them. They get artistic license. They can change color and proportions, whatever. But uh, not so sure about the battered Jeter here.
That's not a shiner, you say. That's a halo of divine light seeping out from his blessed soul.
My bad.
Eli Manning, Patriot Slayer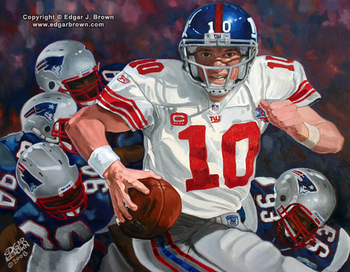 Source: edgarbrown.com
The machines who rule the future sent back a machine to destroy the Patriots and change the course of history. Beware, the ELIminator.
Floyd Mayweather Jr., Spectrum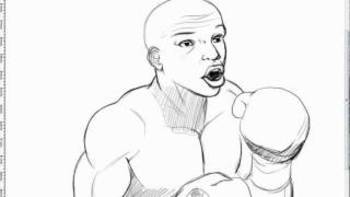 Source: youtube.com
Mike Tyson as a Star Trek Extra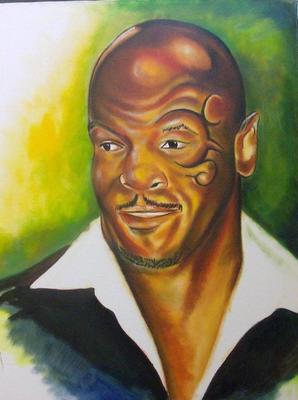 Source: fineartamerica.com
Another B/R exculsive: The love child of an elf and a Klingon.
Caroline Wozniacki: 50 Shades of Red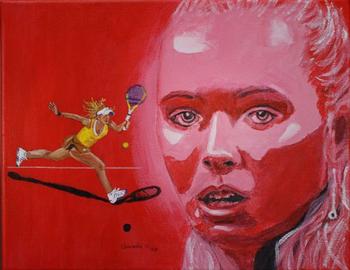 Source: fineartamerica.com
Oh Caroline, you poor gal. A little bit of sun and you Scandinavians get as red as a lobster. Now I'm no dermatologist, but I'm pretty sure that it's aloe vera and not Pepto-Bismol that you're supposed to rub on your face in these types of situations.
Georges St. Pierre, My What Big Eyes You Have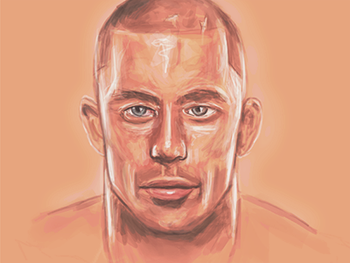 Source: http://dribbble.com/shots/961372-George-St-Pierre
The eyes come courtesy of his Tarsier DNA.
David Beckham's Quills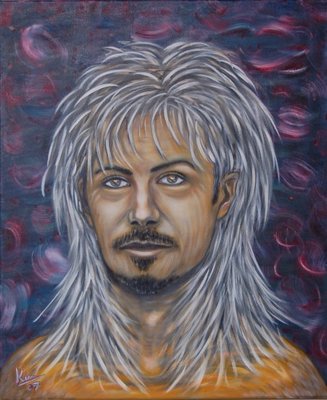 Source: www.kim-roebuck.com
Cristiano Ronaldo Channels David Bowie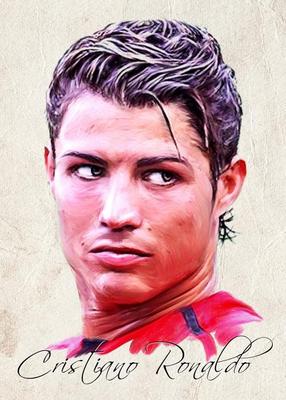 If this were not a portrait, but a still life of a wax-figure likeness of Cristiano Ronaldo wearing heavy makeup, it would be eerily good.
Ray Lewis Is Melting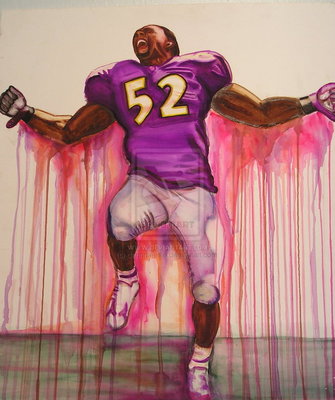 A rare and tragic side-effect of deer antler spray usage.
Tebow: Fallen Warrior of the Dead Marshes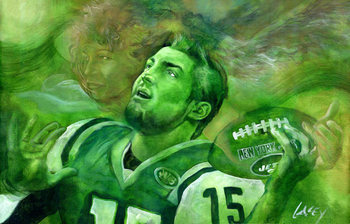 Source: www.the-mainboard.com
Keep Reading