Predicting Arizona Cardinals' Depth Chart, Post OTAs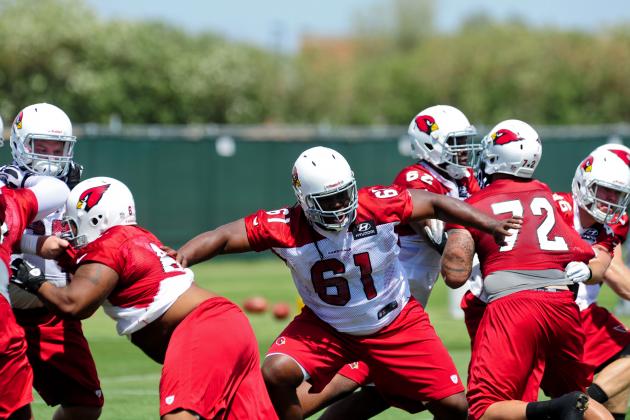 Matt Kartozian-USA TODAY Sports
Jonathan Cooper (61) will start at left guard for the Arizona Cardinals.
With organized team activities concluded for the summer, the Arizona Cardinals now must wait for the mid-July heat before camp gets underway. The only thing before that is the NFL's annual rookie symposium, which runs from June 23 to 29 in Aurora, Ohio.
A month of OTA practices in the rear view means we have at least some idea of how the roster will shake out come September.
My first look at the depth chart came immediately following the 2013 draft, and in the six weeks following that weekend, the Cardinals made moves to improve the depth chart. This version will be different from the one in late April.
How much different? You know the next step.
Begin Slideshow

»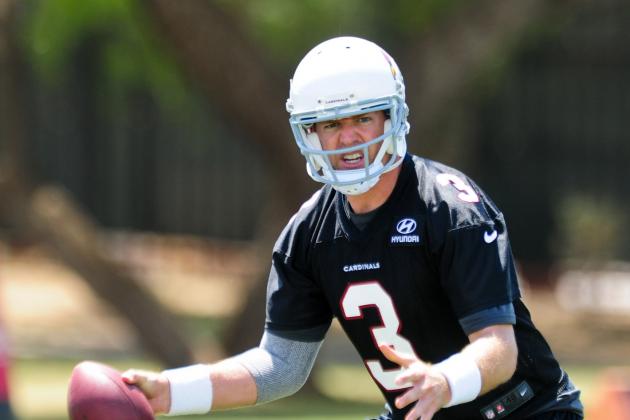 Matt Kartozian-USA TODAY Sports

Starter: Carson Palmer
Backup: Drew Stanton
Third String: Ryan Lindley
Analysis
Arizona released Brian Hoyer in the days following the draft, and that means second-year quarterback Ryan Lindley is likely to serve as the emergency backup.
This could change if Carson Palmer stays healthy and performs, as there would be little need for a QB who is going to do nothing but wear a baseball cap and hold a clipboard every Sunday afternoon.
That roster spot could be used better with another pass-rusher, defensive back or receiver, depending on how the first part of the season plays out.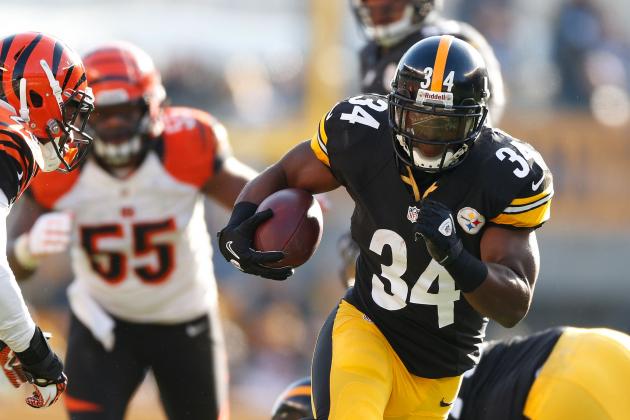 Gregory Shamus/Getty Images

Starter: Rashard Mendenhall
Backup: Ryan Williams
Third String: Stepfan Taylor
Fourth String: Andre Ellington
Analysis
The only thing to change from the last depth chart is the exit of fullback Anthony Sherman, who was traded to the Kansas City Chiefs for cornerback Javier Arenas.
Single-back sets with multiple tight ends are coming for the Cardinals offense, and that gives head coach Bruce Arians seemingly countless options. He told Darren Urban of AZCardinals.com how he will use them:
I want tight ends who are multiple. If you are a defensive coordinator and I send a fullback in and take out a tight end, I will get your best call for that. If I have two tight ends (in the game), and you don't know if one will play fullback or one could split out wide, you're going to give me a down-and-distance (defensive) call. You don't have a specific call. The more flexible tight ends can be, threats at receiver or dual in-line backfield blockers, the more pressure you put on the defense.
The new-look Cardinals are a passing team first, but the health of Rashard Mendenhall and Ryan Williams is still important. Without those two talented backs, the offense could be too obviously one-dimensional and spiral out of control as it has the last three years.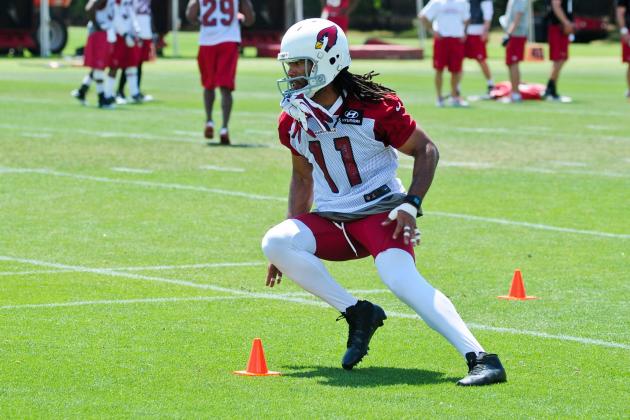 Matt Kartozian-USA TODAY Sports

Starter 1: Larry Fitzgerald
Starter 2: Michael Floyd
Slot 1: Andre Roberts
Slot 2: Ryan Swope
Wide Receiver 5: LaRon Byrd
Analysis
Rookie Ryan Swope had issues finding the practice field during his first professional OTA workouts. Reportedly still dealing with symptoms from four concussions he suffered while at Texas A&M (per ESPN.com's Mike Sando), Swope sat out much of the Cardinals' OTAs. Arians assured everyone the rookie will "be fine," but that certainly will be something to watch this summer.
Second-year receiver Michael Floyd impressed his head coach during team activities, and many believe he will have a breakout season in 2013.
With a quarterback like Palmer throwing him passes, Floyd should benefit from the double coverages Fitzgerald will see—unlike last year, when the quarterback play was horrid down the stretch. The increased targets should lead to a big year; I have predicted 72 receptions for 947 yards and six touchdowns for him in year two.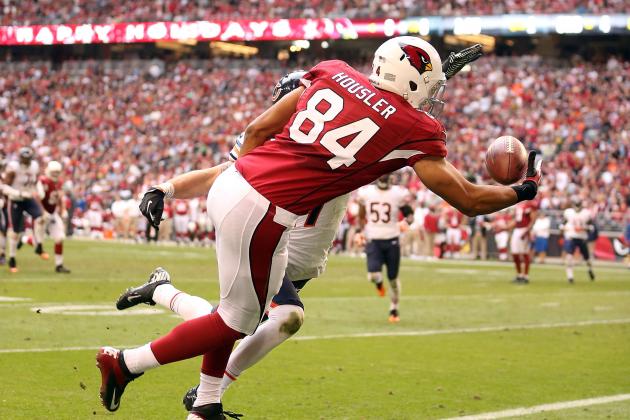 Christian Petersen/Getty Images

Starter: Rob Housler
Backup: Jeff King
Third String: Jim Dray
Fourth String: D.C. Jefferson
Analysis
It's time for tight end Rob Housler to produce as he is capable. He struggled to catch passes consistently as a rookie, but last year he showed the hands he was praised for having coming out of Florida Atlantic.
Housler dropped a third of the catchable passes intended for him as a rookie, a staggering six out of 18 targets. But, as noted, he improved and dropped only three out of 48 catchable targets in 2012 (via ProFootballFocus).
That must continue into year three, because Palmer will get him the ball more frequently than the hellacious quarterback combination he and the other receivers endured the last handful of years.
He could be a breakout player this season, and that would be to the offense's benefit. The more weapons contributing, the more potent the offense will be.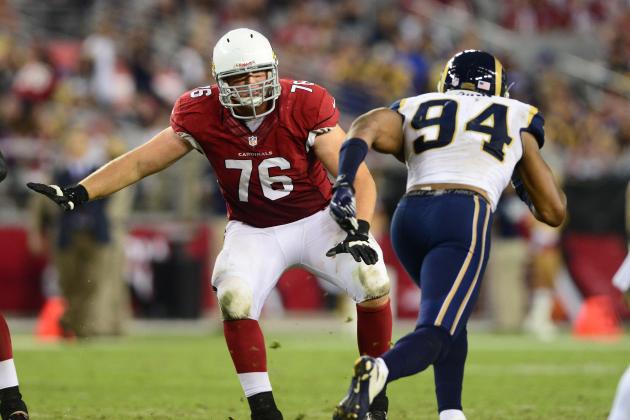 Mark J. Rebilas-USA TODAY Sports

Left Tackle: Levi Brown
Right Tackle: Bobby Massie
Backup: Nate Potter
Analysis
Arians still believes left tackle Levi Brown is elite. He was asked before the draft what he thought, and then again in early June. In both instances, he used the "E" word when referring to the six-year pro.
He told Kent Somers of AZCentral.com when Brown is at his best, "I think he's an elite player."
While most Cardinals fans will dispute that because of Brown's shaky past, Arians has a message for them:
I don't care [about the past] with any player. Everybody started over with a new slate. It's what you do now.
And what Brown did with limited repetitions at OTAs was impress his head coach. That should suffice for Cardinals fans to let go of Brown's past struggles.
Will it be enough to end the animosity toward him? It will take more time than a few unpadded practices, but it's a start.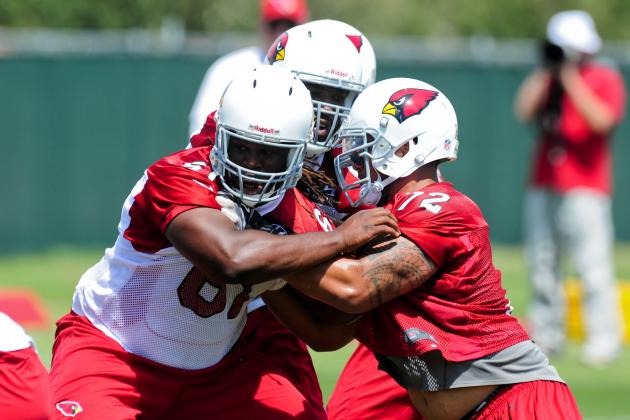 Matt Kartozian-USA TODAY Sports

Left Guard: Jonathan Cooper
Right Guard: Daryn Colledge
Rotation: Chilo Rachal, Earl Watford
Analysis
This is a switch from the post-draft edition. Veteran offensive lineman Daryn Colledge is in the process of moving from left guard to right to make room for rookie first-round pick Jonathan Cooper.
Colledge had this to say of the switch, per Somers:
I'm learning this offense brand new this year, so it wasn't like I've got to undo the old offense. For me, the mental part will be easiest. The physical switch is more difficult. There are certain things you do just out of instinct when you play one side long enough.
It could take a few months of repetition to get it down, but that's the beauty of making the switch right off the bat. Colledge should be just fine by the time games count in the fall.
Mark J. Rebilas-USA TODAY Sports

Starter: Lyle Sendlein
Backup: Daryn Colledge
Analysis
The only change here is Colledge, who reportedly will play center "a bunch" in training camp (per Jess Root of Revenge of the Birds). That means Cooper gets to focus on doing what he does best, which is play left guard.
It was initially thought that having played center in the past, he would simply serve as the emergency center—that is not the case.
Starter Lyle Sendlein has recovered from a torn MCL that ended his 2012 season early, and he will be in the starting lineup Week 1 provided he remains healthy.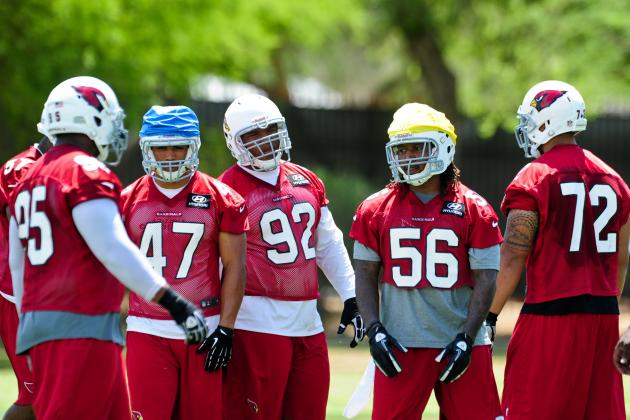 Matt Kartozian-USA TODAY Sports
Dan Williams (92) is the center of attention at Cards OTAs.
Starter: Dan Williams
Backups: Padric Scott, David Carter, Ricky Lumpkin
Analysis
It is possible—and probably best—that David Carter plays more at defensive end than at nose tackle. Although he did not play much last season, he was better at end in the run game. Addressing the run defense was a point of emphasis this offseason by Arians and general manager Steve Keim, so the more help they get there, the better.
Undrafted free-agent signee Padric Scott can benefit from a more aggressive defensive line scheme. He is a dark-horse candidate to make the 53-man roster out of camp to some. But to me, he is a necessary component who could develop into a solid starter.
For now, Scott is good depth on a great defensive line. Making the cut as a UDFA will be a great achievement for the rookie should he do so.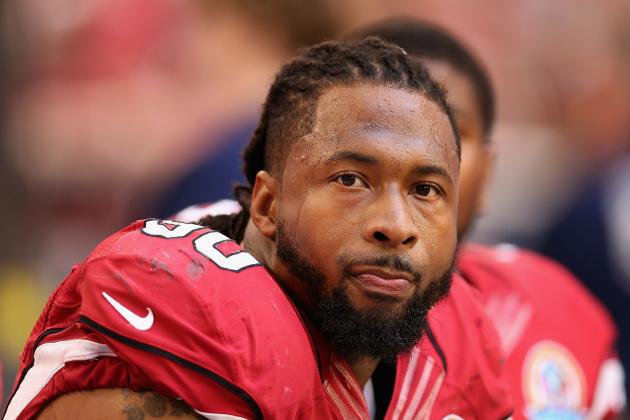 Christian Petersen/Getty Images

Right DE: Calais Campbell
Left DE: Darnell Dockett
Rotation: Matt Shaughnessy, Frostee Rucker, David Carter
Analysis
These men are assigned to attack the quarterback under new coordinator Todd Bowles, a much different approach than the past two years when Ray Horton had them taking up space in the passing game to allow the linebackers room to get into the backfield.
Darnell Dockett certainly can thrive with this approach. That's what he did from 2007 to 2010, when he averaged over six sacks per season. Horton's scheme held him back, and he totaled just five sacks in two Horton-led years.
If Calais Campbell gets any better at rushing the passer, he may end up on the All-Pro team this season. Despite the aforementioned scheme, he notched 14.5 sacks the last two seasons. More pass rushing could lead Campbell to a monster 2013 season.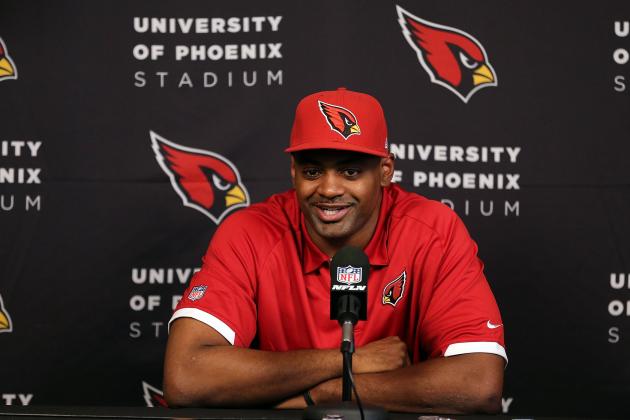 Christian Petersen/Getty Images

Strong ILB: Daryl Washington
Weak ILB: Karlos Dansby
Rotation: Kevin Minter, Jasper Brinkley
Analysis
Don't be surprised to see rookie second-round pick Kevin Minter in the starting lineup Week 1 against the St. Louis Rams. With Daryl Washington serving a four-game suspension to begin the season and Arians' love of playing youngsters, this is the perfect time to throw him into the fire and see what he's got.
The other starter will be Karlos Dansby, now back with the team after three seasons with the Miami Dolphins.
The combination of Washington and Dansby is perfect. Washington is the speedy, pass-rushing inside linebacker with good coverage skills. Dansby is the thumping, run-stopping middle-man with decent coverage skills of his own.
Together, they may get people comparing them to a certain one-two punch in San Francisco.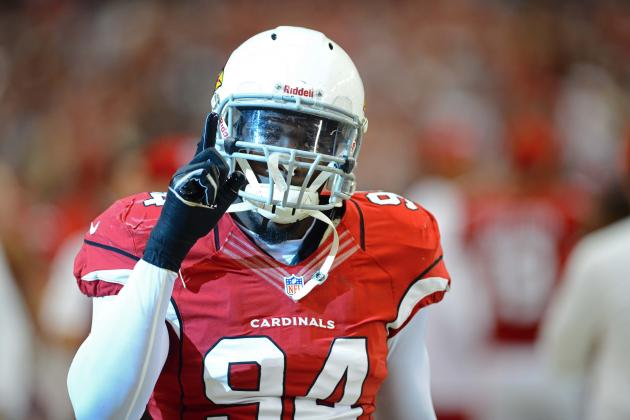 Mark J. Rebilas-USA TODAY Sports

Right OLB: Sam Acho
Left OLB: Alex Okafor
Rotation: O'Brien Schofield, Lorenzo Alexander, Daryl Washington
Analysis
Former Texas and current Cardinals teammate Sam Acho sent rookie fourth-round pick, outside linebacker Alex Okafor, the following text on draft night, via AZCardinals.com:
Hey man, God has a plan for you. It's not about where you get drafted. I know a lot of guys who got drafted way before me and they're not even in the NFL anymore or they're third or fourth string so it's all about what you do when you get here. It doesn't matter where you're drafted. It's all about going to the right team and making the most of your opportunity.
That opportunity is staring Okafor in the face as we speak.
Oh, and the last player mentioned in rotation is not a typo. Washington is so talented and there is so much depth at inside linebacker that it would not be a surprise to see him line up at outside linebacker this season.
He did so last year and looks to be a natural rushing off the edge. It gives Bowles options in play-calling, and that's never a bad thing.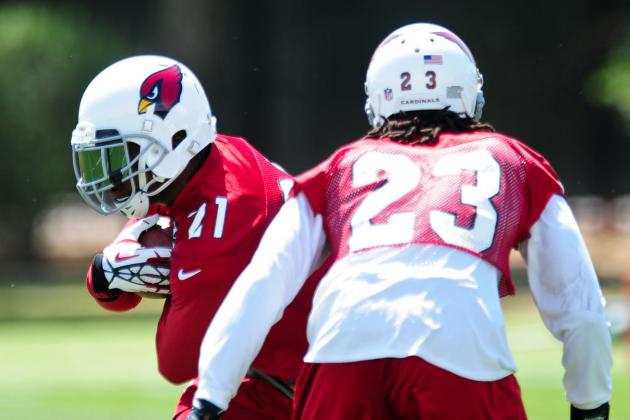 Matt Kartozian-USA TODAY Sports

Starter 1: Patrick Peterson
Starter 2: Antoine Cason
Nickel/Dime: Jerraud Powers, Javier Arenas
Quarters/Rotation: Jamell Fleming, Justin Bethel
Analysis
The addition of Arenas via trade with the Chiefs gives Bowles' defense another athlete in the secondary. He is experienced working out of the slot, as 51.26 percent of his defensive snaps played (831 of 1,621 snaps) the last three years have come from that spot.
That is far more than any other corner on the roster.
Over that same amount of time, Antoine Cason was in the slot just 2.95 percent (85 of 2,879). The only other player with three years of NFL history at corner is Jerraud Powers, and he played the slot 16.67 percent of the time (319 of 1,914).
Arenas' addition creates a logjam of talent at corner. He is not a great player by any stretch, but he is useful nonetheless. At just 25 years old and with four years of NFL experience, he is the best of both worlds—a young player and a veteran who knows the ropes.
This group will be interesting to watch as camp starts.
All snap stats via ProFootballFocus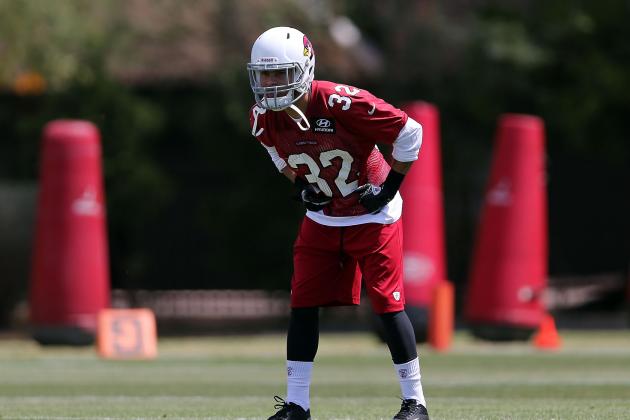 Christian Petersen/Getty Images

Strong Safety: Rashad Johnson
Free Safety: Tyrann Mathieu
Rotation: Yeremiah Bell, Tony Jefferson
Analysis
My belief is that if rookie third-round pick Tyrann Mathieu keeps his nose—and his urine samples—clean he will have no problem cracking the starting lineup Week 1. He is one of the most instinctive and naturally-athletic football players I have ever watched, and that translates perfectly to the free safety position.
They are the last line for the defense, and he has the tools to play the single-high safety which will be utilized often in Bowles' scheme.
It was a surprise to some that Tony Jefferson went undrafted, because he is good enough to provide immediate depth and could develop into a solid starter with some seasoning.
And for veteran Rashad Johnson, this could be his chance to earn a long-term contract with the team. For years, he sat behind Adrian Wilson and Kerry Rhodes, stepping in when needed and playing well. Playing well now could go a long way in securing his financial future.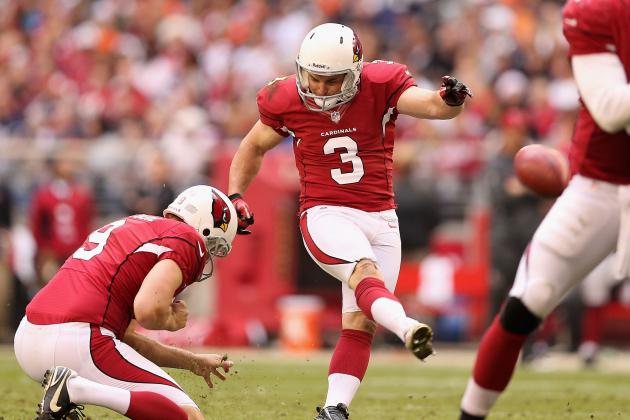 Christian Petersen/Getty Images

Kicker: Jay Feely
Punter: Dave Zastudil
Long Snapper: Mike Leach
Analysis
No changes here. Why would there be? Mike Leach is one of the best long snappers in the game, Jay Feely suddenly has the leg for 60-plus-yard field goals and Dave Zastudil was busy setting NFL records last year.
Do it to it, men.
Shaun Church has covered the Arizona Cardinals for more than three years on various online publications and considers himself a life-long fan. His work has been featured on Yahoo! Sports, Football Nation, The Boston Metro, ESPN.com and more.
Questions or comments? E-mail Shaun at smchurch@yahoo.com
You can also follow and mention Shaun on Twitter @Church_NFL