Predicting Oakland Raiders' Depth Chart, Post OTAs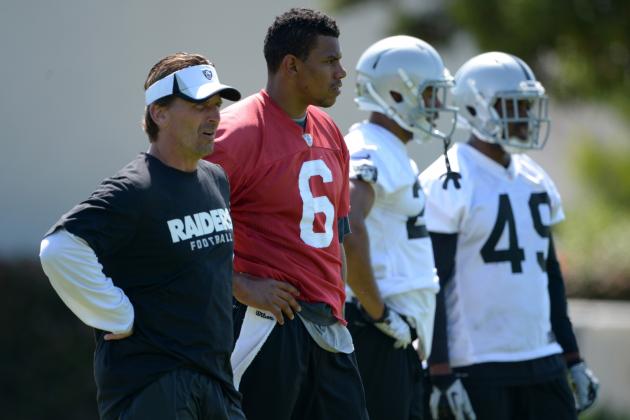 USA TODAY Sports

With the initial voluntary OTAs now wrapped up, the Oakland Raiders will move into their mandatory minicamps.
As these offseason programs continue, we will get a better idea of just how the Raiders' depth chart will shake out heading into the regular season.
While a few positions are relatively set, there are many that could go in a variety of directions. Having said that, it is never too early to predict just what directions those may be.
Here is a post-OTA prediction of what the Oakland Raiders' final depth chart will look like.
Begin Slideshow

»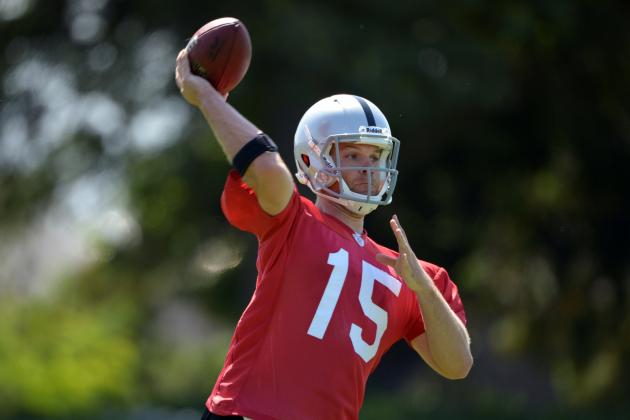 USA TODAY Sports

Matt Flynn
Tyler Wilson
Matt Flynn is the early favorite to win the starting job, and it would take some overly impressive preseason performances from either Tyler Wilson or Terrelle Pryor to change that.
The competition will be considered open, but we should expect Flynn to take the job.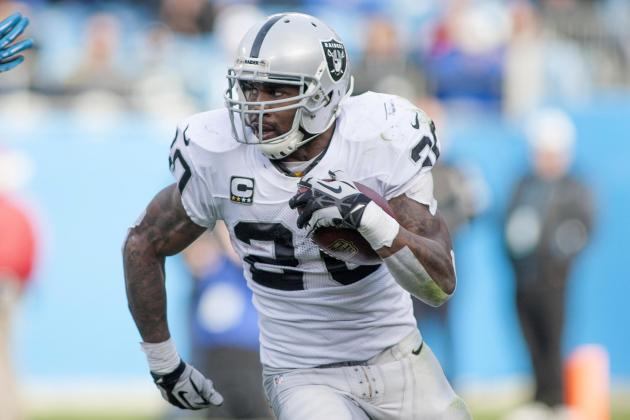 USA TODAY Sports

Latavius Murray
Rashad Jennings
In the NFL, it is always imperative to have several ball carriers capable of handling the workload. The Raiders are certainly happy to have superstar running back Darren McFadden, but now they also have quality talent behind him as well.
Latavius Murray's skill set should give him a great chance to win the primary backup role behind McFadden by the end of the preseason.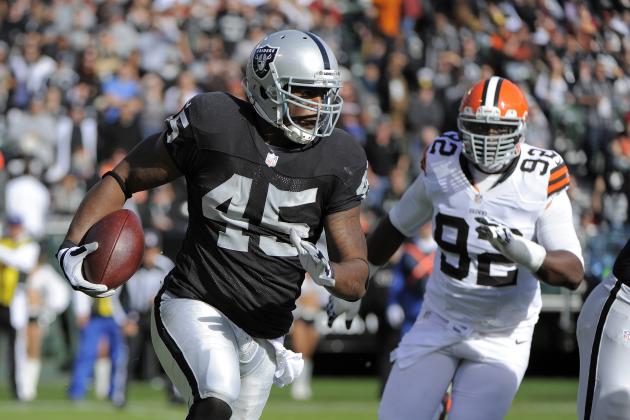 Kyle Terada-USA TODAY Sports

Marcel Reece
There is no real competition here, as Marcel Reece is not only the Raiders' best fullback, but one of the best and most dynamic players on the team overall.
This year, it will be important for the coaching staff to best utilize the skill set that Reece brings to the table. While we have seen flashes thus far, a player of his talent level should be used much more consistently in the game plan.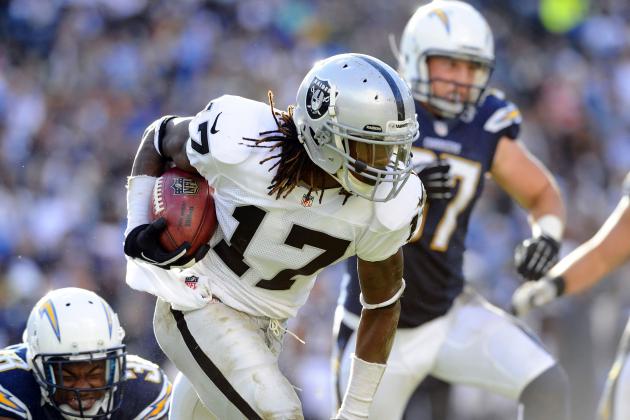 Christopher Hanewinckel-USA TODAY Sports

Denarius Moore
Rod Streater
Jacoby Ford
Josh Cribbs
Juron Criner
Conner Vernon
Wide receiver is one of several positions on the roster that is yet to have any true front runners for the starting roles, thus making training camp and preseason competition all the more important.
Denarius Moore and Rod Streater will enter camp as the favorites to start, but all other receivers will have an opportunity to challenge that. This will undoubtedly be one of the more interesting position battles leading right up to the regular season.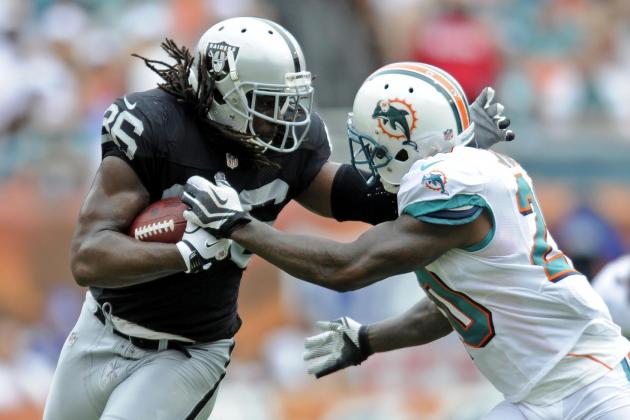 Steve Mitchell-USA TODAY Sports

David Ausberry
Nick Kasa
Mychal Rivera
Like the breakout season that Brandon Myers had just one year ago, the Raiders need one of the tight ends on their roster to emerge in a big way.
Each of the players in this group is quite talented, but very inexperienced as well.
For now, the early prediction goes to David Ausberry, solely due to the fact that he has now been with the team for several years. However, the two rookies behind him will have every opportunity to seize the primary starting role.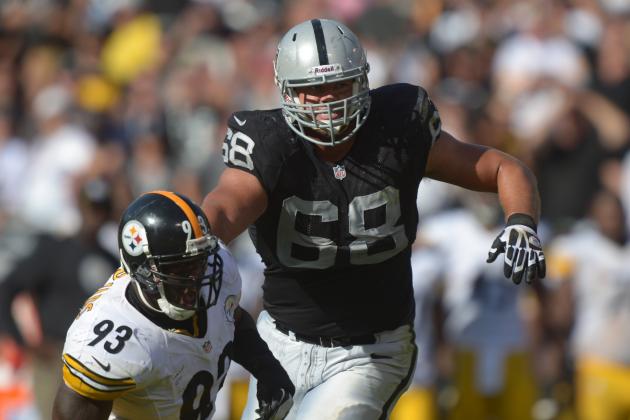 Kirby Lee-USA TODAY Sports

Jared Veldheer
Alex Barron
Jared Veldheer will have the starting spot locked down and has turned into one of the best young offensive tackles in the NFL.
Behind him, though, several question marks remain. For now, any number of players would hold the backup role—including Alex Barron, Tony Bergstrom and Khalif Barnes.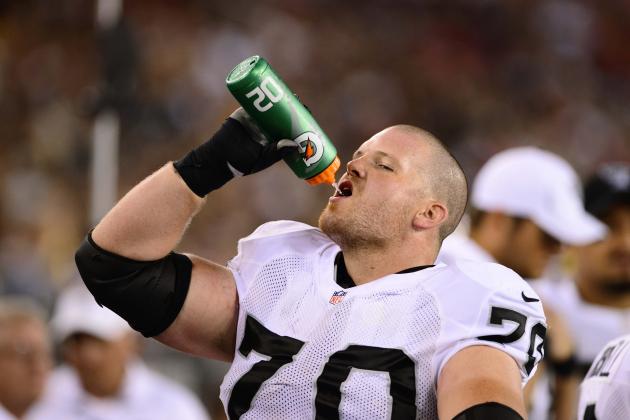 Mark J. Rebilas-USA TODAY Sports

Tony Bergstrom
Lucas Nix
A 2012 third-round selection, Tony Bergstrom will have the first shot at winning the starting left guard spot, but there will be competition.
Right there with him will be a player quite capable of ascending to a starting role as early as this season—2012 undrafted free agent Lucas Nix.
Should Menelik Watson win the starting spot at right tackle, look for Khalif Barnes to also be in the mix at left guard. Given that he now struggles to slow down speed rushers on the edge, his game may be more suited for an interior line role.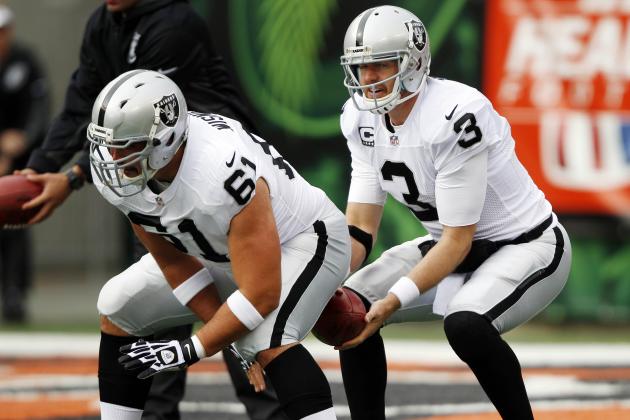 Frank Victores-USA TODAY Sports

Stefen Wisniewski
Alex Parsons
Stefen Wisniewski will hold down the starting spot at center, but Alex Parsons' play in the first few games of 2012 should have the Raiders comfortable with the backup spot as well.
In fact, Parsons' play could also see him in the mix for a starting role at either of the guard spots should no player separate themselves from the competition there.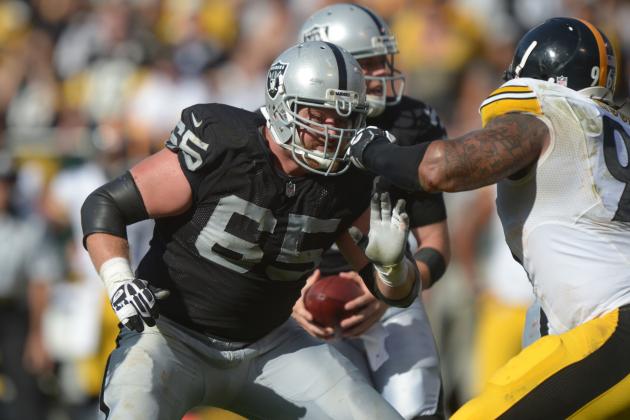 Kirby Lee-USA TODAY Sports

Mike Brisiel
Lucas Nix
Although Mike Brisiel was signed to be a part of last year's zone-blocking scheme, he will be given every opportunity to win the starting right guard spot heading into the 2013 season.
Should that transition not work out as the Raiders hope, Lucas Nix will likely be the next man up, and he fits the power-blocking scheme well.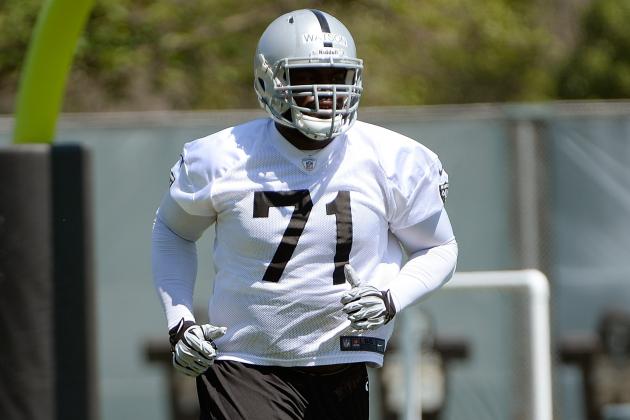 Thearon W. Henderson/Getty Images

Menelik Watson
Khalif Barnes
Khalif Barnes will likely hold down the starting right tackle spot at the beginning of training camp, but the skill set that Menelik Watson brings will give him every opportunity to win it by the start of the regular season.
If so, Barnes will give the Raiders some important veteran depth at both offensive tackle positions and could even challenge for a starting spot at one of the guard positions as well.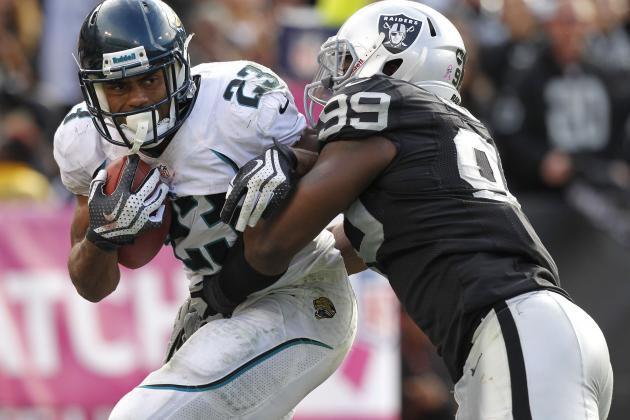 Cary Emondson-USA TODAY Sports

Lamarr Houston
Jack Crawford
Starting at left end for the Raiders will be one of the league's rising stars, Lamarr Houston.
Behind him will be second-year player Jack Crawford, who didn't see much of the field due to injury in his rookie year.
If Crawford can prove capable of a rotational role on the defensive line, it would go a long way towards addressing one of the Raiders' prime positional depth concerns.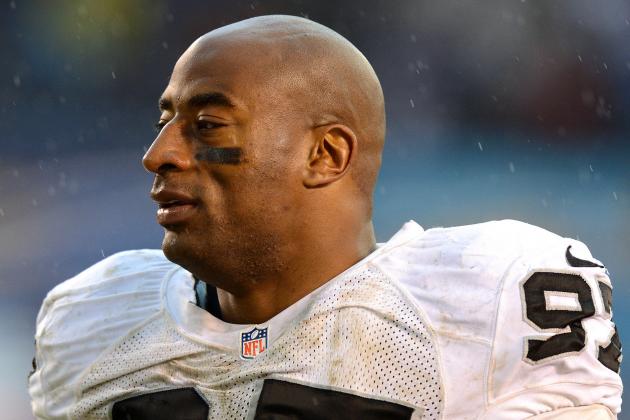 Jake Roth-USA TODAY Sports

Andre Carter
Jason Hunter
David Bass
With Andre Carter entering this season now fully recovered from the injury that delayed the start of his 2012 campaign, he will be the favorite to start at right end. While he is getting older, he still brings significant value both as a pass rusher and as a veteran leader.
Behind Carter are both a veteran, Jason Hunter, and a rookie, David Bass. Hunter will provide key veteran depth on a thin defensive line, and Bass is a name to keep an eye on as a nickel pass-rusher.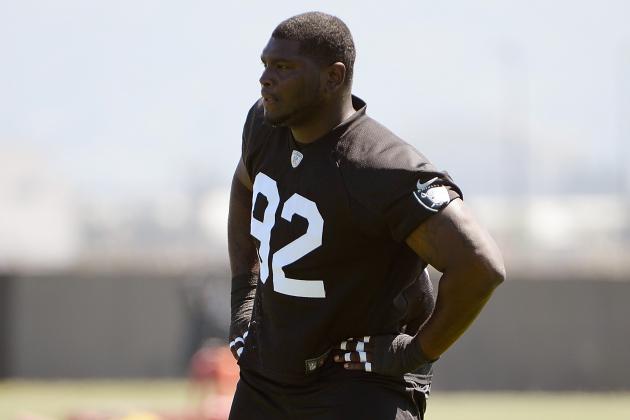 Thearon W. Henderson/Getty Images

Vance Walker
Pat Sims
Christo Bilukidi
Stacy McGee
Defensive tackle is the thinnest position on the Raiders' roster, but they have made some key additions so far this offseason.
Vance Walker and Pat Sims are expected to win the starting jobs at the three-technique and nose tackle positions, respectively, with Christo Bilukidi and Stacy McGee taking on rotational/depth roles.
When it comes time for veteran roster cuts around the league closer to the start of the regular season, expect the Raiders to show interest in any defensive tackles that become available—looking to further improve this position.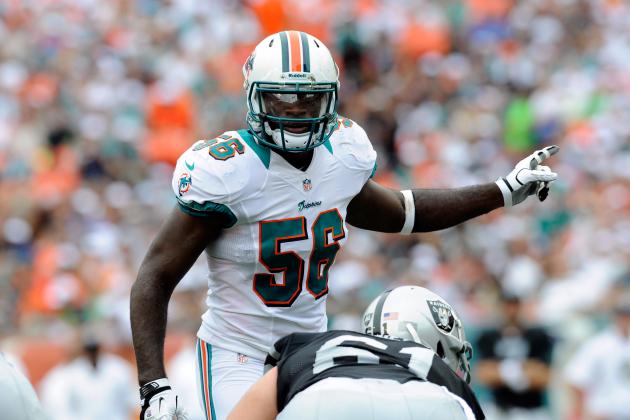 Steve Mitchell-USA TODAY Sports

Kevin Burnett
Sio Moore
Keenan Clayton
Sio Moore will be the popular name at weak-side linebacker, but expect Kevin Burnett's consistent production as one of the NFL's top 4-3 outside linebackers over the past few seasons to win him the starting job.
Having said that, Sio Moore should still play a prominent role on this defense. Expect him, at the very least, to get spot duty at several linebacker positions, as well as having a significant role as a pass-rusher at nickel defensive end.
Behind both Burnett and Moore will be Keenan Clayton. Clayton provides solid depth at the position and brings important contributions to special teams units as well.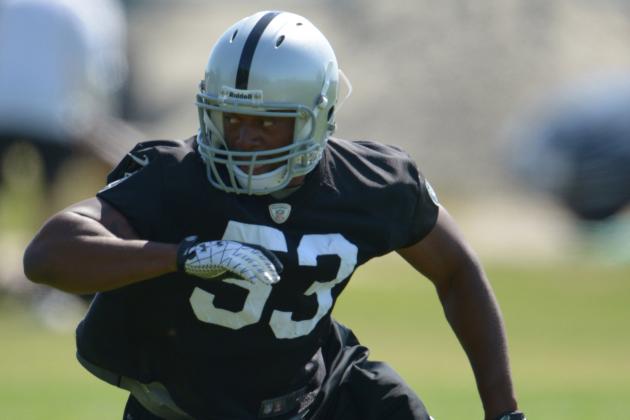 USA TODAY Sports

Nick Roach
Miles Burris
Coming over from the Chicago Bears, Nick Roach will be relied upon to be a leader on the Raiders' defense and bring some much-needed consistency to the middle linebacker position.
What Roach brings is a much more balanced overall skill set, having the ability to excel in pass coverage as well as in the run game.
As Dennis Allen alluded to at the conclusion of last season, Miles Burris could switch to the middle in 2013. With the additions of several outside linebackers already this offseason, that possibility makes even more sense, and he should be Roach's primary backup inside.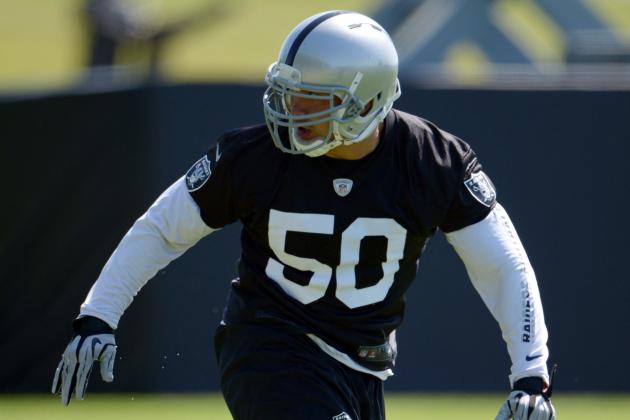 USA TODAY Sports

Kaluka Maiava
Kaelin Burnett
An underrated player when in Cleveland, Kaluka Maiava was a solid free-agent signing for the Raiders this offseason.
Maiava will be the favorite to start at strong-side linebacker and is another player that can contribute both in coverage and the run game.
Behind him on the depth chart is Kaelin Burnett who, as he continues to develop, will also bring value as a nickel pass-rusher.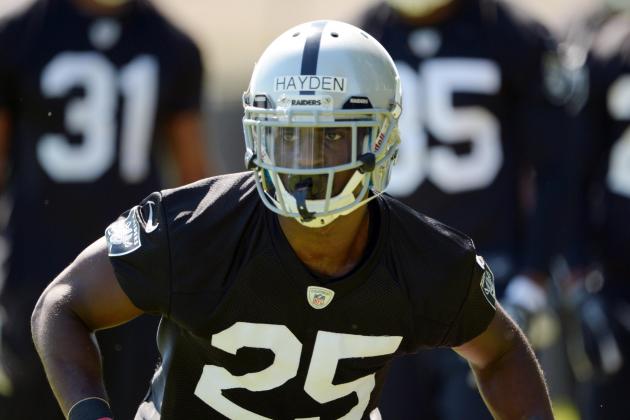 USA TODAY Sports

D.J. Hayden
Tracy Porter
Mike Jenkins
Joselio Hanson
Phillip Adams
Formerly the weakest group on the roster, the Raiders have done well to address the cornerback position throughout this offseason.
D.J. Hayden and Tracy Porter will be the early favorites to take the two starting roles, but the competition should still be relatively wide open.
Mike Jenkins will challenge for a starting role, and Joselio Hanson's success as a slot corner will give him plenty of opportunities for snaps in nickel and dime situations.
After some impressive performances last season, especially one that came against Peyton Manning and the Denver Broncos, Phillip Adams has also earned plenty of consideration in this competition.
Either way the depth chart turns out, the Raiders now have significantly more cornerback depth than they had just one year ago.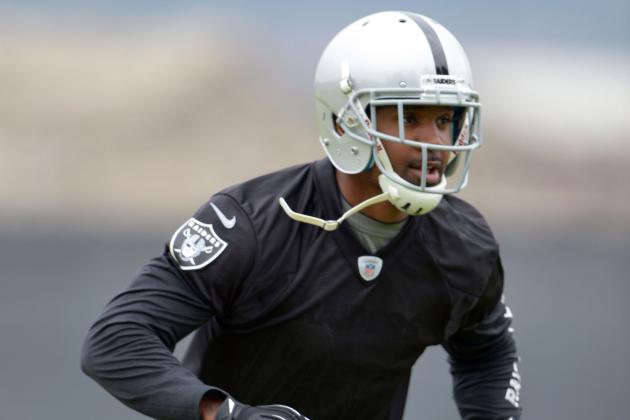 USA TODAY Sports

Charles Woodson
Usama Young
Brandian Ross
Free safety will be one of the most exciting positions for Raiders fans, as Charles Woodson returns to Oakland. Woodson will be an important addition for the silver and black not only as a leader, but also as a safety still very capable of playing at a high level.
Behind Woodson, there is some solid depth in both Usama Young and Brandian Ross. Young is the more established veteran of the two, but both players are more than capable of contributing both in the secondary and on special teams.
Free safety is another position where the Raiders' depth is undoubtedly improved over recent seasons.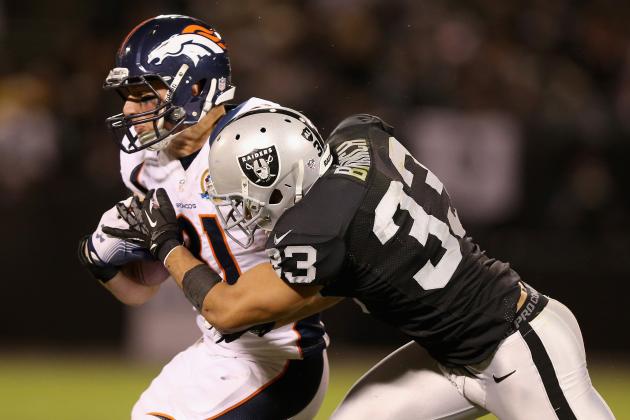 Ezra Shaw/Getty Images

Tyvon Branch
Reggie Smith
Tyvon Branch will be the starter at strong safety and will be counted upon as one of the leaders for both the secondary and defense overall. Branch has turned into one of the Raiders' most reliable players, and playing with an improved secondary should showcase that even more in 2013.
Behind him is Reggie Smith, who is now getting back into the league after being out of football in 2012.
As such, it couldn't hurt for the Raiders to look to add more depth competition here as the offseason goes on, and we can expect them to at least show interest when it comes time for final roster cut downs.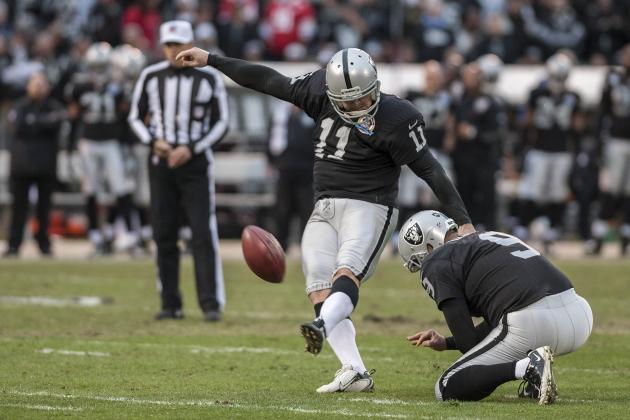 USA TODAY Sports

K: Sebastian Janikowski
P: Marquette King
LS: Jon Condo
KR: Jacoby Ford
PR: Josh Cribbs
In Sebastian Janikowski, the Raiders still have one of the league's best overall kickers that puts his team in field-goal range essentially as soon as they cross midfield.
At punter, the competition between Marquette King and Chris Kluwe will be extremely interesting to follow throughout training camp. The early advantage, if any, will likely go to King, whom the Raiders made a point of keeping on injured reserve throughout last season.
At the return spots, given the addition of Josh Cribbs, we can expect Jacoby Ford to take one with Cribbs likely taking the other. Over the past few seasons, when healthy, each player has made his case for being among the best returners in the game.
Dan Wilkins is an Oakland Raiders Featured Columnist. You can follow him on Twitter here.