Re-Grading the San Francisco Giants' Offseason Moves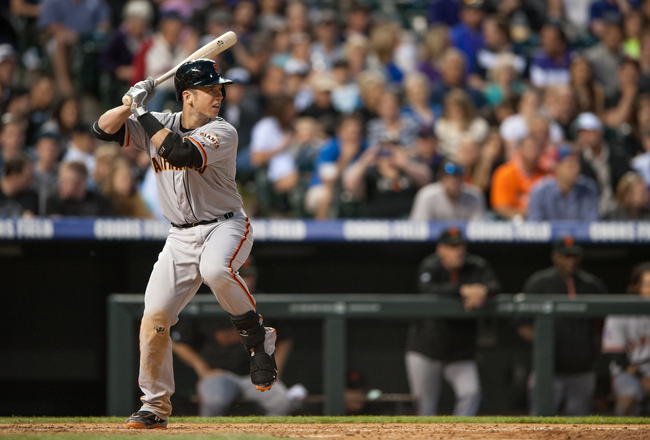 Buster Posey's nine-year contract was the longest and most expensive the Giants offered this offseason.
Dustin Bradford/Getty Images
Coming into the 2013 season, the San Francisco Giants did not make many major changes to their roster.
Along with extending MVP catcher Buster Posey, San Francisco also brought back midseason acquisitions Hunter Pence and Marco Scutaro. The most notable addition was outfielder Andres Torres, who returned to the Giants after a season with the Mets.
Though the Giants' starting pitching—the source of its recent woes—was unaffected in the offseason, the moves are making their impact as the Giants enter the heart of the season. With 58 games under San Francisco's belt, it's becoming clear which moves were a hit and which have fallen flat.
Angel Pagan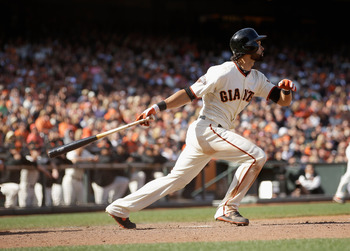 Ezra Shaw/Getty Images
Contract: $40 million, 4 years
Grade: B
Though Angel Pagan started off the season hot, he has regressed to a .262 batting average. Pagan wowed the world with an inside-the-park walk-off home run against the Rockies two weeks ago. But given Pagan's speed and reputation for heads-up base running, his 11 extra-base hits and six stolen bases have yet to live up to the Giants' expectations.
Marco Scutaro
Thearon W. Henderson/Getty Images
Contract: $20 million, 3 years
Grade: A+
The Giants' playoff hero is at it again. After hitting .328/.377/.391 in the 2012 postseason, San Francisco would be well within its rights to assume the second baseman could not recreate his numbers in 2013. At 37 years old, Scutaro is a career .278 hitter.
But the move to San Francisco seems to have rejuvenated Scutaro beyond the playoffs. The veteran is a stabilizing force at second base, forming an acrobatic double-play unit with shortstop Brandon Crawford. At the plate, Scutaro improved on a slow start and is now hitting a team-high .323/.379/.424.
Jeremy Affeldt
Ezra Shaw/Getty Images
Contract: 3 years, $18 million
Grade: A-
Jeremy Affeldt is no stranger to freak injuries, and this year has been no different. The left-handed pitcher went on the disabled list for the second half of April after straining his right oblique.
Since making his return in May, Affeldt has amassed a minuscule 1.83 ERA and 1.17 WHIP while continuing to build on his reputation as a consistent option in the bullpen. Though the three-year contract may be risky given Affeldt's proneness to injury, the reliever was a key player in both World Series championships and can be a huge impact player in 2013 if he stays healthy.
Santiago Casilla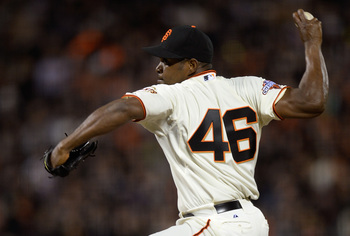 Thearon W. Henderson/Getty Images
Contract: $15 million, 3 years
Grade: C
Bruce Bochy looked to Santiago Casilla to fill the role of closer in the middle of last season, but the right-hander struggled with consistency and injury. With Sergio Romo as the Giants' obvious choice at closer this season, Casilla has struggled to find his identity.
Now the reliever has been placed on the disabled list and will undergo surgery on his injured right knee. Though having the surgery now means that Casilla may be back later in the season, he has shown to be a risky investment in 2013.
Andres Torres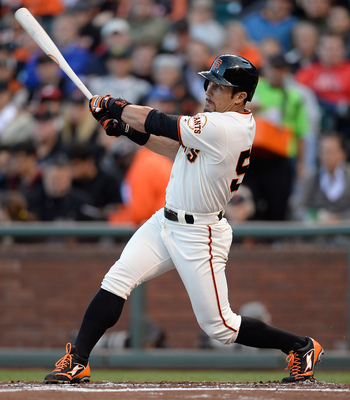 Thearon W. Henderson/Getty Images
Contract: $2 million, 1 year
Grade: B+
Back in the Bay after spending a year in New York, Torres is providing a spark at the top of the Giants' order. Though Bochy has platooned Torres with Gregor Blanco in left field, Torres has held his own in the top spot when given the opportunity.
Torres is hitting .277/.323/.412, his best line since his 2010 championship season with the Giants. Though the Giants would like to see him get on base more frequently, bringing Torres back for a year is looking like a solid, low-risk decision.
Buster Posey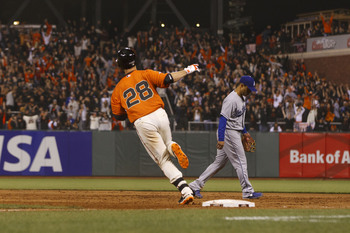 Jason O. Watson/Getty Images
Contract: $167 million, 9 years
Grade: A
In locking up Posey well into the future, the Giants won big on and off the field. The 2012 MVP and Silver Slugger is following up his monster season with more consistency at the plate, hitting .302/.383/.500 in the cleanup spot.
Though Posey, who suffered a season-ending injury in 2011, may not be able to finish out his contract behind the plate, the 26-year-old is an offensive force and plays a decent first base. With the move, the Giants ensured they would be able to hold on to the face of their franchise for years to come.
Hunter Pence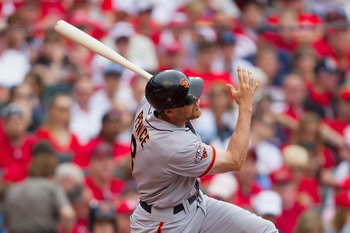 Dilip Vishwanat/Getty Images
Contract: $13.8 million, 1 year
Grade: A
Pence provides a solid defensive presence in right field, while maintaining consistency at the plate. The outfielder has seen his power return this season, hitting .290/.383/.494 and leading the Giants with 18 extra-base hits.
Pence has 10 stolen bases and 30 RBI. Though he strikes out more than the Giants would like, the one-year contract solidified San Francisco's outfield and the heart of its batting order.
Gregor Blanco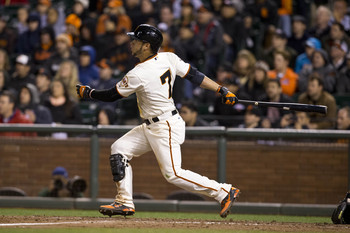 Jason O. Watson/Getty Images
Contract: $1.35 million, 1 year
Grade: B-
Blanco was a pleasant surprise in 2012, providing a much-needed spark to the Giants offense out of the minor league system. Since then he has failed to improve as much as the Giants hoped.
Though he provides an above-average glove in the outfield, Blanco has been nothing special at the plate this season, drawing relatively few walks but stealing six bases along the way. Bringing Blanco back was an easy option for the Giants, who are receiving moderate dividends.
Sergio Romo
Thearon W. Henderson/Getty Images
Contract: $9 million, 2 years
Grade: A
Continuing on as the closer in 2013, Romo certainly has big shoes to fill. The right-hander became the Giants' go-to closer in 2012 after Brian Wilson was sidelined with an elbow injury. Romo stepped up big, and he was duly rewarded in the offseason.
In 2013, Romo has 16 saves and an 88.9 save percentage. He has upped his control and boasts a 8.3 strikeout-to-walk ratio with a WHIP less than one. Though Romo struggles with injury, his bullpen presence is as key so far in 2013 as it was in 2012.
Joaquin Arias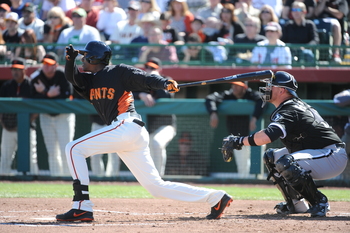 Rich Pilling/Getty Images
Contract: $925,000, 1 year
Grade: B
Joaquin Arias is an important presence off the bench and, with Pablo Sandoval struggling with injury, is a solid option at third base. Though his bat has been average this season, Arias provides defensive relief for Sandoval in late innings. Costing under a million, Arias is a good choice to keep around.
Jose Mijares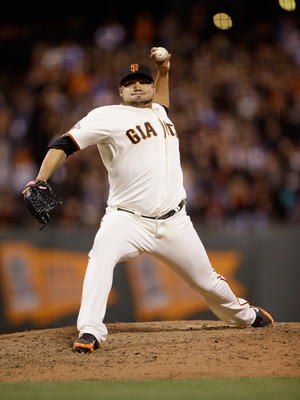 Ezra Shaw/Getty Images
Contract: $1.8 million, 1 year
Grade: A-
Jose Mijares recovered from a tough first outing and has been improving his ERA ever since. The left-hander has allowed just four earned runs this season but has struggled at times with his control, giving up 24 hits. Mijares brings necessary stability and consistency to the bullpen.
Keep Reading

San Francisco Giants: Like this team?