Dwyane Wade's Most Dominant NBA Finals Performances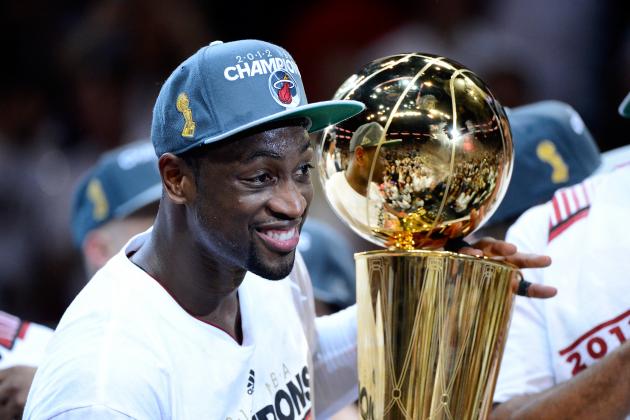 Ronald Martinez/Getty Images

Usually when someone says a professional athlete is from another planet, it's done in an attempt to explain their elite set of physical gifts or jaw-dropping highlights.
Dwyane Wade has plenty of both, but he's reached otherworldly status for a different reason.
Whatever the circumstances might be, he never gets rattled.
He missed what should have been his freshman season at Marquette after being ruled academically ineligible, then resurfaced a year later to begin a two-year stint in which he averaged 19.7 points on 49.4 percent field-goal shooting and thrust himself onto the NBA landscape.
Wade joined a 25-win Miami Heat team in 2003, transformed it into a 42-win unit the following year, then carried the franchise to its first NBA title just two seasons later. He welcomed a pair of All-Stars to his organization in 2010, then carefully found his niche as a secondary scorer and creator and was rewarded with an All-NBA second-team selection that season.
While most of his teammates were celebrating closing in on their first title in 2012, Wade was mired in a bitter custody dispute with his ex-wife. Whatever was going on off the floor didn't affect his play on it, as he averaged 22.6 points, 6.0 rebounds, 5.2 assists, 1.4 steals and 1.2 blocks in Miami's five-game series win.
So it goes without saying that the bright lights of the NBA Finals don't bother the nine-time All-Star.
While he's preparing for his fourth championship series, there's no better time to look back at his most dominant performances on the game's grandest stage.
Begin Slideshow

»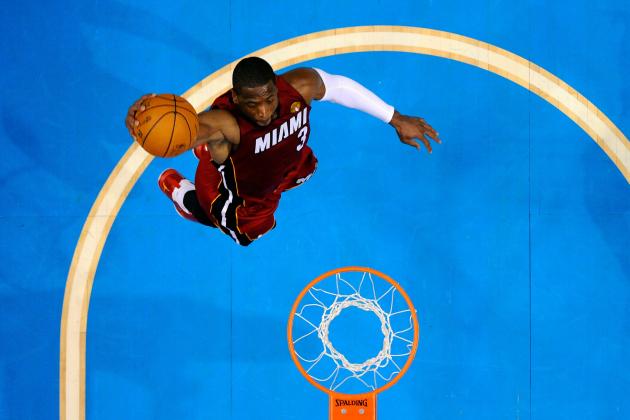 Pool/Getty Images

The 2011 NBA Finals did not play out the way the Heat had hoped it would.
There were too many adjustments to be made in the Big Three's first finals foray, along with too much Dirk Nowitzki. Miami's championship-or-bust season officially became a "bust" after a 105-95 loss to the Dallas Mavericks in Game 6.
But the frustrations stemming from the series loss couldn't mask the championship potential oozing out of that roster.
Take Game 3 for instance. After splitting the first two games of the series, Miami needed a victory on Dallas' home floor to reclaim the home-court advantage it hard fought so hard for 82 games to get.
The Heat opened the contest with a sense of urgency, storming out to a 29-22 lead after the first quarter. But the Mavericks clawed away at that advantage and a basket from Tyson Chandler trimmed Miami's lead to five with 6:48 left in regulation.
Wade hadn't yet handed over the keys to the franchise to James (that would come the following summer), and the Heat were glad that he hadn't.
Wade poured in seven of Miami's last nine points, helping the Heat eke out an 88-86 win. The late-game eruption put the finishing touches on a brilliant effort in which he scored 29 points (on 12-of-21 shooting from the field), snagged 11 rebounds, dished out three assists and recorded a block and a steal on the defensive end.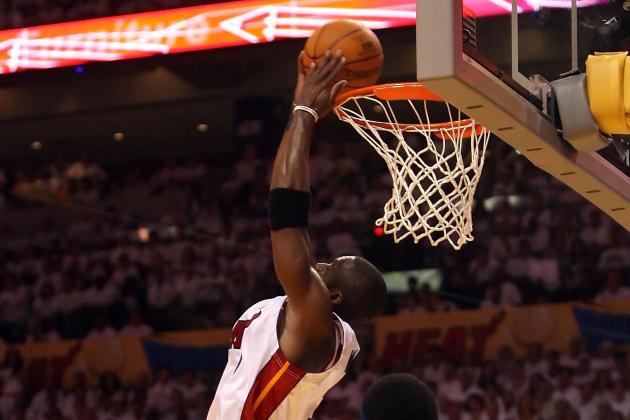 Doug Benc/Getty Images

Postseason basketball should scare young players.
Their mistakes are magnified, replayed countless times in front of a national audience. The stakes are as high as they could ever be. One loss could turn the tide of a series.
Apparently no one bothered to give Wade the message in 2006.
With the series knotted up at two games apiece, Wade gave Miami fans a thrilling finals performance.
The game was an absolute slugfest, the kind that can't be decided in a mere 48 minutes. Well, it very well could have been if not for some magical crunch-time moments from Wade.
Jason Terry converted an and-1 opportunity to give the Mavericks a four-point lead with 3:24 left in regulation. The entire arena knew where the Heat would look down the stretch, but that did nothing to limit Wade's production.
He scored all 11 of Miami's final fourth-quarter points, hitting four of his five field-goal attempts and his only trip to the free-throw line during the stretch. His last shot, a running banker with 2.8 ticks left on the clock, sent the game into overtime and the Heat faithful into a frenzy.
But he wasn't done yet. He scored half of Miami's eight points in the extra session, including his game-winning pair of free throws sandwiched around Josh Howard's inadvertent timeout.
On the night Wade shot 21-of-25 from the foul line en route to his 43 points. He added four boards, four dimes and three steals to his stat line.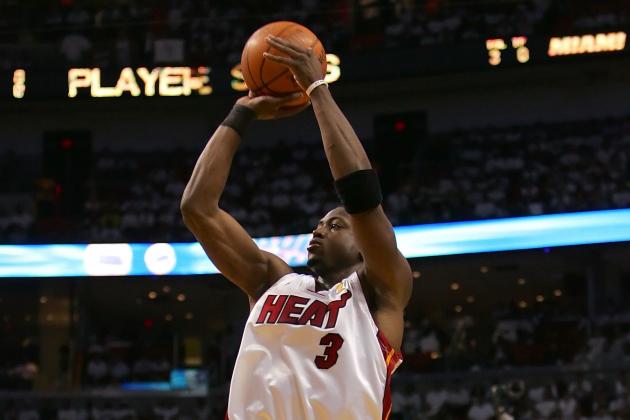 Stephen Dunn/Getty Images

So now that we've touched on Wade's series-saving effort in Game 5, there's no way he possibly surpassed that performance, right?
Wrong. He did. Twice in that same series, actually.
For all intents and purposes, the Heat were dead before Wade ever had the chance to hit those game-winning free throws. Dallas protected its home floor in the first two games of the series, then embarked on a demoralizing 34-16 run in the third quarter of Game 3 to all but wrap up the title.
Of course, Wade had other plans.
Facing a nine-point deficit to open the game's final quarter, the 28.9 percent career three-point shooter calmly buried a triple on the opening possession of the period.
What should have been a spark for the Heat, though, wound up being a wake-up call for the Mavericks. Following Wade's three, Dallas ripped off a 12-5 run to take an 89-76 lead with just 6:34 left on the clock.
Unfazed by the moment or just too young to realize its magnitude, Wade embarked on a personal 5-0 run. A Devin Harris jumper stopped the bleeding momentarily, but a James Posey three and two more buckets from Wade cut Miami's deficit to three with 3:36 remaining.
Wade added a jumper and another clutch free throw, Miami closed the game on a 10-3 run, and Wade stole a Nowitzki pass in the final second to secure a 98-96 win.
That final free throw pushed his point total to 42 (bolstered by a 14-of-26 night from the field) and the stat-sheet stuffer padded his numbers with 13 boards, two assists and two blocks while committing just one turnover in 43-plus minutes.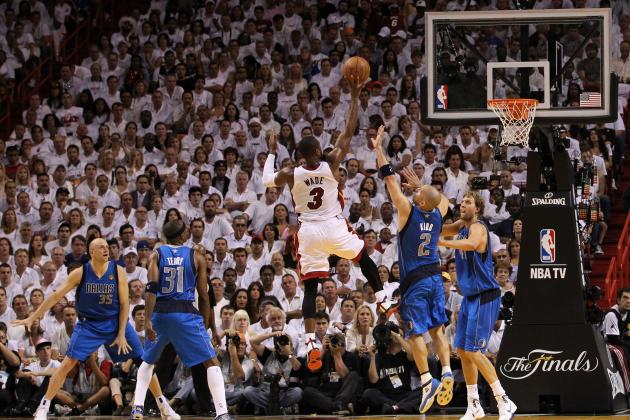 Ronald Martinez/Getty Images

In terms of sheer production, Game 2 of the 2011 NBA Finals may have been Wade's finest championship moment. In fact, former ESPN scribe (and current Memphis Grizzlies vice president of basketball operations) John Hollinger's game score system rated it higher (34.0, via Basketball-Reference.com) than any other finals game on Wade's resume.
But given that Miami ultimately lost the series, it was impossible to give this the top spot.
Of course the heroic production is equally impossible to ignore. Remember by 2011, Wade found himself flanked by a pair of All-Stars (James and Chris Bosh) that each had their own history of shouldering the offensive load for their former teams.
But while his two decorated teammates struggled in this contest (James and Bosh scored a combined 32 points on 12-of-31 shooting), Wade was nothing short of masterful.
He ripped off a game-high 36 points, connecting on 13-of-20 shots from the field despite missing five of his seven three-point attempts. He added five rebounds, two on the offensive end, and finished with six assists against one turnover in 42 minutes.
And he was equally impressive defensively. He swiped three steals, added a block and helped limit Jason Kidd and Jason Terry to a combined 7-of-18 showing from the field.
But Wade's effort was ultimately wasted. Dallas scored 14 of the game's final 17 points (with Nowitzki accounting for nine by himself), and the Mavericks escaped with a 95-93 win.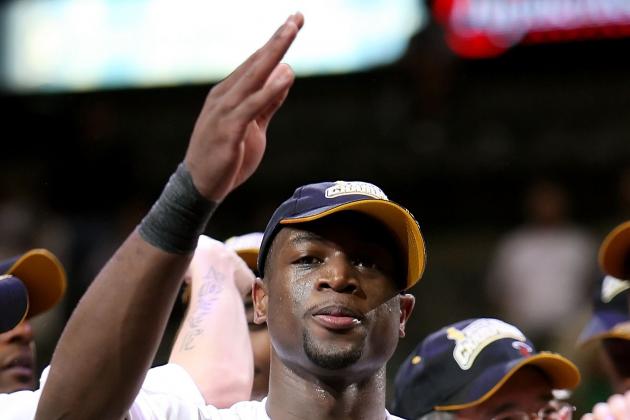 Ronald Martinez/Getty Images

With each playoff progression, the games grow increasingly tougher. Finals games are hard enough, but a closeout contest may be the toughest victory.
Facing a win-or-go-home scenario in Game 6 of the 2006 NBA Finals, the Mavericks energized their home fans with a strong 30-23 advantage in the opening quarter.
Wade struggled to make his presence felt early, taking just two shots in the game's first 10 minutes (missing both) and picking up an offensive foul just two minutes into the game.
But he buried a 17-footer with 1:58 left in the quarter, which seemed to finally kick-start his motor. He carried an individual 7-2 run into the second quarter as Miami cut Dallas' 10-point lead in half. He scored 12 of Miami's 26 points in the period as the Heat roared back to take a one-point edge into halftime.
He went on to match his 18-point first half with the same scoring numbers in the second and hit four straight free throws in the final 26.2 seconds of regulation to give the Heat a commanding five-point lead that they would never relinquish.
Miami wrapped up its miraculous championship run with a 95-92 win led by Wade's 36 points, 10 rebounds, five assists, four steals and three blocks.
That performance cemented his well-deserved NBA Finals MVP honors. For the series he averaged 34.7 points on 46.8 percent field-goal shooting, 7.8 rebounds, 3.8 assists, 2.7 blocks and one steal per game.