5 Reasons Each 49ers WR Could Fill Michael Crabtree's Production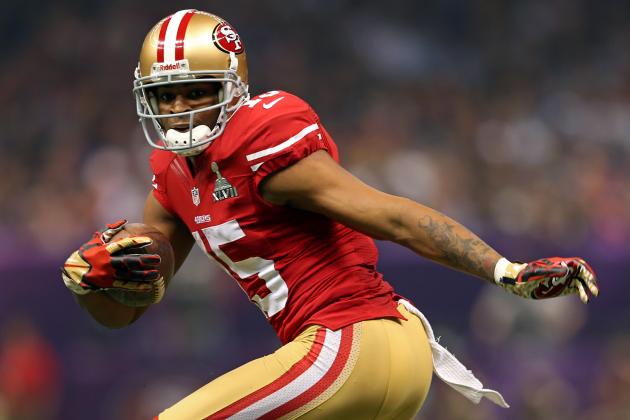 Mike Ehrmann/Getty Images

After a strong showing in free agency and the NFL draft, the San Francisco 49ers entered OTAs as likely Super Bowl favorites for the 2013 season. That is, until Michael Crabtree tore his Achilles tendon.
I firmly believe the 49ers are still Super Bowl favorites. However, there are some who believe this will open the crack for the NFC West rival Seattle Seahawks to catch up. That remains to be seen, though the Seahawks were already a viable contender whether Crabtree was healthy or not.
With few holes and weaknesses on the 49ers, get use to the hoopla surrounding Crabtree's injury. It's the nature of the business.
Despite the grim situation, there is a little light fans can look forward to.
The 49ers boast a few young guys at receiver, and with Crabtree likely missing most of the 2013 regular season, this gives the Niners a perfect chance to evaluate the position over the long and short term.
You can't replace Crabtree, but this young crop of 49ers receivers can bring different elements to the table.
Begin Slideshow

»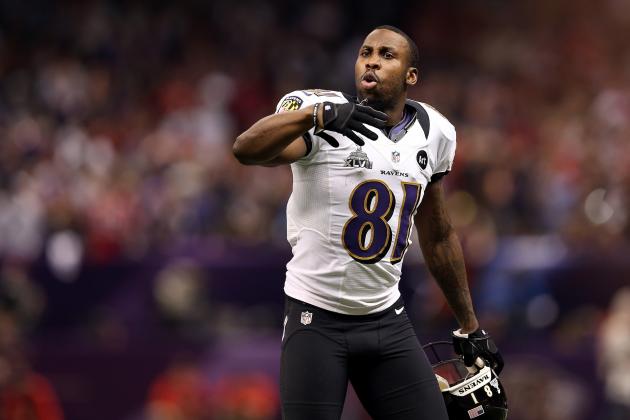 Christian Petersen/Getty Images

The acquisition of Anquan Boldin will prove to be an excellent move by 49ers general manager Trent Baalke.
Whether Crabtree is healthy or not, Boldin will provide the veteran leadership that Moss brought to the table last season, while also giving Kaepernick another consistent option in the passing game.
Boldin and Crabtree are somewhat similar in that both guys aren't burners or receivers that can stretch the field. What they lack in speed, they make up in superior football IQ and excellent route running.
In Crabtree's case, because he's younger, he's extremely agile and quick, making him an ideal fit in a West Coast scheme.
Boldin, on the other hand, has lost most of his quickness and speed due to age, but the 11-year veteran has enduring qualities that should make him stand out in the eyes of 49ers quarterback Colin Kaepernick.
The veteran receiver should be an excellent red-zone option for the 49ers.
Statistically speaking, Boldin hasn't really lit up the scoreboard with only seven touchdowns in the last two seasons. But the former Baltimore Raven was in fine form during the 2013 postseason, scoring four touchdowns in four games.
Additionally, Boldin is an excellent option in the short and intermediate parts of the field, where Crabtree flourished last season.
As long as Father Time can stay at bay, Boldin should fill in quite nicely for Crabtree.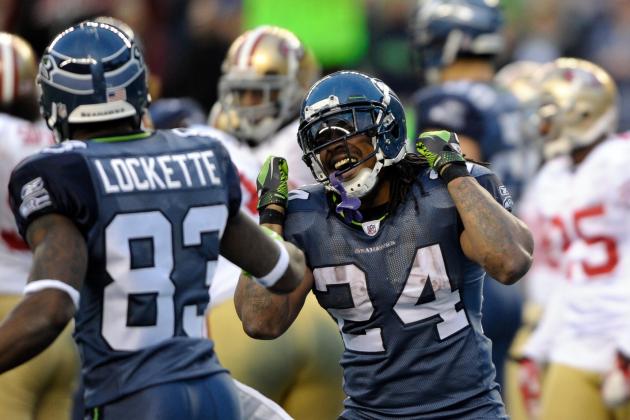 Steven Bisig-USA TODAY Sports

Lockette is known for his deep speed ability and imposing physical intangibles. At 6'2" and 211 pounds, Lockette has the ability, and maybe even the opportunity, to carve out a Torrey Smith role this season.
As a deep threat, Lockette can open up lanes for the bevy of running backs at the Niners' disposal, while also freeing up Vernon Davis and Anquan Boldin to work the middle of the field.
The 49ers have been looking for this type of threat for a while now, and with Crabtree's injury, Lockette can step into this potential role.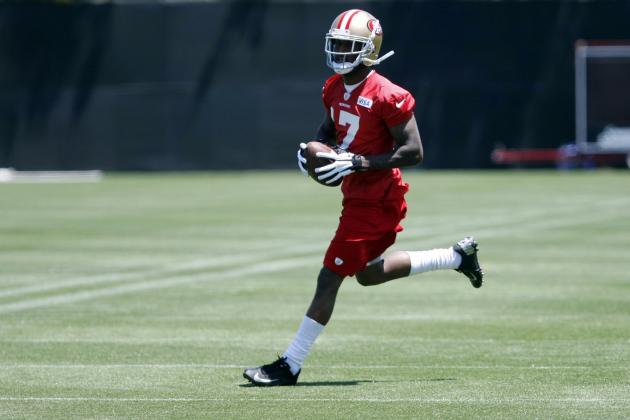 Kelley L Cox-USA TODAY Sports

Jim Harbaugh and Trent Baalke are hoping last year's first-round selection can live up to his enormous potential.
While Jenkins doesn't possess the physical abilities of a Lockette or Boldin, he does have both speed and agility. I believe Jenkins can play in the slot, at flanker and even outside.
In all honesty, with the way Jenkins looked physically last season, I had my doubts about his ability to play outside.
However, Jenkins did bulk up this season, and to that point, I have to give the young receiver credit. Jenkins looks to have taken the weight room quite seriously in the offseason, which should help him in terms of playing time.
Jenkins has the ability to be a major factor in terms of YAC. With the ball in his hands, Jenkins has the elusiveness and quickness to make guys miss and be a threat in the open field.
The only issue was his ability to create separation. Now, with a much more stronger frame, Jenkins should have an easier time against bigger press corners.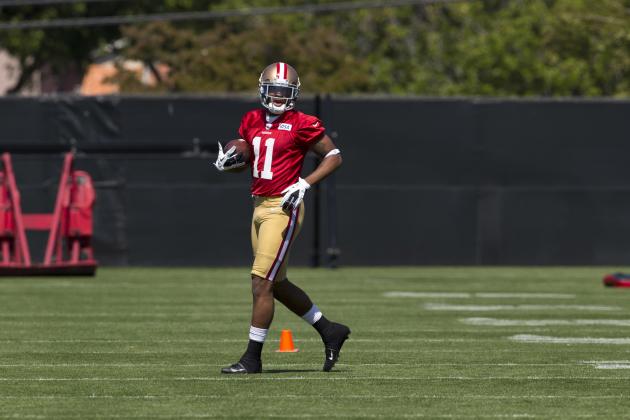 Jason O. Watson/Getty Images

Quinton Patton was a nice steal for Baalke in the fourth round of the past draft, but playing time may be scarce for the rookie.
Look, Harbaugh will put the best player on the field, and while Patton has won many fans over with his work ethic and early arrivals, will his inexperience be used against him?
The 49ers aren't fond of starting rookies, and with good reason. A few of these standout draft picks by Baalke were rather raw entering the league (examples: Aldon Smith and Colin Kaepernick) before they got their big shot.
If Patton does find the field, it's because of his ability to be a factor on third downs. Like Crabtree, Patton has excellent hands.
He showed time after time in Louisiana Tech that he can catch the football with his hands away from his body. Additionally, Patton is elusive in short areas, which should give him a chance to make plays off screens or curls.
Patton also has excellent awareness, something that shouldn't be ignored when it comes to receivers making plays on third down.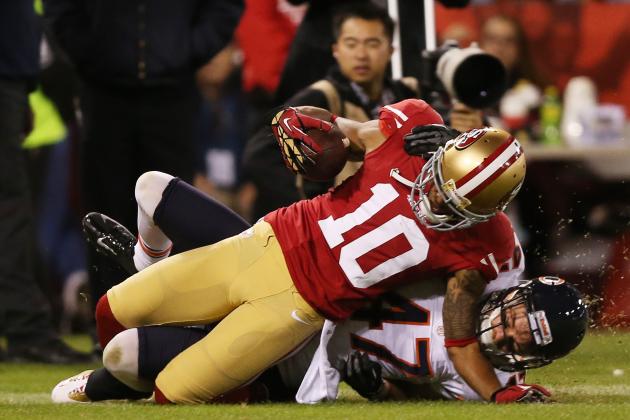 Ezra Shaw/Getty Images

Mario Manningham and Kyle Williams will be the X-factors of this receiving corps. When healthy, these two bring a much-needed punch to the passing game, especially Manningham.
Williams rebounded quite nicely last season and was playing very solid football before getting hurt. The same can be said for Manningham, who built a good repertoire with both Alex Smith and Colin Kaepernick.
Manningham has the ability to line up everywhere at receiver, even in the backfield. His speed and agility made him a nice complement to the attacking styles of both Vernon Davis and Michael Crabtree.
If both guys were healthy, the competition for the spot opposite Anquan Boldin could be over before it even starts.