New York Giants: 5 Biggest Questions Heading into Training Camp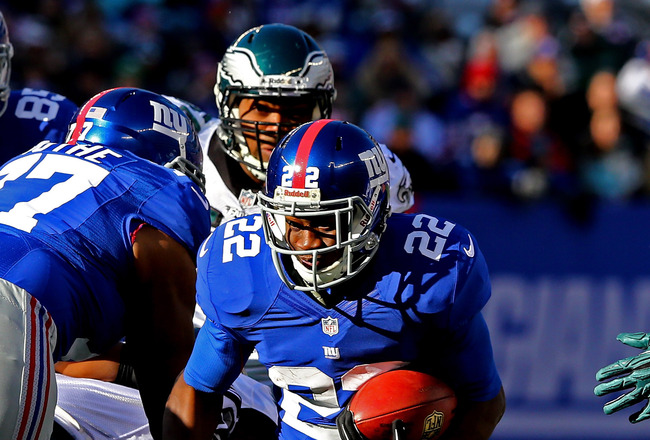 Al Bello/Getty Images
"Frustrating" is just about the only word to describe the 2012-2013 season for the New York Giants.
The team started strong only to fade down the home stretch amid a tough closing schedule—a pattern that's become all too familiar over the past few seasons. The potential seemed to be there for another run at a Super Bowl, but injuries, sloppy play and a downright abysmal defense prevented even a playoff berth.
But a new day has dawned in the NFL as training camp is just a couple months away, so let's put last year in the rearview and turn our attention towards the upcoming year. The Giants will look to climb back to the top of the NFC East, a division with a lot of unknown variables—from the Chip Kelly experiment in Philadelphia to the health of RGIII and Tony Romo—with which to contend.
Despite plenty of talent and an intriguing draft conducted by Jerry Reese and company, Big Blue also have some questions to answer in the months leading up to kickoff in September.
1. Can David Wilson Be the Lead Running Back?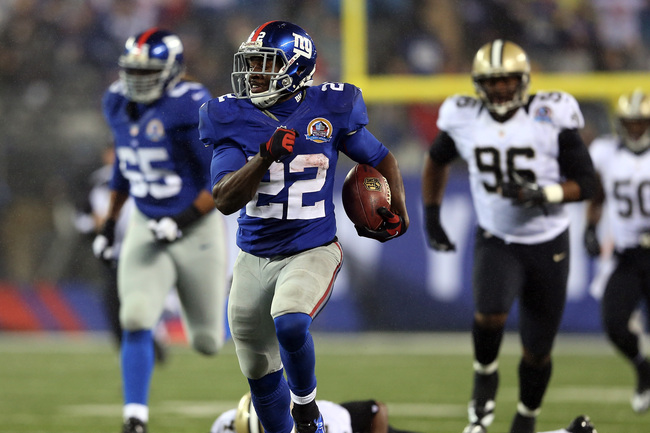 Elsa/Getty Images
It's no secret that the Giants will live and die with the play of Eli Manning.
He's the straw that stirs the drink in the new era of NFL football, and he'll always be the key to this franchise's success. But he'll need some help from his supporting cast—and that starts with his backfield mate, David Wilson.
Wilson showed some downright ridiculous explosiveness and open-field running ability in the second half of the season last year, and he earned himself an expanded role heading into 2013. With the departure of franchise warrior Ahmad Bradshaw, Wilson is now the guy in the Giants backfield, and how he handles that workload will go a long way toward determining how far Big Blue goes this year.
Wilson was dynamic as a kick returner and change-of-pace back after Tom Coughlin let him out of his doghouse, but he remains a fairly unknown quantity. It remains to be seen if he can be a reliable every-down back in the NFL. Can he be assertive (and durable) in between the tackles and, most importantly, can he make the correct decisions in pass protection to keep Eli upright?
Andre Brown burst onto the scene last year when Bradshaw went down, but Wilson is clearly the future of the Giants' rushing game. The two will split carries early on, but if Wilson isn't hitting home runs and providing another option for Eli in the passing game, this offense will remain limited.
2. Can Hakeem Nicks Get (and Stay) Healthy?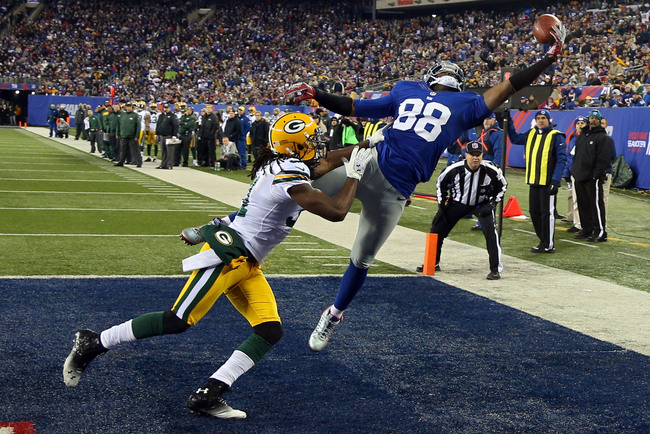 Michael Heiman/Getty Images
With Victor Cruz's breakout performance in 2011 marking him as the darling of Manhattan, it was all too easy to forget just how valuable and talented Hakeem Nicks is out wide.
That all changed last year, when Nicks hobbled his way through a disappointing campaign. Despite some gutsy performances, foot and knee injuries robbed him of his terrific combination of size, speed and explosiveness and robbed the Giants offense of their lynchpin.
Sure, Cruz is nearly impossible to stick with in the slot, but so much of what he (and the Giants offense as a whole) does is predicated on Nicks' presence on the outside. Nicks stretching the field opens up a whole lot of room (and some pretty tasty mismatches) for his counterpart in the middle of the field. Without Nicks taking the top off of a defense, safeties creep up to defend against the run and all of Cruz's short option routes, forcing Cruz to work hard to find any daylight.
Nicks is also a dynamic red zone threat, with the hands and size to go up and snatch balls in the end zone against man coverage.
He's criminally underrated, and at his best he's a flat-out elite wide out. With the expected emergence of Rueben Randle on the other side of the field, a healthy Nicks will open up endless possibilities for Kevin Gilbride.
3. Can the Defensive Line Rebound?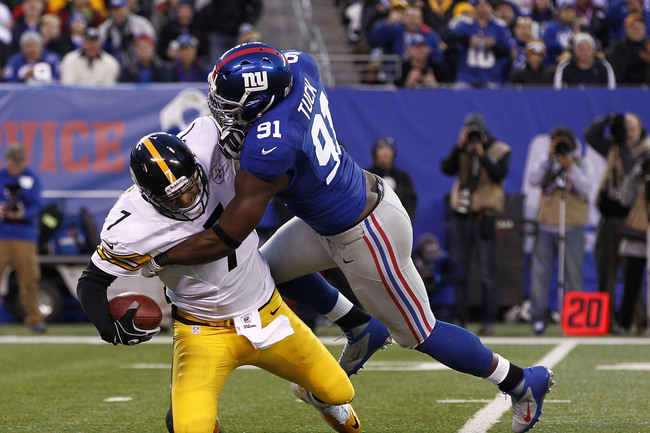 Jeff Zelevansky/Getty Images
It's long been their calling card, but in 2012 the Giants' defensive line let them down in a big way.
Gone was the explosive pass rush, as long-time staples Osi Umenyiora and Justin Tuck turned into afterthoughts and All-Pro Jason Pierre-Paul came back to Earth a bit after a surreal 2011.
Gone was any semblance of a run defense, as a slew of different tackles got a chance and were unable to provide consistent penetration. That put a lot of pressure on a secondary that simply wasn't ready to handle it—Corey Webster and company routinely were put on an island and burned. That unit this year looks to be relatively similar to last year's mediocre group, and the rest of the D will have to pick up the slack in 2013. Big Blue retooled in the draft, and if they want to take a serious step forward this year, it'll have to start up front.
This year's second-round pick, defensive tackle Johnathan Hankins, will be an absolute load in the middle for a long time, a guy with tremendous leverage and massive strength. He was accused of not having a good motor at Ohio State, but that's a bit overblown—he wasn't lazy, he simply lack conditioning, and that will hopefully change when he's introduced to an NFL training program.
If he puts in the work he'll be an elite run stuffer, something that will be sorely needed: RGIII may get all the attention, but what makes the read-option effective is the threat of Alfred Morris up the middle. Take that away, and things become a whole lot easier to read and defend.
Throw in the addition of Damontre Moore in the third round, and the Giants may have fixed their issues in run defense in a single offseason. If an (allegedly) remotivated Tuck and a rebounding JPP can take charge once again, this unit can be as good as any in the league.
4. Can an Unheralded Linebacking Corps Emerge?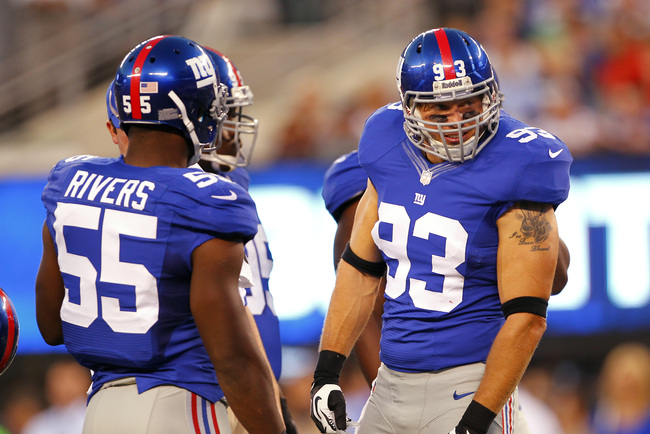 Rich Schultz/Getty Images
A quick look at the Giants depth chart reveals one absolutely glaring hole. Linebacker, a Big Blue staple for decades, is about as unremarkable as you'll find.
And for a team with championship aspirations, that's an issue.
Jerry Reese continued his quest to give everyone in the tri-state area a heart attack, ignoring the position entirely in the draft and heading into OTAs with a depth chart that prominently features the infuriatingly invisible Jacquian Williams and MASH-unit staple Keith Rivers. Dan Connor was a solid attention at the Mike, and he should provide stout run defense on the first two downs, but he simply lacks the ability in space to be an every-down linebacker.
Though that unit is certainly a scary thought, the dire forecasts among media and fans may be a touch overblown.
Yes, versatility and matchups are key in today's NFL, but the Giants have long favored the three-safety look that is now made possible with the addition of fifth-round pick Cooper Taylor. Big Blue should be much improved against the run, and Connor shouldn't be needed on the field in obvious passing situations.
And, really, there is some potential here—Rivers, when healthy, is a very talented player, and Williams has shown flashes, despite inconsistent playing time. Linebacking will definitely be a weakness, but there may be light at the end of the tunnel.
5. What Will the Offensive Line Look Like, and Can It Be Effective?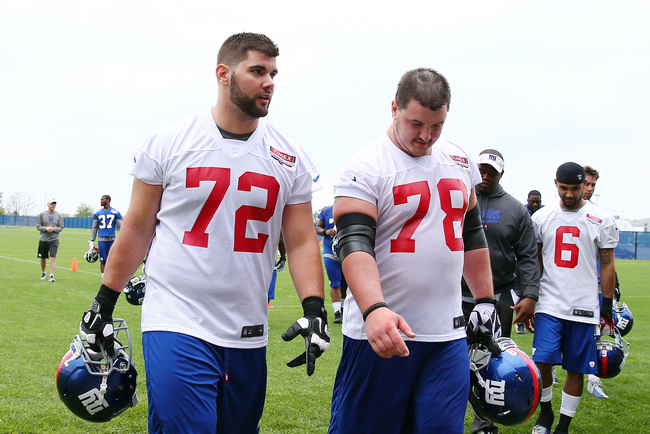 Elsa/Getty Images
Arguably the biggest hole on the roster heading into this offseason was at right tackle, where the once-reliable David Diehl looked downright embarrassing at times in 2012.
The group that led the Giants to two Super Bowls had, for the most part, aged and moved on, and it was time for Jerry Reese to reload. And though he did it in a surprising, positively Jerry-esque way, his approach to the first round of the 2013 draft may turn out to be a shrewd move in the long run.
Justin Pugh fell down draft boards because of less-than-desirable measurables, particularly his short arms, but that overshadowed tape that showed great technique and versatility.
Pugh can play all five positions, and though he isn't going to be mistaken for a mauler, he has a chance to develop into a very good starter for the next decade. The rest of the line will look about the same, with Will Beatty, David Baas, Kevin Boothe and Chris Snee rounding out the five (James Brewer could surprise, but he's yet to step into the void left by Diehl's struggles.)
And that may be good enough, really, because all the Giants need is for that unit to be at least average in 2013. The Giants offensive skill positions look to be an embarrassment of riches heading into the season, and as long as the offensive line doesn't actively play them out of games in the fall, the overall offense should be fine.
With Pugh's injection of youth and another year of (hopeful) stability, a productive offensive unit seems to be well within reach.
Keep Reading

New York Giants: Like this team?