UFC 159 was a peculiar card in many ways. Between the bizarre circumstances which halted the bout between Michael Bisping and Alan Belcher, and Jon Jones managing to significantly injure himself against an opponent who had no hope of being a serious threat to his title reign, I don't think anyone could have predicted how this card turned out.
There was, however, at least one fight which went exactly as most would expect, as Cheick Kongo was starched early by Roy Nelson. All of the flaws in Kongo's game which I demonstrated earlier in the week were present and culminated in an easy night's work for Nelson.
"Big Country" showed early that Kongo's usual stalling tactics against the fence wouldn't work as well as they did against Matt Mitrione and Shawn Jordan—Nelson pinned Kongo to the fence with double underhooks for much of the opening minutes.
As soon as the fighters broke apart, Nelson was pressuring Kongo, who was forced to fight with his back to the fence. Unable to run, Kongo had the choice—punch, kick or clinch. Clinching Nelson, who was so much shorter and clearly happy to wrestle against the fence seemed like a bad idea, so Kongo tried to throw strikes with his back to the wall.
This was tactical suicide. If one hopes to strike off of the fence (which is probably the last option for a great striker, as it is far better to fake, draw a strike and either tie up or exit) one must commit to attacks which will make the opponent defend himself and give space to escape from the fence.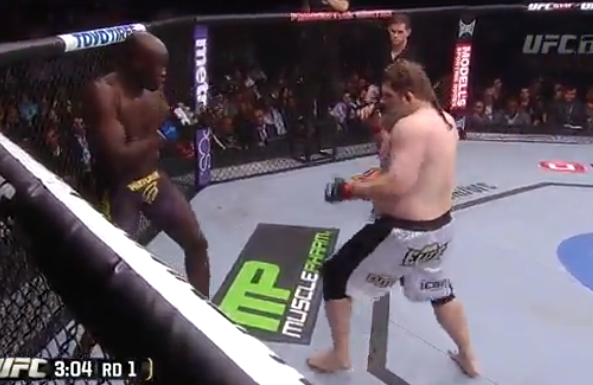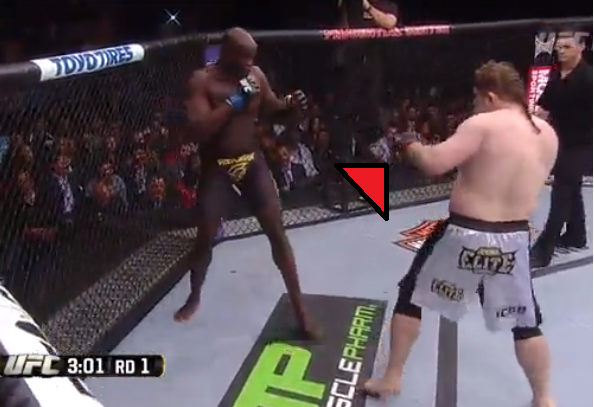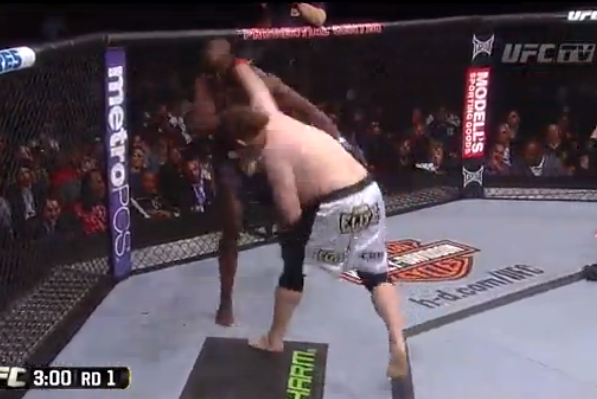 Kongo instead pumped a couple of backhanded, obviously faked jabs, then lunged in with a lead low leg kick. Kicking with one's back to the fence is a pretty bad idea because there is almost nothing one can do when an opponent steps in and either grabs the leg (as Gilbert Melendez did to Benson Henderson in the first round of their title bout) or simply step in with a hard punch as Nelson did.
Kongo's hands were low—as they almost always are when he kicks—and he was easily floored by Nelson, who immediately followed up with a hard punch on the ground to prompt the stoppage.
Against men who refuse to prioritize movement and defence, Nelson will continue to pick up devastating and easy victories. He's not a great boxer and he can't set his punches up or throw combinations for toffee—but Nelson knows where he and his opponent need to be. If fighters such as Stefan Struve, Kongo and Mitrione keep coming in thinking they will win because they have more tools, Nelson's list of big-name finishes will continue to grow.
Michael Bisping's lack of hooks
On the other end of the spectrum there is Michael Bisping, who could learn a good deal from Roy Nelson despite "Big Country" being the less respected striking technician.
Nelson is a one-trick pony but he is excellent at moving himself and his opponent into positions where his one trick will prove the most effective.
I talk about this a good deal in my analysis but it is an important concept and often dictates who we think of as a power puncher and who we think of as pillow-fisted. Using an inappropriate strike will lead to glancing connections or ones which the opponent can simply shake off.
Striking is about creating collisions. If one wants to connect a hard right hook, throwing it at the opponent as he moves to your left is hopeless. Even if the strike doesn't die out before it gets to him, the opponent will easily take the blow because he is moving in the same direction as the force. What one should do when attempting to land a right hook is what Nelson does—trap opponents along the fence and give them space to move into the right hand.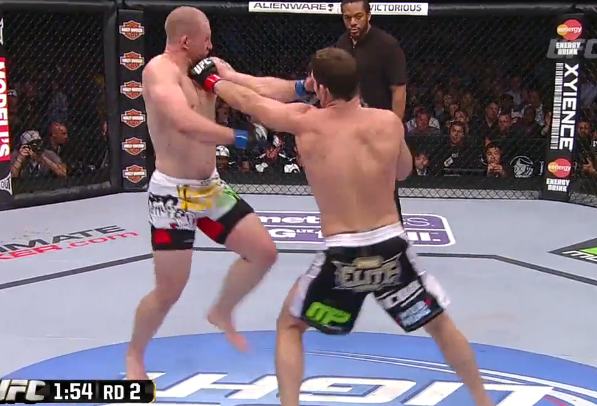 What Bisping does is use his jab, which is a good punch—sharp, accurate and enough to make men like Chris Leben and Wanderlei Silva stop in their tracks. However, Bisping uses it in all situations. If his opponent is running straight toward him, Bisping's jab will do good damage, as will his straight right hand. The problem is that opponents rarely run in on Bisping because they know he has a good jab.
If an opponent is moving side to side, as Alan Belcher did effectively in the first round of their bout—and to an extent the third—Bisping struggles to make meaningful connections at all because he is so limited to straight punches. He will use the roundhouse kicks from time to time to stop an opponent circling, but these are mainly a tool to stand them still for his straight punches again.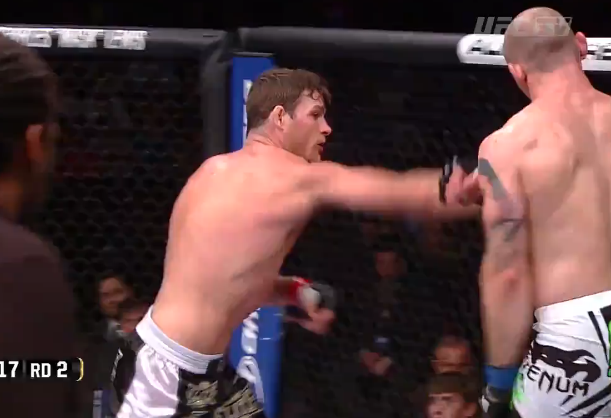 Bisping is not so much a technical striker as a striker who has gotten to a high level in using the most well rounded weapon—the jab. There are plenty of times when the jab as a single strike is flat out useless, such as against a very laterally mobile opponent. On these occasions it should be used only to hide the intentions and a roundhouse strike should be connected as the opponent circles into its path.
For much of the bout with Belcher, Bisping was the much better fighter, but his counter blows often missed or glanced off Belcher as the 29-year-old moved away. Every attempt at a counter right straight ended up hitting air.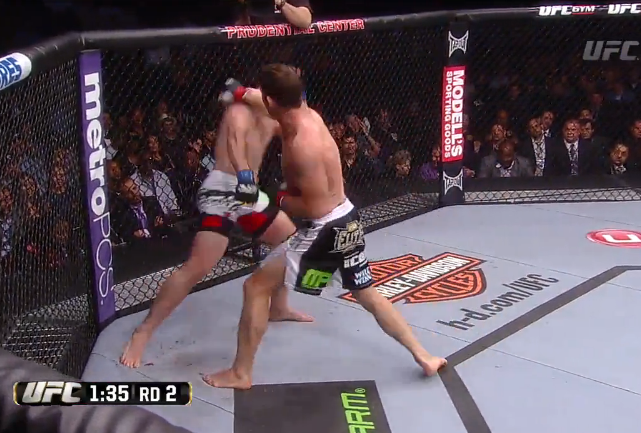 It was only later in the fight that Bisping started attempting left and right hooks to catch Belcher circling, but these were arm punches and lacked the commitment of weight and hip motion that Nelson's punches do.
Ultimately Belcher's gameplan was actually pretty sound, as Bisping is rarely in the position of the offensive pressure fighter. Instead it is normally Bisping who is between his opponent and the fence. Bisping himself has on several occasions been the man eating hooks as he circles into their power.
Notice how Bisping's right straights often missed Belcher altogether, and when Bisping actually began using the right hook to meet Belcher as he circled, Bisping was clearly so unpractised in cutting off the ring and herding an opponent into left hooks and wide rights that he struggled to hurt an opponent who was offering almost no offence of his own.
While Nelson seems to be the less technically skilled fighter and certainly struggles when fighters take away his right hand, his power is not just from a natural aptitude to punching, but rather due to the occasions he creates where his right hand will work best.
A Michael Bisping who could actually cause damage with arcing punches would be so much more effective against high-level competition that is unwilling to chase him and run on to jabs all night. In truth, both men are pretty limited in their variety of tactics on the feet, the difference is that Bisping's are more in line with what most people recognize as good boxing.