Memphis Grizzlies vs. LA Clippers: Game 2 Preview, Schedule and Predictions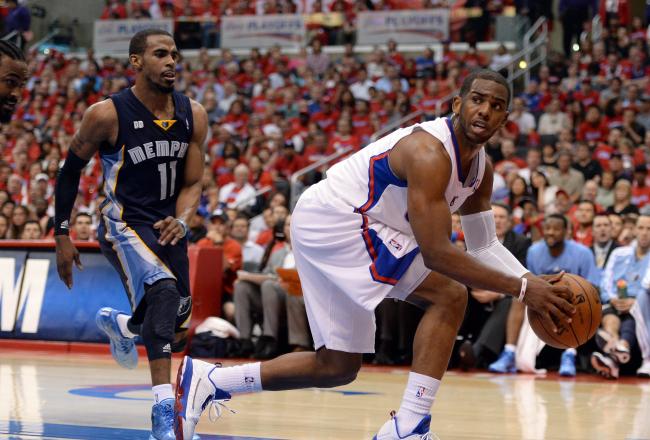 Harry How/Getty Images
The Los Angeles Clippers and Memphis Grizzlies were supposed to provide us with one of the most tightly contested battles of the playoffs, which is exactly what we didn't get in Game 1.
Chris Paul and the Clippers took down the Grizzlies, 112-91, to take the 1-0 series lead. Memphis admittedly hung around for much of the game, but Los Angeles began to pull away in the fourth quarter and never looked back.
Heading back to Memphis down 2-0 is not an option to a gritty Grizzlies team, so one would expect Game 2 to be a more closely contested matchup. But are the ever explosive Clippers prepared to let the Grizzlies steal one at the Staples Center?
Time: Monday, April 22, 10:30 p.m. ET
TV: TNT
Where: Staples Center, Los Angeles, California
Series Record: 1-0 Clippers
Key Storyline: Which Version of the Grizzlies Will We See?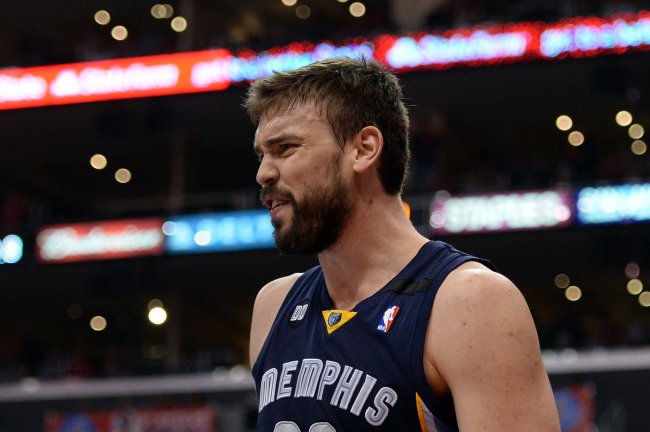 Memphis is known for defense. In Game 1, it was known for defensive lapses. Los Angeles had just one dunk (I know, crazy), but still managed to torch Memphis' defense for 112 points.
Now, I thought that the Grizzlies did an OK job on the perimeter, but Chris Paul's dribble penetration really threw them for a whirl. He's so aware of where everyone is on the floor that as soon as Memphis converged or brought help, the ball was in the hands of a neglected wing or big.
The point total was especially surprising. The Grizzlies were just 1-3 during the regular season against the Clippers, but never allowed them to score more than 101.
Memphis actually allowed 110 or more points just once during the regular season. Relinquishing so many out of the gate in the postseason, therefore, is concerning. The team was second in the league in points allowed per 100 possessions (100.3) going in.
When we're talking about which "version" of the Grizzlies we are going to see, we have to understand it doesn't have to do with offense. They do need additional offense to win, but dropping 91 points was nearly two points below their season average.
What we need to watch for is Memphis' interior defense. The Grizzlies were fourth in the league in points allowed in the paint per game during the regular season (38.1), while the Clippers ranked fifth in points posted in the paint (44.9). Memphis allowed 46 in the opening game.
If the Grizzlies can find a way to lock down the paint like they have all season (even against the Clippers to an extent), their defense gives them a fighting chance against a Clippers team that is streaky from beyond the arc and struggles to score in transition when facing Memphis' pace-domineering defense.
Otherwise, the Grizzlies will be forced to rely on their offense, which borders on non-existent.
Injury Report (via CBSSports.com)
Clippers: No injuries reported
Grizzlies: No injuries reported
Projected Starting Lineups
Clippers: Chris Paul (PG), Chauncey Billups (SG), Caron Butler (SF), Blake Griffin (PF) and DeAndre Jordan (C)
Grizzlies: Mike Conley (PG), Tony Allen (SG), Tayshaun Prince (SF), Zach Randolph (PF) and Marc Gasol (C)
The Clippers Will Win If...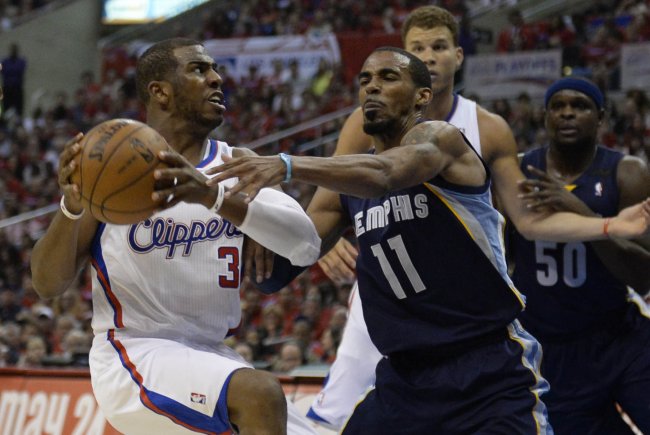 They continue to find a way to break down Memphis' strong defensive attack.
Los Angeles managed to drop 46 points in the paint by relentlessly attacking the rim, and as long as the Grizzlies struggle to contain Paul off the dribble, that shouldn't change.
Something to keep an eye on, though, is the Clippers' three-point shooting. With so much action in the paint, open shooters will emerge off defensive lapses, bad rotations or just ball movement that switches won't be able to cover.
The Clippers connected on nearly 37 percent of their three-point attempts in Game 1, a number that will have to climb if they find themselves being shut down in the paint.
Clippers will continue to ride Paul...as they should.
Again, it's difficult to cut off passing or dribble drive lanes against the ball, but the Grizzlies are amongst the best in the league at doing so. Should they manage to stifle Paul even slightly, thus limiting opportunities for bigs like Griffin and Jordan, the Clippers need to knock down their outside shots.
Los Angeles also needs more action on the break. Memphis is deft at controlling the pace of the game, but the Clippers ranked eighth in fast-break points scored per game during the regular season (15.6). They had just 10 in Game 1.
A more potent transition presence will be a must moving forward, assuming the Grizzlies inevitably make the necessary adjustments to hinder their interior attack.
Paul and crew can match the Grizzlies' defensive intensity, so this will be a game that will be won by the offense that can make the most efficient and effect offensive modifications.
The Grizzlies Will Win If...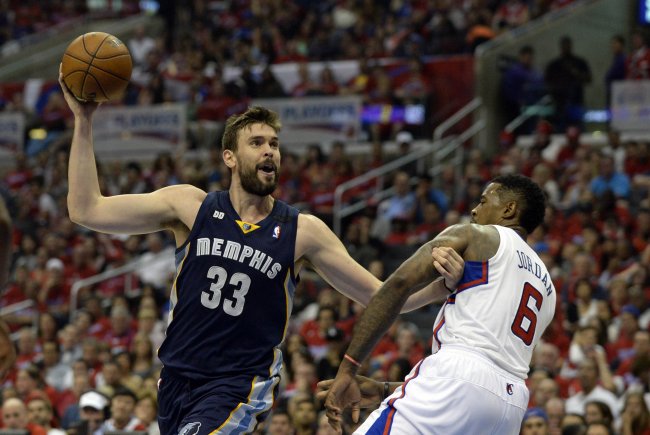 They. Lock. Down. The. Paint.
Allowing 45-plus points in the paint a night is not going to get the Grizzlies a win in Game 2, or a series victory for that matter.
Memphis' perimeter defense is among the most reliable in the league at closing out shooters over swings and kick outs. Forcing the Clippers to take the ball out of the paint is then beneficial to their ultimate cause.
Grizz need to force Clips into more shots like this (even though this one goes in).
Also of value is Los Angeles' turbulent outside shooting. The Clippers rank 15th in the league in three-point conversion rates (35.8) while the Grizzlies are second in opponent percentage from that distance (33.8).
It's not necessarily a matter of taking the ball out of Paul's hands. That's, well, impossible. It's more a matter of baiting him to defer outside instead of his towers.
So much of this will come down to Gasol and Randolph. All right, mostly Gasol, who's been covering up Z-Bo's lack of defensive aptitude all season. Cutting off Paul's path to the basket and clouding his vision inside the blocks will be up to him almost exclusively.
Should he be able to do that, Memphis' wings (Allen, Prince, etc.) will take care of the rest.
Prediction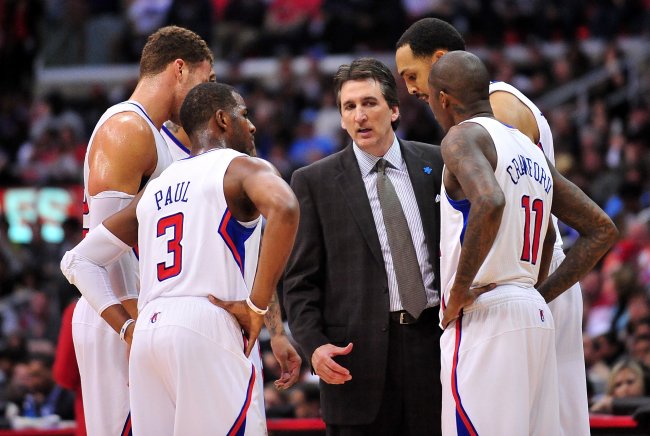 I believe in the Grizzlies defense. I really do. But I just don't see them winning this one.
I don't foresee another massacre like the one they incurred in Game 1, but I'm not sure they have the offensive potency to counteract a Clippers team that is strong on both ends of the floor this season.
Which team will win Game 2?
Expect the Grizzlies to limit Los Angeles' dribble penetration and allow fewer points than the initial contest, but also expect their lack of perimeter scoring to continue to hurt them.
Memphis took just 12 threes in Game 1 and hit on five of them. Against an explosive offense like the Clippers, you need to be able to take and hit the three frequently. Emphasis on "frequently."
The Grizzlies' defense can only do so much. For the most part, the Clippers are going to get their points. Paul will make sure of it. Mitigating his impact while maximizing your potential on offense is the key.
A defensively superior outfit like the Grizzlies will eventually be able to actualize the former, but not the latter.
Prediction: Clippers 94, Grizzlies 87
This article is
What is the duplicate article?
Why is this article offensive?
Where is this article plagiarized from?
Why is this article poorly edited?

Los Angeles Clippers: Like this team?