How Golden State Warriors Match Up Against Every Potential Playoff Opponent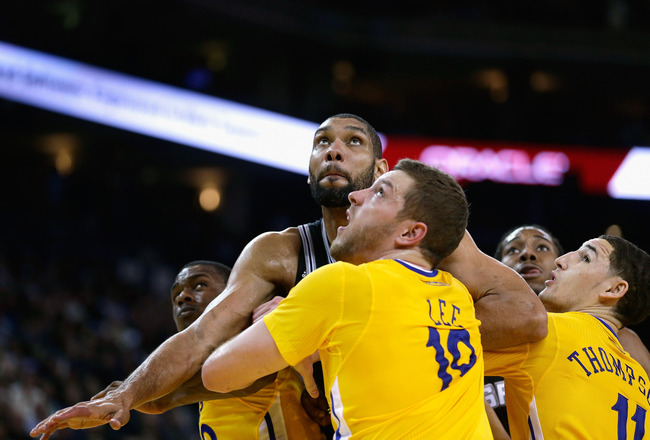 Ezra Shaw/Getty Images
I guess you could say this is jumping the gun. I guess.
According to John Hollinger's Playoff Odds, there's still a 0.3 chance that the Golden State Warriors miss the playoffs.
They could have clinched against the Utah Jazz on April 7, but were thoroughly outplayed in their own building. Still, we can safely assume that the loss was just a postponement of a party that will come soon.
And a party it will be if and when the Warriors clinch. It would be just the second time in 19 years that Golden State makes the postseason, and barring a monumental collapse, the first that they will finish higher than No. 8.
However, the Warriors loss to Utah did open up one very real possibility: falling to No. 7. The Rockets trail the Warriors by one game but own both the tiebreaker and the easier closing schedule. This only creates more potential first-round matchups, as there already were several.
If the Warriors finish in sixth, they could play the Denver Nuggets, Los Angeles Clippers or Memphis Grizzlies. All three are within two games of each other.
If they fall to seventh, they'll face either Oklahoma City or San Antonio, the top two teams in the West who are separated by one game.
Denver Nuggets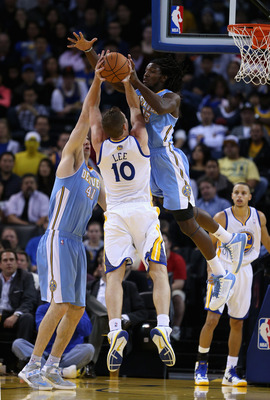 Ezra Shaw/Getty Images
How Warriors can win
Three-point shooting. The Nuggets are going to put up a lot of points and do so efficiently no matter what type of defense the Warriors play.
Golden State simply doesn't have the athleticism or offensive consistency to keep pace with Denver, so they'll need to make up ground by knocking down more valuable shots (three-pointers) while limiting Denver's triples.
That shouldn't be too hard. The Warriors are the best three-point shooting team in the NBA at 40.1 percent, while Denver is the sixth-worst from deep at 34.3 percent.

How Nuggets can win
Offensive rebounding. Denver is the NBA's best team on the offensive glass and should be able to use this advantage against Golden State.
Warriors' bigs David Lee and Andrew Bogut are both strong defensive rebounders, but neither has the ability to keep the ultra-athletic Kenneth Faried and JaVale McGee off the glass. Add in Denver's long, relentless wings (Corey Brewer, Andre Iguodala, etc) and Golden State won't have an answer.

Prediction
Nuggets in seven. The Warriors will win all three games in Oakland due to an insanely loud crowd and lights-out shooting from their backcourt, but Denver will counter with four home wins of their own.
They are, after all, 35-3 in Denver this season.
Memphis Grizzlies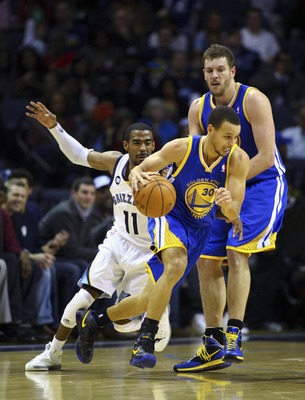 Spruce Derden-USA TODAY Sports
How Warriors can win
Defensive lineups. Memphis is lacking two essential aspects of a successful playoff team: A go-to scorer and ball movement.
Memphis has everything else: size, rebounding, disgusting perimeter defense and experience. Even offensive specialists like Jarrett Jack, Stephen Curry, David Lee and Carl Landry will be neutralized by Memphis, so the Warriors will be far better off focusing on stopping Memphis' offense.
Guys like Draymond Green, Klay Thompson, Andrew Bogut, Festus Ezeli and even Andris Biedrins and Kent Bazemore can cause the disruption necessary to stymie the Grizzlies offense.
If Jackson plays these guys with Lee and Curry—the two best one-on-one scorers on either side—Golden State will have the edge.

How Grizzlies can win
Playoff experience. The fact is that the Warriors may have a personnel edge in this series. They are stronger than Memphis at every starting position besides center and possess a near monopoly on guys who can steal a game.
However, Stephen Curry and David Lee have no playoff experience, while Jarrett Jack has very little. The Grizzlies will make it extremely difficult on these three, wearing them down as the series goes on by hounding them defensively, attacking them on offense and playing physical throughout.
Lionel Hollins and his veteran team will focus in on the Warriors key players. If they successfully neutralize them, there's no way that Golden State's supporting cast and bench can keep up with Memphis'.

Prediction
Warriors in seven. The Grizzlies will go up 2-0 on the inexperienced Warriors, but Jackson, Curry and Lee will make adjustments game-by-game.
Memphis will do everything they can to counter, but once Stephen Curry figures out a way to get looks, he'll take over the series as the Grizzlies will not have an offensive counter-punch.
Los Angeles Clippers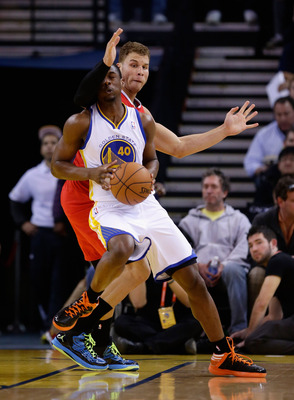 Ezra Shaw/Getty Images
How Warriors can win
Frontcourt play. The Clippers have one of the most athletic frontcourts in the league, but they are also one of the smallest and weakest on the glass.
If David Lee, Andrew Bogut and Carl Landry are zoned in offensively and active on the glass, the Warriors will consistently get higher percentage shots than Los Angeles and get more second-chance points.
It's tough to lose four of seven with a clear edge inside.
How Clippers can win
Turnovers. The Warriors commit the sixth-most turnovers in the NBA, while the Clippers cause the most.
Chris Paul, Matt Barnes and Eric Bledsoe can cause problems for Jarrett Jack, Stephen Curry and Klay Thompson, one of the league's best but also most turnover-prone backcourt.
These turnovers will not only throw a wrench into the Warriors offense, but will also create easy transition baskets for the Clippers, thus neutralizing Golden State's size and rebounding advantage.
Prediction
Warriors in six. The Clippers will win a couple games, as Chris Paul will impose his will and Jamal Crawford will explode at least once.
However, the Warriors starters match up incredibly well with the Clippers one through five, and the Golden State bench is one of the few in the NBA that can produce as well as LA's.
Ultimately, the Clippers will have no answer for the Warriors size, outside shooting and home crowd.
Oklahoma City Thunder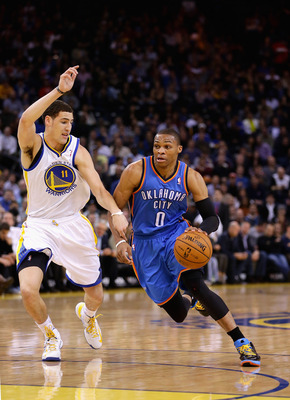 Ezra Shaw/Getty Images
How Warriors can win
Hot shooting. It's that simple. Oklahoma City will let the Warriors win the battle on the glass and win the turnover battle, but unless the Warriors catch fire from the field, it won't matter.
The Thunder have given up nearly 500 more shots than they have taken this year, yet made nearly 150 more field goals than their opponents and over 400 more free throws.
They are a dominant team for two simple reasons: unfairly efficient offense and incredible man defense. If the Warriors can somehow come up with four hot-shooting nights, they could win the series because they should have the possession edge on the Thunder.

How Thunder can win
Drive, drive, drive. The Warriors have the fourth-best FG percentage defense and sixth-best three-point defense in the NBA, so Kevin Martin, Kevin Durant and company won't be able to dominate the game from the perimeter as usual.
However, the Thunder are the second-best team in the league at getting to the line, and the Warriors are the seventh-best team at sending opponents there. Once the Thunder get there, they shoot the best percentage in the NBA.
If Durant and Russell Westbrook consistently opt out of shooting and slash the basket, the Thunder will literally win this series from the line.

Prediction
Thunder in five. The Warriors will win a game in Oakland, as their crowd will be too loud and supportive not to encourage at least one lights-out shooting night and force the Thunder into one bad one.
They could even win two. But it's unlikely, and the chances of winning four are next to none. The Thunder will be far too relentless offensively and stingy defensively, and the ample playoff experience of the players and coaching staff will be ready for anything Mark Jackson throws at them.
San Antonio Spurs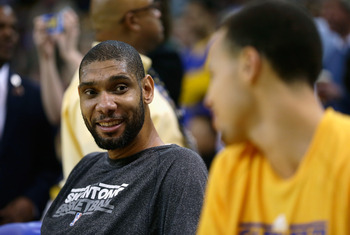 Ezra Shaw/Getty Images
How Warriors can win
Fourth-quarter play. The Warriors won't be able to control any single game in this series; the Spurs are far too experienced, run their offense too judiciously and play defense too fundamentally well.
However, the Warriors have been able to stay close against San Antonio this season, as have many teams in the league due to the slow tempo the Spurs impose. They essentially turn every game into a war of attrition.
Golden State is one of the NBA's best fourth-quarter teams. They're 35-3 when leading after three quarters, and have nine wins when trailing after three—the fourth-most in the NBA.

How Spurs can win
Be themselves. Unfortunately for Golden State, it's that simple. If the Spurs put in the same high-level effort and patient, level-headed play that they usually do, they'll beat the Warriors handily.
They have an edge over Golden State in size, inside scoring, ball movement, defense, turnover margin and just about everything else. Combine that with their exponentially greater playoff experience, and only the Spurs can best the Spurs in this series.

Prediction
Spurs in four. Here's a simple enough reason why: The Spurs have beaten the Warriors 17 times in their last 18 meetings and 28 straight times in San Antonio.
The one Warriors win over the Spurs since 2008 was in overtime and included Jarrett Jack having a career night, draining a late three and Tony Parker missing a late layup.
In other words, this will be a sweep.
Keep Reading

Golden State Warriors: Like this team?