Alex Smith to Arizona Is Gaining Steam, Yet Money May Squash the Deal Dead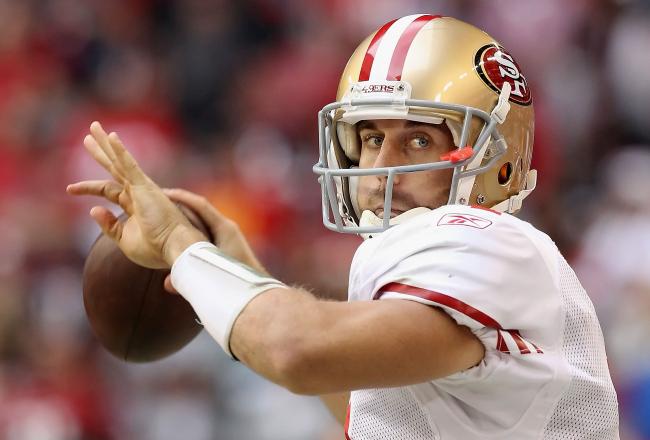 Christian Petersen/Getty Images
Ever since the beginning of the NFL Scouting Combine trade rumors have been swirling around Alex Smith and the San Francisco 49ers. It was originally believed that San Fran had a deal in place with an unnamed team, according to Jason La Canfora.
Yet that myth was quickly debunked by Matt Barrows of the Sacramento Bee. Barrows pointed out that this time of year is prime time for smoke screens and well-planted lies by agents to drum up interest for the players they represent.
And it appears as if another quote, unquote "rumor" has found its way into the hands of the media. Kent Somers of the Arizona Republic wrote early Tuesday morning about the Arizona Cardinals and their potential interest in the former No. 1 pick.
However, I have a hard time believing this report for a couple of different reasons. For starters, the money Arizona already has tied up in the quarterback position is ridiculous thanks to Kevin Kolb, and the fact that the 49ers would be trading Smith inside the division seems a bit far-fetched to me.
Sure, the Eagles did it with Donovan McNabb a few years back, but that doesn't mean Jim Harbaugh and Trent Baalke think along the same lines as Andy Reid. To me a trade within the division would signal desperation and a last-ditch effort to get him off the payroll.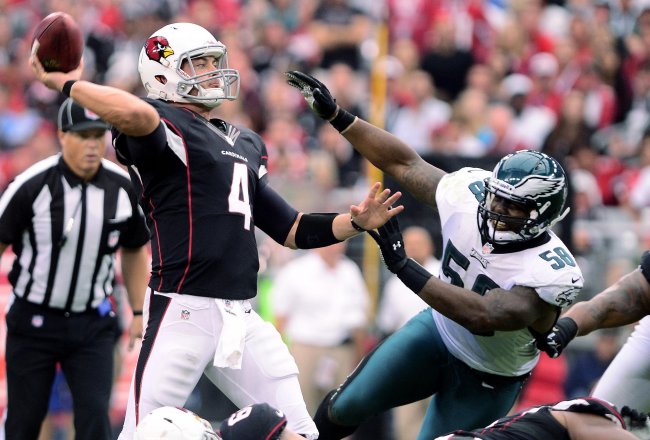 Jennifer Stewart-USA TODAY Sports
Kolb carries a $13.5 million cap number for the 2013 season, so adding another $9.75 million to that number would mean the Cardinals have a total of $23.25 million invested in the quarterback position—a truly illogical cap figure for any team at any position. Unless of course the organization's starting quarterback is either
Tom Brady
or
Peyton Manning
.
Unfortunately for Arizona, that's not the case—so a large restructuring deal would have to take place or the Cardinals would have to find a trade partner for Kolb—another unlikely scenario considering his high cap figure. He loves playing in the desert because he knows it's his best opportunity to start, yet that love could quickly turn into hate if Smith were brought in.
From there, Kolb would have all the power. I say that because the Cardinals would owe him $6 million whether he's on the roster or not. The only way I see him restructuring his deal is if he's guaranteed a real chance at winning the starting quarterback job in 2013.
Bringing in the 49er backup would put any chance at that to bed because of the trade implications. Without question the Cardinals would give Smith every opportunity to win the starting job based on him being Bruce Arians' hand-picked guy and the fact they gave up a draft pick to acquire him.
All in all the money just simply doesn't add up. Plenty of behind-the-scenes moves would have to happen before a deal could be worked out, yet it's seemingly too much as Arizona wouldn't be able keep both Smith and Kolb.
It wouldn't be so bad, but the Cards are in salary cap hell. Every dollar for the 2013 season is virtually accounted for, which in turn means Smith to Arizona may be dead in the water before it even has the ability to gain any steam.
Look for trade talks for Smith to heat up well before the March 12 deadline; I just wouldn't count the Cardinals as a potential landing spot any longer. The Kansas City Chiefs or the Jacksonville Jaguars would be more logical, talked-about destinations.
This article is
What is the duplicate article?
Why is this article offensive?
Where is this article plagiarized from?
Why is this article poorly edited?