New York Yankees' Top 3 Possible Replacements for Curtis Granderson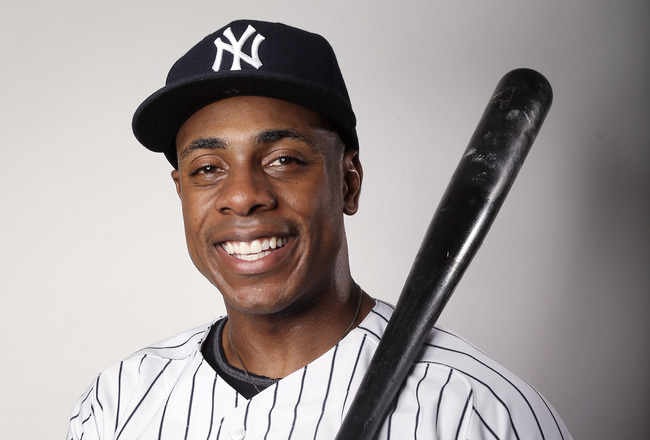 Granderson will miss at least the first month of the 2013 season.
Elsa/Getty Images
The New York Yankees received bad news Sunday about another of their key players, when it was announced that starting left fielder Curtis Granderson will miss at least ten weeks with a broken forearm. This will cause the Yankees to scramble to find possible replacements.
The story was first reported in a tweet by YES' Jack Curry:
Granderson has a fracrured right forearm. Estimated that he will be major league ready in 10 weeks.

— Jack Curry (@JackCurryYES) February 24, 2013

The story was confirmed by CBSSports.com's Mike Axisa.
Granderson suffered the injury when he was hit by a pitch during his first spring training at bat in a game against the Toronto Blue Jays.
About to turn 32, the left-handed hitting Granderson was due to switch to left field for the first time in his career.
Since joining the Yankees prior to the 2010 season, he has become one of the most valuable hitters in their lineup. Although he slumped to a .232 batting average last year, he's totaled 108 home runs and 292 RBI the past three seasons, and his 84 home runs since 2011 represent the most in baseball during that time.
The Yankees enter 2013 already shorthanded, with Alex Rodriguez and Michael Pineda expected to miss significant time, and aging veterans Derek Jeter and Mariano Rivera coming back from serious injuries of their own.
New York will need to find a replacement left fielder for the start of the season and perhaps beyond, depending on Granderson's recovery time.
Click through to see the top three possible replacements for Granderson.
Juan Rivera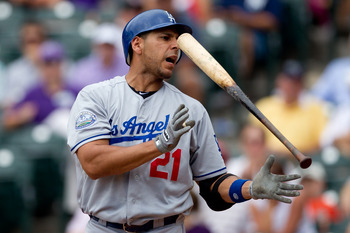 Rivera could be a possible replacement if he can prove he still has life left in his bat.
Justin Edmonds/Getty Images
The 34-year-old Rivera is a 12-year major league veteran, who signed a minor league deal with the Yankees this past offseason with an invitation to spring training.
He started his career with the Yankees in 2001 and has gone on to play for the Los Angeles Angels, Montreal Expos, Toronto Blue Jays and most recently, the Los Angeles Dodgers.
The right-handed hitter has a capable bat, hitting .274 with 132 home runs and 539 RBI for his career.
However, as he has aged, his production has declined.
Last season, appearing in 109 games with the Dodgers, he hit just .244 with nine home runs and 47 RBI.
His OPS has declined for four consecutive seasons.
Rivera is a below-average defensive player, but that would be nothing new in New York, which has seen the likes of the defensively-challenged Johnny Damon and Hideki Matsui patrolling left field among others in recent years.
Matt Diaz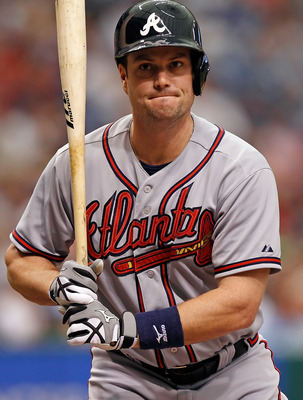 Diaz can handle left-handed pitching, but can he hold down left field on a full-time basis?
J. Meric/Getty Images
Like Rivera, Diaz signed a minor league deal this past offseason with the Yankees.
Turning 35 before the end of spring training, the right-handed hitter is a veteran of 10 major league seasons with four teams, including the Atlanta Braves, Tampa Bay Rays, Kansas City Royals and Pittsburgh Pirates.
He is a career .291 hitter with 45 home runs and 225 RBI.
Despite his outstanding batting average, he has never been a full-time player in the majors, with the 371 at-bats he received with the Braves in 2009 representing a career high.
He has always been pegged as a platoon player, and the statistics bear out the reason why.
He has a career .324/.364/.863 batting average/OBP/OPS split against left-handed pitchers. By comparison, those numbers dip to .258/.314/.675 against righties. While he's certainly most effective against southpaws, he is at least a capable overall hitter.
Continuing the similarities with Rivera, Diaz is also a below-average defender, last positing a positive dWAR in 2007. However, while he's played all over the outfield during his career, he has the most experience in left.
Thomas Neal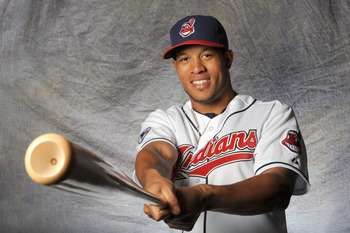 Neal is seeking his first extended playing time in the major leagues.
Rich Pilling/Getty Images
The wild card of the bunch, the 25-year-old Neal was also signed this winter to a minor league contract.
The right-handed left fielder is a 2005, 36th-round draft pick who became a top prospect with the San Francisco Giants before being traded to the Cleveland Indians for shortstop Orlando Cabrera midway through the 2011 season.
Ironically, Neal was designated for assignment this winter by the Indians in order to make room on their 40-man roster for newly signed outfielder Nick Swisher, who came over from the Yankees.
Neal has been a productive hitter in the minors, producing a .299 batting average with 68 home runs and 342 RBI in 629 career games.
His best season came in 2009 when he was in High-A, and hit .337 with 22 home runs and 90 RBI in 129 games.
He made his major league debut this past year with Cleveland, collecting five hits and two RBI in 23 at-bats.
Out of the candidates vying for the temporary left field position, he has the best glove and is nearly a decade younger, suggesting much fresher legs.
He probably doesn't have much left to prove in the minors, so if he has a hot spring, he could be a surprise pick to fill in for Granderson.
Statistics via BaseballReference
Keep Reading

New York Yankees: Like this team?