NBA Trade Deadline: Potential Landing Spots and Trade Packages for J.J. Redick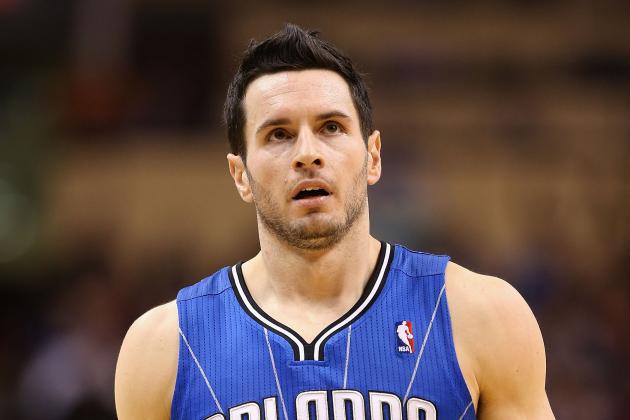 Christian Petersen/Getty Images

For NBA teams looking to bolster their perimeter attack, there isn't a more coveted name on the trade market than Orlando Magic marksman J.J. Redick.
The seven-year veteran has connected on better than 40 percent of his long-range looks in three of the past four seasons. He's shooting 40.3 percent on the season, despite shattering his previous career-high with six three-point attempts per game.
He's also a few months away from hitting the unrestricted free-agent market. And Orlando general manager Rob Hennigan is dutifully fielding offers for the sharpshooter in the final days leading up to Thursday's trade deadline.
Redick has expressed some desire in remaining in Orlando, but his desired contract may fall out of the Magic's price range. According to what sources told Adrian Wojanrowski of Yahoo! Sports, Redick's agent Arn Tellem will start his free-agent bidding at an annual $10 million salary.
Redick's value will never be higher than it is right now, so there's certainly good reason to see what's available. He's also one of the few intriguing players left on Orlando's roster, and given the massive rebuilding job facing the franchise, this isn't a deal that the Magic can afford to screw up.
So what's being offered in exchange for Redick? Read on and see for yourself.
Begin Slideshow

»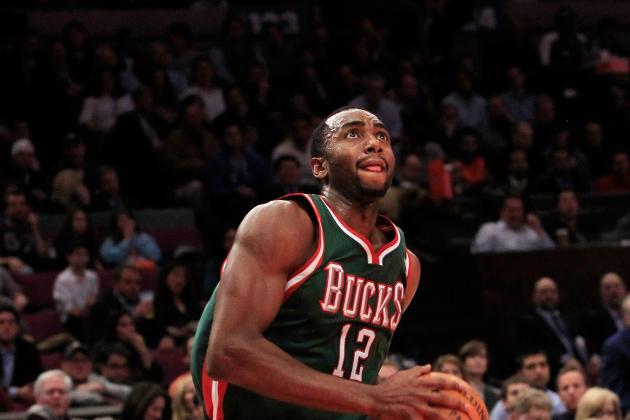 Chris Trotman/Getty Images

Milwaukee Bucks receive: J.J. Redick
Orlando Magic receive: Luc Richard Mbah a Moute, first-round draft pick
Ken Berger of CBSSports.com has multiple sources saying this deal has been discussed. Berger also provides a caveat for this deal saying the only Milwaukee's interested in it if they can first move incumbent starting shooting guard Monta Ellis.
While there's a definite feel of underselling Redick here, there's also an inclination that teams are wary of offering too much for a player who could wind up being nothing more than a half-year rental.
Mbah a Moute is a solid defender on the perimeter, using his 6'8", 230-pound frame to frustrate his opponents. He's quick, agile and comes relatively cheap (he'll make just under $9 million over the next two seasons).
But he's also a bit redundant on the roster, sharing many of the same qualities that rookie Maurice Harkless has. It's tough to imagine the two sharing court time, meaning Harkless could wind up back in a reserve role.
The Magic would land their desired draft pick in this trade, but it won't be any better than a lower lottery pick unless the Bucks really bottom out over the last two months of the season.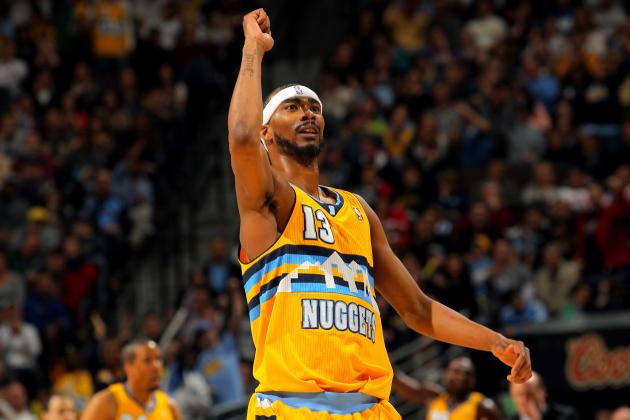 Doug Pensinger/Getty Images

Orlando Magic receive: Corey Brewer, Timofey Mozgov, first-round pick
Denver Nuggets receive: J.J. Redick
According to what sources told Sam Amico of FoxSportsOhio.com, the Nuggets "wouldn't mind" adding Redick to their roster.
Both Brewer and Mozgov are working on expiring contracts, so there's no financial commitment for Orlando beyond this season.
The 26-year-old Brewer is short on potential, but that also means the Magic would have a good idea of what they're adding to their lineup. He holds value both as a perimeter defender and a reliable scorer (11.3 points per game) off the bench.
But the real prize of this package is Mozgov. Although lost amid a crowded Nuggets frontcourt, he's quietly rattled off back-to-back seasons of at least 9.4 rebounds per 36 minutes.
Clearly the Magic aren't looking to replace Nikola Vucevic (who has so far emerged as the most enticing piece brought back in the Dwight Howard trade), but could use the final two-plus months to decide if Mozgov or Gustavo Ayon would be a better backup for him. Orlando has a $1.5 million team option on Ayon for next season.
If the Magic are so inclined, Amico also mentioned Anthony Randolph and Wilson Chandler as being potentially available in a trade.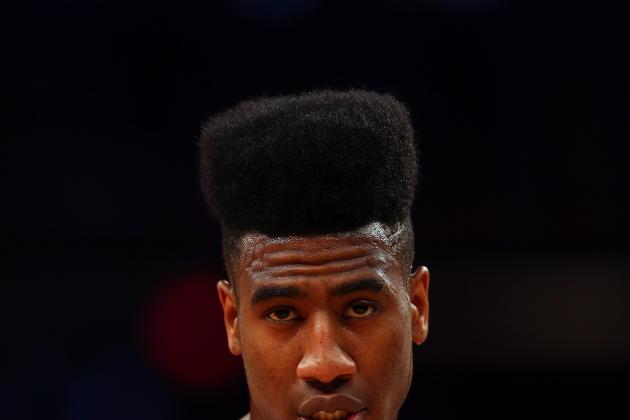 Elsa/Getty Images

Orlando Magic receive: Iman Shumpert, Steve Novak
New York Knicks receive: J.J. Redick
The Knicks and Magic have reportedly discussed swapping their biggest trade chips, according to Alex Kennedy of hoopsworld.com:
The Magic and Knicks have discussed a J.J. Redick for Iman Shumpert trade. Other players (and maybe a third team) would have to be involved.

— Alex Kennedy (@AlexKennedyNBA) February 19, 2013
There's more to be sorted out here, and Novak is purely a speculative piece on my part.
Depending on your perspective, the Knicks are either getting robbed or doing the robbing.
Shumpert held massive value before his rookie season was derailed by a torn ACL. Since working his way back into playing shape, though, he's been less than impressive (33.8 field-goal percentage).
And while Novak is a valued piece of the Knicks' perimeter attack (44.7 three-point percentage), he's nothing more than a shooter. He's also 29 years old and under contract for the next three seasons.
Redick would help offset the loss of Novak's shooting touch, and brings more to the table. He'd give coach Mike Woodson another creator (4.4 assists per game) and plays much better defense than he's given credit for.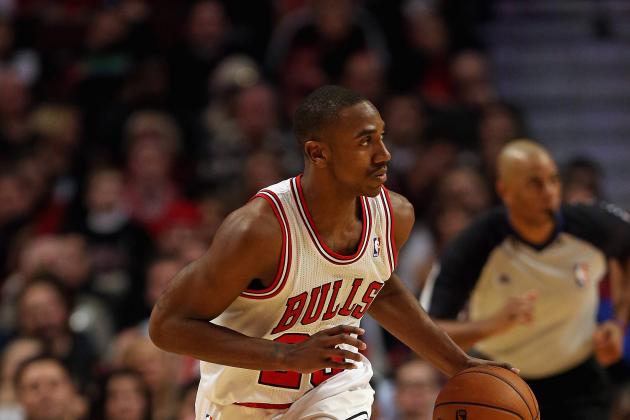 Jonathan Daniel/Getty Images

Orlando Magic receive: Richard Hamilton, Marco Belinelli, Marquis Teague, first-round pick
Chicago Bulls receive: J.J. Redick, Ish Smith
The Bulls signed Redick to an offer sheet in 2010 (via ESPN.com), and their interest in bringing him to the Windy City hasn't waned, according to Kennedy:
Source says the Indiana Pacers and Chicago Bulls are among the teams pursuing Orlando Magic guard J.J. Redick.

— Alex Kennedy (@AlexKennedyNBA) February 10, 2013
The Bulls don't have much in the way of the young talent Orlando is said to be seeking, and second-year wing Jimmy Butler appears untouchable.
But rookie Marquis Teague holds some intrigue. Even buried in coach Tom Thibodeau's rotation, Teague has still shown flashes of his potential as an athletic change-of-pace scoring guard.
Hamilton could be bought out of his remaining salary for this season, or Orlando may simply decline his $5 million team option for next year. Belinelli is an unrestricted free agent at season's end, and could provide some cheap shooting depth should the Magic bring him back.
Chicago needs to strengthen its perimeter attack, and Redick is capable of playing the type of defense Thibodeau requires from his players. With Derrick Rose's 2012-13 return very much up in the air and Kirk Hinrich's lingering injuries, Smith provides some stop-gap insurance for Chicago.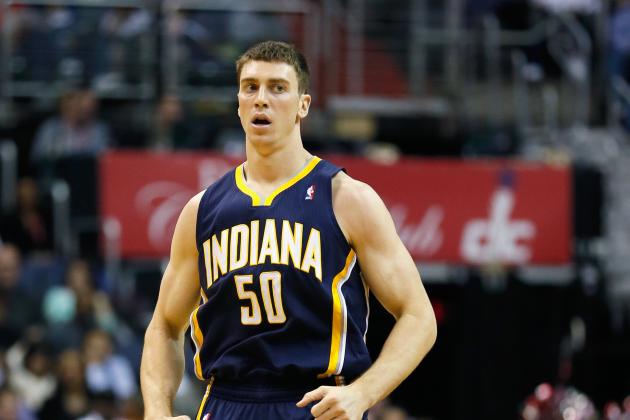 Rob Carr/Getty Images

Orlando Magic receive: D.J. Augustin, Tyler Hansbrough, Miles Plumlee
Indiana Pacers receive: J.J. Redick, future second-round pick
The Pacers are a serious threat in the Eastern Conference thanks to their size and toughness.
But they need more reliable offense from the perimeter, and there are hardly any guarantees about Danny Granger's effectiveness in his return from a debilitating knee injury.
Redick could stretch the floor to open driving lanes for Paul George and George Hill or post space for David West and Roy Hibbert to go to work. Redick's a threat to create offense off the dribble, and has averaged nearly as assists as Indiana's point guard, Hill (4.9 per game).
The Pacers may be willing to orchestrate the trade without any future guarantees from Redick, considering both Augustin and Hansbrough are slotted to hit free agency.
Augustin has been a disappointment in his first season in Indiana (4.7 points, 33.7 field-goal percentage), but he's still somewhat intriguing for Orlando given his pass-first mentality (2.3 assists in 16.2 minutes per game).
Hansbrough, meanwhile, has fallen further in coach Frank Vogel's rotation. His 15.9 minutes per game are the fewest of his career.
But he's a high character player who approaches the court with a contagious energy that could prove invaluable for the youthful Magic. Plumlee was a surprise first-round pick and has barely seen the floor as a rookie, but brings athleticism unseen in Orlando's frontcourt.