USC Football Recruiting: 6 Things That Make Max Browne Special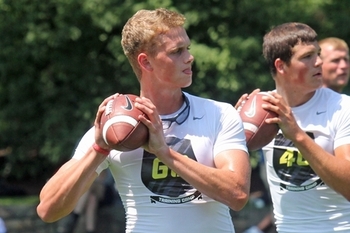 photo from 247sports.com
For Trojans fans, these are desperate times.
Coming off of a disappointing 7-6 record for the 2012 college football season and entering into the post-Matt Barkley era, USC is in need of a new hero.
And of course, this gridiron savior can't be just any football player. He must guide the program as a quarterback, a position that most agree requires leadership to go along with fabulous athletic ability.
Under these auspices enters Skyline (Sammish, WA) quarterback, Max Browne.
Browne, a Scout.com 5-star prospect and Gatorade National Player of the Year, certainly carries the credentials to ascend to such lofty ambitions.
Rated the No. 1 quarterback in the nation by Scout.com and Rivals.com, Browne's skills makes him a natural to lead a program that is in need of resuscitation.
But what exactly does Max Browne bring to the table that would warrant such high hopes from an anxious fan base?
This slide show will look at some of the reasons why Browne is so special and considered a "can't-miss" prospect for the Trojans.
Embarking on a critical period of USC football, this is the guy the Trojans hope will lead them out of the wilderness.
And why their faith has been placed in the right hands.
Browne Has Very Good Arm Strength

Full Max Browne Scouting Report

You have heard the expression, "he can make all the throws" right? That is an apt description to illustrate the arm strength of Max Browne.
Though he doesn't possess a "howitzer," Browne can get the ball to whatever receiver is open and that includes lofting the deep ball when circumstances warrant it.
Of course, arm strength is only part of the equation when it comes to pass completions.
In addition to anticipating the proper receiver to throw to—something we will focus more on later—placing the proper touch on the ball is crucial when it comes to offering a catchable ball for his teammates.
And this is something that Browne excels at.
But what is even better for fans of the program is that he enters USC with the arm of an 18-year-old.
Just imagine where he will be in a year or two.
He Also Has Prototypical Size for a Quarterback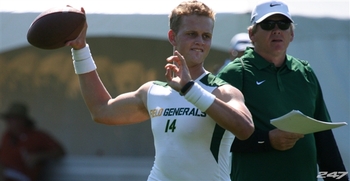 photo from 247sports.com
You know what they say about "you can't coach size?" Well, they are right and in this department, Max Browne already has an NFL frame.
At 6'5", he has the type of body that will easily carry more than the 214 pounds he currently possesses, and at the college level special attention will be given to adding not only bulk but also strength and speed.
And with Browne's dedication to honing his craft, look for him to be somewhere around 235 pounds in no time at all.
Browne Has Tremendous Pocket Presence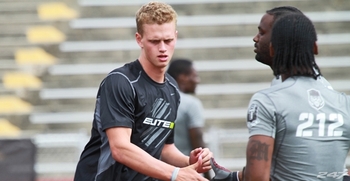 photo from 247sports.com
OK, so we have determined that Max Browne has great physical attributes.
That's fine, but what about the intangibles?
Well, these are the areas that the young gunslinger really excels at, and it begins with his presence in the pocket.
Absolutely unflappable when the protection breaks down, Browne anticipates pressure as well as any high school quarterback in the nation.
And when there is nothing there through the air, he can pull the ball down and make something happen with his feet although he will never be confused for a speed burner.
When in the pocket, Browne makes things happen.
And the vast majority of it is good.
His Football Intelligence Is off of the Charts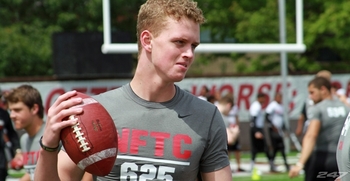 photo from 247sports.com
All of the physical attributes in the world doesn't mean a thing if a quarterback can't read defenses and makes bad decisions.
Luckily for Trojans fans, that is something they won't have to worry about with Max Browne under center.
Possessing an incredibly high football IQ, Browne makes good decisions and that judgment is guided by his ability to understand what the defense is giving him and reacting quickly to it.
How efficient is Browne with the football in his hands? How does throwing for 49 touchdowns against only five interceptions in 2012 grab you?
Whether it is going through his progressions to find a third option or throwing the ball away to avoid a sack, Browne is a quarterback you can trust to make good decisions.
Browne Is a Natural Leader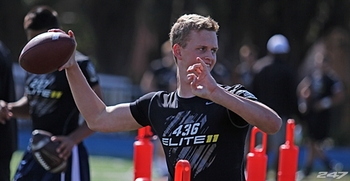 photo from 247sports.com
Quarterbacks must be leaders and in this department, there may not be a more "take charge" guy in the nation.
As a matter of fact, Scout.com's Brandon Huffman says that "leadership is what separates him from the other quarterbacks in this class."
A big fan of Browne, Huffman goes on to extoll the virtues of his overall ability to guide an offense, but he is quick to point out, "it's his leadership and the way he led his team to victory, a team that was never the most talented team in the state."
Now Browne will have a team that is brimming with offensive talent and Trojans fans should be very excited to see where he leads them.
More Than Anything, Young Max Is a Winner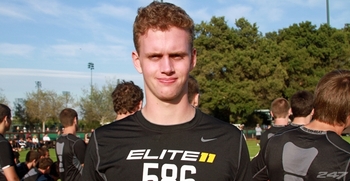 photo from 247sports.com
When Max Browne steps on to the field for USC, he will do so as a two-time state champion in Washington.
Oh, and he would be a three-time champion but his team lost the high school championship in his sophomore year at the last minute.
The point is that this kid is a winner.
Confident and poised, Browne exudes the ability to guide his team to victory, and he has done it often without the best talent in the state.
Browne will bring that same winner's attitude to a program that has been on the wrong side of the won-lost ledger far too often recently.
And that is something that the Trojans certainly can use right about now.
Conclusion
photo from 247sports.com
Despite Browne's obvious talent, Trojan fans shouldn't be too surprised if he doesn't see the field of play for USC in 2013.
Though he is on campus even as of this writing and will participate in spring practice, Browne will enter that session as the third-string quarterback behind Max Wittek and Cody Kessler—each of whom have two years already in the system.
Still, he is one of those special guys and has drawn favorable comparisons to other special guys such as Payton Manning.
And because of that, fans of the program will likely clamor to see Browne sooner rather than later.
But what is certain is that whenever that time comes, Browne will be expected to deliver and when he does, it will be special indeed.
Keep Reading

USC Football: Like this team?