49ers' Keys to the Game for Super Bowl XLVII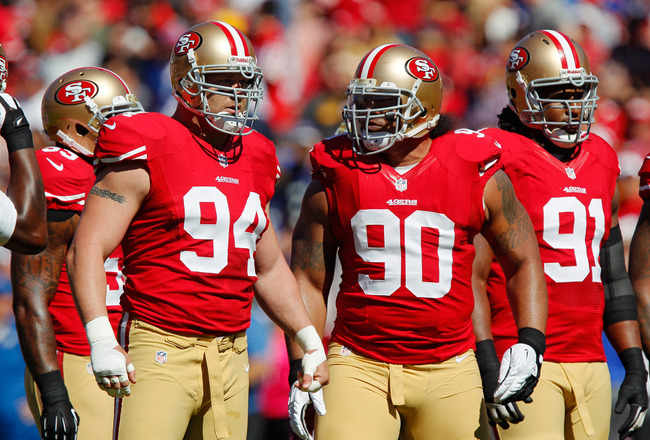 Brian Bahr/Getty Images
Forget the 'Harbowl' hoopla or the Ray Lewis retirement bonanza, in Super Bowl XLVII, expect the San Francisco 49ers and Baltimore Ravens to buckle down and put on a defensive show.
Yes, the storylines are limitless, but the attention, as both Harbaugh brothers have attested to, should be on the players.
From "Patriot Killer" Bernard Pollard, and double trouble safeties, Dashon Goldson and Donte Whitner, expect a few hard hits. On second thought, expect a lot of hard hits.
Both teams play an intimidating, in-your-face style of bully football not seen in today's age of the NFL. They play fast and angry, and are split images of their respective head coaches.
While the offense won't be forgotten, and how could it be with the way quarterbacks Joe Flacco and Colin Kaepernick have played thus far in the postseason, I still expect the defense to carry one of these teams to the glorious Lombardi Trophy.
Will the Niners prevail, or will the veteran heavy Ravens team once again hold up the trophy? We'll have to wait and see, though Sunday couldn't come any faster.
Without further ado, I present the 49ers' keys to the game for Super Bowl XLVII.
Side note: Prediction of Super Bowl XLVII at the end!
Pass Rush Is Key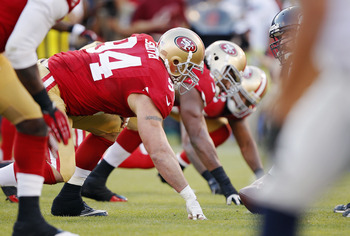 Brian Bahr/Getty Images
What makes this 49ers defense special? Linebacker corps and pass rush. Both units play off each other really well, so when one is struggling, the other is likely suffering the same fate.
Aldon Smith must be huge in this game. Forget recorded sacks, Smith just has to bother Flacco enough to disturb the Ravens' rhythm based attack.
The key to Smith's success will likely fall on how healthy Justin Smith will be heading into Sunday. Remember, Justin Smith is playing with a torn triceps, and if he can be 85-90 percent by Sunday, this should bode well for the 49ers defense.
While Patrick Willis is the heart of this defense, Justin Smith has shown to be the glue. He occupies double-teams, and is such a terror off those tackle-end stunts, which allows Aldon Smith a free pass at the quarterback.
Not to mention how his play opens up lanes for the 49ers All-Pro linebackers, Patrick Willis and NaVorro Bowman.
But if the two Smiths do indeed struggle, as they did against the Atlanta Falcons in the first half of the NFC Championship game, players like Ahmad Brooks and Ray McDonald will have to step up.
Both Brooks and McDonald played excellent last week, and have proven invaluable in the 49ers' 3-4 base defense, and at times, when they play nickel.
Limiting Turnovers
Streeter Lecka/Getty Images
Colin Kaepernick has done a tremendous job at holding onto the ball, especially when you consider his relative inexperience and running ability.
The 49ers overall have done a solid job of limiting turnovers; however, if they mistake or two, this Ravens defense will capitalize.
In terms of yards given up, the Ravens are in the bottom half of the league, but they are excellent in one very important stat: red-zone defense. When you consider the little margin for error in the red zone, and the defensive talent and experience the Ravens possess, I wouldn't be surprised if Kaepernick made a mistake or two.
In fact, I would be a bit surprised if Kaepernick plays a relatively clean game. Of course, that is no slight on Kaepernick himself, but rather respect for an improved Ravens defense.
Deep Ball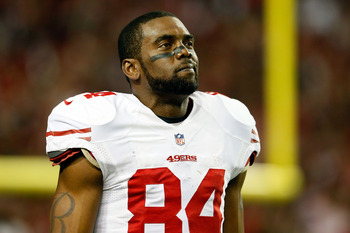 Kevin C. Cox/Getty Images
Randy Moss called himself the greatest wide receiver of all time. Of course, Jerry Rice has something to say about that, but in regards to big-play ability, Moss most definitely has the edge.
The 49ers have used Moss very sparingly thus far, but we may see Jim Harbaugh finally unleash No. 84 this Sunday.
Moss isn't 4.3 fast, but he can still demand attention when going vertical. The 49ers haven't tried many deep shots with Moss, but I wouldn't be surprised if Harbaugh decides to finally release the beast.
It could open up lanes for both Frank Gore and Colin Kaepernick, while also leaving space for tight ends Vernon Davis and Delanie Walker to operate in the middle of the field.
With Harbaugh, expect the unexpected.
Stopping the Deep Ball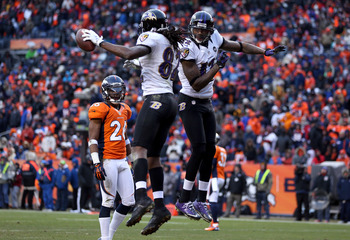 Jeff Gross/Getty Images
Joe Flacco and Torrey Smith form a hellacious combo in the vertical game. Keying in on Torrey Smith will be the focal point for Niners defensive coordinator, Vic Fangio.
The pass rush will be key, however, the 49ers secondary must stay alert with both Smith and Jacoby Jones, especially when Flacco is on the move. Both receivers are adept at getting open when a play breaks down, as evidenced in the Ravens postseason victory over the Denver Broncos.
The 49ers safeties, Dashon Goldson and Donte Whitner, must play disciplined. Both guys are very aggressive run defenders, and at times have been susceptible to giving up big plays, especially in the postseason.
In general, the 49ers have been very solid in stopping the deep ball in the regular season, but the Niners secondary has had its struggles thus far in the postseason.
Carlos Rogers hasn't played up to his big contract, and while Chris Culliver has shown to be a very talented coverage corner, he has been somewhat inconsistent in the postseason.
This secondary will have his hands full, but if they can limit the deep ball, this should disrupt the rhythm of this Ravens passing attack.
Protection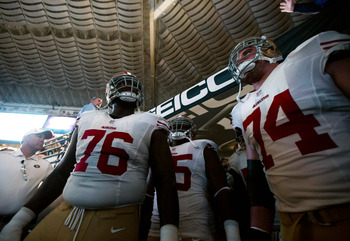 David Welker/Getty Images
This is likely one of the biggest keys for the 49ers come Sunday. I'm sure we all remember how bad this offensive line looked, that being the San Francisco 49ers, just last season against the Baltimore Ravens.
Let me refresh your memory if you don't remember. Nine sacks, a forced fumble and a pick. Terrell Suggs and co. provided relentless pressure and the 49ers had no answers for the Ravens myriad of different looks.
Result? Ravens 16, 49ers 6.
Of course, this is a much different 49ers team since 2011. Different quarterback, and a much improved offensive line.
Kaepernick is an obvious upgrade over Alex Smith in regards to evasion, and from what we've seen thus far in the playoffs, the second-year starter looks to already be the better overall player. Though, he does lack the experience (nine career starts), but that hasn't seemed to faze the former Nevada star.
However, the focus will be on this 49ers offensive line. Despite its struggles last season, this unit has been anything but underwhelming in 2012-2013.
They're aggressive, nasty and just downright huge. Joe Staley and Anthony Davis form a remarkable bookend tandem. The same can be said for Mike Iupati––who has distinguished himself as the best guard in football, and his little known, but extremely talented teammate, guard Alex Boone.
When the 49ers dominate upfront, they are the most difficult team to defend. If they have success Sunday night, look no further than the five hogs up front.
Involve Veron Davis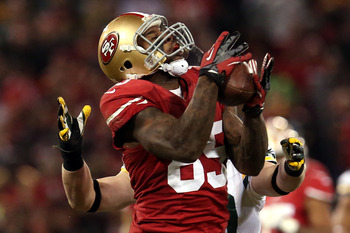 Stephen Dunn/Getty Images
After Rob Gronkowski, Vernon Davis is probably the best all-around tight end in the National Football League.
Davis runs like a receiver, but blocks like an offensive lineman. In fact, I would probably say Davis is the best blocking tight end in the league, though some tend to forget this part of his game.
However, Davis will have to be a factor in the 49ers passing attack this Sunday if the Niners expect to leave as champions.
When Davis plays well, it usually means the 49ers passing attack is running smoothly. Davis' versatility opens up so much for Crabtree and that strong Niners rushing attack.
If Davis can build from his strong game against the Atlanta Falcons in the NFC championship game (five catches,106 receiving yards), Colin Kaepernick should fare far better against a much-improved Ravens secondary.
LaMichael James in Situational Downs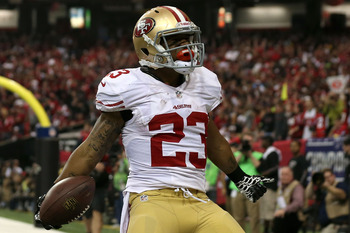 Streeter Lecka/Getty Images
After receiving little to zero playing time early in the season, likely because of the 49ers' depth at running back, James has been a revelation for the 49ers in spelling time for star back Frank Gore.
With Kendall Hunter's injury and Brandon Jacobs release, the elusive James has brought a speed element to the 49ers usual power running game.
In addition, James seems like a perfect fit when the 49ers begin to use that Pistol formation. His touchdown run against the Falcons was proof of such.
James won't play a huge role in this game, but if the rookie can make a big play or two, it will make the 49ers offense that more dangerous.
David Akers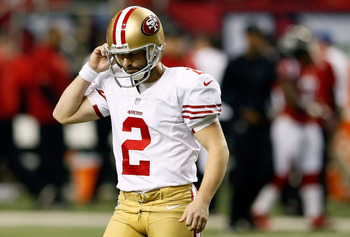 Kevin C. Cox/Getty Images
That picture says it all.
Akers has been a huge disappointment this season, and after that 38-yard missed field goal against the Atlanta Falcons in the NFC Championship game, you have to wonder about Akers' mindset heading into an even bigger spotlight, Super Bowl XLVII.
One thing's for certain, Jim Harbaugh has confidence in his kicker. And if there's anything we've learned this season, we shouldn't question Mr. Harbaugh when it comes to knowing his personnel.
Plus, I have a gut feeling that Akers will come through for the 49ers this Sunday. Though, I wouldn't object to the common belief that Akers will somehow mess up this Sunday.
He's been that bad this season.
Ray Rice as a Receiver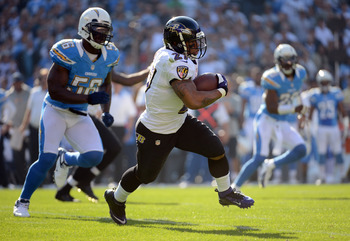 Harry How/Getty Images
Like the David Akers pic, this above photo should remind fans how dangerous Ray Rice can be in space.
We all know that the Baltimore Ravens have a fearful rushing attack, led by Ray Rice, but what makes them dangerous is their ability to catch out of the backfield.
The 49ers haven't faced a running back during this postseason run with the dual-threat ability that Rice can offer, and it may show early on.
Don't expect Joe Flacco to throw it deep all game. Rice will get touches out of the backfield, meaning screens and dump-offs are all fair game in this matchup.
Kickoff/Punt Return Coverage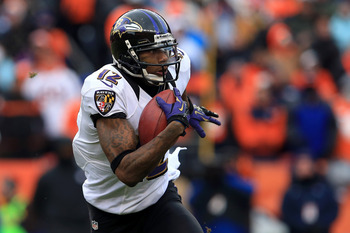 Doug Pensinger/Getty Images
Jacoby Jones is a dangerous deep threat at receiver, but the five-year veteran is likely even more lethal as a kick returner. His Pro Bowl invite also points to his production this season.
The Ravens have the definite edge at special teams, and Jacoby Jones is a big reason for their success. He led the league with a 30.7 kickoff return average in the regular season, and is a threat to take it the house at any given moment.
The 49ers gunners, namely C.J. Spiller, must be on high alert. One misstep, and Jones will be in the end zone in no time.
Another point to mention.
Even though the Ravens have the overall edge in special teams, the 49ers do boast a phenomenal punter in Andy Lee. In the regular season, Lee boasted a 48.1 average per punt (43.2 net), ranking him sixth in the league.
If Lee can change field position, as he has done countless times before, it should help this 49ers defense, which has struggled a bit during the postseason run.
Prediction
Chris Graythen/Getty Images
49ers 20, Ravens 17
Give me the 49ers in a close one. I expect the 49ers offensive line to dominate upfront, allowing Colin Kaepernick and Frank Gore to run wild on this Ravens defense. However, it will be David Akers that delivers the 49ers their sixth championship.
Keep Reading

San Francisco 49ers: Like this team?