7 2013 Races Even NASCAR Haters Will Enjoy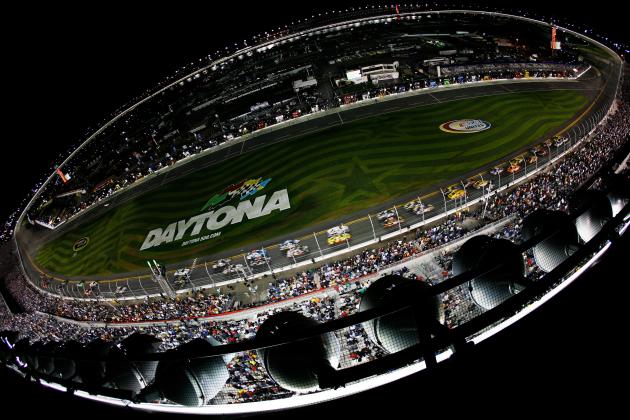 Tom Pennington/Getty Images

With the 2013 season almost upon us, there are several races scheduled this season even NASCAR haters will enjoy. Not every race in the Sprint Cup Series is entertaining, but these seven will keep NASCAR fans and haters glued to their televisions.
It's always tough to tell what races on the circuit will end up being packed full of action, and what ones will be more on the boring side.
Did anyone expect the fight between Jeff Gordon and Clint Bowyer to happen at Phoenix?
Some races can be a little more predictable, like expecting the "Big One" to happen at a track like Talladega or Daytona, and other tracks tend to host more exciting races than others.
The typical 1.5 mile races can be boring, and would make a NASCAR hater switch channels before the race was even half way done.
These seven races this coming season, though, will be exciting enough that even NASCAR haters will enjoy them.
Begin Slideshow

»
Dover is a great race track, and usually makes for a great race.
And while there can plenty of bumping at the Monster Mile, it missed this list. NASCAR haters would more than likely enjoy the Dover 400 race, but unlike some of these other tracks, once certain drivers get out in front at Dover, it's hard to catch them.
Jimmie Johnson is one of those drivers, and demonstrated his skill last season.
While the overall race is usually pretty solid, when certain drivers make it out to the front at Dover, it's extremely hard for anyone else to catch them.
The new Gen-6 cars might help in evening the playing field more when NASCAR rolls around to Dover in 2013. Still, if a driver like Johnson manages to get out in front, it's going to be hard for the other drivers to catch up.
Night racing at Richmond Raceway is always exciting.
What makes the Federated Auto Parts 400 race stand out though, is how it's the last race before NASCAR enters "The Chase."
It is the last chance drivers have to make "The Chase," something Jeff Gordon realized last season.
Richmond under the lights and drivers under pressure usually leads to some fantastic driving.
People who hate NASCAR will usually complain about how drivers seemingly go around in circle, and no one really changes position.
The Federated Auto Parts 400 last year had some of the best driving seen all season, as Jeff Gordon managed to drive from being a lap down to second place.
Any NASCAR hater can respect the skill it took to accomplish that.
This year, the Federated Auto Parts 400 is again the final race before "The Chase," and will more than likely have several drivers pushing as hard as they can to make the NASCAR post season.
Short track racing at Martinsville is always a great race to watch.
Drivers are closer together, and have to bump one another to pass because of the limited space on the track.
Short track racing can also end with tempers flaring because of all the bumpin' and bangin' drivers are doing during the race.
And while bigger tracks like Texas and Phoenix might focus on speed, a track like Martinsville takes a different set of skills that even a NASCAR hater has to appreciate.
Last season's race at Martinsville ended with a green-white-checkered flag, and saw both Jeff Gordon and Jimmie Johnson spin out after racing back and forth for several Laps.
Anything can happen at a track like Martinsville, and it's never really over until the final lap.
Short track racing can be a lot more interesting than the average cookie cutter tracks.
And while NASCAR haters might think of those big 1.5 mile tracks when they think about stock car racing, the Virginia 500 is one race next season that would give them a whole new perspective of NASCAR.
Darlington is one of the oldest tracks on the NASCAR Sprint Cup circuit.
The Bojangles Southern 500 night race is always one of the better races on the NASCAR schedule, and last season was a prime example.
The race itself was good, and the "Lady in Black" added plenty of stripes to her wall, but one thing drivers need to watch out for is how easily tempers fly at Darlington.
Last season, we saw Kurt Busch and one of Ryan Newman's crew members get into a verbal altercation. Busch ended up getting fined and put on probation for reckless driving in the pit road area.
NASCAR isn't only about driving. Part of the appeal of the sport is the personality of the drivers, and "The Lady in Black" usually brings out one or two personalities by the time the race is over.
Expect the same thing in 2013.
When NASCAR haters think the sport is only about driving, Darlington is a great example of how personalities play a big role in stock car racing too.
NASCAR haters love to complain about how the sport of stock car racing is just drivers racing around a big circle.
Road courses might be the solution they need then.
The race at Watkins Glen last season had arguably the wildest finish to any race all year. Road courses take a different set of skills to dominate, and are a refreshing change of pace from the typical NASCAR track.
Of the two road courses that are usually on the NASCAR schedule, Watkins Glen seems to end up being the more exciting of the two.
Back in 2011, there was a big wreck, and while 2012 didn't have the same type of crash, we saw some of the best driving all season as Brad Keselowski and Marcos Ambrose battled for first place on the final Lap.
With the type of races we've seen at Watkins Glen in the past, the Cheez-It 355 this season is one race which will have its fair share of excitement.
Enough excitement to keep any NASCAR hater glued to their seat.
Last year's Bristol night race was entertaining to say the least.
After being repaved to hopefully add more excitement to the track after a lackluster race earlier in the season, Bristol is one track where driver tempers tend to fly.
Tony Stewart and Matt Kenseth clashed last season, and we ended up seeing the angrier side of "Smoke." Shorter tracks like Martinsville or Darlington can frustrate drivers enough for them to exchange words, but only at Bristol last year did we get helmet throwing.
The night race at Bristol is always a good one, especially since it's so close to "The Chase" and drivers are still scrambling to secure their spot.
Drivers have little patience as they fight for position at Bristol, especially since some are trying to get the best possible position before the race is over.
Short track racing combined with drivers battling for Chase spots always leads to good, entertaining racing at Bristol.
The IRWIN Tools Night Race this season will be one race even NASCAR haters need to watch.
When a NASCAR wreck makes it on to ABC News, you know it had to be big.
The races on the superspeedway tracks aren't always the most exciting races, but one thing is for sure, "The Big One" will happen sooner or later.
Last year's Talladega Chase race was a great example of just what the "Big One" is. The race itself wasn't really exciting until the end, when drivers started to get antsy.
And while wrecking isn't always needed to make a race exciting, a huge crash like the one at Talladega would be enough to get even the NASCAR haters talking about the sport.
Superspeedways like Talladega usually lead to drivers being a little more daring, and can easily end up being some of the more dangerous races in the season.
With the chance that a huge wreck will turn a race like Talladega into a demolition derby, it's always one of the better races to watch.
When NASCAR haters complain that the sport is boring, the Camping World RV Sales 500 next season, and a chance for the "Big One" to happen could make them change their minds.
The Daytona 500 is the biggest race of the season.
From everything that comes along with it, like the Gatorade Duels on the Thursday before, to the Daytona 500 itself, the start of the NASCAR season always beings with a bang.
Last year's Daytona 500 saw a wreck on the second lap, and lasted long into the early hours of Monday morning. Juan Pablo Montoya crashing into a jet dryer was probably a first for the sport, and proved that anything can happen at Daytona.
This year shouldn't be any different. With the new Gen-6 car debuting, it's hard to guess what will happen once drivers start the new season.
The Daytona 500 is one of the biggest sporting events of the year in the U.S., and with drivers itching to get back to racing; anything can happen.
Like Talladega, Daytona can turn into a demolition derby in the blink of an eye, which adds an element on to an already exciting race that even NASCAR haters can enjoy.