Super Bowl XLVII Doppelgangers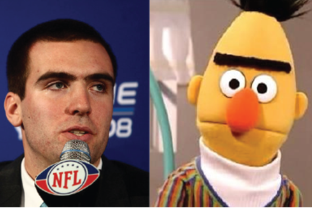 Image via zimbio.com / puppet.wikia.com
It's Super Bowl time, baby!
You know what that means: Around the clock coverage of every detail involving the teams, star players and head coaches who will be slugging it out on the gridiron on Feb. 3 for the Vince Lombardi Trophy.
To kick off the countdown to the "Harbowl," we've come up with a number of lookalikes for the playmakers and notable characters who will be in New Orleans for this year's big game.
Some are downright uncanny, and others—well, just squint your eyes a bit and go with it.
Here are the doppelgangers of this year's Super Bowl stars.
Begin Slideshow

»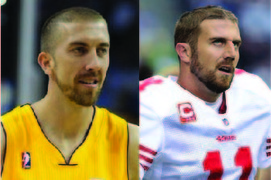 Image via ibtimes.com / helmet2helmet.com
It would appear as though 49ers backup quarterback Alex Smith and Lakers point guard Steve Blake were separated at birth, but still both went on to become professional athletes with a penchant for growing patchy facial hair.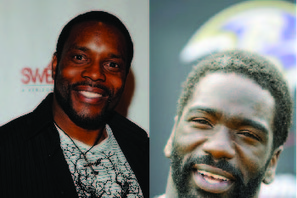 Image via zimbio.com / weblogs.baltimoresun.com
It's the hairstyle and the beard that make Baltimore safety Ed Reed and actor Chad Coleman (aka "Cutty" from HBO's series The Wire) look like kindred old-man spirits from the '70s.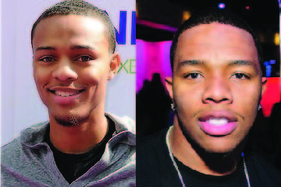 Image via theboombox.com / thefabempire.com
Ravens running back Ray Rice and rapper/television host Bow Wow share some similar features, from their boyish looks to their razor-thin mustaches.
The similarities pretty much stop at the jaw-line, however, as Bow Wow could be eaten and/or bench pressed by Rice.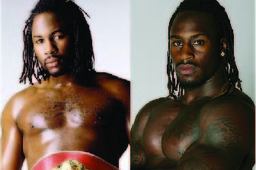 Lewis (left) and Davis (right). Image via ameyawdebrah.com / cosbysweaters.com
From the hair on down, 49ers tight end Vernon Davis (back when he had dreads) and a young Lennox Lewis are almost mirror images of one another.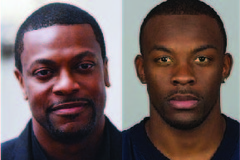 Image via aceshowbiz.com / footballplayersdeluxe.blogspot.com
Bam!
They said it couldn't be done, but after digging around in a dusty drawer of DVDs, I found the doppelganger for Ravens cornerback Corey Graham.
Where? Right on the jacket front of Rush Hour, in the form of actor/comedian Chris Tucker.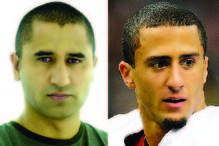 Image via fanpop.com / sfexaminer.com
It's not the most spot-on comparison, but 49ers starting quarterback Colin Kaepernick and actor Cliff Curtis have a similar oval-esque facial structure and nose.
That said, only one of them has incredibly ornate body art.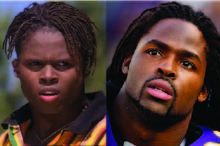 Image via rangerdatabase.com / baltimoreravens.com
Angular jawlines, dread locks and similar eyes.
Baltimore wide receiver Torrey Smith looks a lot like the grown-up version of actor Walter Jones, who played the Black Ranger in the television show Power Rangers.
Image via lizjohnsonbooks.com / webpronews.com
Now, it doesn't matter how we came up with this one.
All that matters is that if you chopped off actor Tom Cavanagh's hair and put him in the same room as 49ers kicker David Akers, things could get confusing.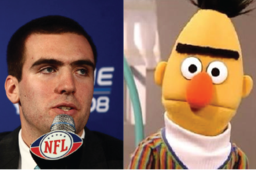 Image via zimbio.com / puppet.wikia.com
Don't mean to do you dirty like this, Joe Flacco, but the layers of French carpeting you call eyebrows liken you to Ernie's pal, Bert, from Sesame Street.
But fear not, Baltimore starting quarterback. It's not like they're full-on "Anthony Davis" ocular rope bridges yet.
Image via timessquaregossip.com / money.cnn.com
Maybe it's the little cheese-eating grin that makes this one stick, but there's something about 49ers owner Jed York that gives him a similar look to actor Matthew Broderick.
Like I said, squint a little bit and imagine York in a leopard-print vest, driving a Ferrari GT California, Ferris Bueller's Day Off-style.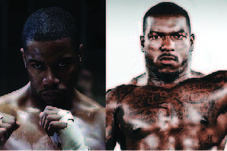 Image via comicvine.com / healthhabits.ca
Actor/martial artist Michael Jai White and 49ers linebacker Patrick Willis are both ripped to high heaven and have similar facial features.
Their bursting trapezius muscles also appear to be next of kin.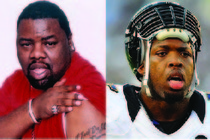 Image via mtv.com / complex.com
Ravens linebacker Terrell Suggs and hip-hop artist Biz Markie share the same slack-jawed expression, and both rarely seem to give a damn what comes out of their mouth as long as they're feeling it.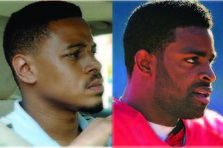 Image via ritz-wiliams.blogspot.com / footbasket.com
They might not be mistaken for identical twins, but 49ers wide receiver Michael Crabtree and actor Corey Robinson Parker resemble one another enough to look as though they could definitely be related.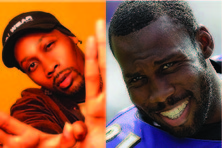 Image via cratekings.com / bmorechix.com
Baltimore wide receiver Anquan Boldin and hip-hop artist Rza look like cousins who both made their way into the national spotlight—one by catching footballs and the other from rhyming and making sound investments through Wu-Tang Financial.*
*NSFW warning: Video may contain offensive language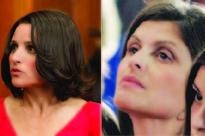 Louis-Dreyfus (left) and Crean (right).
My apologies, I couldn't help myself.
Joani Crean (married to Indiana University basketball coach Tom Crean) is the sister of John and Jim Harbaugh, the two men who will be coaching their respective teams in the "Harbowl."
Joani will almost certainly be in New Orleans for the Super Bowl to cheer on her brothers, and certainly looks a lot like actress Julia Louis-Dreyfus from VP and Seinfeld.
Image via screenrant.com / corner.bigblueinteractive.com
Ray Lewis jet black mask of nightmares will make you revert to sleeping under the covers, and is reminiscent of the absurd apparatus worn by bad guy Bane in The Dark Knight Rises.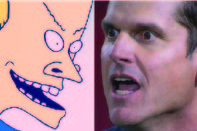 Image via fanpop.com / businessinsider.com
49ers head coach Jim Harbaugh isn't a clown like Beavis, but he's certainly capable of cooking up some strangely intense "Cornholio" looks.*
They make ridiculous facial expressions and have jawlines capable of carving a roast.
*NSFW warning: Video may contain offensive language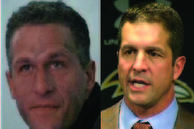 Image via aveleyman.com / csnbaltimore.com
**Update**
And we have a winner!
Congratulations to contributor Gary Booth for his winning entry of "Rick Rossovich."
You might recognize Rossovich from Top Gun where he played "Slider," aka Iceman's jackass of a sidekick.
Thanks for playing everyone!
***

He's a man of mystery.
I spent more time staring at John Harbaugh's face than I'm comfortable owning up to, racking my brain and trying to match this man's face to some other celebrity or famous person.
So, I'm opening it up to you, the readers, for suggestions. Enter who you think John Harbaugh looks like into the comments section below and I'll update the slide with the best suggestion I receive.
And please, don't just say "Jim Harbaugh."
Don't be that guy.